Cafe Ole Espresso Porter
| Due South Brewing Co.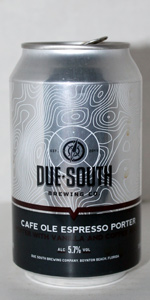 BEER INFO
Brewed by:
Due South Brewing Co.
Florida
,
United States
duesouthbrewing.com
Style:
American Porter
Alcohol by volume (ABV):
5.90%
Availability:
Rotating
Notes / Commercial Description:
No notes at this time.
Added by SaCkErZ9 on 12-02-2012
Reviews: 12 | Ratings: 134
2.09
/5
rDev
-45.3%
look: 3.5 | smell: 2 | taste: 2 | feel: 2 | overall: 2
First had: on tap at Coffee District, Delray Beach, FL
Dark brown-black pour with a small tan head. Aroma of dark malts, coffee, used tea bags. Taste was similar, definitely a lot of astringency going on here, light notes of roasty malts and used coffee grounds, a small sugar sweetness, thin earthy hops detectable in the finish. Body seemed thinned out and watery, just a really messy and unpleasant beer all over.
417 characters

3.24
/5
rDev
-15.2%
look: 3.25 | smell: 3.5 | taste: 3.25 | feel: 3 | overall: 3
12oz can, served in a snifter glass.
Pours a dark cola brown. Not black. Two finger thick offwhite head, a bit long in terms of retention, fair bit of lacing. Not black, definitely coffee brown. Smells of spicy espresso, touch of grainy roast, a little bit of dark chocolate, not too much else. Flavour is a slightly metallic, bitter espresso, not much of the base porter is still around. It mostly comes across in the aftertaste as a mild dark chocolate presence. Mouthfeel is thin, certainly not very substantial, a bit overcarbonated, not terrible with a slightly spicy and bitter finish.
592 characters
4
/5
rDev
+4.7%
12 oz can was poured into a pint glass.
Appearance: A one finger mocha head was poured that reduced to a thin layer. It is a pitch black color with no vision of anything. Spotty lacing down the glass as the beer was drank.
Smell: Roasted espresso coffee, milk chocolate, toffee, caramel, toasted, nutty, and earthy.
Taste: Same as above with mild bitterness in the rear. Coffee is the dominant flavor and very delicious.
Mouthfeel: Smooth, mild bitterness, medium bodied, and medium carbonation.
Overall: Awesome espresso porter. I need to throw some in my bag.
584 characters

3.86
/5
rDev
+1%
look: 3.75 | smell: 4 | taste: 4 | feel: 3.25 | overall: 3.75
Poured from a 12 oz can, it is what I would call a chestnut/ruby brown. It has a definite red tint to it that is very bright when you hold it up to the light. Opaque with a fairly frothy head that turns into a small ring.
Smells of expresso, vanilla, and oatmeal.
Taste very similar to a Founders Breakfast Stout in regard to the base. Significant roasted oats. The coffee is definitely the expresso type. Sweeter, smoother, and more subtle. The vanilla is good, but is almost too sweet.
I usually expect porters to be a little thinner on the body, but I think this one could be a little thicker even being a lower abv. Just as big of a knock for me in this department is the carbonation. It seems high. Gives it a crisp, sparling feel.
Overall, smells and tastes very good. The sweetness could be more balanced. Could use some work on the body.
853 characters
4.07
/5
rDev
+6.5%
look: 4 | smell: 4.5 | taste: 4 | feel: 3.5 | overall: 4
This is an espresso coffee porter from Due South. I picked up a 32oz growler from the brewery and dispensed into a Gordon Biersch half liter glass at home. Pours a nearly opaque, dark brown color with purple highlights. Topped with a two finger sized, mocha colored head that is frothy and well built.
The first thing hits the nose is the coffee. I love the smell. Freshly made coffee pot filled with dark coffee and espresso greet the nose first. A solid dose of roasted malts follow suit. Hop aroma is limited.
Freshly brewed, bitter coffee arrive on the tongue and make this one taste like cold coffee. A lot of people don't like cold coffee, or very strong coffee flavor in their beers, but I love it. The finish is bitter and somewhat astringent. Tis one is in your face coffee three ways to Sunday.
The mouthfeel was a bit thin; very little body to this one. And the carbonation a little high, but overall, this is a wonderful coffee beer. Perhaps one dimensional as far as the coffee, but I dug it.
Note: if you are opposed to strong coffee flavors, or cold coffee, this beer will noy be for you.
1,119 characters

4.47
/5
rDev
+17%
look: 4 | smell: 4.5 | taste: 4.5 | feel: 4.5 | overall: 4.5
Poured into a shaker pint
A: dark rich brown black color nice light head 
S: pure roasted coffee and some vanilla 
T: follows the nose to a T this is huge almost fresh coffee taste with a light vanilla back
M: mediumish mouth not super thin but not heavy either
O: I've had several coffee porters lately and they seemed like one trick ponies the vanilla adds another layer of depth to this beer and makes it quite tasty 
438 characters
4.24
/5
rDev
+11%
look: 5 | smell: 4 | taste: 5 | feel: 3.75 | overall: 3
12can->DuvelGlass
Every aspect of this beer reminds me of my grandparent's coffee maker, and more-specifically the sludgey dregs at the bottom. It's black in color and smells and tastes like wet grounds. Searching for the beer you'll find oats and grain, but only sparingly.
275 characters

4.04
/5
rDev
+5.8%
look: 4.25 | smell: 4 | taste: 4 | feel: 4.25 | overall: 4
On tap at Due South - happy to see an espresso porter on the tap list
Really mellow porter. Sweet caramel, cocoa nibs, and a touch of espresso in the finish. Lacks a monster body and a major hop presence but amazingly smooth and drinkable. One of my favorites from Due South thus far
284 characters

4
/5
rDev
+4.7%
Out of a can into my tulip.
A – Deep dark brown/black with a finger of frothy tan head that left a nice spotty lacing down the glass.
S – Light roasted malts, coffee and cream.
T – Like the aroma it starts with a nice light roasted malt flavor. Coffee next but a light coffee flavor. Plenty of milk/cream. Touch of vanilla with nuttiness mixed in . Slight bitterness at the back end and has a dark chocolate taste left on the palate.
M – Lively carbonation that is medium bodied. Finishes cleanly with no aftertaste at all.
O – This is a very solid porter that even those who are not lovers of all things coffee will like. It's a "light" coffee beer to me. As it warms it gets better and the coffee flavor shines through. Very nice all told.
767 characters

3.39
/5
rDev
-11.3%
look: 3.5 | smell: 3.75 | taste: 3.25 | feel: 2.75 | overall: 3.5
A coffee beer for people that like coffee for sure.
Just shy of pitch black, but you can see a dark red/purple when you hold it up to light. On the pour I got a small off white head that fades to just a rim of head left throughout the drink.
Overall the smell is coffee through and through with a slight malt smell to it.
For me it starts off with a good bitterness, and then you get the strong coffee flavor with a smoother vanilla finish that almost left me with a warmth in my throat, but really just a bit of coffee flavor left on the palate. It's a lighter beer which made it easy to drink.
My can said it was 5.7% abv, but this says 5.9. Maybe that's off the tap. Either way, people that enjoy iced coffee would be the main target for this beer.
759 characters
4.36
/5
rDev
+14.1%
look: 4 | smell: 4.25 | taste: 4.5 | feel: 4 | overall: 4.5
On tap this beer may have been the best plain coffee beer I've ever had. Huge dark bitter coffee flavor complimenting the creamy and dark porter flavor. There was also a sweet vanilla aftertaste that was very good. A higher ABV would have been nice though. When poured from the can into a sniffer the beer was not as dark or complex tasting when compared to on tap. All the flavors mentioned above were still present just not as prevalent.
439 characters

3.84
/5
rDev
+0.5%
look: 4 | smell: 3.75 | taste: 4 | feel: 3 | overall: 4
L: Initial pour is a thick opaque earth brown, with a nice 1.5" head attenuation that is a copper beige. Decent amount of lacing.
S: the coffee notes are light, I can tell that the beans that were used have been roasted long before being put into fermentation, as well as being a blended bean batch. The subtle roasted richness from the malt of the style comes forth, accommodating burnt chocolate, hints of chickory, with just the slightest amount of ash at the end.
T: You can really get the sense of the espresso, but its not a robust acidic espresso as you would expect, but more of a light and blended with no real specific coffee notes escaping just straight forward.
F: lighter than I was expecting, which is a nice break from the recent surge of heavy american porters. Not very chewy,
O: Overall, its enjoyable, its straight forward with no real specific coffee notes lingering out. This specific style is nice refresher from the heavy amounts of big coffee beers coming in.
989 characters
Cafe Ole Espresso Porter from Due South Brewing Co.
3.82
out of
5
based on
134
ratings.