Harmony Brewing Company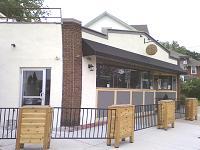 PLACE INFO
Type:
Brewery, Bar, Eatery
1551 Lake Dr SE
Grand Rapids
,
Michigan
, 49506
United States
(616) 459-9333 |
map
harmonybeer.com
Notes:
No notes at this time.
Added by Avagadro on 11-03-2011
Reviews: 12 | Ratings: 71
1.61
/5
rDev
-54.9%
vibe: 1.5 | quality: 1 | service: 1.5 | selection: 2.5
went here with a friend the other day. i was really excited to try out this new brewpub. they were packed and they sat us in the upstairs area where there were maybe two other reasonable-sized tables and then a gigantic table with what appeared to be about thirty 18-year-olds. these kids might have been 21, but they were definitely acting like super-obnoxious high schoolers. i know it isn't the brewery's fault, but we were seriously annoyed the whole time we were there. service was also slow, but then again, they were super busy.
also, they apparently used the last ten dollars of their budget on a 50-pack of chairs at costco. i'm no furniture snob, but these chairs were so cheap and uncomfortable, it was actually distracting. i felt like i was at a church picnic or something. "those were the worst chairs i ever sat in." - my friend.
now on to the important part: THE BEERS...SUCKED. my friend and i got two different beers (the IPA and the Rye PA, two styles we both love dearly) and we both tried each. they were just terrible. tasted like it was either the first batch they'd ever made, or they were contaminated with something. just not good, and definitely not of a quality suitable for a brewpub. in other words, they should not be charging money for this swill. we literally left our glasses half full which we NEVER do. we love beer and we love drinking so it takes very extreme circumstances to make us waste alcohol. never going here again unless i hear that they get a new brewer and get their act together.
1,531 characters

2.93
/5
rDev
-17.9%
vibe: 3 | quality: 3 | service: 2.5 | selection: 3 | food: 3.5
Stopped in last Saturday, 12/1/12, with my brother and enjoyed some pizza and beer. We had the Daydream Believer coffee stout, Jackson's Joy Festbeir, Black squirrel peated porter and fiddlestix IPA. All of the beers were good, the coffee stout was a real coffee bomb and the peated porter was almost too much peat for a full 16oz pour. I was disappointed to find out that they serve wine and liquor, I understand that some places have to do it but it makes me question their level of confidence in the beer that they brew.
The inside of the place is oddly shaped with many choke points and I guess there was a back room, but I never saw it. The place is decorated with random stuff to make it look funky which also helps it fit into the East Town neighborhood.
We sat at the bar and the service was good for how busy they were, I was really surprised that they were that busy at open. I did find it inappropriate that the bar tender served our second beers into the same glasses as our first ones. She did rinse them out with the glass rinsing device that all of the quality beer bars are putting in by the taps and that made me question the cleanliness of the equipment.
We shared bread sticks w/cheese and two pizzas which were good but the sauce left something to be desired.
1,287 characters
3.15
/5
rDev
-11.8%
vibe: 4 | quality: 3 | service: 3 | selection: 3 | food: 3.5
Met up with two friends here on a weekend night and it was pretty busy. All the tables were full, but I didn't have to wait since my friends were already seated. The place is small and modern-looking but not in an annoying way. The atmosphere reminded me of a lot of places in New York, where I used to live. You will not be wowed by this place by any means, but I found it cozy, unimposing in a good way, and very intimate despite the crowd.
The service was pretty good - again it was busy, so even though the place was amply staffed it could still take a minute or two to get a replacement beer.
And let's talk about the beer. I had a RyePA which was quite good, I thought. I'm not normally a Rye drinker - Founders Red's Rye is the only one I drink with any regularity - but this one was nicely hopped and while it wasn't great it was certainly tasty. Then I ordered a brown (with the unfortunate name of Brownson Pinchot - ugg) and only got a taste of that (average) because one of my friends found her peat smoked porter to, well, peat-ee for her tastes. It wasn't for mine though as I found it very interesting with a strong, strong smoke taste to it... though not a lot else. Wouldn't have wanted to have another one but you can't find beers like this everywhere.
The selection was limited (four beers on tap) but then the place had just opened. They also appeared to have a decent wine selection and homebrewed rootbeer. The menu consists mostly of woodfired pizzas. I had half of one and it was of pretty high quality. I feel as though this is the sort of place you'd go if your pizza tastes tend more toward the gourmet since I think they do this well.
Overall a nice place that is reasonably priced. It is small but I did not find that to be a drawback - but maybe that's only because of some previous good associations I have with that type of place. I'd recommend it.
1,880 characters
3.69
/5
rDev
+3.4%
vibe: 3 | quality: 3 | service: 4.5 | selection: 4
The pub-snob in me wants to point out some of the obvious holes in this relatively new Eastown Grand Rapids joint, but it's the good-time-havin' young man in me that says otherwise...
I'll just get the bad stuff over with right away so that I can quickly move into the meat and potatoes of my mostly positive experience at Harmony Brewing. Bear in mind that despite what I just said, this place may or may not be new. It seemed fresh and modern, but I can't find much info on them other than what I absorbed during my visit. They've apparently opted for social media over the traditional website route. This seems to be rather common with small breweries these days, and is mostly fine by me, except I don't use twitter or facebook at the moment, so I have to take my chances on tasting hours when I visit places like this.
Anyway, like the prior NYC-lovin' snob mentioned in his review, the place did have some of the cheapest plastic seats that I've ever seen. Maybe (hopefully) they got them at very little cost. That said, I was able to sit at the bar, which offers more traditional bar stools...which were fine. Agreeing again with the prior reviewer, this place might not be ideal at peak business hours (Friday and Saturday evenings maybe?). It's quite small and is set up in a rather scattered fashion and it would probably be difficult to get a beer when there's a large crowd. He also mentioned poor service, which was probably just a result of the bar being at capacity. Was it his first bar review or just his first bar? I'd like to think may or may not have been an unsuccessful pita joint or a 7eleven that has relocated prior to finding it's new self.
"MORE THAN JUST A HINT OF WHIMSY", reads the shirt....and in a sense, that's exactly what my experience at Harmony Brewing Company was all about. We decided to drop in on this little Eastown brewery after already having visited the more touted Brewery Vivant and Founders. I didn't really expect much from the place given it's lacking online presence and the two prior BA reviews, but once we got there, I was led in a much different direction. We were immediately greeted by what we beleive was one of the owners or at least someone with the authority to call herself "Mother". She may have given herself a different name, but my bar-ears are terrible so I just nodded. In the end, she ended up being great. She worked the bar well and was more than helpful with explaining the beers and the food menu. She also did a little dancing on and off again...some people might have thought it to be awkward, but I enjoyed it. At one point, they ran out of keg root beer for one of their cocktails and she went as far as to have one of the employees run across the street to pick up a couple Barqs 20 oz's so that she could complete the obscure but tasty little beverage for my girlfriend. She continued to monitor our tasting progress throughout the session and made the overall experience very enjoyable. She was a little bit goofy, but with craft beer, goofy plays.
Re: The Beer...what an obscure but fun little selection this place had. The only real knock I have is that their IPA left me wanting more. It was an opaque-yellowey little thing that lacked any malt character whatsoever...oh well I guess. I'd like to think that the rest of their selection made up for it. Just off the top of my head, I remember them having at least 7 beers which included a raspberry wheat, a grapefruit shandy (wheat beer with a shot of grapefruit juice, which was not as lame as you might think), a chamomile/green tea ale, a belgian dubbel, a porter, and a Munich Pale, which I found both interesting and delicious. It's was nice to see them put a small hop-twist on an overly-traditional german style beer. Good stuff overall.
In closing, I hope this place doesn't fall victim to it's questionable location at that weird fork-style intersection and it's lack of IT support and that they continue to make new and creative beers while perhaps even improving the qualty of their current selection. They're new, I suppose, so give them time and pay them a visit if you're milling around the mean streets of Eastown.
4,168 characters
3.7
/5
rDev
+3.6%
vibe: 4.25 | quality: 3.25 | service: 3.75 | selection: 3.75 | food: 4.25
Whoa, wtf? Some really out of line, low ratings here.
Harmony Brewing is a small brewpub with a MICROBREW license, which means they are allowed to serve Wine and Spirits...it has nothing to do with the fact that they don't have faith in their product, there are dozens of these through out the state. They can't distribute their product.
Like others have stated, the place is small, and quaint, and I like it. It's got two different levels, with a sort of loft style seating option towards the back, that looks over their very small brew system. This place can't seat more than 35 people. It's got a great atmosphere. You can tell that the local crowd really enjoys the pizza, and it gives Harmony a very nice upbeat, friendly, local GR feel. The pizza was delicious too. Nice crispy crust, with some unique and interesting toppings, and great combinations. An awesome mid day snack for the day drinker.
The beer, has never blown me away. There has never been that has blown me away, or even walked away from saying "That was a really good beer".
It's a nice stop. Great atmosphere, very good pizza, and ok beer. Check it out for yourself. These kind of places continue to get better, and you never know when they might bust out some really tasty brews.
1,260 characters

3.91
/5
rDev
+9.5%
vibe: 4.75 | quality: 3 | service: 5 | selection: 3.25 | food: 4.75
great corner shop feeling location. service and food were outstanding, however, the beer left me not wanting more. Flights are available, which is commendable but... the beers just weren't hitting the mark.
208 characters
3.96
/5
rDev
+10.9%
vibe: 4.25 | quality: 4 | service: 4.25 | selection: 3.5 | food: 4
We've been here a few times as it is one of the closest local brew pubs to our home. We enjoy the casual atmosphere and the creativity of the brewers and cooks. The brewers experiment with some unique flavors and combinations - resulting in some great tastes, and other times some that are forgettable. The food is limited to wood-fired pizzas - but we really enjoy the variety.
378 characters

4
/5
rDev
+12%
Small place not much seating. Beers are good to above average, not out of this world. Stopped in with a friend and had two pints and a very full pour in a snifter for $10. Can't beat that plus their wood fired pizzas are some of the best around. Super great place to have within walking distance of my home.
307 characters
4
/5
rDev
+12%
This place is charming in that it is small ,well kept, and laid back. I have been here twice and both times the place was packed. The music is a little loud for my liking at times but the welcoming staff makes up for it. The staff does not seem to know a ton about the beers on tap but have a basic understanding of the styles that they have on tap. The pizzas at this place are killer but are a bit pricey. The beer is B- to A- in quality. None of their beers blew me away but nothing was off putting about their beer.
519 characters
4.15
/5
rDev
+16.2%
vibe: 5 | quality: 4 | service: 4.5 | selection: 3.5 | food: 4.5
Atmosphere - this is the strength of Harmony. It has a wide variety of seating options - cheap chairs and tables in the upstairs backroom, three great booths looking out on to the street, two high tables and a bar with bar stools, and several long tables for large groups. This place is usually packed - during the late afternoon and early evening you will find a number of families in the place enjoying the pizza and a couple beers, then they leave and the evening crowd of students and young professionals takes over. They often have some random music playing, but not too loud to disrupt a conversation. My wife and I just moved to Eastown this summer and Harmony has become our local - we see lots of people we know here, it is almost always packed, and the atmosphere is great.
Quality - the food and beer is good, but in GR this really isn't going to make you stand-out. With Founders, Hopcat, Vivant, and GRBC just down the road it is always going to be tough for the much smaller Harmony to compete on beer quality alone. The beer is good (esp the Fiddlestix IPA, Rye-PA, grapefruit shandy, and Brownson Brown Ale) but this really isn't the draw. Harmony is a bit like soccer in the US - MLS can't compete with football or baseball in terms of quality, but it found a niche in fan experience. MLS is like Harmony.
Service - has always been excellent. They get to know the regulars pretty quickly, and are can talk knowledgably about the new beers. They really helped my friend who wanted something like "Old Speckled Hen" find a good option.
Selection - is fairly small, usually 6-7 things on tap, although they have recently expanded their number of taps. There are wine and spirit options as well.
Food - is basic, just salads and snacks and pizzas. But the pizzas are excellent, made in a wood-fired brick oven, and with a wonderfully creative range of ingredients. I've had the Eastown Folk Funk, The Good Earth, Hey Goat, Margherita, Cheese and Pepperoni, and never been disappointed.
Value - the pizzas are a bit pricey except on Tuesday evening, and the beer isn't dirt-cheap, but this place thrives on atmosphere. For me this is one of the coolest brew-pubs in GR, don't forget about it if you are visiting GR to sample some of the beers.
2,261 characters

4.19
/5
rDev
+17.4%
vibe: 5 | quality: 4 | service: 4.75 | selection: 3.5 | food: 4.25
I really liked this place. There is a lot of re-claimed wood. Much of it is from an old gymnasium floor. Their beer is decent. Not even close to founders or vivant, but good.
I love little places like this with character. It's more of a towny place than the other breweries in town. Their pizza is excellent. This is the type of place you settle in and spend the rest of your evening at.
391 characters
4.43
/5
rDev
+24.1%
vibe: 4 | quality: 4.25 | service: 5 | selection: 4.25
This was my second visit to Harmony (the first being shortly after they opened) and I am glad I waited to review it. The selection is vastly improved, with over 10 tap selections available now, and the beer is much improved as well! The prices are very reasonable; I got a 7 beer sampler for $10 and a pint for $4. The service was also great, Mike is a very nice bartender who is friendly and helpful. I recommend the Cavendish to anyone who is at the brewery when it is on-tap; it is a barrel aged beer unlike any other I have had. I will come back again when I am in the area!
578 characters
Harmony Brewing Company in Grand Rapids, MI
3.77
out of
5
based on
183
ratings.