Vanilla's Porter
| Latitude 33° Brewing Company
BA SCORE
82
good
15
Reviews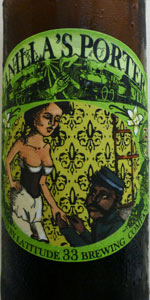 BEER INFO
Brewed by:
Latitude 33° Brewing Company
California
,
United States
|
website
Style:
American Porter
Alcohol by volume (ABV):
6.50%
Availability:
Rotating
Notes / Commercial Description:
No notes at this time.
Added by djaeon on 06-20-2012
Reviews: 15 | Ratings: 69
3.53
/5
rDev
-1.1%
look: 4 | smell: 3.5 | taste: 3.5 | feel: 3.5 | overall: 3.5
On tap at Latitude 33 Brewing Company in Vista, CA.
Pours a clear brown with a foamy khaki head that settles to a film on top of the beer. Thick foamy rings of lace line the glass on the drink down. Smell is of dark roasted malt, vanilla, cocoa, and some slight coffee aromas. Taste is of dark roasted malt, cocoa, and vanilla beans. There is a mild amount of roasty bitterness on the palate after each sip. This beer has a lower level of carbonation with a slightly crisp and medium bodied mouthfeel. Overall, this is a pretty good beer that is drinkable but nothing too exciting in my opinion.
★
597 characters

3.42
/5
rDev
-4.2%
look: 4 | smell: 3.75 | taste: 3 | feel: 3.75 | overall: 3.5
Attractive tall sudsy pour in the Duvel tulip. Near black with beige foam. Pleasant carbonation sizzling in the mouth. Nose of vanilla.
Dark malt with a bitter aftertaste and some hops at the end. Plenty of charred grain taste. Distinct chocolate flavor along with the fragrance of vanilla. I don't know why you'd want vanilla in a beer, but this one is quite drinkable. It is just slightly sweet, though it seems to have plenty of malt. The winey taste and chalky mouthfeel give this some definition. Price was $5.19 for the 22 oz at Baron's Market on W. Point Loma.
★
568 characters

3.4
/5
rDev
-4.8%
look: 3.5 | smell: 3.5 | taste: 3.5 | feel: 3.5 | overall: 3
A pour at the taproom, which I stumbled into by accident looking for another taproom. You just can't trust Internet maps these days.
The pour is dark with no white vanilla visible, red-edged as Achilles' sword. I accidentally inhale as the beer is being set on the counter, holy crap. Concentrated, sweet vanilla beans.
Vanilla's Porter is pure truth in advertising. If you're allergic to vanilla don't wander into the same county as this beer when it's open, or bring your Epipen. This is like a vanilla orgasm. Mild roast, but this is a one dimensional flavor bomb. It loses some charm as it warms & with volume. A taster would have been better.
Pretty good beer, but too simple & too vanilla-ee.
★
716 characters
3.65
/5
rDev
+2.2%
look: 3.5 | smell: 3.5 | taste: 3.75 | feel: 3.5 | overall: 3.75
Pours thin and watery, cola brown with some faint mahogany highlight. Two finger head, generous amount of beige foam had okay retention and leaves flecks of lacing on the glass.
Chocolate and roasted malt with quite a bit of grainy bits floating about. The vanilla comes in as a wave of soft creaminess that takes the edge off some of the harsh grainy aroma. Alcohol and hops are pretty much nil except of some herbal and balancing weak grasses.
Robust porter base, a nice balance of roasted malt and bittersweet chocolate malt, the raw grainy aroma fortunately is eliminated in the flavor. Vanilla is faint providing a smooth, creamy and softening sense to the dark malt. Hops are also prevalent adding herbal and grassy hues that battle the vanilla yet provide a surprisingly clean finish.
Thin porter, watery with just enough carbonation. Alcohol is hidden and the balancing hops provide a little dryness to which the bittersweet chocolate provides bitterness and some acidity.
A very balanced porter, vanilla is a bit subtle but fortunately not overly sweet. Malt is well constructed providing some chocolate goodness to go with the unique vanilla and bracing/workman-like hops.
★
1,186 characters

3.72
/5
rDev
+4.2%
look: 4.25 | smell: 3.5 | taste: 3.75 | feel: 3.75 | overall: 3.75
Glad to finally see these guys bottling. About time!
A: Deep brown with a one finger tan head. Light lace down the glass.
S: Smell is a bit on the lighter side, but I get some light roasted coffee, roasted malt, some burnt cocoa and some anise. A touch of vanilla as it warms.
T: Opens with a slightly watery hit of roasted malt. Some peppery cocoa, vanilla and some charred grain. There's a bit of disjointedness between the vanilla sweetness and the roaster flavors in here. The mouthfeel is heavy for a beer this light in alcohol, which I kind of liked.
★
559 characters
3.6
/5
rDev
+0.8%
look: 4.25 | smell: 3.5 | taste: 3.5 | feel: 4 | overall: 3.5
Type: 16-oz. draft
Glass: Clear pint glass
From: Hooleys in La Mesa (San Diego), Calif.
Price: $5.25 (Happy Hour price)
Purchased: March 1, 2016
Consumed: March 1, 2016
Misc.: N/A
This one didn't have great reviews, but I think the few I've tried (mostly on Untappd, not reviewed) have been very good and underappreciated. Plus it's got vanilla in it.
Poured a dark brown color with two fingers of khaki tan, fizzy head when I got it. Very good spiderweb lacing on the sides of the glass. Above average retention on the top all the way down. (Sight - 4.25)
Smelled dry vanilla malts, caramel, toffee, Mud Slide, chocolate chip cookie and vanilla bean ice cream. (Smell - 3.50)
Taste was initially better, but then got some metallic notes. Creamy vanilla, cream soda, dark caramel, Mud Slide, chocolate/vanilla milkshake. (Taste - 3.50)
Medium body. Creamy texture. Average carbonation. Creamy, smooth finish. (Feel - 4.00)
This was nice, but I couldn't get over those metallic notes. Not as good as Alpine's Rye'der on the Storm. (Overall - 3.50)
3.60 | 82 | B
★
1,079 characters

3.83
/5
rDev
+7.3%
look: 4.5 | smell: 4 | taste: 3.75 | feel: 3.5 | overall: 3.75
Bottle served in a tulip. Pours dark brown with little head. This beer is all about the vanilla. So much so that you don't pick up much of anything else. Mouthfeel is light.
★
173 characters

3.92
/5
rDev
+9.8%
look: 3.5 | smell: 4 | taste: 4 | feel: 3.5 | overall: 4
Pours hazy amber brown with a mild head that dissipates quickly. The aromas remind me of the light smell of baking chocolate cupcakes, when you can smell them from the other room, with some roasted vanilla thrown in. Has a good roasted malty flavor. You can definitely pick up the vanilla, along with a little bit of a ground pepper flower taste. Nicely carbonated and smooth in the mouth, but leaves a lingering bitter aftertaste.
Overall, I like this beer a lot. The natural comparison, I think, would be to Stone's Smoked Porter w/ Vanilla Bean. There are many similarities between the two beers, but I like this version more. This has more of a rich and hearty taste, when compared to Stone's newly bottled version.
Please note: When adding this beer, I added the availability as rotating. I'm not sure if that's true, as I couldn't find the availability on their website. Please adjust if necessary.
★
911 characters
3.62
/5
rDev
+1.4%
look: 4.25 | smell: 3.5 | taste: 3.5 | feel: 3.75 | overall: 3.75
Appearance: dark brown with coca-cola edges. Very nice lacing and retention with a frothy, cappuccino head.
Nose: Vanilla and carmel right up front. A hint of figs and cloves in the middle, with some alcoholic notes at the end.
Taste: Dark roasted ice-coffee, light mouthfeel for a porter, coffee beans, cloves, and a little bit of biscuit and hotness.
Notes: an excellent introduction to vanilla porter. Its a very good beer.
★
429 characters
2.96
/5
rDev
-17.1%
look: 3.5 | smell: 3 | taste: 2.75 | feel: 3.25 | overall: 3
This beer is ok, with some hints of vanilla, but not much more. I would put this in the perfectly serviceable beer category, but I probably will not be running out to get more of it.
The taste is exactly what you would expect from a vanilla porter, with just a hint of vanilla (I think it could probably use a but more of the vanilla flavor). Beyond the hints of vanilla there is not much to this beer, making it sort of boring to me. If you want a simple porter with a hint of vanilla this is probably the beer for you.
★
522 characters
3.26
/5
rDev
-8.7%
look: 3 | smell: 3.75 | taste: 3.25 | feel: 2.75 | overall: 3
October 5th, 2013 - Vanilla Porters always impress me. It's like Vanilla Coke - vaguely incongruous sounding, but ultimately delicious . Latitude is working with the same parameters, executing a sweet treat, delicious in its chocolate casing, but not especially engaging. The nose is the high-point, expressing vanilla and cacao, with touches of tobacco and chocolate, though milk, not dark at first. The aftertaste secretes more of a low, growling dark chocolate scent. That's also the chocolate that appears in the aftertaste, with lots of Ghirardelli brownie served on a thin palate. Again, there's plenty of sweetness here, and probably enough to serve alongside some ice cream or a hot brownie, but by itself, there's not a ton to flirt with.
★
747 characters
3.84
/5
rDev
+7.6%
look: 3.75 | smell: 4 | taste: 3.75 | feel: 4 | overall: 3.75
An attractive dark porter, with a thin head. Lacing is as expected, slight but persistent.
Smell is malty, with a little vanilla in there. Good promise. Taste has much more vanilla, cream, some malt (not very toasty or burnt, caramel, good). Hoppy resin comes in, balancing a surprisingly full-bodied porter. Porters can be thin, this one holds its own.
Roast comes through near the end, a little chocolate, a little more vanilla, a little dry in the finish. Note the persistent use of the word "little." Nothing to write home about but no false notes. I'd giving it a 4 for porter fans, 3.5 for "vanilla" fans.
After I let it sit for half an hour, it had much more vanilla than before.
★
692 characters

3.64
/5
rDev
+2%
look: 4 | smell: 3.75 | taste: 3.5 | feel: 3.5 | overall: 3.75
Purchased this beer at a local market. This beer was just released in bottle this week according to the brewery.
This beer was poured a clear, very dark brown. The head was a tan to mocha color that lasted throughout the pour; lacing down the sides noted. The aroma initially was a slightly spicy hop followed by sweet malt. I really did not detect any vanilla aromas. Taste was caramel and dark malts, some sweetness, followed by a balanced hop bite. Again, I didn't detect any vanilla flavors. Mouth feel was medium heavy with moderate carbonation.
Overall, this beer was a nice drinker, very tastey and different from most. I would have it again. Of note however - I wasn't able to pick up and vanilla aroma or taste. But, that just may be me.
★
749 characters
3.04
/5
rDev
-14.8%
look: 3.75 | smell: 2.75 | taste: 3 | feel: 3.5 | overall: 3
Aroma: Light roasted malt, very small hint of vanilla.
Appearance: Dark black with a hint of red.
Flavor: Light roasted malt and not much else.
Mouthfeel: Medium, dry finish.
Overall: Not much to this beer, but then again I'm not a huge porter fan. Not much aroma or flavor and it poured and remained kind of flat. Would not buy again.
★
339 characters

3.5
/5
rDev
-2%
look: 3.5 | smell: 3.5 | taste: 3.5 | feel: 3.5 | overall: 3.5
Vintage: 2013
Appearance: Black heart with mahogany edges; tan, fluffy, fast-dissipating head; no lace
Smell: Vanilla; Prune; Chocolate; faint coffee
Taste: Coffee; chocolate; vanilla; prune; cola; lingering prune
Mouth-feel: Big Carbonation; Medium body; Dry finish;
Overall: Wonderfully smooth and balanced; Nice, but not amazing. I would like more aromatics.
★
363 characters
Vanilla's Porter from Latitude 33° Brewing Company
3.57
out of
5
based on
69
ratings.