BJ's Restaurant & Brewhouse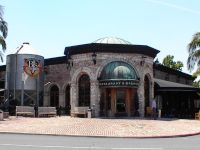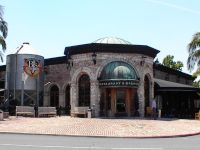 PLACE INFO
Type:
Brewery, Eatery
600 Brea Mall Drive
Brea
,
California
, 92821
United States
(714) 990-2095 |
map
bjsrestaurants.com
Notes:
No notes at this time.
Added by BeerAdvocate
HISTOGRAM
View: Beers | Place Reviews
Ratings: 22 | Reviews: 11

3.7
/5
rDev
-0.5%
vibe: 4 | quality: 3.5 | service: 4 | selection: 3.5
This particular BJ's location is in the Brea Mall shopping center. It is located off to the "side" across from Sears and Nordstroms and the smaller shopping center across the street.
The place itself is much like any other BJ's, which is not surprising given the corporate nature of the place. The restaurant is well kept and everything is clean and appealing to the eye.
The bar is just about straight ahead from the entrance. The bar is quite long with some stools and tables in the bar area, along with TVs, generally playing sports.
The BJ's beers are offered, of course, but are no longer brewed at this particular location. This is, unfortunately, the case for just about all BJ's restaurants. They also offer some other craft and import beers, along with a couple ciders.
The beers range from pretty bad to fairly decent. All in all, they're fairly average beers that appeal to just about any beer drinker.
I did not have food on this particular instance, partially because I already know that I'm not the biggest fan of BJ's food.
The service was quick and friendly, and I was checked on several times during my stay at the bar--always appreciated.
Although it's not my favorite place, I wouldn't outright object to coming back here.
1,248 characters
3.9
/5
rDev
+4.8%
vibe: 3.5 | quality: 4 | service: 4 | selection: 4 | food: 3.5
In town on business and the host suggested we go here for dinner. We have BJ's in Texas now, so I was curious to compare how having the beer brewed in two places compared (tastes the same). Got there before it got too busy, but as it filled up the place got pretty loud. First thing I asked the server was what seasonal beer was on tap and I can't remember the name of it, but his description "basically a watered down american amber" prompted me not to try it. Didn't realize that CA requires restaurants to publish the calorie/fat content of the menu items and looking through the list sure made for good conversation (get the skinny fries not the wedge-cut fries!!!). Service was good, food was decent, the beer selection is great, and the beer they brew (they ship it in from the West Covina store) is very good too.
820 characters

3.7
/5
rDev
-0.5%
vibe: 3.5 | quality: 3.5 | service: 3.5 | selection: 4.5 | food: 3
Went to BJ's while visiting family out in CA and was pleasantly surprised that this place had decent food and a very good variety of beer. It was loud and chaotic, but it was perfect for a party of 12 including 6 kids.
There was a good sample pack available as well as several good beers. I tried and enjoyed the Piranha Pale Ale, which was very good and a smooth hoppy beer; the Nutty Brewnette was very good, a tasty brown ale full of flavor that had a malty/smoky finish; the P.M. Porter, which was good, a dark porter with caramel and chocolate flavor, that finished with a nice roasted end.
I also tried the Brewhouse Blonde, which was a light pale ale and kind of dull; the Harvest Hefeweizen, which tasted like a typical hefeweizen, with lemon flavor and wheat backend; the Jeremiah Red, which was OK but too much on the malty side without much pizzazz or lager flavor; the Tatonka Stout was OK, full-bodied, rich and dark like coffee with an overall roasted flavor.
Overall, BJ's Restaurant & Brewery was a great experience. There are some really good beers and the atmosphere is very open to having fun.
1,116 characters
2.98
/5
rDev
-19.9%
vibe: 3.5 | quality: 3 | service: 2 | selection: 3.5 | food: 3.5
I can't tell you how many times I've been. Probably 50 or so times I would have to say. Anyways, the atmosphere is okay...pretty busy most of the time...but not the first place I like to go to when beer comes to my mind. They have a small selection of beers including their own. As for their brewed beers...they're pretty descent and A-typical of a place like this this. I wouldn't necessarily recommend this place, but its not a bad B-option on a Friday or Saturday night.
One more thing...their desserts are freaking awesome. I needed to add that in.
553 characters
3.9
/5
rDev
+4.8%
vibe: 4 | quality: 3.5 | service: 4 | selection: 4 | food: 4.5
I've been to this location tens of times, but I hadn't been there for over a year, nor had I tried their house brews (because I wasn't legal drinking age all those times). After tonight's CSUF Titan baseball game, I took the two mile journey from the game to this place.
The place was alive at 9pm when I walked in. The exterior of the building is brick and it mixes well with the modern furnishings. There's a ramp from the entrance which will lead you to the bar, which seems isolated from the rest of the restaurant. At the bar, they must have had 7-10 house brews on-tap with a few guest beers too(Lindemans Frambroise, Sierra Nevada ESB). They have a cask which changes weekly on Thursdays. Can't go wrong with the food; the pizza highlights the dinner, but save some room for pizookie at the end.
A weekly happy hour is offered during two periods of time: M-F from 3-7pm, and Su-Th from 10pm to closing time. During that time, you can get $1 off your draft, 1/2 off personal pizzas, and additional discounts on appetizers. Had I known, I would have waited until 10pm and get myself a pizza to go with my beer.
I would encourage you all to come to this fine brewpub, but with so many other BJ's establishments around, you could argue once you've seen one, you've seen them all. But the difference here is the beer is actually brewed at this location (edit: now I hear they centrally brew their beer somewhere else. Also, as of 8-23-08, they no longer offer cask ale. )
1,479 characters
4
/5
rDev
+7.5%
vibe: 4 | quality: 4 | service: 4 | selection: 4 | food: 4
My roomate and I stopped here on the way to taps last weekend. I have to say that I was impressed with what BJs had on tap at the time. They had their pumpkin beer, their barleywine, and their 08 grand cru in addition to the regular selections. There were a decent number of people there so we couldn't do a sampler, instead we had to order a bunch of pints and split them. I thought the barleywine was interesting, it almost tasted aged. I thought the grand cru was alright and I really enjoyed the pumpkin beer.
We ordered a side of fries that was a pretty good size and tasted good. But then we had been drinking so my judgement may not have been completely objective. The service was good; the bartender was very attentative even though she was serving around 20 people by herself.
The restaurant itself was very nice too. The bar had a nice top to it, not sure exactly what stone that is, and they had a bunch of belgian bottles lined up between the liquor bottles. On one end of the bar you could see the fermenters. I think of the 5 BJs locations that I've been to this is the only one that actually brews their beer on site. I think the only down side was that the bathrooms were out of order so they had some porta poties outside, which were actually pretty nice all things considered.
Overall this is a pretty nice restaurant, just so long as you don't mind being in a full and noisy place.
1,405 characters

4.05
/5
rDev
+8.9%
vibe: 4.5 | quality: 4 | service: 4 | selection: 4 | food: 4
This BJ's is in the corner of the Brea Mall parking lot and is one where they brew... (which is nice since you get more specialty brews). My wife and i came on a warm Saturday noon and the place was hustle and bustle.
The atmoshere has just a great friendly social vibe to it. There was a good college crowd, families, and people just enjoying themselves. The TV's were on and a CSUF baseball game was on. (the Titans have won 11 or 12 College World Series/National Titles so their baseball is big here). As you go in the bar is to the back and a patio immediately to the right. The patio is nice to hang out at on a warm So Cal day. The BJ's brew selection hits all the major styles as usual with several specialty brews and a guess beer. The bottles offer a good number of belgian selections... i drank the blonde and Fullers ESB as i gave up heavier beers for lent. For lunch i had my normal cheeseburger and fries which i find very tasty and more than enough to fill you. BJ's is a fun place to come with family, friends or a date.
1,038 characters
3.45
/5
rDev
-7.3%
vibe: 3.5 | quality: 4 | service: 3.5 | selection: 2.5 | food: 4
i went to bj's in brea since it was close to where i lived. what i like about bj's is that it is family friendly (i had the lady and kid with me). i was little disappointed with the tap selections. when i went (1/14/07), they did not have anything "belgian" on tap and nothing special outside their normal pours. so, i had to settle for a bottle for kwak. but, i really wanted a belgian style brew on tap. for bottles, their prices are not bad for a restaurant. food is good and of course we all enjoyed the pizzokie. service was a bit slow overall. overall, i'll go again. i think i just went a "bad" time and a strike of bad luck. i am happy to find out a location is going to go up in chino hills with the new shopping center in '08 off the 71.
747 characters
3.45
/5
rDev
-7.3%
vibe: 4 | quality: 4 | service: 2.5 | selection: 3.5
went in on afriday afternoon. maybe that caused the lunchtime crowd to be more than usual. atmosphere was good. college world series on the tv's with the volume off. plenty of groups around waiting for tables, but some spare room in the bar area.
thried the hefe and pale ale. the hefe seemd to lack slightly on flavor but other than that i would have to review it as above average. the pale i was pleasantly surprised with. the menu states chinook bittering and cascade dry hops. no flavoring hops?? not sure, but it was nicely balanced either way and i would definitely try it again if i go back.
the service was friendly but on the slow side, perhaps due to being busy. didnt have time to try any food but they had the usual side stuff at the bar.
visited this place a couple of times when i lived nearby and would be a usual for me if i still did.
856 characters
3.8
/5
rDev
+2.2%
vibe: 3.5 | quality: 4 | service: 4.5 | selection: 3
Well the architecture, landscaping and layout of this place are all top notch. The entryway is one of the most impressive I've ever seen with a huge copper dome framing the ceiling of the entry and lots of waiting area. The large seating areas and outside patios are very impressive and the long huge bar very accomodating , though I felt sorry for my bartender, Brian, as he scurried about filling pints.
The beer here is not bad but is about what is expected from most chain brewpubs, i.e., kind of middle of the road for the masses. Still the English style pale ale was quite nice and the red ale hit the spot. Weak porter but the stout was tasty enough. Nice seasonal selection as well.
693 characters
3.65
/5
rDev
-1.9%
vibe: 3.5 | quality: 4 | service: 4 | selection: 3 | food: 3.5
First visited on September 3, 2002. Thanks totally to a kind invite and a lift from the wife of the Brewer, Chris Boggess of the Rock Bottom, Long Beach. For he invited me to Car pool with him and a friend, to a beer tasting night here. Interestingly, it was an English Mild and Brown Ale Beer Appreciation Night. Cool.
As you approach the premises, you cannot help but be impressed by its brick façade, and its overall quality look. A clean looking establishment that is rightfully popular. You enter via an octagonal shaped brick built entrance topped with a large dome.
For the beer tasting we were ushered right into a sort of glass roofed covered outhouse that runs down the length of the building. Make no mistake this is a large building. Food on offer was marvellous and appeared to represent good value for money. I tried a few of the beers on draft and they were all above average. Although the special that night, Nutty Brewnette was perhaps the least favourable. The Tatonka Stout though – is by far the very best beer that they do in my opinion. The staff were all friendly, pleasant and very attentive. A great place to spend the night with friends.
Well Worth a visit, one of the better BJ's I have been to.
1,228 characters
BJ's Restaurant & Brewhouse in Brea, CA
Brewery rating:
3.53
out of
5
with
188
ratings