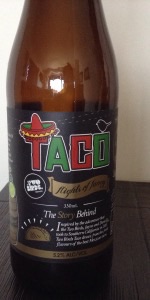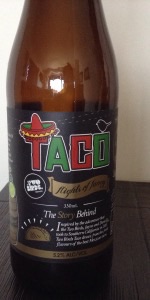 BEER INFO
Brewed by:
Two Birds Brewing
Australia
twobirdsbrewing.com.au
Style:
Witbier
Alcohol by volume (ABV):
5.20%
Availability:
Year-round
Notes / Commercial Description:
Two Birds Taco is brewed using ale and wheat malts, with an addition of flaked corn. Citra and Amarillo hops contribute citrus and fruity characters, which complement the additions of coriander leaf and fresh lime peel. The beer pours a hazy shade of pale and we use a clean, ale yeast to allow the fresh flavours to shine.
28 IBUs
Added by lacqueredmouse on 07-08-2013
HISTOGRAM
Ratings: 14 | Reviews: 8
Reviews by admiral:

More User Reviews:
3.54
/5
rDev
-2.2%
look: 3 | smell: 4 | taste: 3.5 | feel: 2 | overall: 4
Pours amber with a massive head.
Nose shows doughy wheat, wafer bread, herbal coriander, lime and a savoury note. Really does conjure up images of tacos. Some spicy and floral hops underneath.
Less intense flavours. Mainly cornbread with a hit of lime followed by a bit of the coriander.
Carbonation could be a fair bit higher.
Interesting and enjoyable stuff.
360 characters
3.81
/5
rDev
+5.2%
look: 3.5 | smell: 3.75 | taste: 4 | feel: 3.5 | overall: 3.75

3.78
/5
rDev
+4.4%
look: 4 | smell: 3.5 | taste: 4 | feel: 3 | overall: 4
Pours a straw colour, huge cloud to it. Basically looks like a witbier. Off-white head, medium thickness. Yeah, looks good.
Tangy nose. Lots of fruity hops with lemon and pineapple dominating. Possibly a touch of coriander and maybe some lime but it could just be a placebo effect.
Taste has a good malt base with a touch of corn to it; tang takes over midway with a big passion/pineapple new world hop flavour. Slightly citric, and then a decent wallop of coriander towards the back. It's mostly tangy and refreshing but a nice twist and kick with those other flavours.
Mouthfeel is slightly disappointing, fizzy and thin. Bit of malt presence saves it from feeling like a soft drink.
Very refreshing, tasty drop. More hoppy than wheat beer or Mexican-infused beer but I'm still a fan.
790 characters
4
/5
rDev
+10.5%
look: 4 | smell: 4 | taste: 4 | feel: 4 | overall: 4
They term this a "Hoppy Wheat Beer with inspiration". The inspiration is zest, corn, coriander and other fresh taco ingredients. Tried on-tap at the GABS festival in Melbourne (and at least once since, although I can't recall where—it may have just been again on a later day of the festival).
Pours a very light golden colour with solid hazing. Body is light, but with a heft to it. Head is creamy and full and pure white. Lace forms in pleasant thick sheets with some bubbly elements. Carbonation is hidden in the haze.
Fragrant and bright on the nose: slightly herbal, but spicy as well—indeed perhaps some coriander, but also plenty of zesty citric hops. It's very vibrant and alive and does work very nicely.
Taste is also excellent. Light, crispy corn characters on the start would be out of place anywhere else, but here they're worked into the rest of the beer brilliantly: coriander, chilli and fragrance, which dance through with a slight mexican spiciness through to the back. This is crisp and mild and again fragrant with corn and coriander. Feel is light but bright—matching the rest of the palate.
This is a very refreshing beer, but also very different and with stacks of character. It absolutely delivered on its promise, and most of all, it's just good damn fun.
1,297 characters

4.15
/5
rDev
+14.6%
look: 4 | smell: 4 | taste: 4.5 | feel: 3.5 | overall: 4
Taco beer? Taco... beer?? Taco beer??? Well I'll bite (and I did). I'm a sucker for experimental beers and Two Beers (Birds) are a half decent brewer - I have tried the yellow and red labelled ones in my many adventures through West End, Brisbane, aka "The Amazing Brewscapades Through West End Brisbane, Not to Be Confused With the Suburb of the Same Name in Townsville, of Sir Doktor 'Randalf Simingtonsonton' Hops" and yes I think I may need to shorten the title of my upcoming book about said escapades.
Poured from a 500ml bottle into a nonic pint.
A: Presents a cloudy amber body with a creamy white 1cm head. Certainly looks like a yummy Weizen.
S: Coriander off the bat. Nice bold herb/spice notes throughout the aroma, front to back. Also detected is funky yeast, corn husk and a citric note. I like where this is going btw.
T: Hot tamale this tastes like...? Tamales. Coriander upfront, followed by a starchy corn base (this beer can be forgiven for using what would normally be considered a cheap grain as the corn was intended) orange rind, clove, and finishes with pine/citrus hops. Tastes like an amalgamation of a Belgian Witbier and an American Pale Ale... in other words: Weirdly awesome.
M: Mid to light bodied with a light carbonation.
D: This brew to me is a validation that beers that mix styles, specifically Belgian and American styles, are awesome. An example of this was the Little Creatures Single Batch "The Quiet American" which threw together Belgian bubblegum/candi sugar and American pine/citrus hop flavours (with great aplomb I might add) [I did add]. Two Birds Taco is a brew I will simply have to get my hands/tongues* on again.
Food match: Tacos, Tamales, Dos Capos, anything Mexican.
*Yes, I am a cybernetic organism with multiple tongues sent from the future to taste craft beers (craft beers no longer being available in the future) and save some human named John Connor, who is now dead... I got distracted from my mission by the abundance of craft beers available in your timeline, sorry.
2,037 characters
3.78
/5
rDev
+4.4%
look: 3.75 | smell: 3.75 | taste: 3.75 | feel: 4 | overall: 3.75
Interesting idea so why not and it pours a hazed golden orange hue with a one finger head that stays and lacing everywhere, the smell at first sniff screams pineapple, a slight hint of wheat and kiwi fruit with light citrus, the mouthfeel is creamy well carbonated and uber bitter with tastes of pineapple, rockmelon, light citrus, light coriander and finished with a lime bitterness and overall I like where they are going with this and would be great at summer cheers.
470 characters

3.13
/5
rDev
-13.5%
look: 3.5 | smell: 3 | taste: 3.25 | feel: 3 | overall: 3
I have just read the other reviews and have to consider that bottled (this review) does not stand up to fresh. All i get is a bland macro - with intended corn flavours, and then added lime.
There ain't a lot of hops, and not a lot of wit. There is however, a sort of stale carboard note on the back palate.
So all in all, it could be Corona :-(
344 characters

3.51
/5
rDev
-3%
look: 4.25 | smell: 3.75 | taste: 3.25 | feel: 3.5 | overall: 3.5
500ml into a weizen glass.
L - carrot coloured orange, white frizzy head - pours 2cm thick
S - smells more like a pale lgaer - crispness, lime, soapy yeast smell and hint of passionfruit in the background
T - interesting - the lime is evident throughout, with peach and passionfruit flavours hitting in the middle. A noted lime citrus sourness near finish. Grainy corny flavours pop in and out.
M - highly carbonated, soapy texture, full bodied for style
O - interesting -good pairing with spicy food, but the lime is a bit overpowering for my tastes. Like a mexican pale lager with lime and high carbonation
617 characters

3.25
/5
rDev
-10.2%
look: 3.25 | smell: 3.25 | taste: 3.25 | feel: 3.25 | overall: 3.25

3.06
/5
rDev
-15.5%
look: 3 | smell: 3.25 | taste: 3 | feel: 3 | overall: 3
From bottle, Pours hazy straw light golden colour with a white head. Aroma citrus, lime, spice. Taste coriander, herb spices, citrus and lime. Very refreshing.
159 characters
3.66
/5
rDev
+1.1%
look: 3.5 | smell: 3.75 | taste: 3.75 | feel: 3.5 | overall: 3.5
Taco from Two Birds Brewing
Beer rating:
3.62
out of
5
with
14
ratings