De Gans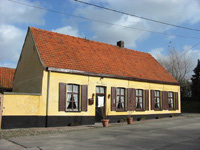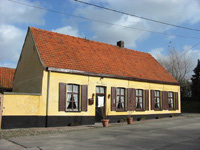 Bar, Eatery
Kloosterstraat 40
Huise
East Flanders
, 9750
Belgium
// CLOSED //
Notes:
Reviews by TheLongBeachBum:
TheLongBeachBum from California
3.83
/5
rDev
-15.3%
vibe: 4 | quality: 4 | service: 3 | selection: 4.5 | food: 3.5
I visited the "Goose" some years ago on my annual Belgium Trip. As such, we made use of our 50-seater Coach to get here. I have no idea how you would get here otherwise, for it is quite remote ! This is perhaps why it ONLY opens late afternoons to midnight on Fridays, Sat. & Sun - so take note if planning a trip. It is located on the road to Nazareth going out of the quiet village of Huise, which is in turn is just off the road between Gent and Oudenaarde. Looks drab and rundown outside, but don't get disheartened, for inside it is a very cosy, classic Flanders country cottage pub. Old well-worn wooden tables with wobbly legs and mis-matched furniture, give this place a real lived in feel. The couple behind the bar (the owners?!), were very friendly and extremely helfpul and courteous - given 30 of us had just taken over the place and they were rushed off their feet. The beer list of some 300 beers was quite stupendous & incredible for this small well-hidden, out of the way gem. Look carefully for there are rare beers, specials and we even found some beer from "dead" breweries. An excellent range of lambics, including all of the Cantillon beers when I was there. Food was limited basic country fare, but good. The Pancakes are great, just be prepared to wait when it is busy though. Don't come here in a hurry, make time and enjoy the rural setting. There is another bar with about 40 beers which is worth a visit whilst here, or whilst waiting for the Gans to open. It's about a 3 minute walk up the road, but I never wrote done the bloody name though - shame on me!!.
Oct 04, 2002
More User Reviews:
CRooney5787 from California
4.45
/5
rDev
-1.5%
vibe: 4.5 | quality: 4.5 | service: 4.5 | selection: 4.5 | food: 4
Such a shame DeGans is closing! It's a little gem, in the middle of nowhere. We were there with less then a month left. The owners made up a fantastic lunch, and shared some excellent bottles from the cellar. We drank a lot of stuff I never imagined I would drink there. I really wish they werent closing under these conditions, this place will surely be missed!
We visited with BA's beddachedda and unclejimbo. Uli was also present for this trip, and it will go down as one of the more memorable places in Belgium.
Jul 17, 2011
Svejk from Washington
4.63
/5
rDev
+2.4%
vibe: 5 | quality: 4.5 | service: 5 | selection: 4.5 | food: 4
We stopped here a couple of nights ago, and really liked this place. It is located way off the beaten path, so you will most likely need a car and GPS to find it. When we got there at about 8 on a Saturday night, it looked closed. When we went inside, the owners were very gracious and welcoming. We had a very nice dinner with a couple of "burning Trappists" where they put a red hot poker into a glass of Chimay an carmelize the foam. It smells and tastes a little like roasted marshmallows. We really enjoyed ourselves at this place. Highly recommended!
May 25, 2009
wbthink from New York
4.83
/5
rDev
+6.9%
vibe: 5 | quality: 5 | service: 5 | selection: 4.5 | food: 4.5
Cornfields & sheep surround this old cottage building.
The Gans has a nice selection of vintage bottles in their cellar.
A 3-room layout makes this one of the coziest places to enjoy a great bier, hot pancakes, and lively conversation out in the Flemish country. They serve many styles and flavors of pancakes & tarts.
Ingrid showed me their special method of warming up the Chimay Red with a hot metal poker. It creates a creamy head to an already wonderful beer. Hein & Ingrid are very gratious hosts.
This Huis countryside "Goose" centric cafe is fantastic!
Oct 18, 2003
saltydog from New York
4.86
/5
rDev
+7.5%
vibe: 5 | quality: 5 | service: 5 | selection: 4.5
This is a wonderful rustic farmhouse brewery not far from Ghent. The only way to get there is to drive, I think...at least that's how I got there. Homey atmosphere; beautiful brick wood-burning fireplace (with pokers for beer!), linoleum floors. Very much like someone's home. Very good beer selection, enthusiastic owner, and good selection of vintage beers. 3 rooms: One decorated with old Eastern European beers, one in center with bar, and one with Gueuze bottles. Very Friendly crowd Pancakes also very good.
Oct 03, 2003
De Gans in East Flanders, Belgium
Place rating:
4.52
out of
5
with
5
ratings