Dismiss Notice
Dismiss Notice
Sins Of Our Fathers Imperial Stout
| Crooked Fence Brewing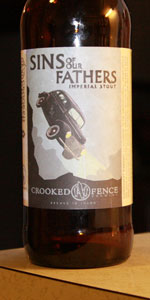 BEER INFO
Brewed by:
Crooked Fence Brewing
Idaho
,
United States
|
website
Style:
American Double / Imperial Stout
Alcohol by volume (ABV):
9.20%
Availability:
Rotating
Notes / Commercial Description:
No notes at this time.
Added by JohnGalt1 on 03-13-2012
Reviews: 8 | Ratings: 39

3.54
/5
rDev
-3%
look: 4 | smell: 3.75 | taste: 3.5 | feel: 3.5 | overall: 3.25
Very dark inky brown. Adequate foam and carbonation. Malty and boozy smell. And coffee. Thick and syrupy mouthfeel. Sweet caramel with a dark side. Burnt sugar followed by the hoppy bitterness.
Strong coffee flavor with bitter chocolate chaser. Overall, it's sweet, grainy, and coarse. Not the most inspired brew, but one of the greatest beer labels of all time (do a search for a better image). From the 22 oz bottle purchased at Bottleworks in Seattle.
★
456 characters

4.2
/5
rDev
+15.1%
look: 4 | smell: 4 | taste: 4.25 | feel: 4.5 | overall: 4.25
Poured into a Fremont small snifter. Pours pitch black, opaque in the glass with a fine one finger light brown head with great retention and lots of lacing. Aroma of dark toasted malt, chocolate, a little vanilla and coffee; smells nice. Flavor is dark toasted malt with a bit of char, dark chocolate, light espresso coffee, a bit of molasses finishes with rich cocoa and dark malt with lightly hops and mildly char. Smooth, quite creamy body with an excellent mouth feel. This is very nice imperial stout. The flavor is full and well integrated with robust malt and good chocolate flavors with char and coffee at the edges. Reading old reviews here, this must have gone through a recipe revision, because this is top notch. My first introduction to this brewery and a good one. I really like this. The ABV for this recent bottle appears to have gone up a bit to 10%, but it is well covered.
★
892 characters
3.84
/5
rDev
+5.2%
look: 3.5 | smell: 3.75 | taste: 4 | feel: 3.75 | overall: 3.75
Black and oily, smooth yet with a nip of alcohol warmth, a perfect fall drink. On tap at the Crooked Fence taproom, black as night with a small skin of beige head. Aroma and taste are rich roast grains, coffee, chocolate and molasses. Delicious, smooth and easily drinkable.
★
274 characters
3.5
/5
rDev
-4.1%
Smells roasty and chocolate. Deep black with a small tan head. Flavor is pretty good, sweet and malty mainly with some hop and roast bitter balance. Ripe fruit yeast esters. But it's kind of thin body and none of the flavors really stands out or seems like a big Imperial Stout. It's fine but if I'm thinking of great impy stouts to seek out this won't get in the conversation.
★
377 characters
2.57
/5
rDev
-29.6%
look: 2.5 | smell: 3 | taste: 2.5 | feel: 2 | overall: 2.5
Big thanks to JohnGalt1 for sending me this in a trade a few months back. Slight label variation noted, this brew is 9.5% ABV vs. BA listing.
Appearance: Pours out a fairly thin looking dark brown. About 1" of khaki colored head forms, which has surprisingly short retention time and virtually no lacing. Between the thin looking body and below average head characteristics, not a great looking beer.
Smell: A bit of roast, a bit of coffee, perhaps a bit of milk chocolate and licorice. I also get faint piney American hops. Nothing really noteworthy about this.... scents are very cohesive, but just kind of plain.
Taste: Roast, coffee, and a hint of milk chocolate are noticeable up front, with a bit of hoppiness on the back end. Overall though, this is an extremely thin and watery stout. Has some nice base flavors, but it is close to astoundingly thin for a 9.5% ABV stout.
Mouthfeel/Overall: To repeat myself, extremely thin and watery. Definitely the weak link of this beer, and really brings down every other characteristic. Overall, this beer does have some redeeming qualities, but is just too thin to be a good example of the style. Work on that body a bit and it will improve every other aspect of the beer, at least for me.
★
1,242 characters
3.9
/5
rDev
+6.8%
look: 4 | smell: 4 | taste: 3.75 | feel: 4 | overall: 4
Appearance: Pours a chocolate fudge brown color with a modest head that leaves a bit of lacing behind
Smell: Chocolate and coffee with a hint of ash
Taste: Very chocolatey, up front, with the coffee arriving in the middle and lingering into the finish; a bit ashy in the aftertaste
Mouthfeel: Medium to full body with moderate carbonation
Overall: Though it is a bit one-dimensional, that dimension is quite enjoyable
Thanks, JohnGalt1, for the opportunity
★
461 characters

3.8
/5
rDev
+4.1%
look: 3.5 | smell: 3.5 | taste: 4 | feel: 3.5 | overall: 4
Bomber thanks to Toby. Really cool label. Pours a jet black color with a small white head. A nose of dark fruit, chocolates. The flavor is dominated by sweet dry earthy ash, cocoa, chocolates, light banana and dark fruit. Very ashy. Good. Milky at times.
★
254 characters
3.6
/5
rDev
-1.4%
look: 3.5 | smell: 3.5 | taste: 3.5 | feel: 3.5 | overall: 4
I've had this twice now... both bottles were picked up at the brewery on Chinden. Ditmier's buddy "ScubaSteve" brought a bottle to the RIS tasting at Sammy's house.... A coworker shared a bottle with me after a long day of election work.
Pours a pretty deep brown head... the brew is about black but allows some light through on the stem end of my glass... spotty lacing and only okay retention.
The nose is pretty good but mild... seems just enough dark malt and minor coffee jumps out of the goblet... a bit thin on the aroma.
Flavor mirrors the nose but has a lingering dark maltiness on the palate.... midpalate is light char and some dark cocoa... not really getting any hoppiness... More of "everything RIS" would be appreciated.
Body is a decent medium for the style... I would hope for more body and more malt punch with every taste... Seems for me too attenuated and could use more malt on the flavor and on the palate.
Still though... I think it is a great jump into the style... Hammer it down and you will have a winner.
3.5/3.5/3.5/3.5/4
★
1,056 characters
Sins Of Our Fathers Imperial Stout from Crooked Fence Brewing
-
out of
100
based on
8
ratings.