Beer Table To Go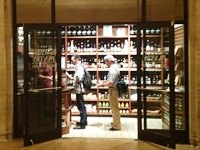 PLACE INFO
Type:
Store
89 E 42nd St
New York
,
New York
, 10017-5503
United States
(212) 922-0008 |
map
beertable.com
Notes:
Located in the Graybar Passage of Grand Central Terminal.
Added by DoubleSimcoe on 11-13-2011
Reviews: 12 | Ratings: 24

3.74
/5
rDev
-2.6%
vibe: 3 | quality: 4 | service: 3.5 | selection: 4
I added this place to BA so it is about time I reviewed it.
I was a little excited about a quality beer place at Grand Central (not sure why, considering I don't frequent the station often).
Finding the store was a little tough at first, what with the maze of passages and stores inside Grand Central. This is a hole-in-the-wall of a shop, nothing but a huge floor-to-ceiling shelf with a ton of bottled beer and a small growler station with four taps.
I've stopped by a couple of times but have never felt compelled to buy anything. The growlers are not badly priced ($12 per refill, if I'm not mistaken), but the bottles are outrageous. I remember seeing a Southern Tier bomber for something like fourteen dollars. I almost fainted right there on the spot.
To be fair, they are the only good-beer option around, beyond the Bud Light stands at the train tracks, so if you do need to swill a craft brewsky on the train, you gotta come here. Always good stuff on tap, like Brooklyn Black Chocolate Stout and Dogfish Raison d'Etre. Good selection of beers too, with a lot of imported stuff from Brewdog, Evil Twin and the likes.
Service is very nice, the growlers are pressure-filled and they have gourmet snacks to go with your overpriced beer.
Why not? You live in Connecticut, after all.
1,299 characters

4.08
/5
rDev
+6.3%
vibe: 3.5 | quality: 4 | service: 4.5 | selection: 4
This place is an off shoot of the boutique beer spot/small restaurant in Brooklyn.
GC location, just north of the main food market in the station (which includes a Murray's cheese location BTW).
They have 4 counter pressure (nice) filling lines, and a moderately sized wall nearly filled with boutique (surprise) quality bottles. They have all the beers at room temp. and also cold in a behind the scenes cooler area. Small in size, staffed by 3 knowledgeable workers.
Some of the bottles were quite pricey, but I was happy to buy a single Lagunitas IPA for $3, not bad at all by Grand Central standards. (I'm sure hundreds of commuters a day are paying the same rate for a beer but getting BMC) Growlers seemed to be priced at a more reasonable level.
They also stock have some mustards, beef jerky, a few other snack options and also the BA magazine, which made good reading on the train back home.
Convenient if you pass through GC and need a good bottle or growler and don't have time to go to a more neighborhood type of lacation.
Follow Beermenus.com for updates on growler options
1,100 characters
4.21
/5
rDev
+9.6%
vibe: 3.5 | quality: 4 | service: 4.5 | selection: 4.5
This place is tiny and you often need to wait for other shoppers to finish before you can even get in to look at the beers (it is barely larger than a kiosk). I always suggest that folks make sure to look at the beers in the windows of the shop (where the coolers are) to make sure they are seeing everything that is available.
The beers are sold properly and most are available chilled, which can be a real advantage if you are going to be jumping onto a train and want something to enjoy on the ride. They also serve growlers and pints but I have never personally gotten anything on draft.
The folks working at Beer Table Pantry are generally very knowledgeable about the beers and seem to be very patient with shoppers that are not as familiar - especially folks that are buying beers as gifts or trying something less mainstream craft for the first time.
For as tiny as the place is, they have a very nice selection of craft beers available - in fact, I often come across beers here that I have never seen anywhere else in Manhattan (and I hit Good Beer, Top Hops, Whole Food Bowery, and New Beer when shopping in NYC). The draft beers while not numerous almost always feature mostly NY brewers.
No food is available.
Prices tend to be a little higher than other places in Manhattan but the convenience of the location at Grand Central Terminal probably explains that and the more mainstream the beer the more competitive the price. Also, the prices on the growlers and pints are quite normal.
1,502 characters
4.06
/5
rDev
+5.7%
vibe: 3.5 | quality: 3.75 | service: 4.25 | selection: 4.5
Vibe: This place seems more like a walk-in [beer] closet compared to a retail store, but the compact space seems to work well for its primary function—serving beers-to-go for commuters passing through Grand Central Terminal. Although three shelves of beers are located along back wall, the store has a refrigerated storage room in the back and if you want a cold bottled or canned beer, a staff member will grab one out of the back for you. Since you can drink on the train, this is a good place to stop and pick up a cold one before taking a trip on the rails to the northern suburbs.
Quality: Cold beers were served at the proper temperature and beers on-tap will filled up to the top of the container.
Service: I found the staff to be very friendly and they had two people working during the evening rush hour to speed up the process of filling growlers or pints-to-go, getting cold beers from the back, or ringing up customers. The only drawback is that the store can feel cramped during rush hours when a couple of customers are waiting.
Selection: This store has a rather large beer selection considering its small floor area and also has six beers on tap. If you are willing to pay a premium, they also have a number of different hard to find beers or limited releases.
Value: Some of the bottle prices are extremely expensive, but the beers on-tap are of better value. Pints-to-go are only $4-$7 once you purchase a reusable mason jar and lid for $2.50, making it a better—if not comparable—deal compared to other bars in the neighborhood.
1,557 characters

3.86
/5
rDev
+0.5%
vibe: 4 | quality: 4 | service: 4 | selection: 3.5
Made a turn out of the Terminal Market and stumbled upon a closet-ful of craft brews, right in a GCT hallway. Had no idea this ever existed, but my days of the Fosters Oil Can on the Metro North ride home are officially over.
Very small facility, but probably 40-50 different beers ranging from the ordinary (Brooklyn) to the premium (interesting Belgian section). Everything is available warm or cold - but you'll need an opener to enjoy on the train itself. Plus, 4 brews on tap for take home growlers.
Very helpful staff - I knew what I was doing, but a few people wandered in who were lost, and they were very helpful.
Be prepared for sticker shock - you are definitely paying for their GCT lease. So not likely to be your beer run place, but to buy stuff in NY you have to pay NY prices, so just sit back, relax, and enjoy not having to drink crappy brews on the train ride home!
887 characters
3.73
/5
rDev
-2.9%
vibe: 4 | quality: 4 | service: 4 | selection: 3
I'm a regular here, stopping in at least 2-3 evenings a week before my dreaded train ride home from midtown to somewhere too far north. The beer carts in GCT suck (although the very recent addition of Goose Island was a slight step up), so the arrival of this joint afew months back was welcome. The redhead who manages the place is a hottie, so if nothing else, seeing her a few times a week makes me happy. The selection is always interesting, but given my go-to beer place back home carries 1000+ labels, the Beer Pantry is limited for me. And CRAZY expensive. C R A Z Y expensive....just in case you missed my point. Expect a minimum 40-60% mark up on everything. But hey, it's NYC, it's GCT and it's unique. You'll pay to enjoy. I do.
739 characters
2.48
/5
rDev
-35.4%
vibe: 2.5 | quality: 2 | service: 2 | selection: 3.5
Don't expect much from a place in GCT. It's OK if you want a beer for train home but you will pay dearly for it. I purchased a Growler of their Table Beer selection from Stillwater and man was it funky. When I asked to have it described, it was categorized as light in color not too strong with Belgian yeast. I know my belgian's and expected that funky grassy but was overwhelmed. That's all for the beer review page. What I want to say about the Beer Table was this... You can't sample... OK that's the law... I get it... but when I find something undrinkable, you should allow me to swap it out for something else. When I called, the person on the phone said to me... we won't do that because that beer is really popular. if was one of the other beers we would be happy to do that... BS.
All in all... the beer is expensive... so is everything in NYC
Don't expect to get a taste of something... it's the law
Be sure to only buy something that you know... you are going to need to live with it
I won't be going back
Adding a note: I don't want to beat up the beer, It's not my style. I just want to point out that they need to communicate more clearly the style of beer and in the event someone doesn't like something, stand behind your product.
1,250 characters
4.4
/5
rDev
+14.6%
vibe: 4.25 | quality: 4.5 | service: 4.5 | selection: 4.25
In Sum: Great beer store staffed by knowledgeable and friendly staff. Expensive, but worth it for the commuting crowd who enjoy a good rotating selection of local and craft beers.
Pros: Friendly, patient, and well educated staff. Convenient location for metronorth travelers, quick moving lines, rotating taps, solid staple of good beers with daily new and rare finds available. Occasional tastings from NYC breweries. Great selection of beers and styles, clean tap lines, fresh cans from NYC breweries.
Cons: It is expensive, but its a craft beer store in Grand Central Station so the prices are to be expected. You can buy a $5-$8 stella/coors/harpoon at any of the other vendors in GCS so in the end I think its worth it for $6 two hearteds or $7 pipeworks' cans.
768 characters
1.55
/5
rDev
-59.6%
vibe: 1 | quality: 1 | service: 3 | selection: 1
The chick working there was hot.
Only reason to even walk in.
Seriously - only for the "in a rush in a bind crowd" - went there today and saw many of the large format beers are $5-$7 more expensive that City Swiggers on 86th - a mere 4/5 train and 10 mins away. Maybe 100 beers - most of them shit. Didnt see anything I haven't seen before. If I lived or worked within blocks of GCT I still wouldn't go there. Sure your rent is high, sure it's a good idea, sure...bet you're out of biz by next year. People who love beer wont come here - clowns who need beer for a gift will.
576 characters
4.14
/5
rDev
+7.8%
vibe: 4 | quality: 4 | service: 4.5 | selection: 4
This is a small but well curated bottle shop. Rarely do I see more than one or two beers from a single brewery, they carry the best a maker has to offer and look for other styles from a different maker.
They have some exotic bottles and a great location if you commute through Grand Central. Prices are steep for the bottles, not bad for growlers. This isn't a place to do all of your shopping, but a good place to find something special domestic or imported. Seems to have an emphasis on Italian craft beers. Employees all seem knowledgeable after a few visits.
563 characters
2.13
/5
rDev
-44.5%
vibe: 1.25 | quality: 1 | service: 3.5 | selection: 2.5
The beer options at Grand Central are not good so this place is really the only stop for commuters looking for a road soda. Unfortunately, it is a criminal enterprise with extortionate pricing. The whole ride home you drink your beer and reflect upon being skinned.
265 characters
1.53
/5
rDev
-60.2%
vibe: 3 | quality: 1 | service: 2 | selection: 1
Pros: people are friendly and the beer selection is good and convenient for people on the fly.
Cons: going into this shop and witnessing first hand the tourist trap that this is, I can see why there are only 10 reviews.
Most people who know NYC and beer would avoid this place.
Let's put it this way.
There are various merchants riding the dwindling craft beer bandwagon who decide to open up shops in areas where the rent is too high and price gouge customers ignorant or desperate enough to pay for a beer that anywhere else would be $10 lower than the asking price ($38 for a $21 bottle), then cash grab before their year is up and they close shop, never to be missed.
This place is no different.
My heart bleeds for people trying to make a dream happen and more power to these guys for trying, but that being said... Take my advice.
Go somewhere else.
862 characters
Beer Table To Go in New York, NY
3.84
out of
5
based on
24
ratings.