Kraftbräu Brewery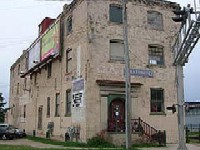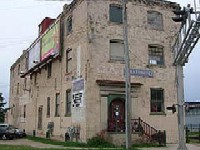 PLACE INFO
Type:
Brewery, Bar, Beer-to-go
402 East Kalamazoo Avenue
Kalamazoo
,
Michigan
, 49007
United States
(269) 384-0288
// CLOSED //
Notes:
No notes at this time.
Added by Wildman
Ratings: 11 | Reviews: 11
Reviews by CortexBomb:
3.39
/5
rDev
-4.5%
vibe: 5 | quality: 3 | service: 3 | selection: 3.5
Kraftbrau is the local poet's hangout and indie rock venue in Kazoo with an attractive, railroad track border building and wonderful atmosphere. This place is really second to none for the joy of just sitting back, and enjoying the old style architecture, quirky moosehead and 'bohemian lager' signs, slam poetry, or music.
That said, I go in spite of the beer, not because of it, and that's not a good thing for a place that only serves their own beer.
Kraftbrau is basically a lager lovers paradise, I think they make nearly 20 beers, and of those a large majority are the lighter, pilsner or light lager styles. That's fine if you're into that sort of thing, but if you're not it's hard to find something good to drink.
I appreciate their beer knowledge, but IMHO most of their brews need some work. I love the place for the entertainment and atmosphere, but I go there because of the concerts or other events and not because of the beer.
952 characters
More User Reviews:
3.28
/5
rDev
-7.6%
vibe: 3 | quality: 3 | service: 3.5 | selection: 3.5
This is a really strange building to use for this application. Kind of odd to walk in and you can almost smell the history of how many upteen different things this building has been over the course of it's lifetime. Old train loading implements hang from the ceiling, the bricks are worn round and the floors squeak. Lots of character, but also a lot of grime too. It didn't matter if they served food, not sure I'd want to try it. I've been once on a Friday night and once on a Sunday afternoon and I much prefered the latter. During the night visit they had a pretty horrible punk/cover band on stage and it was packed. As a musician I've got to say this place has really annoying acoustics, the sound just bounces off every surface and is sure to make you go deaf. Not exactly a good venue to drink craft beer in. They may as well just make this a regular bar and serve BMC. Well, maybe not, but still, not like they're providing a way to enjoy their brew. The beer overall was mediocre at best. Not horrible, but nothing special either. Service was pretty good though... be forewarned that they don't fill other place's growlers which is really a pain in the neck. I responded by not getting anything to go at all.
I doubt I'll be back anytime soon, especially with Bell's right across the street. It may be snobbier, but the beer is better and the atmosphere is more comfortable.
Slàinte!
1,400 characters

3.35
/5
rDev
-5.6%
vibe: 2.5 | quality: 3 | service: 4 | selection: 3.5
This was an interesting place in an (obviously) former industrial space, located across the tracks from Bell's Eccentric Café. They were equipped only to sell beer and alcohol, no food, although they offered popcorn and beer nuts. The bar was a long, curving "S"-shape, all of the way aft with the back bar seemingly constructed from some early cold storage/ refrigeration unit with its heavy wooden doors and solid construction. I saw a sign advertising the Kalamazoo Loose Leaf Binder Company, but I am sure that it dated from a later iteration in the building's life. Moving forward, away from the bar, there was a solitary pool table to the right, facing forward, and in front of it was an ancient upright piano. To the left, still facing forward, were some semi-mismatched tables and chairs, and ahead of them, a slightly raised stage. To the extreme left was a smoking deck, which overlooked the train tracks next to the building, and a freight train went by while I was out there, skylarking. Continuing forward were the washrooms, one on each side of the passageway. They had about ten beers on tap when I visited, but I just was not really impressed by any of them. It was also the first place on the trip that offered the "Buddy Beer" concept. You buy someone, not present at the time, a beer and their name is listed on a chalkboard for the next time that they visit. It's a great idea, but since I didn't know anyone locally, I took a pass. My big knock on the place - the dust. It just seemed really grimy.
1,528 characters

3.48
/5
rDev
-2%
vibe: 3.5 | quality: 3 | service: 3.5 | selection: 4
Stopped at Kraftbrau en route to Bell's across the street (their parking lot is easier to see when you're new than Bell's which is behind the brewery). A band was playing, but they waved the $10 cover so that I could have a beer--maybe because I simply turned around when I saw the stiff cover, and decided they had nothing to lose by letting me in.
A very cool old building, brick sticking straight up on the corner of the lot. Almost looks like other stuff used to be around it, but this is the last one standing. Inside has a close, dark, closeted feeling with a small stage opposite of the bar.
Got the feeling the place was more about music than beer, but the beer was ok. Nothing stood out as stellar, though the Amber Ale was very smokey and almost tasted like a Rauchbier, which I didn't mind but it might have scared many of the regular patrons. Unless the band was just pulling in a lot of new customers, all I heard at the bar was "give me something light." The hefe seemed to be doing well, and the heaviest thing going out for most of the drinkers, which is fine. All the beers were drinkable, which was good because it was hot and didn't seemed air conditioned at all.
If you got time, stop by, especially if you like local music or you just like to collect samples like I do.
1,302 characters

3.1
/5
rDev
-12.7%
vibe: 4 | quality: 2.5 | service: 2.5 | selection: 4
Well this ran down looking bulding doesn't appear to be a place you would want to visit from the outside. Until you find out it's a brewery. It's directly accross the street from Bell's which I think is a mistake on Kraftbrau's part. The main reason being you can get a Two Hearted Old Ale for the same Price as a Kraftbrau Helles bock. Hence the a bit pricey category.
But I did find the place to be very appealing to my likes, a very dingy, dank, ran down building with a pool table, beat up bar, and seating area. They also have one of the sit down galaga, ms pacman video games that are always fun to play.
The selection was pretty good but they didn't really have anything unusual. The bartender was not much of a help and didn't seem to want to "sell" us a beer.
If I hadn't of spent most of the evening at Dark Horse and Bell's I would have liked to had 1 or 2 more here. A place definitely worth checking out.
926 characters

4.06
/5
rDev
+14.4%
vibe: 4.5 | quality: 4 | service: 4 | selection: 4
Hit Kraftbrau early on a Saturday afternoon, so it wasn't very busy. There were only about 5 other people in there. I love the atmosphere... it's all dark wood floors, a nice old bar, and a few random artifacts left over from it's former days as a warehouse. It paradoxically manages to feel cozy yet open and industrial. Not at all pretentious, and definitely a bit more of a laid-back townie brewpub. It's all very organic, like they didn't have to try hard to develop the atmosphere; it just evolved. I've heard this place gets packed during concerts. I didn't go outside, but I think a few people were enjoying the sunshine on the deck. The selection was good with 11 beers on tap, and it was before 8PM so it was only $2.50 for a pint. Can't beat that.
757 characters
3.03
/5
rDev
-14.6%
vibe: 3 | quality: 3.5 | service: 2.5 | selection: 3
We wandered in here after spending a good 3 hours at Bells and we just wanted a place for the dd to sober up. It had just opened and we were the only ones in the place. A lot darker and dingier than Bell's and it had a more local feel to it (i.e. people probably dont come from wide ranging places to visit this place). We just basically ordered a couple of beers and sat out on the deck so one guy could smoke. The bartender seemed bored and disinterested. Pretty darn impressed with the brews we tried though (dunkel, pale ale and blackberry dunkel). And sitting on the deck was pretty cool, although i think inside would have been slightly uncomfortable. It looks like they have a lot going on in the evenings here so i wont be too harsh and i did like the beers....so all in all a good place to go after bells.
814 characters
3.35
/5
rDev
-5.6%
vibe: 4.5 | quality: 3.5 | service: 2 | selection: 4
I didn't know that this place was across the street from Bells when I went. I also didn't know it was across the street when I left. It wasn't until I took a special trip to Bells that I noticed it was right across the street form Kraftbräu. But I originally found Kraftbräu because my favorite band, The Mountain Goats, were playing there. They have played there more than once and I hope they continue to often, because seeing The Mountain Goats in Kraftbräu is a beautiful thing. Although, I don't know how accurate this review will be because the place was packed to the limit when I went and I have no idea what it would be like on a non-concert night.
Anyways, the place is basically one giant room in a very old building. There is a sort of porch, but it was packed full of people smoking so I never made it out there. The room is very raw and much of the machinery left from whatever the building was used for before is left hanging from the ceiling. The place was full of emo/indie/angsty twenty somethings that looked right at home in this unrefined and somewhat abnormal enviroment.
The beer was good despite the plastic cup it was served to me in. My buddy got an irish stout that came in a glass, but it was a significantly smaller portion. I don't know what kind of glassware they usually serve in, but I can't really blame them for using plastic on a night as full as it was. I had a blackberry dunkel, and it was suprisingly good. I love seeing these smaller establishments experimenting with quirky styles and blending in unusual flavors.
All in all it was an unfogetable expreience. The music was definatly the highlight of the evening, but the exremely decent beer and good feel of the establishment becons me to come back.
1,757 characters
3.66
/5
rDev
+3.1%
vibe: 3.5 | quality: 4 | service: 4 | selection: 3
Accross the street from Bell's. Recommended to me by a local.
The atmosphere...well, I had the pleasure of coming in on a Wednesday night. Evidently, it's a local hangout on Wednesdays to watch independant films. I walked in and over and through the several hundred people sitting on the floor to watch an indie film. They seemed annoyed that I was bothering them by walking in to the bar. I finally made my way up to the bar where I ordered my drink loud enough to talk over the movie so he could hear me. I got a "SHH" from one of the viewers as I was doing them a misfavor by ordering a drink...in a bar! The bartender got close to me and we whispered back and forth what they were serving etc. Pretty odd if you ask me. I believe they had 5 selections of the housebrews available. I went with the doppelbock and I enjoyed it. It seemed like I was the only one drinking amongst the several hundred people packed in the place like sardines. I think I saw one other guy order at the bar and it was a coke. I don't get it. If you're going to have these things, don't you want to make money off of it and sell some beer?
Mix of hippies, college kids, and the 30-40 crowd. Interesting to say the least.
1,202 characters
4.47
/5
rDev
+25.9%
vibe: 4.5 | quality: 4 | service: 5 | selection: 4.5
I visited this establishment early one afternoon, to find the brewer just opening up. This worked to my advantage since he was willing to give me a brief tour of the brewing set up, before the other patrons arrived.
The atmosphere, this early at least, is quaint quiet and cozy. The old rail warehouse has converted quite nicely into a blue collar tap room, with a nice stage set up in the corner to accomadate a nice selection of regional and national acts (check out the website). I like the fact that it's easy to move around without tripping over tables and chairs.
The beer quality is good, and the selection is excellent. There is a number of lagers on tap, which is unique to a pub of this size, and the quality of the lagers is good to excellent. In addition the offer some ales, and an occassional nitro ale or two. There is a really good chance you'll find a beer you like.
Again the service was exceptional, as the brewer spent time talking with us even as a few other patrons drifted in. It is certainly worth stopping by to check out, especially if you are in Kzoo to check out the brewery across the street.
1,130 characters
3.9
/5
rDev
+9.9%
vibe: 4.5 | quality: 3.5 | service: 4 | selection: 4
This brewery is in a similar non descript building like Bell's across the street, but varied greatly after that. The inside of it was set up more like a small bar/club and the stage was in front where you walked in. It was mostly old tables and chairs that littered the place and the bar at the back of the place was small and old style. They had a decent amount of their beer on tap, in addition to beer for sale to go. The beers were alright, but the majority of them were a far cry from the Bell's beers across the street. It was open mike night and one of the later bands was quite good. We went out onto the outside deck area and watched some of the trains come in. While the beers here were not as good, the atmosphere was much nicer than Bell's and we actually enjoyed ourselves more even if the beer wasn't as good
829 characters
Kraftbräu Brewery in Kalamazoo, MI
Brewery rating:
-
out of
100
with
0
ratings