The Lab Brewing Co. / Twisted Oak Tavern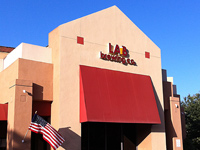 PLACE INFO
Type:
Brewery, Bar, Eatery
30105 Agoura Rd
Agoura Hills
,
California
, 91301
United States
(818) 735-0091 |
map
twistedoaktavern.pub
Notes:
No notes at this time.
Added by tjensen3618 on 11-18-2011
Reviews: 8 | Ratings: 21

5
/5
rDev
+25.9%
vibe: 5 | quality: 5 | service: 5 | selection: 5 | food: 5
absolutely love this place. great vibe, great food, and the beer is the most under-rated in california. if your in the area, i highly recomend checking it out, and leaving with a growler.
187 characters
4.56
/5
rDev
+14.9%
vibe: 4.5 | quality: 5 | service: 4.5 | selection: 4.25 | food: 4.25
I have waited to write this review. I have been going to The Lab for a year now, probably about once a month. I think they have been open about 1.5 years. My first impressions were so/so, but over time they have gotten better and are now one of my favorite breweries. The atmosphere is friendly and pretty laid back. They have two patios that are great for kicking back and enjoying a pint or two. Now the important stuff, the beer. Originally the IPA was decent, but over the last couple of months the recipe must have changed because it is great!! They also have a double IPA - great also. I am mostly a hop head, but will occasionally will drink their triple. It is one of the better triples I have had (but I don't drink them too often).
741 characters

4.2
/5
rDev
+5.8%
vibe: 4 | quality: 4.5 | service: 4 | selection: 4 | food: 4.5
A: Upscale. Clean, swank. Reminds me of a fairly nice Las vegas lounge. Bar was packed, dining area less so. Dining area seemed a bit more formal then the bar, but I liked both.
Q: House beers were all pretty decent. I'll even go as far to say, better then most of the beers from Ladyface down the road. That might offend some, but do a taster at both in the same day, and decide for yourself.
S: Solid service. Attentive on the water refills, and plate clearing. No mix up, decent pacing, and low pressure to hurry.
S: 5 house brews (for now) and over 20 guest taps. All craft from what I saw, and a good mix.
F: Impressive. Being vegetarian, my options are pretty limited at a lot of restaurants, but thankfully most nowadays at least most have a veggie/garden burger, as does the Lab. However, many restaurants have store bought, frozen patties. Not so at the Lab. The patty was handmade, fresh, moist, and delicious. My wife had the fish and chips, and enjoyed them, and fries were solid as well. The house ranch dressing is also pretty good, (can be a deal breaker for my wife if the ranch sucks)
V: Slight ding here. A bit on the pricey side. $12 for a taster flight, and of their house brews no less is probably the most I've ever paid for 4 tasters. Some beers on tap were $7, where I typically see them else where for $4-$5 (Avery White Rascal, looking at you) Even the local beer from Enegren was $7, when just a few miles away I could get a 5 gallon keg from them for $60 & and a growler fill for $15. At least the local beer, that is hand delivered should be cheaper imho. I know it's Agoura Hills, but due to the prices, this will likely be more of a nice night out destination, rather than a common local hangout spot. I do wish them success though, it was a nice night out, and we will be back.
1,818 characters
4.01
/5
rDev
+1%
vibe: 3 | quality: 4 | service: 4.5 | selection: 4
When I went here the other day I was the only person sitting at the bar. The bartender was quite friendly and talkative which was nice. The atmosphere seems like a restaurant that happens to brew beer rather than the other way around. I was able to get a few flights of their house beers and some guest taps and everything seemed to be of good quality. The selection was good but there was only 5 house beers and 10 or so guest taps on. Overall, I would most likely come back here if I were in the area and I would like to try the food sometime as well.
553 characters
4.01
/5
rDev
+1%
vibe: 4 | quality: 4 | service: 4 | selection: 4.25 | food: 3.5
The location is perfectly tucked away in agora and right off of the fwy if your taking the cheesboro exit from the 101s. The atmosphere is very loungy with a nice patio area and stage for local bands to play; they also have a fairly decent bar selection in regards to rum and whiskeys. The food, I feel, is slightly over-priced from what I received, but hey, they could have had an off-night. The beer selection, on the other hand, is quite good. From tripel karmeliet to hand crafted ales in-house, the choices aren't what you expect from a somewhat fine dining experience. The craft brews, the ones that I had, were slightly off taste with a mildly skunked taste but, these guys are new and I expect to see these brews improve over time. With all that being said: GO TO THE LAB, you won't regret it.
801 characters
3.99
/5
rDev
+0.5%
vibe: 4.75 | quality: 4 | service: 4 | selection: 3.75 | food: 3.75
The lab is in a strip center but is really larger than you expect.
Beautiful setup inside and a beautiful patio area with a tv and another bar.
We ordered a flight of four of their beers.
service as good, waitresses were nice.
The xpa was solid and the big ass red had a good flavor.
Overall a good experience, good beers and a nice casual place to kick back and have a couple.
378 characters

3.84
/5
rDev
-3.3%
vibe: 3.75 | quality: 3.75 | service: 4 | selection: 3.75 | food: 4
Twisted Oak Tavern was located across the street from my hotel, so I swing by for some food.
It's a nice bar & grill type place. There was a bar in the middle and tables around. I didn't have any beers since it was a visit after Ladyface (my first time there). They had a combination of house beers and some other guest beers. The bartender who helped me out was very friendly and helpful with my order.
I'd like to visit again and check out their tap list next time. Enjoyed my visit.
494 characters
3.18
/5
rDev
-19.9%
vibe: 4.5 | quality: 3 | service: 4 | selection: 1.5 | food: 4.5
This place opened November 2011 in a very classy, modern space west of Ladyface Brewing on Agoura Road. And they have the right attitude. Right now they have only four of their own beers on tap (an XPA, Red, Tripel & Coffee Porter)...but 25 taps of excellent microbrews from others.
Brewmaster Ralph is very friendly, and was working the bar last Monday night when I visited. He said they were taking it slowly, trying to build a quality menu and beer list...emphasis on Quality. And I can confirm; my Braised Short Ribs on horseradish mashed potatoes ($19) looked and smelled so good when it was set in front of me at the bar that the guys on both sides immediately put in orders.
682 characters
The Lab Brewing Co. / Twisted Oak Tavern in Agoura Hills, CA
3.43
out of
5
based on
80
ratings.