Ambrée D'Amour
| Golden Lion Brewing Company / Pub & Brasserie le Lion D'Or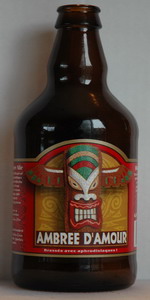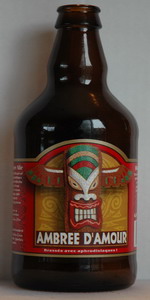 BEER INFO
Brewed by:
Golden Lion Brewing Company / Pub & Brasserie le Lion D'Or
Quebec
,
Canada
lionlennoxville.com
Style:
American Amber / Red Ale
Alcohol by volume (ABV):
4.80%
Availability:
Year-round
Notes / Commercial Description:
No notes at this time.
Added by Todd on 03-05-2005
HISTOGRAM
Ratings: 11 | Reviews: 8
None found.
More User Reviews:
2.09
/5
rDev
-31.5%
look: 3 | smell: 1.5 | taste: 2 | feel: 3.5 | overall: 2
Bottle reads: A mystical blend of four aphrodisiacs combined with the powers of our magical totem pole make this a uniquely stmulatin brew.
Okay so 500ml of mystical aphrodisiac into my wine glass. This beer has a strange vibe to it.
A- Little head, only a thick ring and a patch in the center. Peculiar amber with a very subtle pink hue. With the bubbles rising reminds me a bit of a pink champagne. Completely clear with no lacing.
S- Pee-yuuu was my first thought. Smells like grappa with a chocolaty background.
T- Hard to say. It tastes good and bad at the same time. Really tastes like light strawberry juice. Ends with a barleywine-esque bitterness.
M- Very thin, medium carbonation, very dry.
D- Refreshing and drinks okay but I'd be pissed if this is all I'd have to drink for the night. A whole pint would be too much.
I got used to it after a few sips and downed it but this is not what I'm looking for when I want a beer.
A tough-guy cooler.
964 characters
3.35
/5
rDev
+9.8%
look: 3.5 | smell: 3.5 | taste: 3.5 | feel: 3 | overall: 3
Bottle: Poured a deep amber color ale with a super thick foamy head with good carbonation and excellent retention. Aroma of dry malt notes with some notes of caramel. Taste is also dominated by a quite dry caramel malt mix with limited hops presence and without much complexity. Body is fuller then expected with good carbonation. Nice session ale without too much complexity.
376 characters
3.2
/5
rDev
+4.9%
look: 3 | smell: 3 | taste: 3 | feel: 3 | overall: 4
Served in pint glass, at 65F. Nice orange hue, bottle conditionned, light malt aroma / flavor. I feel it could use a little more. Light hop aroma, grassy. Well balanced. Mild bitter taste, slightly pepper, makes this interresting to try and figure out.
Not a crazy brew, but very enjoyable none the less.
307 characters

3.21
/5
rDev
+5.2%
look: 4 | smell: 3 | taste: 3 | feel: 3.5 | overall: 3.5
A nice amber beer, that when poored went from clear amber red to dark, actually it was like the eclipse of the beer. A nice head formed itself to a beautiful nice body, unfortunately the head quickly dissapeared without leaving her phone number but let traces of herself on the glass.
Smell: hops first comes to the nose, followed by spices and fruity notes.
taste: Bitter, sour, but without no complexity, a sourness that doesnt leave notes to the palate.The ginseng and other herbs used for this beers come and tricks us a bit, sourness from these ingredient, well I cannot very detect any, actually what does ginseng tastes like? I dont know, but I seriously think these ingredient comes play trick to this beer. I wonder how she would taste without Very drinkable, nice touches and finish to the palate, nothing to really freak on. Now, it say amphrodisiac, well I might tell how it end up !!
322
909 characters
3.77
/5
rDev
+23.6%
look: 3.5 | smell: 4 | taste: 4 | feel: 3 | overall: 3.5
Presentation: Golden Lion 500ml bottle.
Appearance: A orange / brown ale with no much head. As her sister, Pride, this ale's head disappeared very quickly, but continued to be very bubbly.
Smell: Malt with some floral hops
Taste: Bitter, but smooth.I didn't found the presence of these "secret ingredients".
Mouthfeel: Sweet, but a little too watery.
Drinkability: A good and shameless ale, but it won't make history.
433 characters

3.16
/5
rDev
+3.6%
look: 4 | smell: 3 | taste: 3 | feel: 4 | overall: 3
Poured from bottle into tall clear glass. Effervescent with one finger head that quickly dissaptes - no lacing. Nice clear light amber color. Aroma is a little off - similar to a fruit flavored beer like strawberry with some malty honey characters. Taste is a little sour like a fruit beer - I think this has strawberry extract, passion fruit extract , maybe some fig flavor too? Am curious whatthe "mystical blend of four aphrodisiacs" are... An acquired taste - not for everyone and in small quantities I think. Am also curious if it works haha.
547 characters
3.62
/5
rDev
+18.7%
look: 3 | smell: 3.5 | taste: 3.5 | feel: 4 | overall: 4
On tap at the brewpub. Pours an amber-orange colour with nice white head, but little lacing. Smells quite fruity and like sweet honey with a hint of floral hops. Very sweet flavour with a hint of bitterness. Nice carbonation. Nothing too exciting, but a flavourful amber.
271 characters
2.85
/5
rDev
-6.6%
look: 3 | smell: 3 | taste: 3 | feel: 2.5 | overall: 2.5
bouteille brune de 500ml.
belle couleur cuivré avec des reflets orangés. la mousse était très belle mais elle a disparue aussi-tôt, dommage, nez prononcé de malt, de caramel et d'épice, cannelle, bruyère (heather), peut-être. en bouche la finale est épicée mais je n'aime pas le goût.
297 characters

3
/5
rDev
-1.6%
look: 3 | smell: 3 | taste: 3 | feel: 3 | overall: 3
Ambrée D'Amour from Golden Lion Brewing Company / Pub & Brasserie le Lion D'Or
Beer rating:
3.05
out of
5
with
11
ratings