Bishop's Best Bitter
| Golden Lion Brewing Company / Pub & Brasserie le Lion D'Or
BA SCORE
82
good
14
Reviews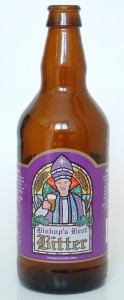 BEER INFO
Brewed by:
Golden Lion Brewing Company / Pub & Brasserie le Lion D'Or
Quebec
,
Canada
lionlennoxville.com
Style:
Extra Special / Strong Bitter (ESB)
Alcohol by volume (ABV):
4.80%
Availability:
Year-round
Notes / Commercial Description:
No notes at this time.
Added by kbub6f on 04-20-2005
Reviews: 14 | Ratings: 22
4.35
/5
rDev
+22.5%
look: 4 | smell: 4 | taste: 4.5 | feel: 4.5 | overall: 4.5
Much thanks to manaryp for bringing this back from Quebec.
A clear, deep, coppery amber hued bitter. A half finger light tan head formed on a fairly vigorous pour. Mildly and finely carbonated, and graced with thin yet full and intricate lacings.
Aromas of toast and whole grain crusty bread with a slight hint of toffee made for a very nice and somewhat complex malt aroma. This was followed by a very complimentary hop aroma (goldings?) with a predominantly leafy and earthy character.
Wow, this is yummy stuff. The whole grain crusty bread and toasty character forms a very tasty malt backbone, and hints of toffee and roasted nuts. Much like the nose, theres an impressive depth and complexity to this brew. Perfect amount of bittering hops reveal themselves midway through the taste and carry on lingering into the aftertaste. Leafy and earthy in character, but also carrying more complex flavours of bright virginia tobacco and cured leather.
Not quite a medium bodied brew. The rich and toasty malts finish refreshingly dry and have a wonderful counterpoint in the surprisingly complex and somewhat substantial hop bitterness which pleasantly lingers. Overall feel enhanced by a slight creaminess.
A refreshing yet complex brew, very tasty and certainly sessionable. Perhaps not the most approachable, but this is a great example of an easy drinking beer with great flavour and subtle complexity. Definitely recommended.
1,442 characters
4.1
/5
rDev
+15.5%
look: 4 | smell: 4 | taste: 4 | feel: 4 | overall: 4.5
Had this on tap at the brewpub. Pours a copper colour with big white head. Nice lacing around the pint glass. Smells of floral, citrus and earthy hops with a nice caramel backbone. Flavour packs a bitterness punch more than I was expecting for an ESB, with a nice sweetness balance. This was my favourite of the lineup at Golden Lion as it was the one I ordered again once I finished trying everything. Probably could be verging on a mild IPA or pale ale instead of a bitter.
475 characters
4.01
/5
rDev
+13%
look: 5 | smell: 4 | taste: 4 | feel: 3.5 | overall: 4
500ml bottle into pint.
L- This really looks nice. Small bubbles rise at different speeds in a beautiful amber. Head is frothy like whipped egg whites. Also the same colour as egg whites. Good thick lacing.
S- Grapefruit. Orange juice (from concentrate). A bit of honey once it warms up.
T- Litchi and of course grapefruit but not as strong as the smell would lead you to believe. A bit of a metallic after-taste.
M- Mouthfeel is fine. Definitely not too watery but nothing impressive.
D- I would buy a case of this. And drink lots of it. And would love to have some of my non-BA friends try it.
598 characters
3.97
/5
rDev
+11.8%
look: 4 | smell: 4.5 | taste: 4 | feel: 3.5 | overall: 3.5
bouteille brune de 500ml.
bière cuivrée passablement foncée, col très épais et durable, onctueux, il est blanc cassé. nez de houblon très agréable, un peu vert (houblon frais) belle bouche ronde, finale houblonnée très agréable, bonne amertume, équilibre parfait.
276 characters
3.78
/5
rDev
+6.5%
look: 4 | smell: 3.5 | taste: 3.5 | feel: 4 | overall: 4.5
Best before Dec. '05, drunk 7/27/05.
There are two inches of cream-tan-white, still, slow, flat but bubbly head. The beer is clear, clear copper and the lacing is wild striations and strata. Wild aroma: sweet, stinky cheese, hops, fruit. There's a bizarre inhale. Wax? Paint? Grapes and grass? The beer starts out with light milk chocolate and good hops. Through the middle it gets a little watery tasting. Maybe there's some fruit vanishing in there. But the feel is quite thick and foamy. Finish is sweet, hoppy, bitter, very milky and grassy. Aftertaste is nutty and quite bitter. It's an interesting, light, cocoa-hop-bitter beer with a grassy, grainsy finish. Quite milky. I could drink this. Extra points for the good flavors at only 4.8%abv.
751 characters
3.77
/5
rDev
+6.2%
look: 3.5 | smell: 4 | taste: 3.5 | feel: 4 | overall: 4
Appearance: The color of medium/heavy maple syrup, the once thick head bowed out early and the undersutdy, a firm ring of lace, took over for the rest of the show.
Smell: The hops are floral, even flowery I would say, with a citrus finish.
Taste: It's quite bitter and gripping on the tongue, the malt is maple sweet as well, but with a little biscuit crunch. Mouthfeel is decently long, and carbonation is in the mid to low range. I liked it, and will definately try it out on tap if I ever go visit the pub.
515 characters

3.74
/5
rDev
+5.4%
look: 5 | smell: 3.5 | taste: 3.5 | feel: 4 | overall: 4
500mL bottle into a pint glass.
Gorgeous looking beer with a clear amber/reddish color and a large, super fluffy head. Good malt and bitter hop in the nose with an earthy and herbal character which is quite inviting. Flavors are composed of biscuity notes from the malt and herbal/piney notes from the hop. Flavors linger very well. Body is on the high side with a nice warming touch of alcohol to sustain the rest. Overall, very enjoyable and balanced. A good surprise from this brewery!
489 characters

3.5
/5
rDev
-1.4%
look: 3.5 | smell: 3.5 | taste: 3.5 | feel: 3.5 | overall: 3.5
500ml Bottle
Appearance – Mostly clear copper colour with an average size fizzy off white coloured head. There is an average amount of carbonation visible and there is a good amount of lacing. The head lasted for around 5 minutes before it was gone.
Smell - Malts, hops, caramel, citrus, earthiness
Taste & Mouth - The beer has an average amount of carbonation and I can taste malts, caramel, and some light hops. There is a slight amount of grapefruit/orange and a roasted/toasted flavour. The beer finishes with a malty sweet aftertaste with quite a bit of bitterness that lingers.
Overall – As some other have said, this beer comes across as more of a IPA or PA. It's quite bittersweet so I'm not sure I could drink more that 1 bottle of this at a time.
764 characters

3.49
/5
rDev
-1.7%
look: 3.25 | smell: 3.5 | taste: 3.5 | feel: 3.5 | overall: 3.5
A:
Pours a clear copper with an airy off-white head that dissipates pretty rapidly leaving a thin but persistent film. Some retention and fairly decent lacing.
S:
Smells like a beer. Sour alcohol tinge with malty caramel notes making up the majority of the aromas. Kind of thin smelling and not very complex.
T:
Crisp and ever-so-slightly watery tasting. Earthy with medicinal hop notes.
M:
Thin and flat. Crisp and clean up front with rising hoppiness. Really abrupt finish.
O:
Pretty tasty. Way hoppier than I expected. To my tastes it is closer to a Pale Ale than an ESB, but whatever. Nice a drinkable. I think the hoppiness isn't overdone, but it is really bitter (like medicine). Would drink again. Would not expect it to taste like other ESBs I have had.
766 characters
3.41
/5
rDev
-3.9%
look: 4 | smell: 3 | taste: 3.5 | feel: 3.5 | overall: 3.5
Pours a a nice thick head, sticking around a while. Some lacing going on.
Light smell, not much noticeable really.
Tastes light as most bitters do. Good amount of hops, almost like you would find in an IPA; some citrus; definitely bitter. I'm not really a fan of bitters but this one is alright!
Lightly carbonated, thin bodied (again, as usually found with bitters).
This tastes like it would be great super cold on a really hot day. I'm still not really a fan of bitters, I don't think I would buy this again but would definitely recommend it to anyone who enjoys a bitter. It's the best bitter I've had so far in my experiences with the style.
654 characters

3.37
/5
rDev
-5.1%
look: 4 | smell: 2 | taste: 3.5 | feel: 4.5 | overall: 4
A: Perfectly translucent orange color with small but lasting off white head. Really looks like maple syrup.
S: Very nice malt sweetness backbone. Usual herbal type hops. Light smell.
T: Wow! I wasn't expecting that. Very very malty taste. Caramel and maple syrup are there. Hops are strong. Very herbal like in the smell. Much more intense than what I'm used to for the style. I've been surprised to fin a kind of coffee taste in this one, intesresting.... very balanced brew overall.
M: Perfect for this brew. Very creamy with a smooth mid carbonation with a medium high feel (which is much higher than most of the style).
D: Very drinkable. Low ABV, very well balanced.
677 characters
3.13
/5
rDev
-11.8%
look: 3.5 | smell: 3 | taste: 3.5 | feel: 3 | overall: 2.5
Presentation: It is so funny. I brought back all my (usual and unusual) empties to this convenience store selling others regional micros. Since I had Golden Lions, Unibroue Edition 2005 and Okanagan Spring in my lot, it seems that I open new markets, because he carry now these brands no one sell around here. Much better, he bought all the Golden Lion brands, including this one I never saw in their Lennoxville-Sherbrooke hometown.
Appearance: It pours a pale reddish motor oil yellow colour. There's not really a head on it, but white laces stays for a long time.
Smell: The smell is very hoppy. It develops lots of aroma when you pour it, but it dissappears very (too) quickly.
Taste: Yes, the taste is bitter and it seems to have a sweet maple flavour too. When you swallow it, the aftertaste is like hoppy malts flavour.
Mouthfeel: It is not bad and very creamy, but the carbonation is maybe a little too aggressive.
Drinkability: Not my favorite Golden Lion one, but it is decent. Its strong bitterness with its hint of sweetness make it a little hard to drink it. I'll rather prefer Lion's Pride, but: "Go Gator Go!" (This beer is named for the nearby Bishop's University where I also had courses.)
1,221 characters
2.95
/5
rDev
-16.9%
look: 3 | smell: 3 | taste: 3 | feel: 2.5 | overall: 3
Bottle: Poured a light copper color ale with a solid off-white head with good retention and some lacing. Aroma of cereal and dry bitter hops are dominating. Taste is a mix between some dry cereal note with light dry caramel and some dry and also astringent bitter hops with no floral or other characteristics. Body is about average with good carbonation. The use of a very dry malt base with some dry hops resulted in a somewhat one-dimensional beer with not much complexity.
475 characters
2.7
/5
rDev
-23.9%
look: 3 | smell: 3 | taste: 2.5 | feel: 3 | overall: 2.5
Received this as part of a trade. I'm not sure it fits the style of an ESB.. the balance is off and any semblance of fruitiness is vacant.
It pours a dark copper color and the offwhite head recedes to a small ring of foam.
The smell is of bitter hops and some toasted malts.
The taste has a very small amount of sweetness but is dominated by bitterness. Not alot of complexity here or much to enjoy really.
Mouthfeel is average.. drinkability is below average for my tastes.
479 characters
Bishop's Best Bitter from Golden Lion Brewing Company / Pub & Brasserie le Lion D'Or
3.55
out of
5
based on
22
ratings.