Skylight Dunkelweizen
| New Republic Brewing Company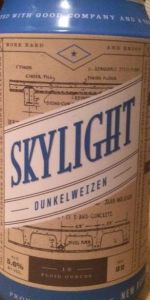 BEER INFO
Brewed by:
New Republic Brewing Company
Texas
,
United States
newrepublicbrewing.com
Style:
Dunkelweizen
Alcohol by volume (ABV):
5.40%
Availability:
Year-round
Notes / Commercial Description:
No notes at this time.
Added by Brent on 02-29-2012
Reviews: 8 | Ratings: 25
3.22
/5
rDev
-10.6%
look: 3.5 | smell: 3.25 | taste: 3.25 | feel: 3.25 | overall: 3
A: Pours a dark amber/brown color. A one finger dark beige head forms and recedes with a bit of patchy lace.
S: A big clove bomb up front. Not a lot else there, but a plastic phenolic like spice. Light grains, and then fades to nothing.
T: Like the nose, cloves are big up front and pretty much the entire show. Light phenol's, light grainy/toasted malts. That is it. No finish, and just showing off the bare minimum for the style.
M/O: A light to medium body. Fairly smooth, but no finish and no real snap or definition. If that makes sense. Not hard to drink, but looking for something else pretty quickly.
Maybe just slightly above average for the style. At least for most American interpretations. Doesn't compare to Live Oak or any German examples that are easy to get.
790 characters
3.05
/5
rDev
-15.3%
look: 3.5 | smell: 3.5 | taste: 2.75 | feel: 2.5 | overall: 3.25
Poured on tap at WOB - College Station 16oz. Weisen glass
L - deep amber red with barely no head. Very small amount of lacing left behind.
S - faint clover and banana notes, otherwise pretty clean.
T - banana and nutmeg, not overpowering not too present. Just barely showcasing what the style should taste like.
F - it goes equally as fast as it comes.
O - i'll deem it a good attempt at what the style is, but compared to truly german representative beers of this style it seems to be falling short on all fronts. Feels light and seems faint.
551 characters

3.28
/5
rDev
-8.9%
look: 3.25 | smell: 3.25 | taste: 3.25 | feel: 3.5 | overall: 3.25
Wanted to give this a chance since it's a local brew. The beer doesn't have any flaws as I can tell, it's just not a style I enjoy. That said, would I drink this again? I think that all depends on the weather honestly. I only think I could enjoy this during the cooler months, in which they might be crushable.
310 characters

4.31
/5
rDev
+19.7%
look: 4 | smell: 4.25 | taste: 4.5 | feel: 4 | overall: 4.25
This is my favorite "in town" beer. It has a great flavor, and is somewhat unique in its combination of Hefeweizen and dark fruit and spice. I enjoyed this from a can. Nice but short lived head. Not much lacing. I look forward to the rest of the six pack and buying more.
272 characters
3.96
/5
rDev
+10%
look: 3.75 | smell: 4 | taste: 4 | feel: 3.75 | overall: 4
16 oz. pint on-tap at the brewery
(6/6/14)
L: murky brown/yellow, not a huge head with no stick or lace
S: buttery malted banana ... so different. it's stupid to say, but it really does mix the malty stout-like notes of the dunkel with that hefeweizen banana/tart fruit. wants to smell sour but manages not to ... somehow. this style is tripping me out.
T: all of the hefeweizen-like notes are subdued by a real nice malt sweetness. the dunkel notes never hit chocolate or coffee, but they pull so hard on the wheat notes that they sweeten out any tartness and do it without it ever tasting sour.
F: solid at a glance. the brew warmed up very quickly on a hot early-June day but never lost its drinkability. very solid without feeling heavy.
O: this needs more study. i've had dunkels and i've had hefeweizens, but this mix is new to me and kind of a trip. one pint in, Skylight is intriguing . nothing about it is over the top ... the dunkel notes are not super dark or raisiny/licoricey or even close ... they're most just sweet on top of and surrounding the lighter/tarter wheat notes. cool brew.
1,105 characters
4.8
/5
rDev
+33.3%
look: 5 | smell: 5 | taste: 4.5 | feel: 5 | overall: 5
This is a slightly malty hefeweizen with flavors of banana and clove, and hints of chocolate. It looks very dark, even compared to most hefeweizens, and is not as highly carbonated as most hefeweizens tend to be. I really like the banana flavor, and would like that to be even more pronounced, then it would totally be worthy of a 5.0, but as it is now, it's a fantastic beer.
376 characters
4.09
/5
rDev
+13.6%
look: 3 | smell: 4 | taste: 4.5 | feel: 3.5 | overall: 4
I'm usually not a fan of this style, but I was very impressed by this beer. I love New Republic, especially considering they're our only brewery in College Station, but they're beers don't have the greatest appearance. As far as taste and smell go, they've gotten that down. I agree that the ABV was a little low which definitely held back some of the flavors, which were nutty with chocolate/coffee appearing vuery subtly. Not what I'm used to for this style, but I liked it. Overall it was a very nice experience and the guys who run the brewery are great. Hopefully they will begin bottling/canning soon so I can purchase a six pack.
636 characters
3
/5
rDev
-16.7%
look: 3 | smell: 3 | taste: 3 | feel: 3 | overall: 3
A bit on the lightweight side for a dunkelweizen. Bright deep brown malt, some nutty notes along with a vague chocolate malt touch. Low on the presence of any yeasty or wheat malt flavor. This style often carries a higher abv, and the overall impression was that this beer has been held back.
292 characters
Skylight Dunkelweizen from New Republic Brewing Company
3.6
out of
5
based on
25
ratings.