Four Swords
| Deep Ellum Brewing Company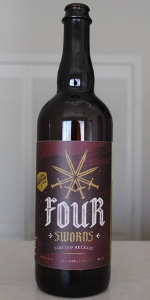 BEER INFO
Brewed by:
Deep Ellum Brewing Company
Texas
,
United States
deepellumbrewing.com
Style:
Quadrupel (Quad)
Alcohol by volume (ABV):
9.50%
Availability:
Winter
Notes / Commercial Description:
No notes at this time.
Added by En29356 on 12-20-2013
Reviews: 9 | Ratings: 75

4.31
/5
rDev
+9.9%
look: 4 | smell: 4.25 | taste: 4.5 | feel: 4 | overall: 4.25
A: little to no head, some carbonation, pouring a cherry, nutty brown.
S: syrup, earthiness, alcohol sweetness
T: Bitter coffee, dr. pepper syrup, caramel, dark fruits, oak
M: Medium-heavy with some carbonation
O: Sweeter than anticipated but a very drinkable Quad
265 characters

4.26
/5
rDev
+8.7%
look: 4 | smell: 4.25 | taste: 4.25 | feel: 4.5 | overall: 4.25
Pours a nice brown head with solid retention. Color of ruby and copper.
Nose of dark dried fruits, caramel.
Big malt forward, nice bitterness from a relatively tight carbonation. A touch boozy but not overpowering - leaves a bit of lingering warmth on the finish.
Solid mouthfeel and big body on this.
It's a really nice quad and feels like it was brewed in the same style as the trappists I've had. I bet the cab barrel aged version of this is fantastic.
464 characters
4.04
/5
rDev
+3.1%
look: 4 | smell: 3.75 | taste: 4.25 | feel: 4 | overall: 4
Poured from a capped 750ml bottle which feels unusually heavy, perhaps the bottle walls are thicker than normal. No date visible on the bottle, but as this is local and limited, it probably hasn't been around very long. Served in a tulip.
Appearance is a clear but dark brown, like a Coca-Cola. Lovely shade of lighter brown where it gets thinner. Lots of carbonation is evident, but only a light khaki layer of head arises, then dissipates. Gorgeous lacing and just off-clear coating the sides of the glass.
Smell is not overwhelmingly strong, but very nice with touch of yeast, cotton candy, molasses, and figs.
Taste follows the nose when cold (<45F). Quick pungent hit followed by nice cotton candy sweetness, dried fruits, ending with a little pear, and then finishing with a earthy bitterness. Almost more of a "lack of sweetness" than bitterness - but the beer does profess to have 44 IBUs.
Taste as it warms finishes the same but gets more astringent on first blush. Also more complex in terms of dried fruits, but the raisins and fruits start to dominate.
Mouthfeel is nice and clean, not as sticky as some quads I've had. Carbonation is not overwhelming. You are left with a little bit of the earthy aftertaste, but not a thick coating in your mouth.
Overall, this is a very nice stab at a quad from a local brewer I have not always been blown away by. It's easily the best thing I've had from them, and that is not meant as a backhanded compliment. It may not knock the socks off people weaned on Westy, but IMHO it seems worth trying for any fan of the style.
1,580 characters
4.03
/5
rDev
+2.8%
look: 4.5 | smell: 4 | taste: 4 | feel: 4 | overall: 4
A thick voluminous brown head is produced by a vigorous pour down the middle of a goblet. It sits atop a dark opaque reddish brown body. Looks quite intimidating in it's darkness.
A great amount of spice greets the olfactory. Dark bread, plum, raisin, red grape vinousness, and plenty of sweet caramel and brown sugar to round it out. Hits on all cylinders.
The taste is more pungent. Spice and bread abound. Dark fruit sits beneath and pops more as those fade into mid/back palette. Quite sticky on the lips and sweet. Drying on the back end. The carbonation and body are middle of the road and feel nice on the palate. Alcohol peeks in to say hello.
Overall I was kinda surprised as I was with St. Arnold's DR13. Texas dropping some good quads.
749 characters
4
/5
rDev
+2%
look: 4 | smell: 4 | taste: 3.75 | feel: 5 | overall: 4
25.9 oz. bomber poured into chalice
L: black-red ... LOADS of red ... up to the light, you see the traditional Belgian brown in it with loads of amber; head isn't typical out-of-the-bottle abbey ale kind of stuff, but it builds over time and ends up being a super-thick 1/4-inch caramel foam that looks like a stout head. different. keeps a thin but dense collar of tan foam. no stick or lace.
S: dark malt, much more so than typical Belgian; grapes, wine; licorice/raisin hint, but it's fruitier than raw licorice or raisins; wood ... oak, mesquite; molasses, brown sugar, maple syrup
T: MUCH darker than other quads I've had, closing in on Belgian strong dark range -- some licorice/raisins but also the dark malt of a stout (wood, smoke, dark semi-sweet chocolate); brandy; plenty of sweetness; as it warms, the sweetness might be subsiding with just a pinch of bitterness showing (hops? or burnt malt notes?)
F: full but still quite light; looks a bit flat but plenty of carbonation
O: a bit darker than I'd prefer, but every note it's hitting is well within the range of the quad, so Bravo! to Deep Ellum. it's plenty sweet and drinkable while packing tons of dark dried fruit flavors and leaning on the line between quad and Belgian strong dark ... but it's a quad. the wine-like grape notes are classic.
Deep Ellum gets bonus points from me for offering this brew straight up ... no tricks, no barrels, no additives ... they made simply a quadrupel, which is awesome -- a well-made quad doesn't need to be dressed up. This isn't, and the brewer's work shines through nicely.
1,587 characters

3.98
/5
rDev
+1.5%
look: 3.25 | smell: 4.5 | taste: 3.75 | feel: 4 | overall: 4
Yay quad! Its very dark for a quad, almost black with a thin light tan head. Looks more like a Belgian strong dark ale or even a porter. Smell is lovely. Oranges, caramel, bread. The taste starts off very roasted but finishes slightly sweet rather than a bitter roast. Toffee, grapes, and earthiness. Sounds like a cheap romance novel. I like it. Nothing too out there but a nice, consistent drinkableness that masks the alcohol. Mouthfeel is spot on, tingly and slick. Overall, I like this beer. Nothing that knocks you on your butt, but very drinkable for such a strong and strongly flavored beer. Can you have a session quad? It would either be a short session or a regrettable one, but this would be the beer to do it with.
727 characters

3.71
/5
rDev
-5.4%
look: 4.5 | smell: 3.5 | taste: 3.75 | feel: 3.5 | overall: 3.75
Poured from 1 pint 9.4 oz capped bomber to tulip glass.
A: Opaque mahogany color, high brown foam with good retention. Very nice lacing coats the glass throughout.
S: Caramel and malt, dissipates quickly.
T: Plenty of dark fruit and spices. Malt and bitterness linger for a long time.
M: Creamy, with medium-low carbonation, some heat from the alcohol.
O: The high IBU makes this an atypical quad
402 characters

3.62
/5
rDev
-7.7%
look: 3 | smell: 3.5 | taste: 3.75 | feel: 4 | overall: 3.5
Smells meaty, and a little like butter. The meaty smell is reminiscent of raw hamburger. This is going to be unlike any other quad I've ever tasted.
Wow. Definitely different taste-wise too. That meaty flavor is still there. Reminds me a little of a beer Shiner used to make called Smokehaus, but less smoky, more meaty. Tastes pretty awesome. Like a mildly sweet, medium-rare hamburger with just a few drops of mesquite barbecue sauce. Seriously. Try it if you don't believe me. Not sure how they do it, but this thing is packed with umami flavour, but with none of that soy sauce flavour that a lot of high-alcohol, dark, umami-esque beers tend to have. This, is a definite win for those dark, umami beers if you like them. As you get used to that raw meat flavour, a sweeter molasses and mildly roasted malt flavour comes through. This is the only part reminiscent of any quad I've had before, but still it's unusual. There's a little bit of bitterness, but not much. Tastes like if you mixed a rauchbier with a quad that had an especially malty, dark backbone. Weird brew, but worth a try.
1,093 characters

3.28
/5
rDev
-16.3%
look: 3.25 | smell: 3.25 | taste: 3.25 | feel: 3.5 | overall: 3.25
Ah, a quadrupel. Probably my favourite style. 1 pint 9.4 fl oz brown glass bottle with uninteresting label and unbranded gold-colour pry-off pressure cap acquired at a local Austin bottle shop and served into an Avery stem-tulip in me gaff in low altitude Austin, Texas. Reviewed live. Expectations are average given the brewery. 9.5% ABV. 44 IBUs.
Served cold - at fridge temp - and allowed to warm over the course of consumption. Side-poured with standard vigor as no carbonation issues are anticipated.
A: No bubble show forms as it's poured.
Pours a 1.5 finger wide head of pale khaki colour. Lovely thickness and creaminess. Has a gorgeous supple soft consistency and a nicely shiny complexion. Frothy and appealing. Head retention is good for the high ABV - about 6-7 minutes. Even consistent lacing clings to the sides of the glass as the head recedes.
Body colour is a a very dark grape (i.e. purple)-brown. The untrained eye might mistake it for black. Opaque. Below average in terms of vibrance. No floating yeast particles or hop sediment is visible.
Overall, it's a nice looking quad for what it is. The head is far superior to the body appearance. Far from unique or special, but there are no obvious flaws here.
Sm: It's a pretty reticent aroma overall. Cream, caramel, faint dark fruits. Sugarplum is dominant, but I find raisin and fig with effort. Belgian candi sugar lends it some evident sweetness. Loaded with Belgian malts. A bit bready.
No overt alcohol, hop character, or off-notes are detectable.
It does have a Belgian feel to it, which I'd attribute to the yeast, but in terms of sheer complexity and depth, it's horribly lacking for a quadrupel. This isn't the delicate fragile aroma of a great Trappist quadrupel. It's timid and closed off, which doesn't make it subtle.
Still, it's above average for an American attempt at the style, and I'm curious to try it. They're definitely going for the style in a legitimate conventional way, but it seems like it's just not quite where it needs to be. Let's hope the taste delivers.
T: The taste is much like the aroma, only with an additional unexpected (and unwelcome) presence of grape. The dominant grape eclipses the other dark fruit notes, dialing down what little subtlety and nuance the beer has. Raisin, sugarplum, and perhaps faint fig all fall to the sword (see what I did there?) of the grape. Malt and sugarwise, it's a bit more en pointe: caramel, Belgian amber malts, Belgian caramalt, candi sugar, bready malts. And the beer does have a cohesive Belgian feel to it, which again I'd attribute to the yeast used.
Do I like it? Sure, in a general sense. But as a quadrupel, it's shockingly simple, and lacks the depth, complexity, nuance, intricacy, and artful balance of the best Trappist quadrupel paragons. That said, it does have a nice balance to it - it just has so little going on (relative to the great examples of the style) that it's underwhelming.
Low depth of flavour. I'd call it reticent. Average duration and intensity of flavour.
It's not a gestalt flavour profile. The build does fall within style conventions. I find it to be just a hair too sweet.
No hop character, overt alcohol, or off-flavours come through.
Mf: Creamy, smooth, and wet. Almost silky. Supple. Soft. Approachable. Filling without being overbearing or overly thick. Has a kiss of a syrupy feel , which is common in beers of this style. Medium-bodied. Has a moderate weight and a nice presence on the palate. Overcarbonated.
Not oily, gushed, hot, boozy, harsh, astringent, biting, or sharp.
Overall, this texture is pretty nicely executed. But the fragile delicate nature of the best quadrupels is absent here. If we're not comparing it to the finest beers in the style, I'd say this mouthfeel complements the taste quite well. Good execution from the cats at Deep Ellum.
Dr: I'm admittedly a big constructive critic of quadrupels, if only because I've had the very best in the style and know exactly what to look for. As far as American attempts at the style go, this isn't bad by any means, and I'm really enjoying it. I'll easily finish the bottle, but let's not pretend this holds a candle to Trappist offerings (or even the better Abbey offerings). Nicely done, but I wouldn't recommend it to friends or trade partners. Worth trying if you're in the mood for the style. It might develop nicely with age. Would pair well with a roquefort cheese and/or candied walnuts. I won't be buying this again, but you could do far worse for a quadrupel brewed in Texas. Quite drinkable for its high ABV, and pretty drinkable for a beer in this style.
Low B-
4,639 characters
Four Swords from Deep Ellum Brewing Company
3.92
out of
5
based on
75
ratings.