Cherry Chocolate Double Brown Stout
| Deep Ellum Brewing Company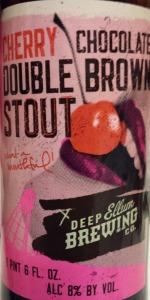 BEER INFO
Brewed by:
Deep Ellum Brewing Company
Texas
,
United States
deepellumbrewing.com
Style:
American Double / Imperial Stout
Alcohol by volume (ABV):
8.00%
Availability:
Winter
Notes / Commercial Description:
No notes at this time.
Added by dbrauneis on 02-17-2012
Reviews: 12 | Ratings: 121

4.15
/5
rDev
+9.5%
look: 4 | smell: 3.25 | taste: 4.75 | feel: 4.25 | overall: 4
OK first of all the ABV is 10.3% and not 8%. Aggressive pour yields a big frothy head. Smell is pretty flat with no scent of cherry at all. First sip yields a bitter dark (not sweet) chocolate/coffee flavor but still pretty flat. But once this thing warms up, the sweetness really and I mean really comes out. But still no cherry flavor at all. All in all a really good beer.
382 characters
3.7
/5
rDev
-2.4%
look: 3.5 | smell: 3.5 | taste: 3.75 | feel: 4 | overall: 3.75
Fairly thick brown ale with a thin fizzy head. Taste of fudge, brownies, chocolate cake, with a spritz of cherry cola taste that hits sharp and leaves, candy cherry taste for sure. Kind of an oily texture. Overall I thought the taste with pretty good, but found the beer too rich and tiresome after the first glass. Worth a try but go halves on the bottle with someone!
372 characters
4.62
/5
rDev
+21.9%
look: 4.5 | smell: 5 | taste: 4.5 | feel: 4.5 | overall: 4.5
Poured into a Duvel snifter glass.
A - 4.5 - Pours a pitch black color, forms a good finger and a half of very dark tan colored head. Medium/low head potential, medium/low head retnetion. Whispy and spotty lacing.
S - 5 - LET THIS ONE WARM UP! With a decent amount of time to warm, I am getting tart cherry, sweet maraschino cherries, lightly roasty malty, bittersweet baker's chocolate, roasted coffee beans and more rough coffee grounds.
T - 4.5 - Follows the nose closely, but the coffee definitely makes a bigger stand here, reminds me somewhat of Ommegang's Seduction.
F - 4.5 - Nice creamy mouthfeel.
O - 4.5 - A very tasty stout that stay's true to its commercial description.
684 characters
3.74
/5
rDev
-1.3%
look: 4 | smell: 3.75 | taste: 3.75 | feel: 3.5 | overall: 3.75
Appearance: Pours dark, but not quite pitch black; the khaki head foams up and then slips down to a film; impressive lacing pattern
Smell: The aromatics are vaguely reminiscent of German chocolate cake, vaguely I should emphasize
Taste: Chocolate and cream, with hints of caramel and molasses; a vague cherry tone develops and gets slightly stronger as the beer warms; the sweeter flavors dominate the finish, but the overall impact is of artificial flavorings
Mouthfeel: Surprisingly thin for the style and an 8% beer; moderate carbonation
Overall: I have been wanting to try this for some time but find myself somewhat disappointed by the experience; the concept is a lot better than the execution here as a bigger, bolder beer with more chocolate and cherry flavors would be much better, particularly at the price point
Thanks, Domvan, for the opportunity
869 characters

2.95
/5
rDev
-22.2%
look: 3.25 | smell: 3.25 | taste: 2.75 | feel: 2.75 | overall: 3
1 pint 6 fl oz brown glass bottle with flashy label and unbranded pry-off pressure cap acquired at a local Texas bottle shop and served into an Avery stem-tulip in me gaff in low altitude Austin, Texas. Reviewed live. 8% ABV according to the label. Reviewed as a baltic porter, since in spite of all the hullabaloo over this being a brown stout, the side claims the style is actually a baltic porter. Marketing at work...
Served cold and allowed to warm over the course of consumption. Side-poured with standard vigor as no carbonation issues are anticipated.
A: No bubble show forms as it's poured.
Pours a one finger wide head of appealing khaki-tan colour. Nice creaminess and thicknes. Nice even smooth consistency. No lacing clings to the sides of the glass as the head recedes, and none sticks even when I tilt the glass. Head retention is average - about 2 minutes.
Body colour is a predictable opaque solid dark black; not quite a jet black but dark. No floating yeast particles are visible. Appears adequately carbonated.
Overall, it looks pretty good whether you're reviewing as a baltic porter or as a stout.
Sm: Cocoa nibs, artificial berry/fruit extract, chocolate malts, dark malts, and cream. Authentic cherry is sorely absent, as is any roasted barley character. It's not the most evocative or rich aroma, but it's a pleasant and appealing one of below average strength.
No hop profile is noticeable, and no alcohol or yeast character is detectable. I don't find any off-notes.
I'm looking forward to the first sip. Seems to have a nice sweetness to it.
T: Chocolate malts, cocoa, artificial chocolate, dark malts, cream, and faint artificial fruit syrup/extract - cherry, I guess. The fruity aspect of the beer feels very cheap and artificial, and I find myself doubting Deep Ellum's claim that real cherries were added - or at least their implication that real cherries alone are responsible for the cherry flavour. It's on the sweeter side overall.
No hop character, yeast character, or overt alcohol comes through. I don't pick up on any off-flavours.
Below average depth and intensity of flavour. Average duration of flavour. Decent amplitude.
It's got a fair balance to it, but it's far from complex, subtle, or intricate. It'd be nuanced if the cherry was authentic. It's a cohesive build, but not a gestalt one. While I like this flavour profile in a general sense, it's far from unique or special. Seems uninspired; this beer seems to put marketing first and taste second.
Mf: Smooth and wet, with some decent creaminess. Could be softer. Clean. Artificial. Decent thickness. Medium body. Filling. Not too heavy on the palate. Overcarbonated. Syrupy.
Not oily, gushed, hot, astringent, boozy, or harsh.
This texture evokes flavour syrup or refined cola and it doesn't work that well with this flavour profile. I wish the extract wasn't so prominent.
Dr: A downable but forgettable baltic porter from Deep Ellum. I'll easily finish the bottle, but it won't be much of an experience. I like the premise for the beer, but this execution doesn't deliver. All the marketing nonsense further convinces me this isn't really a sincere attempt at a good baltic porter - just market-chasing. Why else would you call a baltic porter a double stout? I wouldn't recommend friends or trade partners try this. Very middle of the road. It's the kind of mundane beer you expect to see in a Sam Adams winter pack, not in bomber form at this price point.
C
3,481 characters
4
/5
rDev
+5.5%
look: 4 | smell: 4 | taste: 4 | feel: 4 | overall: 4
A: dark as a brownie with huge thick caramel head that settles on a thin layer across the top.
S: coffee beans are the most prominent, followed by cacao notes that lead to alcohol and cherry hints in the back.
T: this is incredibly delicious! The coffee goes into a secondary perspective while the chocolate and cherries balance each other and play harmoniously in the front while leading the charge against the taste buds.
M: thick, rich and delicious. It has that full bodied creamy experience that just covers your entire mouth with just one swipe or sip in this case. It couldnt get any bette than this!
O: this beer is a definite seek out for beer enthusiasts! It does have flavor characteristics that are usually associated with Deep Ellum's brews, but as a whole it's a perfect dessert beer, or a beer to enjoy on it's own.
836 characters

4
/5
rDev
+5.5%
look: 4 | smell: 4 | taste: 4 | feel: 4 | overall: 4
Glass Used: Becker pint
Appearance: I would have pegged the color as deep dark brown-black if I wasn't sitting near a lamp which allowed the body to glow a deep dark garnet along the bottom of the glass. The head was a thick two finger high mocha colored cloud. Lacing was present when the glass was swirled however there were no lingering remnants during consumption.
Smell: Roasted malts, dark bittersweet chocolate, mineral notes and a yeasty bread. I get a decent amount of ethanol vapor as well. When the beer is a bit chilly, only the faintest hint of cherry is there just as you finish inhaling. However, as the porter warms the sweet-tart cherry aroma becomes a bit more prominent.
Taste: Roasted malts are up front, followed by smooth black coffee and bittersweet chocolate, finishing with a mild dark cherry flavor. As the beer warms, I get more of the sweet-tart cherry profile. I noticed that between tastes, you get a lingering cocoa nib and Bing cherry flavor. I really dig this.
Mouthfeel: Creamy with a bit of pucker from the fresh tart cherries dancing around after the finish. Carbonation is medium-high.
Overall: I've heard mixed things about this beer for so long, I wasn't certain what to expect. I had the flavor profile already put together in my head, thinking it was going to be sweet like a chocolate covered cherry (the ones with the gooey fondant filling around the fruit). Boy was I wrong. The cherry profile is of fresh and dried cherries with rich bittersweet chocolate. This reminds of a Harry & David Dark Chocolate Covered Bing Cherry - the ones with just chewy dried cherry and chocolate..with an added twist of fresh cherry tartness. The cherry flavors does not hit you over the head but it's there and quite enjoyable. Also, let this beer warm up considerably to get those wonderful cherry flavors. If you are looking for a maraschino cherry and milk chocolate flavored beer then this is not for you.
1,942 characters
3.76
/5
rDev
-0.8%
look: 4.25 | smell: 3.75 | taste: 3.5 | feel: 4 | overall: 4
On tap at Hay Merchant
A: Pours a near pitch black color. Almost opaque with a little bit of ruby around the edges. A two finer beige head forms with good retention and lace.
S: Roasted malts, coffee, chocolate, baked bread. Followed by sweet molasses. Not much cherries in the nose. Though still very enjoyable.
T: Big roasted malts. Chocolate, coffee, molasses all intermingle. Baked bread, with some toffee like sweetness as well. I really don't get much cherries.
M/D: A moderate to full body. Good carbonation, and very smooth. Easy to drink, no problem with the pint I had. Very enjoyable.
I do very much enjoy this. I just wish there was some more cherry character. Some tart and tangy cherries would make this excellent. I did not get hardly any. Though still something I enjoyed as a good stout, and would get again.
827 characters
3.9
/5
rDev
+2.9%
look: 3.75 | smell: 3.75 | taste: 4 | feel: 3.75 | overall: 4
From BeerAdvocate magazine Issue #63 (Apr 2012):
LOOK: Pitch black, amazing coffee-colored cream head with legs
SMELL: Chocolate cake batter, roastiness, faint cherries
TASTE: Silky smooth, rich, slightly tart, mild cherry, dark ripe fruits, soft caramel, light roasty char, sweet and tangy molasses, coin, chocolate, rye, biscuit, nuts, earth, tannic, dry finish
There's a lot going on here, but what stands out is the use of blackstrap molasses, red tart and dark, sweet cherry purée, a California lager yeast strain and cocoa nibs from Patric Chocolate at the end of conditioning. The lager yeast strain is what makes it a Baltic Porter, but a Stout too? While it's slightly confusing to have two styles on the label, who cares?! Complex, surprisingly balanced and damn tasty.
788 characters
3.2
/5
rDev
-15.6%
look: 3.5 | smell: 3.5 | taste: 3 | feel: 3.5 | overall: 3
Tried on tap at Dancing Bear, 3 Mar 2012. Served in a cylindrical half pint.
Very small dark brown head. Minimal carbonation. Pitch black, opaque. Aroma is very light, faintly roasty cherry. Like chocolate covered cordial cherries without the satisfaction of the gooey center (says A, while making an awful face). Candiness is annoying (again, A). A ploy to get girls to drink their beer (A, yet again). Some cola qualities. Kind of a muddled chocolate cherry melange. Medium body, moderate ethanol. Overall relatively light in flavor, becomes a bit cherry sour as it warms.
Neither of us cared for this one very much. It seemed even more washed out because we had both the Stone Belgo Anise and the Oak Aged Yeti prior.
724 characters
3.28
/5
rDev
-13.5%
look: 4 | smell: 3.5 | taste: 3 | feel: 3 | overall: 3.5
On tap at the Holy Grail Pub in Plano.
The beer pours a reddish-brown color with a tan head. The aroma has a lot of strong hot chocolate notes with not too much else coming through. While the cherries are absent in the aroma, they are up front in the flavor. There is a little bit of chocolate in the aroma, but overall I think the beer tastes a little bit medicinal. The body a little bit thinner than I like and the carbonation is about medium. Overall, the beer was not bad but was a little disappointing. I think this is a step down from the regular Double Brown Stout.
575 characters
4.23
/5
rDev
+11.6%
look: 4.5 | smell: 4 | taste: 4.5 | feel: 4 | overall: 4
Served on tap at The Holy Grail Pub in Plano, TX.
A: Pours a midnight black with a finger tall light mocha head. Great head retention (hardly any reduction through the drinking of an entire pint) and massive amounts of lacing.
S: Dark roasted and burnt malts with hints of chocolate, cherry, and coffee. Very intense.
T: Bittersweet chocolate followed by dark roasted malts, cherries, and a light smokiness from burnt malts. There are also some extremely slight hints of nuts.
M: Medium to full bodied with moderate amounts of carbonation. Nice and creamy.
O: Big smell and big flavor really make this beer great - not a disappointment after hearing a lot of folks in the bar talk it up. Quite enjoyable and could probably even be sessionable if one paced themselves. The cherry does not dominate but is a wonderful companion to the other flavors in the beer. I would definitely get it again if I found it.
921 characters
Cherry Chocolate Double Brown Stout from Deep Ellum Brewing Company
3.79
out of
5
based on
121
ratings.