Numb Comfort
| Deep Ellum Brewing Company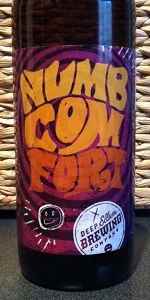 BEER INFO
Brewed by:
Deep Ellum Brewing Company
Texas
,
United States
deepellumbrewing.com
Style:
American Barleywine
Alcohol by volume (ABV):
11.50%
Availability:
Spring
Notes / Commercial Description:
No notes at this time.
Added by Dwtucker90 on 05-02-2013
Reviews: 14 | Ratings: 151
4.82
/5
rDev
+18.7%
look: 5 | smell: 4.25 | taste: 5 | feel: 5 | overall: 5
A - Pours an extremely dark mahogany and ruby reddish brown. Forms a nice two fingers of thick, creamy, pillowy medium-tan head. Spotty lacing.
S - Orange juice, grapefruit, hops, peach and mango nectar, malty backbone and light touches of caramel and vanilla from the rye whiskey barrel aging. Extremely interesting, complex and changing aroma.
T - Awesome. Sweet peach nectar upfront immediately followed by brown sugar, caramel, vanilla and whisky. Ends on both a hoppy and malty bitterness to balance the initial upfront sweetness. Also to note is the mouthfeel. This beer has a creamy, almost oily mouthfeel, it literally goes down smooth. Never had one quite like this before.
O - One of the best barleywines I've ever had. This is an absolute must try for fans of the style and I highly recommend it to any and all. It's an experience.
V - Available in 22oz. bomber bottles, high value.
897 characters
4.71
/5
rDev
+16%
look: 4.5 | smell: 4.75 | taste: 4.75 | feel: 4.5 | overall: 4.75
Absolutely fantastic barleywine, and a great example of Deep Ellum brewery's talent and creativity.
Had it on tap, and pours a beautiful reddish-brown color with minimal lacing. Smells like raisins or plums, mixed with a bit of the wood smell from the barrel and a hint of alcohol.
Taste is outstanding, with a lot of malt and sweetness upfront, and some notes of fruit (plum/raisin like taste, similar to the smell), with a bit of hops at the end. You can also detect some of the woodiness imparted from the barrel, but just faintly so, which balances well with the other flavors.
Mouthfeel is superb - has a bit of thickness that you would expect with the high alcohol content and maltiness, but not so much that it's syrupy or anything like that.
Highly recommend this one to anyone who can find it, and is a fan of the style. Definitely will have one of these again for sure.
887 characters
4.64
/5
rDev
+14.3%
look: 4.5 | smell: 4.75 | taste: 4.75 | feel: 4.25 | overall: 4.5
On tap at the Dancing Bear Pub. Enjoyed out of a Numb Comfort snifter.
Look: beautiful dark cherry/mahogany color. Small white head that dissipates quickly.
Smell: lots of malt and ripe fruit, caramel. Typical Barleywine profile with some light alcohol sweetness.
Taste: very similar to the smell. Very balanced with lots of malt and some hop taste on the back end and in the middle. Just delicious.
Mouthfeel: nice and bubbly. Plenty of carbonation but also a smooth sticky finish.
Overall: an excellent Barleywine from one of my favorite breweries. Not sure I picked up much of the barrel aged notes but still delicious nonetheless. Will definitely have another.
679 characters
4.51
/5
rDev
+11.1%
look: 4.25 | smell: 4.5 | taste: 4.5 | feel: 4.75 | overall: 4.5
Pours a very cloudy dark red to amber color with a finger width foamy head. Head retention is mild. Lacing is decent. Has a smooth rye whisky aroma. Maybe a hint of chocolate. Very smooth whisky taste. There is a hint of java and chocolate. Doesn't have a big alcohol burn, but you can definitely taste it. Great beer, but you cannot drink a lot of it.
361 characters

4.44
/5
rDev
+9.4%
look: 4.5 | smell: 4.25 | taste: 4.5 | feel: 4.5 | overall: 4.5
Poured from a 22 oz bomber into my favorite chalice glass. Let it be known that this was aged approximately six months from purchase.
Pouring with standard vigor, I received a finger of creamy tan head. Bubbles were very compact and pillowy. It takes about five minutes to recede, and the lacing is very thick, including a rather thick layer clinging to the side of the glass. Color is a deep mahogany. Carbonation is actually quite decent considering the 11% ABV. I'm actually surprised at the head retention here, after having read other reviews.
I smell spicy, fruity esters, deep, brown caramel smells, raisins and alcohol. The latter isn't too bad, honestly, I've smelled worse alcohol scents in less potent beers. No hops worth mentioning on the nose.
This tastes very sweet, but not so sweet that it's unenjoyable. The hops come on very slow, not like a standard pale ale where hops are forward. I get some molasses tastes, more raisins or grapes, other flavors that remind me a good, rich brown bread. Bitterness takes a while to make its presence known, but when it does, it helps a lot to cut the sweetness. It's not quite as floral as I would like, but after swallowing the beer, there are slight hints of resinous, dank hop oil. As the beer warms, the alcohol presence gets stronger, but it's almost like a good bourbon. Not too much, it feels like just the right amount of flavor for the ABV.
As expected, this has a very heavy body, pretty sticky after swallowing the beer. The alcohol dries the tongue, and that astringency takes time letting go. Not much carbonation. Being a barleywine, this is a slow sipping beer. I don't expect it to be a crisp, refreshing session, but I don't really feel bloated after finishing the bomber, just slightly buzzed.
Overall, this is pretty good stuff. I get the feeling that there are a few things that could be better, and I honestly still think of myself as a bit of a novice with this style of beer, but overall this is a nice entry in the catalogue. It's pleasant.
To good health and good beer.
2,062 characters
4.4
/5
rDev
+8.4%
look: 4.25 | smell: 4.25 | taste: 4.5 | feel: 4.25 | overall: 4.5
Enjoyed from oversized wine glass.
a - brew pours a deep purple with a creamy foamy white cap that leaves oodles of lace on the glass.
s - nose is a really nice caramel malt, perfect balance...great toastiness.
t/m/o - what can I say? This beer is delicious. Caramel dominant toffee flavor. I know they say American barleywine but this is not a hop bomb, actually quite like a English barley. Worth checking out and even hunting for. This is a great barleywine. Apparently a portion of this is aged in rye whiskey...perhaps that is what gives it that magical creamy caramel. Not boozy at all, kinda surprised to see that it is a barrel aged since it is not a dominant flavor like in most BA barleys. No vintage listed on the bottle. Really nice beer, very much enjoyed this one. Smooth, silky, caramel happiness.
823 characters
4.31
/5
rDev
+6.2%
look: 4 | smell: 4.25 | taste: 4.5 | feel: 4 | overall: 4.25
Poured into a small sampler glass. Deep amber color with a thin off-white head.
Sweet black cherries and figs with some ethanol aromas.
I get an intensely sweet malt and saccharine syrup. The same cherry and fig flavors are here, as well as a slight floral hops bitterness.
Full bodied, with long-lasting sticky mouthfeel. Would do again.
345 characters

4.26
/5
rDev
+4.9%
look: 4.75 | smell: 4.25 | taste: 4.25 | feel: 4 | overall: 4.25
Poured from the 1 pint 9.4 ounce bottle into a snifter.
Points for the appearance definitely. Creamy, chewy oatmeal-colored head a few fingers thick and more than reluctant to recede. A wall of lace shoots up all sides of the glass. Mid- to dark-brown body with plentiful carbonation. The body is mostly opaque but some lighter hues show at the outskirts. 4.75
Sweet jaysus. No for real, sweet, sweet liquid this is. Caramel in a glass is my first thought. Vanilla and oak round out the flavors although otherwise there's only vague whisky here...although I do detect some spice with a few more whiffs. 4.25
Okay. There's the whiskey, much more present on the palate. But it's neither overpowering nor overbearing. I am loving the finish on this, essentially a sweet cinnamon roll. Damn tasty. Vanilla, caramel and oak and spicy rye make appearances as well. 4.25
Medium-bodied liquid with a a bit of a bigger spirit feel at times, not quite hot, nor solvent, but thinner. There's a good combination of smoothness and spice that drinks fairly easily. It's filling, so you won't just gulp it down, but it's devilishly creamy. 4
It's pretty much dessert in a glass. No joke, you'll think you've bitten into a cinnamon roll on a few occasions. If you like a nuanced malt beast, this should please you. 4.25
1,309 characters
4.19
/5
rDev
+3.2%
look: 4.5 | smell: 4.25 | taste: 4.25 | feel: 4 | overall: 4
Pours out a deep ruby red with a thick beige topping. Plenty of lace behind.
Dark fruity raisin aroma, caramel, some piney resin hop. The full barrel comes through with vanilla, wood and whiskey which I was wondering about since it isn't 100% barrel aged.
Lots of dark fruit malt flavor that is pretty raisiny. Large amount of sweet caramel that kinda washes out the hop character which peeks in a bit to say hi. Slight heat and burn from the alcohol at the end. Get a little spice and cherry when it warms.
It is fairly well carbonated. When you swirl the glass you can see the bubbles and you feel them on the tongue but it still remains somewhat thick.
Had this on draft of its first release and enjoyed it but its awesome to have a bomber to slow sip at home. Might be worth it to age one for a while to kill the heat although it drinks great fresh. Nice array of flavors.
881 characters
4.06
/5
rDev 0%
look: 4 | smell: 4.25 | taste: 4 | feel: 4 | overall: 4
Poured from a 22 oz bomber into a pint glass. Deep ruby red with a one finger off white head leaving plenty of lace.
Lots of dark fruit in the nose. Plenty of barrel with vanilla and whiskey make this one smell really good. I don't notice the resiny hop aroma that many mention, but I may not be fully tuned to it.
Front of the taste is great. Smooth, the bourbon, vanilla, and dark fruit mix really well and sweet. Very good. However, on the back, the alcohol and hoppiness was distracting. Maybe aging this one would file off the rough edges a bit.
The mouthfeel was good. Fizzy, yet thick, as it should be.
Overall a really good tasting beer, just wasn't keen on the bite toward the finish. Going to try and get another one and age it.
742 characters
3.88
/5
rDev
-4.4%
look: 4 | smell: 4 | taste: 4 | feel: 3.75 | overall: 3.5
On tap at Petrol Station in Houston.
A: Pours a dark ruby red/brown color. A two finger beige head forms with good retention. Rings of lace.
S: Dark fruits of raisins and plums. Some resiny bitter hops, followed by toasted and caramel malts.
T: Follows the nose with plenty o dark fruits. Raisins, plums. Then the hops that are slightly bitter and resinous. Toasted malts, that are sweet. Plenty of caramel and even some chocolate flavors.
M/D: A medium to full body. Slick, oily, and very viscous. Maybe to much so. Though still in line with the style. Hot alcohol, but still a good sipper.
Very enjoyable. A good barleywine, though I don't get much of any barrel character. No bother, something I will grab when I see it. Just a bit hot and overly resinous for me. Though still a very good version of the style.
817 characters
3.52
/5
rDev
-13.3%
look: 3.75 | smell: 3.5 | taste: 3.5 | feel: 3.5 | overall: 3.5
love the name, am relatively neutral on the beer. this is not the best work of deep ellum, i know that to be true. this is a paler colored barleywine, but lacks in depth of flavor, especially compared to the best beers in its field. its a caramel to mahogany color in the glass without a head on it, and it smells like a sugar bomb. brown sugar and raisin is what i get on the nose, that and an absolute ton of alcohol. not disguised at all. this is very two dimensional in the flavor too. sweet and booze. thats about it. maybe hints of walnut and dried cherry, perhaps a faint hint of the promised oak, but thats fishing i think. lets call a spade a spade. crystal malt weight and sweetness, with fusel jet fuel type alcohol following it up. even more intense as it warms. i like the honey flavor and the brown sugar i get, its not just flavorless sweet, but its over the top. like the name suggests, this might simply be best for getting down the hatch and cranking the drunk level up to eleven. as a slow sipper, i got tired of it rather quickly.
1,050 characters

3
/5
rDev
-26.1%
Pour is hazed dark copper with a lot of tan head and some foamy bubbles on top. Nose has a fair bit of caramel malt, faintly toasted grains, some sticky toffee, and a strong herbal hop presence. Very chewy body, soft palate and almost flat. Flavors are huge malt, chocolate and caramel malts with a touch of toasted grain. Hops are still quite strong, herbal and moderately bitter in the finish. A fair bit acidic and the lack of carb being down the back end.
463 characters

2.53
/5
rDev
-37.7%
look: 3 | smell: 3 | taste: 2.25 | feel: 2.25 | overall: 2.5
BOTTLE 1 pint 9.4 fl oz brown glass. Boring unappealing label. Unbranded gold colour pry-off pressure cap.
Reviewed as a barrel aged American Barleywine per the label. Expectations are low given the brewery. Served cold into a snifter and allowed to come to room temperature over the course of consumption. Side-poured with standard vigor as no carbonation issues are anticipated.
No bubble show forms as it's poured.
HEAD: Half finger wide. Pale khaki colour. Average creaminess and thickness. Underwhelming complexion. Uneven, shallow consistency. Lacks fullness and strength. Retention is horrid - less than 45 seconds. Excusable at this high an ABV, I guess. Leaves specks of lacing as it recedes.
BODY: Dark murky red colour of poor vibrance. Translucent. Nontransparent. Clean; no yeast particulate or hop sediment is visible.
Appears adequately carbonated. Overall, it's not much to look at. Pretty mediocre looking for a barleywine.
AROMA: Caramel malts, faint bread crust, raisin, toffee, toasted malts, mustiness, light marshmallow, and old wood on the finish (perhaps from the rye whiskey barrel?). There're no overt whiskey tones, and I don't find rye's signature spiciness. On the sweeter side. Flirts with cardboardy off-character; this would likely age poorly judging by the aroma.
There's no overt hop profile. It does have some alcohol warmth, but it's pleasant; there's no egregious boozy heat. I find no off-notes aside from that borderline cardboard.
Overall, it's light in intensity for a barleywine aroma - let alone a barrel aged barleywine - and I find myself wondering where the rye whiskey character is. As it warms, a bit of fruit does poke in, but it's wanting. Can't say I'm impressed so far.
TASTE: There's a dab of dry plum and a bit of caramelized/candied fig in the third act - which arrives quite quickly as the duration of flavour here is incredibly brief. Caramel malts comprise the bulk of the boring uneventful body, which has a kiss of marshmallow but little else going for it. True to the aroma, this is a barrel aged beer in search of barrel aged notes - I find nothing at all besides an old musty wood note that doesn't do it any favors. This beer lacks cohesion, and the base isn't complemented at all by the barrel notes - largely because the purported barrel notes are absent. Just how long was this aged in barrels, anyway? A week? The barrel imparted next to nothing, making aging this beer a colossal waste of time and effort which probably got passed onto us via a price increase.
What few hop notes I can pick out evoke more of an English barleywine. This brew suffers from a shallow depth of flavour, but does have an average flavour intensity. I struggle with its lack of complexity, intricacy, nuance, and subtlety, all of which are paramount in a barleywine...what were they after with this?
The only enjoyable aspect of the beer - the fruit - does come a bit more to the forefront as this comes to temperature, but it's far from enough to save the flavour profile as a whole. I'm so underwhelmed by this. As bland and boring a barleywine as I've had in the past year.
TEXTURE: Musty and unnecessarily coarse and dry, which tanks drinkability and keeps it unrefreshing. Feels a bit rough and scratchy on the palate, dragging somewhat. This mustiness coupled with the borderline cardboard/oxidation notes evokes a staleness that really turns me off to the beer. If it wasn't a Deep Ellum beer I'd wonder if I got a badly stored bottle.
This texture is just plain bad for a barleywine, and doesn't fit the taste except by virtue of its low quality. Poor execution across the board.
Not oily, gushed, hot, boozy, astringent, or harsh.
OVERALL: More mediocrity from Deep Ellum, only this is less excusable than their other pedestrian brews because of its unreasonably high price point for the (absence of) quality. I don't like it much, and while I'll finish the bottle, I'd caution friends from trying it. Whoever is running their barrel aging program needs to be replaced if this is what they're going to greenlight for market release. The kind of bland forgettable stab at a style that typifies the bulk of the Texas beer scene.
High D+
4,205 characters
Numb Comfort from Deep Ellum Brewing Company
4.06
out of
5
based on
151
ratings.