Green Flash Saison Diego
| Green Flash Brewing Co.
BA SCORE
83
good
131
Reviews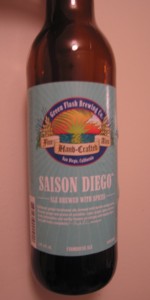 BEER INFO
Brewed by:
Green Flash Brewing Co.
California
,
United States
greenflashbrew.com
Style:
Saison / Farmhouse Ale
Alcohol by volume (ABV):
4.20%
Availability:
Rotating
Notes / Commercial Description:
No notes at this time.
Added by Zorro on 03-26-2012
Reviews: 131 | Ratings: 654

3.09
/5
rDev
-15.6%
look: 3.25 | smell: 3 | taste: 3 | feel: 3.25 | overall: 3.25
Bottled on 3/04/13
Poured into a standard tulip glass
Appearance: (3.25)
Pours a bright and pale, milky yellow with a pure white, 2 and half fingers tall pure white head. The head has decent retention and leaves a little bit of lacing down the sides of the glass.
Aroma: (3)
Spicy, clove forward Belgian yeast streams off the glass with some accompanying notes of ginger, grain-y herbs and banana. Underneath the spice, there is a moderate orange-y hop character. There is a sweet, bready malt tone that punches through the waves of spice. The sweet smelling malts embellish the banana notes in the yeast esters a bit too much, in my opinion.
Taste: (3)
Spicy, banana ester laden yeast, ginger and generic herbal impressions strike your palate first with a grassy, citrus-y hop character soon to follow. Middle of the mouth, before the dry, slightly bitter finish, your palate is kissed by cracker like malt. In the finish there are long, lingering notes of sweet Belgian yeast; more banana, clove and some herbal tones.
Mouthfeel: (3.25)
Light bodied with high carbonation
Overall: (3.25)
A very herbal and sweet Saison; definitely not my favorite interpretation of the style. The yeast is definitely a bit too cloying for my taste. I prefer my Saisons very dry, complex and a little funky with Brettanomyces. This Saison certainly is not that. I'm not sure what Green Flash was thinking when they thought a sweet Saison would be a good summer seasonal.
1,462 characters

3.08
/5
rDev
-15.8%
look: 4 | smell: 3.5 | taste: 3 | feel: 3 | overall: 2.5
Pours a clear, golden, effervescent color with a bright white head. The aroma was yeasty, peppery, with a bit of hay and mild funk. The taste was much sweeter than the aroma implied. Big breadiness, yeast, some pepper and bright fruitiness. The feel was creamy, and kinda lacking in carbonation for the style.
Overall, I'm not really impressed at all with this. It's not bad, but there's a lot more, better examples out there.
428 characters
3.07
/5
rDev
-16.1%
look: 3.25 | smell: 3 | taste: 3 | feel: 3 | overall: 3.25
While chilling out over a vegan dog, Raulsky decided that a saison was in order to wash down his cruelty-free protein.
Now, it's not as if Raul had much of an expectation, but Raul has drank gutter water that had more flavor and mouthfeel than this Fresno rain water. Thin, flavorless and more boring than a Ann Hathaway nudie scene.
Next!
342 characters
2.94
/5
rDev
-19.7%
look: 4 | smell: 2.5 | taste: 3 | feel: 4 | overall: 2.5
From: Beertopia in Omaha, NE
Date: No obvious date, but "15/22/299/11/1816/8" stamped on bottom
Glass: Tulip
Saison Diego has a fairly singleminded approach to the style with yeast, malt, and some grains of paradise being the most obvious flavors and scents. In general, the recipe was fairly one-dimensional and for the price, many other saisons of more complexity are available. I enjoy many of Green Flash's beers, but this was just not as spectacular a saison as I was expecting from the brewery. Relative to something from Fantome, Ommegang, or Dupont, this is rather lacking.
Pours a voluminous white head of very dense bubbles, with retention well above average. Foam eventually settles to a thick ring around the glass with a thinner film atop the rest of the body. Lacing is fairly minimal along the sides of the glass. Body is an opaque, hazy golden yellow color, with some carbonation visible along the sides of the glass and primarily streaming from the center.
Aroma is very mild, picking up subtle maltiness and saison yeast, with little else. For a bottle that mentions orange peel, ginger, and grains of paradise, there's surprisingly little going on here.
Opening flavor is somewhat tomato-like, which fades into a fairly generic saison yeast flavor, along with its secondary byproducts and a bit of the peppery grains of paradise. Mid-palate picks up some light malt sweetness with continued grains of paradise and saison yeast. Closes out with a pleasant grainy and biscuit-like malt influence. Not really picking up anything distinctly orange peel or ginger-like in the beer, though the label states that such ingredients were used. In general, this tastes like a fairly generic saison.
Beer is medium to medium-light in body with strongly effervescent carbonation that manages not to produce sharp prickles upon the tongue, but instead foams up with large bubbles and creates a pillowy, soft effect. Closes dryly, as expected.
1,952 characters
2.86
/5
rDev
-21.9%
look: 3.75 | smell: 2.75 | taste: 2.75 | feel: 3.25 | overall: 2.75
Looks appetizing in the typical saison way: a bright golden color with a nice frothy head. But after that there's not a lot going on. The scent and the taste show hints of orange and ginger, but it's pretty subdued. What's more, the taste was slightly metallic. Might hit the spot after a day in the hot sun, but otherwise a fairly run-of-the-mill beer. My first disappointing beer from Green Flash.
Update: as I make my way through the four-pack my estimation of the beer goes down. More metal with each beer.
511 characters
2.76
/5
rDev
-24.6%
look: 3.5 | smell: 2.5 | taste: 3 | feel: 2.5 | overall: 2.5
Arrives a medium yellow color with a pretty white head atop.
Smell is malt, banana, clove and hand lotion. Yes, hand lotion. Took a while to nail that one down.
Taste is malt, banana, light citrus, some hops and clove.
A medium to full body, medium effervescence leaves behind a stickyness that I found a bit off. Can honestly say I won't be having this one again.
364 characters
Green Flash Saison Diego from Green Flash Brewing Co.
3.66
out of
5
based on
654
ratings.