Sleepin' With Shaggy
| Green Flash Brewing Co.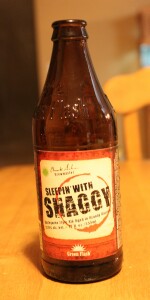 BEER INFO
Brewed by:
Green Flash Brewing Co.
California
,
United States
greenflashbrew.com
Style:
American Barleywine
Alcohol by volume (ABV):
12.50%
Availability:
Limited (brewed once)
Notes / Commercial Description:
After spending 4 years in Brandy barrels it became time to unleash the dark monster within. Thick toffee aromatics exude with dense layers of fig, molasses, caramel, and a medley of dark fruits. Sweet flavors of toffee and caramel mingle with the warming spice of vanilla, sherry-like notes, and brandy barrel oak tannin. When served above 55 degrees Fahrenheit (highly recommended) more dark fruits like plum, date, raisin, and fig are further revealed. Our CEO/Founder Mike Hinkley has enjoyed pairing this Brandy Barrel Aged Barleywine with a big stuffed "Shaggy" dog that came from the local fair carnies and therefore we now have "Sleepin' with Shaggy".
Added by MasterSki on 01-03-2013
This beer is retired; no longer brewed.
Reviews: 28 | Ratings: 167
3.05
/5
rDev
-20.2%
look: 3 | smell: 3 | taste: 3.5 | feel: 1.5 | overall: 3
Bottle (2013)
Thanks for the gift, cocoapuph!
Very dark brown body with a huge, quickly forming, and incredibly persistent head of light brown bubbles. Over-carbonated, especially for the style. This started to gush some upon opening. Once the head settles down, what's left is a very pretty barrel-aged barleywine, but before then it's largely just a glass of bubbles. I'll split the difference and call it average.
A flawed aroma, though there are some sweet, somewhat charred caramel candy notes peeking through which is nice. Lots and lots of oak character. Unfortunately, there's also some herbal qualities I don't particularly care for (juniper is actually really accurate--nice call Subpoena!), and the booze is quite present, especially on bigger whiffs. Some strengths, but definite weaknesses.
The flavor is just slightly better than the aroma, but it suffers from similar failings. Juniper, booze, lots of oak, and earthy and sweet brandy combine. There's elements of charred caramel candies as well. The flavor don't integrate particularly well, but they're not bad either.
The true failing of this beer. Very high carbonation, especially upon the first few sips seems akin to Pop Rocks or something similar. Aggressive carbonation, as in, they seem to be attacking my mouth. The mouthfeel gets better after swirling out a lot of the carbonation, but I shouldn't have to do that.
Overall, very disappointing, but not bad in the true sense of the word.
This gets better the more it warms and once the carbonation is knocked down to nearly zero (where it belongs).
1,584 characters

3.94
/5
rDev
+3.1%
look: 4.25 | smell: 4.5 | taste: 4 | feel: 2 | overall: 4
2/01/2013 and 2/02/2013
Thanks! Bottles into a snifter two nights in a row. I recommend swirling most of the carbonation out of the beer. The flavor improves dramatically.
A: Appears to be highly carbonated. A hard pour into the snifter yields 3.5 fingers of beige froth and two fingers of liquid. Tendrils of lacing are scattered. The color is a dark brown with a reddish tinge.
S: Candied caramel (I don't even know what that is) blends with dark toffee, brown sugar, undertones of vanilla, and breadiness. Oak is powerful. Brandy elements take the form of plum, date, and grape. Alcohol is well hidden in the aroma for the high ABV. There's a touch of citrus with a little leather and sherry.
T: A huge oak presence meets a dark fruit brandy sweetness, reminiscent of date, plum, and prune. There's a whisper of chocolate blending with toffee and a touch of caramel. There's a lower moderate bitterness with a big oak presence in the boozy finish.
M: Upper medium body with high carbonation. The mouthfeel is sticky with much alcohol warming and some astringency. The carbonation is way too high and I found this was creating a harsh tannic astringency sensation and seemed to be muting the flavors as well. I swirled my glass for a few minutes and the flavor improved a lot.
Overall: Good but not as good as the Brandy Barleywine Green Flash has offered on tap in the past. I know it's supposedly been in the barrels for 4 years, but why? To augment the oak? Well, there's a bit too much oak, and the carbonation is too damn high (the new batch of Silva suffers from this as well I think, though I need to conduct further research). The beer reminds me a bit of Alpine's Great (2009 batch).
The beer went from a 3.2 to a 3.91 when I swirled the carbonation out and let the beer open up.
1,798 characters

4.32
/5
rDev
+13.1%
look: 4.25 | smell: 4 | taste: 4.5 | feel: 4.5 | overall: 4.25
Poured from a bottle at Green Flash tasting room for the Silva & Sleepin' with Shaggy release. Pours dark brown with no head. Slight aroma of brandy, molasses and dried fruit. Flavor packs a strong punch. Brandy barrel, caramel, spice and figs. Medium bodied, slightly oily. Very hot. High carbonation leads into a clean dry finish. Epic....
341 characters
Sleepin' With Shaggy from Green Flash Brewing Co.
3.82
out of
5
based on
167
ratings.