Hop Odyssey: Symposium IPA
| Green Flash Brewing Co.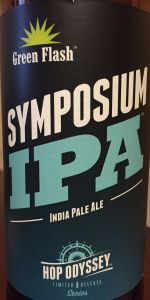 BEER INFO
Brewed by:
Green Flash Brewing Co.
California
,
United States
|
website
Style:
American IPA
Alcohol by volume (ABV):
7.00%
Availability:
Rotating
Notes / Commercial Description:
No notes at this time.
Added by Sweffin on 09-08-2013
Reviews: 33 | Ratings: 256

3.93
/5
rDev
-0.3%
look: 3.75 | smell: 3.75 | taste: 4 | feel: 4 | overall: 4
On tap at the brewery – 01/22/14
Served in a slender tulip glass
I am guessing this is a reincarnation of the Surf's Up Symposium brew…
A: Caramel orange color body with some peach tones and a bit of noticeable hop haze. Half finger of frothy paper white on top with good sustainability. Light splashes of lace dance across the glass after a few sips.
S: Lush floral hops on the nose with a firm dank weed aroma. Has that distinct dirty herbal weed stem aroma to it with a soft mix of citrus and pine underneath. Dash of pale malt sweetness but mostly a nice hop forward aroma here.
T: Orange citrus and flower blossoms with some dank weed intertwined. A subtle caramel malt kiss emerges with some soft baked breads as well. There is a relatively high amount of bitterness to the beer but it's not terrible sharp on the palate. Really well disguised with the alcohol. Nice balance with the hops and light sweetness.
M: Frothy and lush carbonation with a nice drying finish. Peppery bitterness. Long lingering resins.
D: Symposium is a solid hop forward IPA with nice drinkability and well hidden alcohol. Nothing ground breaking by today's standards but still quite enjoyable none the less.
Good to go. Made a prime candidate for my growler fill.
★
1,266 characters

4.07
/5
rDev
+3.3%
look: 3.75 | smell: 4.25 | taste: 4 | feel: 4.25 | overall: 4
Growler to a specialty ipa glass, picked up on Friday from Craft
Pours an orange tinged gold with two fingers of foam that have died down sort of quick. Good lacing, mild carbonation stemming from the center of the glass
Smells of floral and earthy hops, backed up by a bit of grapefruit and citrus. Bready caramel malts make up the backbone, finishing with a touch of alcohol
Taste is with the nose for the most part, strong floral and earthy hops upfront, more of the citrus coming through mid palate. Caramel malts bring up the back, a bot more subdued than in the smell, still finishing with a touch of alcohol
Feel is crisp and dry, sticky medium body. Alcohol is hard to pick up, very drinkable
Overall a solid ipa. Nothing spectacular, but I might get a second growler fill if it's still on tap next time I'm downtown
★
829 characters

3.5
/5
rDev
-11.2%
look: 3.75 | smell: 3 | taste: 3.75 | feel: 3.5 | overall: 3.5
Draft pour into a nonic glass at Red's Alehouse in North Liberty.
A: Clear, light amber color with less than one finger of diminishing white foam head. Light lacing remains on the glass.
S: Restrained grainy toast and herbaceous/floral hops are underwhelming because the nose must strain to even detect them.
T: Begins barely off-dry, with hearty pale malt and very clean grassy hops aromatics. Transitions are easy and balance reigns throughout the profile. Moderate bitterness in the finish is accented with Simcoe-style dankness.
M: Thin to medium viscosity, slightly acidic and wet on the palate, with moderate carbonation.
D/O: Solid but hardly a standout, this limited edition IPA really drinks no differently than Green Flash West Coast IPA.
★
753 characters

3.97
/5
rDev
+0.8%
look: 3.5 | smell: 4 | taste: 4 | feel: 4 | overall: 4
It's very dark in here, but it looks hazy gold/amber. Head and lacing looks good.
Sprite white grapefruit and floral aromas. Some papaya in the mix. Not super tropical, but it has a vibe of coastal fruit trees. Light and hoppy.
Crispy hoppy with mintiness and grapefruit and tropical fruits. Papaya and starfruit. Very dry, all things considered. Very bold in its hoppiness, but it doesn't disappoint in drinkability. Medium-light and crisp. Rather nice, really, but I do just love that Green Flash hoppiness.
★
511 characters
4.12
/5
rDev
+4.6%
look: 4 | smell: 4.5 | taste: 4 | feel: 4 | overall: 4
On-tap 10/31/2013 at Track 84 in Warwick, RI, served in a tulip glass.
A: The beer is a deep amber color, with a short off-white head that fades slowly and leaves a thick lace on the glass.
S: The aroma contains a nice blend of fruity citrus, floral hops and caramelized malts.
T: The taste starts out with a piney burst of hops bitterness followed by some citrus and caramel sweetness. The malt character is hearty but not too heavy and creates a good balance. The after-taste is slightly sweet and slightly hoppy.
M: Crisp and smooth, medium body, medium carbonation, finish is slightly sticky.
O: Tasty, goes down easily, not too filling, good kick, good representation of style, this is a very solid IPA to drink for a long time.
★
738 characters

4.11
/5
rDev
+4.3%
look: 4 | smell: 4.25 | taste: 4 | feel: 4 | overall: 4.25
A: poured in a pint glass at World of Beer with a single finger white foamy head on a golden clear body. Great lacing.
S: Lots of citrus... Grapefruit, orange, etc. Slight hint of caramel sweetness with some wet sock damp undertones....
T: Citrus notes follow the nose in the taste... Very hoppy.
M: Moderately carbonated & dry.
O: Good IPA! Would definitely have this one again.
★
384 characters
4.05
/5
rDev
+2.8%
look: 4 | smell: 4 | taste: 4 | feel: 4 | overall: 4.25
Draft at sams in Durham into a shaker.
pours a copper color with a nice head, not much lacing. grapefruit and citrus fruit dominate the nose and you're not bombarded by hops. taste starts off with some mild hops followed by a big citrus fruit flavor and finishes with a nice bitterness. medium bodied with medium carbonation.
overall another impressive IPA from green flash!
★
376 characters
3.93
/5
rDev
-0.3%
look: 4.5 | smell: 4 | taste: 3.75 | feel: 4 | overall: 4
Nitro Tap.
Smooth, not overly hoppy. Carbonation seemed really low - don't know if that was just the nitro getting to me. I could hardly sense a change in mouthfeel between the head and the beer itself. No really defining taste characteristics. More or less a run of the mill west coast IPA.
★
294 characters
Hop Odyssey: Symposium IPA from Green Flash Brewing Co.
3.94
out of
5
based on
256
ratings.