World of Beer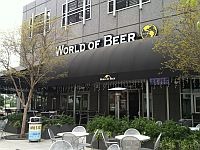 PLACE INFO
Type:
Bar
4208 Six Forks Rd
Ste 150
Raleigh
,
North Carolina
, 27609-5744
United States
(919) 784-9261 |
map
wobusa.com
Notes:
No notes at this time.
Added by tdm168 on 11-22-2011
Reviews: 6 | Ratings: 18

3.71
/5
rDev
-6.3%
vibe: 3.5 | quality: 3.5 | service: 4 | selection: 3.75
After visiting the WoB in Fayetteville several times and enjoying the experience, we were up in Raleigh for something so decided to stop in this one. First impression was favorable, having a "hankering" for the fried veggies and a nice Red Oak, we enjoyed in the 'Ville', we were disappointed this franchise didn't offer them...disappointment continued when we looked at the menu and the brats on pretzel buns weren't offered here either...but keeping an open mind we tried something else. All in all, we had a good time, the server was awesome and the selection was a decent split between local crafts and big name European brews.
★
631 characters
2.04
/5
rDev
-48.5%
vibe: 2.75 | quality: 1 | service: 1 | selection: 4
Went in for an after lunch beer and there was one tender talking with a group of people, I'm assuming the people wanted to rent the place out or have a party there, so I'm understanding and sit there for more than a couple minutes. Another female tender comes out from the back, looks at me and walks right by without even acknowledging me. Fuck this place.
★
359 characters

3.94
/5
rDev
-0.5%
vibe: 3.5 | quality: 4 | service: 3.5 | selection: 4.5
Stopped here on a whim, they have a very good selection, both draft and bottles. The $1 required membership fee is weird, and it has the feel of a sports bar, only without food, lots of TV's with your typical football jersey wearing middle-aged man crowd expected from a sports bar. Some of the prices were ok, some were downright rediculous (12oz BCBBW bottle for $20!?)
Worth checking out if you don't mind spending a lot of $$ on high end beers.
★
451 characters

3.84
/5
rDev
-3%
vibe: 4 | quality: 3.5 | service: 4 | selection: 4
Stopped in briefly while in the area with my wife. Nice atmosphere though a little too polished for my taste. Loads of TVs. They have about six refrigerators with bottles nicely displayed and more taps than I could count. They seem to focus on NC beers. I had an Ommegang Abbey Ale which was very good. My wife had a Mystery Lockwood's Retreat IPA which was pretty bad. We're both hop heads but this one had an unpleasant grassy flavor. I don't know if it was the beer itself or their presentation of it but it was a big disappointment.
World of Beer is certainly worth a visit; especially if you're looking to catch a game on TV.
★
631 characters
4.1
/5
rDev
+3.5%
vibe: 3.5 | quality: 4.5 | service: 3 | selection: 5
I visited on 30 Dec at 1500. The prior review did a good job with a few exceptions that I will note specific to my visit.
First off, the music was much louder than was comfortable. I don't remember the type playing so it was obnoxious but when I have to lean close to someone to hear them speak it's far too loud.
Several TV's inside playing the major games. This place needs to decide if they are a sportsbar or a beer place. Being new they are seeing what works. In my opinion, if your going to a beer place to try upscale imports your not there to watch the college game of the week but the sound was not on the games so thats ok I guess.
There are tables outside and being situated in a location between tall buildings you will be out of the sun most of the day. This serves as a defacto canopy and during the summer will be very nice.
There are 30 taps, I counted them, not 50. Still, that is more than enough for a selection of every major type including 2 Lambics which is unusual in itself to find on tap. The bottle selection is well put together in a glossy binder. There is a short section in the front explaining the different types of ales and a short description so if your unsure of a listed ale you can look in the front of the menu for clarification.
The selection includes an ample number of domestic including a number of NC Brewers and foreign from all over the world. You should be able to find something to try no matter how picky you are.
The waitress will bring you a sample of any on tap so your not stuck with a glass of something you don't like.
The waitress knew something about beer but was not that knowledgeable but at least knew the styles and when I asked for a recommendation of a porter she listed a few of the more common ones without throwing in an IPA or Stout (I actually ordered a stout at one "beer place" and the waiter came back with an IPA saying they were out of the stout I wanted but I might like this. Why not bring a replacement Stout or a Porter? ugh)
The ale, when ordered, comes in the appropriate glass. I ordered a stout and it came in a stemmed stout glass. I looked at other customers and saw their ales and beers also in the right glass.
We did not try to order food. WOB does not serve food but has several nearby restaurants that will take orders and bring it to you. One only would do it online so a smartphone was needed. A full menu of the restaurants was available. This was kinda cool and Mexican, Chinese, Burger places were there for a nice selection of food if wanted.
WOB also will sell you a six-pack to take with you of the various bottles so if you see something you have never tried you can buy a bottle to take home. I did not bring a growler or ask if you could get one filled so I don't know if they do this.
Prices seemed a little high. Most of the imported ran $7-$10 a bottle with some higher and lower. Good selection at all price points.
All said, I would not hesitate to go back when it was less crowded. Nice selection, clean establishment in an upscale part of Raleigh Metro near the North Hills Mall. I can't wait to sit outside when it warms up a bit.
★
3,142 characters
4.44
/5
rDev
+12.1%
vibe: 4 | quality: 4.5 | service: 4 | selection: 5
I went here on 11/18/11 in the late afternoon after work. This was their grand opening.
When walking in you notice two things. First, behind the bar, it is wall to wall coolers full of craft bottles. You'll also notice the lengthy row of taps. This place boasts 50 taps with a grand total of 500 beers to offer. You'll also notice that there is not a single BMC product served in the entire place. I had a Sierra Nevada Ovila Quad on tap and split a bomber of Lagunitas Imperial Stout with jtd1969.
The atmosphere was loose and fun. The walls are decorated with beer memorabilia, and there are several TVs playing ESPN and other sports shows. They have a stage on the second floor that overlooks the bar area on the first floor. Every weekend they have live, local bands. It was getting rather crowded as I was leaving, but it was a new bar on a Friday. It was also a little small and crowded. There are two floors, but on a really busy evening finding a seat will probably be difficult.
The staff was incredibly helpful and knowledgeable. We spoke with several of the bartenders about selection, taps, what's coming next, glassware, beer styles, recommendations, and personal favorites. They knew a great deal about not only the beer that they had in the store, but beer in general. The part that I liked most is that they were willing to talk beer which is something I always like about my bartenders.
I'm not sure how I feel about the food situation. They do not have a kitchen and do not serve food of their own. Their food menu is a compilation of local restaurants that deliver. Simply dial, place your order, and they will deliver it to you inside the bar. This will alienate the family, but for those looking for great beer and only want food after a little while, it won't matter.
Overall, it was a great afternoon. Upon leaving I got my t-shirt for joining their loyalty program so it's likely I'll be spending a great deal of time at this place.
★
1,962 characters
World of Beer in Raleigh, NC
3.96
out of
5
based on
18
ratings.