Henry's IPA
| Wadworth and Company Ltd.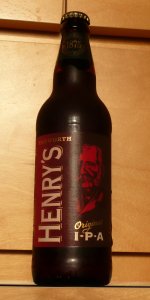 BEER INFO
Brewed by:
Wadworth and Company Ltd.
England
,
United Kingdom
wadworth.co.uk
Style:
English India Pale Ale (IPA)
Alcohol by volume (ABV):
3.60%
Availability:
Year-round
Notes / Commercial Description:
No notes at this time.
Added by TheLongBeachBum on 08-19-2004
Ratings: 14 | Reviews: 7
Reviews by gulden:

More User Reviews:

2.79
/5
rDev
-1.1%
look: 4 | smell: 2.5 | taste: 2.5 | feel: 3.5 | overall: 3
A 500ml bottle with a BB of Dec 2011, so it's a little out of date. Picked up cheap from a local off-licence. The label mentions that it is named after Henry Wadworth, the brewery founder.
Poured into a Sam Smith's pint glass. A hazy orange-amber colour with good carbonation and visible floating sediment. Forms a nice head of creamy white foam that lasts for a couple of minutes before dissipating. Aroma of grainy caramel malt with a hint of dry yeast. No hops to speak of.
Tastes of subtle caramel malt with a mild, dry bitterness. Notes of grain, yeast and faint stewed leaves. Low bitterness, and no aromatic hops. Mouthfeel is smooth and tingly, with good body. Quite astringent - dries the palate. Aftertaste of dry yeasty malt.
Not bad - in fact this is quite a nice session ale with a subtle, balanced character that makes for easy drinking. However, it sucks as an IPA, even an English one. No aromatic hops; or any hops really. It's probable that the hop notes have faded due to age, but I suspect this ale belongs to that group of british IPAs that lack any hop flavour to begin with. Drinkable, though a bit dull.
1,130 characters

3.5
/5
rDev
+24.1%
look: 3.5 | smell: 3.5 | taste: 3.5 | feel: 3.5 | overall: 3.5
Tall brown 500ml bottle best before the end of Jan 2013: poured into my Abbot Ale glass tankard on 19th June 2012.
Clear amber body with a large off-white head of bubbles on top.
Malty nose for an IPA, with just a hint of floral hops to stop it being an overly sweet smelling beer.
The taste is also malty: biscuit/bread more than sweeter molasses, the hops again ensure the beer isn't just a malt flavoured brew and give the beer a pleasant semi-bitter feel throughout. The alcohol content although low suits the beer and doesn't impair the overall flavours or taste.
571 characters

3
/5
rDev
+6.4%
look: 3 | smell: 3 | taste: 3 | feel: 3 | overall: 3
We stayed in Andover while visiting frinds in England, and Wadworth is probably the closest brewery. Therefore we had lots of opportunity to try their beers, and even got to visit the brewery for the freshest cask ales.
Golden amber color with a thin whitish head. Some hop presence in the aroma (I have been training my self to not expect the high hoppiness in North American IPAs), and in the taste.
A good sessional beer, with a nicely balanced flavor. Appropriate mouthfeel and body. Slightly dry finish. More hoppiness than many other cask ales we have samples, but still only an average EIPA.
599 characters

2.83
/5
rDev
+0.4%
look: 3 | smell: 2.5 | taste: 3 | feel: 2.5 | overall: 3

2.17
/5
rDev
-23%
look: 4 | smell: 2 | taste: 1.5 | feel: 3.5 | overall: 2.5
pours a golden color with a wispy shortlived head. The aroma is very weak and almost sour. The malt in this beer is very weak and the hops are very 1 dimensional. The strongest taste is a strange sourness, kind of like milk thats gone off, though even this taste is very weak. I tried it twice in two pubs and it tasted the exact same (one publican told me they had just tapped the cask that day, so I dont think it was stale). Very thin body, and extremely weak ABV for an IPA. Not a very good beer.
500 characters

3
/5
rDev
+6.4%
look: 3 | smell: 3 | taste: 3 | feel: 3 | overall: 3
3
/5
rDev
+6.4%
look: 3 | smell: 3 | taste: 3 | feel: 3 | overall: 3
Not a bad beer, but I don't really think this is an IPA. Too low of an ABV and a bit too mild of a taste, with not enough of a hop presence.
Decent, but a little light in colour. Orangey-amber with a very thin head and this takes a while to "settle."
A nice session beer, but honestly I think this works better as a pale ale and not IPA.
339 characters
2.63
/5
rDev
-6.7%
look: 4.5 | smell: 3.25 | taste: 2.5 | feel: 2.25 | overall: 1.75
500ml bottle from Morrisons, £1.00:
Not the strongest or the most interesting of beers, this one started relatively weak with little more than some biscuit malts & an earthy bitterness to show for itself. There was some faint sweetness at times that was a mild surprise but for the most part the beer seemed bland & watered down, never really making itself known & as a result it's one that I'll be avoiding in future sadly.
425 characters
2.19
/5
rDev
-22.3%
look: 2.5 | smell: 2.25 | taste: 2.25 | feel: 2 | overall: 2
Watery , that's all that comes to mind here. Aroma and taste are faint, hints of caramel, but not even much hops/bitterness, yet label says IPA. Everything about this is weak, including the ABV% Very disappointed....
218 characters
3.75
/5
rDev
+33%
look: 3.75 | smell: 3.75 | taste: 3.75 | feel: 3.75 | overall: 3.75
Had on cask at the Bear Hotel in Devizes - Dec 2015
51 characters
Henry's IPA from Wadworth and Company Ltd.
2.82
out of
5
based on
14
ratings.