Old Timer
| Wadworth and Company Ltd.
BA SCORE
84
good
12
Reviews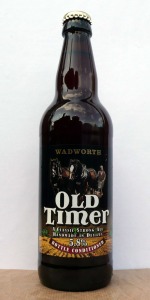 BEER INFO
Brewed by:
Wadworth and Company Ltd.
England
,
United Kingdom
wadworth.co.uk
Style:
Old Ale
Alcohol by volume (ABV):
5.80%
Availability:
Winter
Notes / Commercial Description:
No notes at this time.
Added by Zimbo on 01-27-2011
Reviews: 12 | Ratings: 25
3.51
/5
rDev
-5.1%
look: 3.25 | smell: 3.5 | taste: 3.5 | feel: 3.75 | overall: 3.5
Bottle I brought to share at Oneinchaway's tasting.
Pours a clear orange with a foamy tan head that settles to wisps of film on top of the beer. Small dots of lace form around the glass on the drink down. Smell is of malt, caramel, fruit, and slight metallic aromas. Taste is much the same with malt and fruit flavors on the finish. There is a mild amount of hop bitterness on the palate with each sip. This beer has a lower level of carbonation with a slightly crisp mouthfeel. Overall, this is a pretty good beer with some solid malt and fruit aromas and flavors.
566 characters
3.54
/5
rDev
-4.3%
look: 3.75 | smell: 3.5 | taste: 3.5 | feel: 3.75 | overall: 3.5
another style bending english type that could be an old ale, a dark mild, or even an esb in some ways i suppose, i like it, but its just another english ale to me, not a strong impression made on me, as much as i did like the beer. priced amazingly fairly at about 5 bucks a bottle, it has a mahogany color to it and some cloudiness. not as dark or as thick as most old ale i know, and sitting under a half inch of beige head. it smells like english ale yeast, spicy hops, and wet streets at night. it has that dank gloomy mood setting thing going on, taking me to london or something, i like that more than i like the taste of the beer itself. nutty malt base and a dry yeasty finish with less hops than it smells like it should have. i love the lower abv on this, an all day drinking pub ale, but not one thats overly innovative or particularly well built. overall a solid and affordable beer when you need an english brew, but getting that fix is about it for me.
966 characters
3.83
/5
rDev
+3.5%
look: 4 | smell: 3.5 | taste: 4 | feel: 3.5 | overall: 4
500ml Bottle conditioned: BBD 4th Aug 2013. Poured into two half-pint glasses on 2013's New Years Eve during my 'Drinking around Europe' evening.
My wife choose this beer for England (and my age I suspect!): pours a lovely deep amber colour, on top a full but fairly thin biege crown of foaming bubbles.
The nose and taste were complex and interesting: aroma was malty, musty and fruity, the taste very simular with anutty, woody feel added.
Thinner body than I expected but still OK and it suited the beer nicely. The 5.8% ABV being hidden well within the flavours of the beer. Old Timer calmed us down a little and my head on the 1st Jan 2013 thanked this beer for helping to prevent a 'hangover from Hell'.
712 characters

3.68
/5
rDev
-0.5%
look: 3.75 | smell: 3.75 | taste: 3.5 | feel: 4 | overall: 3.75
Pours a warm ruby-amber color. Clear. There's some sediment at the bottom of the bottle, but with my elite pouring skill, I managed to keep it out of the glass. Small rocky head. Looks like they went with a cask mouthfeel attempt. Nice lacing. Only a thin coating of bubbles remains after a minute. The aroma has solid malt sweetness. There's a toasty tone to it. Doughy. Lots of English yeast fruitiness to the point that it gets a touch medicinal. Apricots, raisins, grapes, pears. The taste starts out sweet with more of that rich, lightly toasted malt flavor. Finish has light mineral dryness and earthy hop bite. It's definitely on the sweet side but still maintains much of that English ale balance that makes their beers so easy to quaff. Lots of flavor for the strength. It's a bit over the top, but I can certainly see the appeal as a seasonal beer. The sweetness in the finish has a mildly off flavor that I can't quite place - it's sort of a medicinal fruitiness. Nothing terrible, just a mild ding for me. Mouthfeel is smooth and low carbonation. Nice take on the cask mouthfeel for a bottled beer. This isn't my favorite English beer on the shelf, but it's good and I always appreciate getting to try a new one, since so few make it into bottles much less to the US.
1,295 characters

3.74
/5
rDev
+1.1%
look: 3.5 | smell: 3.75 | taste: 3.75 | feel: 3.75 | overall: 3.75
A 500ml bottle with a BB of Aug 2013, so it's a bit out of date. Picked up from an off-licence a while back and stashed in my garage. Hopefully age won't have dimmed it. Described as a classic strong ale.
Poured into a tulip pint glass. Bottle conditioned. A rich coppery-chestnut hue with hazy floating sediment and medium carbonation. Yields a smallish head of frothy white foam that lasts for a minute or two before disappearing. Aroma of sweet, fruity malt with hints of raisins, dried fruit, caramel, brown sugar, faint roasted grain, earthy yeast and a twinge of stewed hops. Nicely rounded, with a subtle whiff of booze in the background.
Tastes of fruity malt with a mild finish. Notes of prunes, raisins, dried fruit, caramel, brown sugar, hints of roasted grain, earthy yeast and stewed hops. Vaguely reminiscent of fruitcake. Slightly sweet, with a touch of warming alcohol in the background. A lingering maltiness upon swallowing. Mouthfeel is smooth and lightly tingly, with soft carbonation and a lovely, velvety body. Mildly astringent, followed by an aftertaste of fruity malt, caramel and earthy yeast.
A tasty brew that goes down nicely. Looks OK, though the head doesn't hang around for long. The aroma and flavour are sweet and fruity, with subtle yeast and hop characteristics. A smooth, well-judged body. Good stuff - perfect for a cool, autumnal evening. Well worth sampling if you come across it.
1,423 characters

3.84
/5
rDev
+3.8%
look: 4 | smell: 3.75 | taste: 4 | feel: 3.5 | overall: 3.75
A: Poured from the bottle into a tumbler-style pint glass. Body is amber-bronze on the pour, with a small whitish head on top. When backlit, the body is more coppery-mahogany in color. Head disappears quickly.
S: Sweet stuff dominant - fruity, with toffee and brown sugar as well.
T: Follows the nose, with ripe dark fruit, toffee, brown sugar, roasted chestnuts and a bit of raisins at the finish. Hint of bitterness on the palate in the aftertaste, but this one is primarily all about the malt.
M: A little thin and watery; carbonation is nearly non-existent.
O: Good for the style. Not sure I should be drinking this warming British Ale on the hottest day of the year, but hey - that's why they have A/C - so I can drink winter beers in the summer!
757 characters

3.84
/5
rDev
+3.8%
look: 3.25 | smell: 3.5 | taste: 4 | feel: 4 | overall: 4
$ 3.88 (Including tax)/16.9 oz bottle ($ 0.229/oz) at State Line Liquors, Elkton, MD
Lot F14 324 at 42 degrees into a hand washed and dried JK snifter, allowed to warm to 50 degrees.
Aroma - fruity
Head small (< one cm, aggressive pour), off white, frothy, diminishing to neither ring nor layer
Lacing - none
Body "chestnut", initially hazy but clears as it warms
Flavor – starts fruity, like over-ripe apples, ands with a slight bitterness; no alcohol, no diacetyl
Palate light to medium, watery, soft carbonation
A very nice UK import that has held up well. Definitely on my short list for my next UK visit.
Appearance 3.25, Aroma 3.5, Flavor 4, Palate 4, Overall 4
676 characters

3.66
/5
rDev
-1.1%
look: 3.5 | smell: 3.75 | taste: 3.75 | feel: 3.5 | overall: 3.5
Enjoyed from the 500ml bottle in a snifter, this ale pours a brownish orange color with a light head of foam that dissipates to a thin ring and little lacing and a thin ring. Nose of raisins, brown sugars, dark fruits, and lightly floral hops. Flavors follow the nose with caramel and brown sugars up front, light blackberry and cranberry notes to the rear as well as light raisin notes and a VERY light hop character. Aftertaste features a slight alcoholic heat that sears in with decent carbonation ending on a light sweet note. Crisp lively mouth feel finishes lightly dry. Decent, yet I would strain to call this an old ale, though it is definitely an English ale.
Cheers
681 characters

3.49
/5
rDev
-5.7%
look: 3.25 | smell: 3 | taste: 3.75 | feel: 3.25 | overall: 3.75
A: Amber in colour. Bubbly with a small off-white head.
S: Pilsner-like, metallic and a tiny bit cakey.
T: Quite a stern tasting ale with a nice fruity aftertaste. Pretty bitter. Nice bit of earthiness in the finish. The mouthfeel is a bit stale unfortunately.
O: Not a world beater but not half bad.
300 characters

3.97
/5
rDev
+7.3%
look: 3.5 | smell: 4 | taste: 4 | feel: 4 | overall: 4
A long time since I last had this beer,this has a lovely mahogany colour with just a dash of cloudiness and orangy hues. The head is big at first but deflates to something more managable over the course of consumption.Some lice delicate lacing.
Taste wise there are very dark fruits, a vinous and dominant yeasty quality with perhaps a fluttering of hazelnut.
Dry at the end with a zestiness and sharp end.
A stubborn old schoool beer which shows how it should be done.
472 characters
3.67
/5
rDev
-0.8%
look: 3.5 | smell: 4 | taste: 3.5 | feel: 4 | overall: 3.5
500 mL brown bottle poured into a pint glass
A: light brown, mostly transparent with some orange hits when held up to the light
S: rustic, a malty sweetness in the scent, but with some pleasantly unusual smells I can't quite place too
T: more sweet than bitter, a mild hint of orange/citrus with a foundational base of maple and a bitter finish with a hit of lemon zest
M: moderately carbonated (in a good way) with a stickiness to it.
D: very nice, although the higher ABV (even if typical for an Old Ale) means I won't have this very often
546 characters

3.46
/5
rDev
-6.5%
look: 3.75 | smell: 2.75 | taste: 3.75 | feel: 3.75 | overall: 3.5
Overall a quite flavorable beer although I am not sure it fits as an Old Ale-the bottle does not mention Old Ale, just a classic ale. I do like the fact that it is bottle conditioned.
183 characters
Old Timer from Wadworth and Company Ltd.
3.7
out of
5
based on
25
ratings.