Ringwood XXXX Porter Winter Ale
| Ringwood Brewery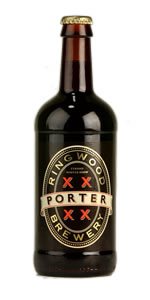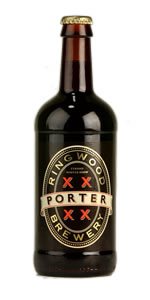 BEER INFO
Brewed by:
Ringwood Brewery
England
,
United Kingdom
ringwoodbrewery.co.uk
Style:
English Porter
Alcohol by volume (ABV):
4.70%
Availability:
Winter
Notes / Commercial Description:
No notes at this time.
Added by TheLongBeachBum on 03-05-2005
HISTOGRAM
Ratings: 8 | Reviews: 6
Reviews by kojevergas:

2.06
/5
rDev
-40.3%
look: 3 | smell: 2 | taste: 2 | feel: 2 | overall: 2
Reviewed from notes taken while on a January 2011 expedition to Glasgow, Scotland. Served from a cask in the Bon Accord pub.
A: Dark black colour. Thin but creamy head of fair retention.
Sm: Very light; maybe coffee and barley. Difficult to detect, especially with me broken nose.
T: Slight hint of coffee. Awkwardly unbalanced. Some nice roast.
Mf: A bit undercarbonated (a sour complaint for a cask ale). Nicely dry on the climax, but overall too wet for a porter.
Dr: I'm a porter lover and I wouldn't have this again.
531 characters
More User Reviews:
3.59
/5
rDev
+4.1%
look: 3.75 | smell: 3.5 | taste: 3.5 | feel: 3.75 | overall: 3.75
Cask at 'spoons. Very dark brown. Wispy head.
Not much aroma. Some coffee and roasted malt.
There's more to the taste with dried fruit, milky coffee and a hint of caramel.
Good cask conditioning.
195 characters
4.43
/5
rDev
+28.4%
look: 4.5 | smell: 4 | taste: 4.5 | feel: 4 | overall: 5
I think this is the first cask porter I have ever had, I loved it. One of the smoothest beers I have ever had. Light brown color with a well formed tan head. Nice lace patterns in the form of rings. Mellow aroma of malt and chocolate. A very smooth no, an ultra smooth taste profile that was accented with some chocolate roast and subtle hop. Hugely drinkable in my opinion and maybe the best porter I have ever had. Enjoyed at the Lord Moon Of The Mall pub in London.
468 characters
3.41
/5
rDev
-1.2%
look: 4 | smell: 3 | taste: 3.5 | feel: 3.5 | overall: 3.5
Appearance: dark brown ruby, good clarity, thinnish layer of tan foam, OK head retention, lace
Aroma: very subtle smell; hints of coffee, soy sauce, chalk
Flavor: dry malt profile with a subtle sweetness; hints of chicory, burnt sugar, and chocolate; finishes dry with a roasty bitterness
Mouthfeel: medium body, gentle carbonation, crisp, astringent
Other comments: Less complex than you'd expect with four hop varieties in it, though that might be because it is a bottled version that has lost its oomph. A good porter, but not particularly flavorful. Definitely better on cask.
584 characters
3.85
/5
rDev
+11.6%
look: 3.5 | smell: 3.5 | taste: 4 | feel: 3 | overall: 4.5
Living just a few minutes from ringwood itself, I was excited to try there winter seasonal brew!
I managed to aquire a 36 piny polypin of the beer (for free) so this review is based on the tasting session of that.
A: A dark ruby with a thin dusty beige head that disapated quickly.
S: A big helping of sweet fruits; mainly plums and sultanas here. Followed up nicely by a deep coffee aroma, also showing hints of vanilla and golden syrup.
T: Fruit dominates the palate, the sultanas from the nose are defiently there. The coffee bitterness is very stark at first but fades quickly. Some deep muscovado sweetness is present throughout.
M/D: A very easy going porter, and just the right ABV to make it a good quaffer. Not Ringwood's Old Thumper though!
755 characters

3.6
/5
rDev
+4.3%
look: 3.5 | smell: 3.5 | taste: 3.75 | feel: 3.5 | overall: 3.5
3.9
/5
rDev
+13%
look: 4 | smell: 4 | taste: 4 | feel: 4 | overall: 3.5
Purchased at the OnlyFineBeer, Chelmsford, two weeks ago, only to find upon returning home that, blimey, this bottle has way past its BB date: 04/11/2005 by more than 8 months!! Coming in a 500ml brown bottle, bottle-conditioned, served cool in a straight imperial-pint glass on 24/07/2006--can't risk waiting any longer, esp. when I've never tried Ringwood's bottled beers.
A: very dark mahogany hue, nearly black; the tan beer head builds up very slowly, yet fast retreating to a thin layer of tight froth; very gentle carbonation as far as my eyes could manage to see through the liquid. Decent-looking.
S: fragrant chocolatey maltiness upfront with sweet black plums and juicy raisins~~ receiving a good backing from herbal English hops that are almost intertwined seamlessly with the malty fore-note; the roasty edge is very understated, though. Overall the aroma is a typically fruity version of Porter, and so very enticing~~
T: lively-textured, semi-light dark and nutty maltiness prevails upfront... suggesting fat raisins, plum-preserve, longan-fruit tea, brown-sugar, and a lightly roasty+bitter-sweet tinge of black malts, meeting a mild hint of vanilla as well as light-bodied fruity hops at the back. The overall flavour is predicably delicious, if not showing a great complexity to overwhelm one's palate and senses... yet the hop's late input is welcomed, that, coupled with a lightly dryish finishing touch almost like a Dark Mild, lifts the overall body skilfully.
M&D: medium-bodied, even like a heavier Dark Mild, and very smoothly-textured, this porter is of decent quality and a balanced sample of Ringwood's craftsmanship. Judging from the texture and taste, I'd say I'm impressed that its passing the BB date hasn't left a negative imprint at all, although I wouldn't know how much more delicious it could've been if consumed 8 months earlier~~ And I'm gaining confidence in Ringwood's bottling efforts. Recommended!!
1,947 characters
Ringwood XXXX Porter Winter Ale from Ringwood Brewery
Beer rating:
3.45
out of
5
with
8
ratings