Chipotle IPA
| Aztec Brewing Company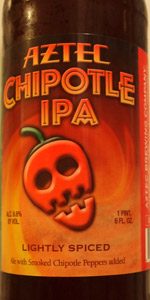 BEER INFO
Brewed by:
Aztec Brewing Company
California
,
United States
aztecbrewery.com
Style:
American IPA
Alcohol by volume (ABV):
6.60%
Availability:
Year-round
Notes / Commercial Description:
No notes at this time.
Added by HopHead84 on 11-27-2011
Reviews: 8 | Ratings: 54

4.23
/5
rDev
+10.7%
look: 4.75 | smell: 3.5 | taste: 4.25 | feel: 4.5 | overall: 4.75
Poured into a Lawson's tall pint.
Amazing cream colored head, rocky, sudsy, clings and leaves lacing, huge, and stays around. Body is deep copper, and fairly clear, showing off good amount of carbonation. Honestly, this appearance makes me question other scores I've given.
The smell is light at first...under all that head, how could it not be? But what ends up coming out of the glass is a good mix of sweet oranges, lightly smokey chipotle peppers (but mostly of the pepper meat, less smokey) and leafy green hops. Intensity builds as beer warms and loses the big puffy head.
Excellent taste here. Very clearly an IPA that is lightly spiced with chipotle peppers. Hit the nail on the head. Sweet malt character up front, followed by some firm bitterness on the mid palate. Notes of smokey peppers mingle with the Cascade hops upon the swallow. Resinous and firm hop bite at the end. Excellent carbonation. Medium to full bodied. Slight heat on the finish, which lingers into the aftertaste. Really pleasant taste and works very well with food. Head is soft and weightless. Powdery almost...
Big surprise for me here. Got this in a shelf turd trade and I'm blown away by the quality of this beer. Almost unbeatable appearance, and a true gustatory experience. Very drinkable, as I polished off the whole bomber myself, drank some on its own, and finished the rest with pasta. I found it to be diverse, good both ways, and yet supremely enhanced the pasta. The balance on this beer is also remarkable, and sets the bar for "spicy" IPA's. Fantastic, and would drink again and again. It needs a better label...
1,615 characters
3.35
/5
rDev
-12.3%
look: 3.5 | smell: 3.5 | taste: 3.25 | feel: 3.5 | overall: 3.25
Thanks to nakalakaboom for sharing this one on the beer bus to San Diego.
Pours a clear copper with a foamy khaki head that settles to a partial film on top of the beer. Small dots of lace form around the glass on the drink down. Smell is of malt, citrus zest, and slight smoke and chipotle aromas. Taste is much the same with citrus zest and earthy pepper flavors on the finish. There is a mild amount of hop bitterness and a mild chile heat on the palate with each sip. This beer has a lower level of carbonation with a slightly crisp mouthfeel. Overall, this is an above average beer that tastes decent but the citrus forward hops don't really mesh well with the smoky chipotle presence in this one.
703 characters
3.76
/5
rDev
-1.6%
look: 4 | smell: 3 | taste: 4 | feel: 4 | overall: 4
Poured into pint glass. No date on bottle, this was given to me from a friend. Beer was amber in color. It also appeared just a little hazy with a moderate head.
The smell was a little week. I picked primarily citrus and a subtle note of chipotle. It was just barely noticeable. The smell seems a bit murky as if the chipotle or something else is concealing it.
Taste was great! The IPA part of this beer was pretty average but I was quite impressed with the flavors of chipotle. It has that subtle spiciness and smokey flavor to it. I've had beers with jalapeño heat added to it was and an instant a drain pour for me. However this beer is an exception, I love the chipotle flavor. The spiciness lingers in my mouth after the finish BUT its not overwhelming. Unlike many beers with heat, it does not kill my taste buds. This beer would be great with food, probably burgers or something on the grill. You'll still pick up the taste of food when drinking this beer unlike other horrible beers where I could still taste the jalapeño. I haven't even gone to more than a couple sips with other beers but I'm more than happy to finish this bomber myself tonight.
Beer had a light bodied mouth feel. Probably a good beer to drink in the spring/summer.
Overall: the fruitiness of the IPA and the spices of the chipotle marries well together. When I was given this bottle, I had a bad feeling about it. But I'm proven wrong and am very happy to be enjoying this right now.
1,474 characters
3.39
/5
rDev
-11.3%
look: 3.25 | smell: 3.5 | taste: 3.5 | feel: 3 | overall: 3.25
Traditionally I'm not a fan of chili beers but it was interesting to try a spiced beer that offered a hop balance. On the darker side for an IPA color wise and the nose is more chili than hops. However the flavor offers a nice balance the subtile spicy pepper and the piney hop characteristics. Flavor changes as you drink more as is typical with chili beers but the heat is still noticeable after several sips while definitely not overpowering.
After doing a sampler at the brewery it's clear Aztec is willing to explore different spice combinations in beer and the Chipotle IPA actually works well. An interesting offering, never had anything quite like it so I'll give Aztec credit for uniqueness.
702 characters

4.38
/5
rDev
+14.7%
look: 5 | smell: 4.5 | taste: 4.25 | feel: 4.5 | overall: 4.25
A-dark, ruby amber with a nice cream colored head
S-definitely hoppy with a very apparent scent of chipotle. Medium strength. I'm pretty satisfied with this one.
T-comes in with a fairly citrusy flavor of hops with underlying tones of chipotle. The chipotle lasts throughout the after-taste along with a flavor of aged hops.
M-medium carbonation with a creamy finish
O-actually I'm very impressed with this. It's a decent IPA but with a fresh twist to it. Unfortunately I'm noticing that the chipotle flavor tends to blend in and becomes more difficult to notice. Though I suppose I favor that over an overpowering flavor of pepper. The nose of spice definitely doesn't fade. This is well done I say.
706 characters

3.75
/5
rDev
-1.8%
look: 3.75 | smell: 3.75 | taste: 3.75 | feel: 3.75 | overall: 3.75
22oz bottle. Pours a clear copper with a finger of dirty off-white head. Sudsy retention with lacing that sticks. Smells herbal with a mix of green citrus, pine and ripe tropical character. Spicy pepper notes are scattered throughout, giving the nose a nice tingle. The taste is similar, driven by herbal and tropical flavors that encapsulate a crisp citric bitterness. Pith and pine linger in finish, along with peppery warmth that doesn't overstay its welcome. The mouthfeel is medium bodied, with a soft crispness that is undercut by some oily slickness. Touch of alcohol heft here but nothing too distracting. I don't think that I'd had too many pepper infused IPAs before and this one was actually pulled off pretty well for what it is. I'm not sure that it was good enough to justify plucking down the $$$ for some of Aztecs other offerings but you never know.
874 characters

3.95
/5
rDev
+3.4%
look: 4 | smell: 4 | taste: 4 | feel: 3.5 | overall: 4
Lovely coppery orange color in the narrow Crooked Line tulip. Plenty of foam. Interesting to try to describe the mouthfeel with the various attacks on the tongue. However it's well carbonated and a little oily. A nice peppery nose.
I wasn't expecting this to be so smoky flavored. It's actually quite nice once you get used to it and it doesn't taste over-smoked. The rich roasted flavor of the peppers seems to be a nice addition to a beer. The heat is again surprising at first but turns into part of the landscape.
The IPA aspect doesn't get neglected. This is a thoroughly hopped up brew with the usual grapefruit and resins. As the heat wears off and the smoke dissipates, you can readily taste the hops. However it really should be categorized as a Spiced Beer in my opinion. But it's thoroughly interesting , and makes for a very drinkable and complex brew.
From the 22 oz bottle bought at Liticker's in Ocean Beach.
928 characters

4.12
/5
rDev
+7.9%
look: 4 | smell: 4.5 | taste: 4 | feel: 4 | overall: 4
11/26/2011
I guess this is review # 1600.On tap at Aztec Brewery.
A: Dark amber with a white frothy head.
S: Expressive fruit profile: tangerine, grapefruit, pineapple, and orange flesh. The chipotles are bold and they impart a little smoke. Malt is bready and submissive.
T: Grapefruit blends with orange and a big jalapeño flavor, which doesn't really add much spice. There's also some pineapple in there as well. The beer is moderately bitter with a little bready malt playing a supporting role. There's a light astringency in the smoky chipotle finish.
M: Medium body with upper medium carbonation.
Overall: A pretty nice pepper IPA. The chipotles are really flavorful. Not something I'd want a pint of but enjoyable in small quantities.
748 characters
Chipotle IPA from Aztec Brewing Company
3.82
out of
5
based on
54
ratings.