Bad Hare Double IPA
| Rhinelander Brewing Company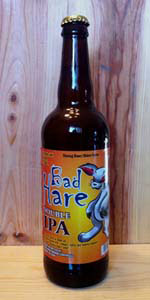 BEER INFO
Brewed by:
Rhinelander Brewing Company
Wisconsin
,
United States
rhinelanderbrewery.com
Style:
American Double / Imperial IPA
Alcohol by volume (ABV):
8.50%
Availability:
Limited (brewed once)
Notes / Commercial Description:
No notes at this time.
Added by Agent1 on 01-27-2012
This beer is retired; no longer brewed.
Reviews: 4 | Ratings: 15

4.1
/5
rDev
+49.1%
look: 3.5 | smell: 3.5 | taste: 4.5 | feel: 4.5 | overall: 4
Going out an a limb, I stumbled upon this Double IPA right before walking out with a bottle of Chimay Blue cap in hand. Two very different styles, I know. I decided to give it a shot considering how cheap it was and that I had never heard of Rhinelander Brewery before (based out of Wisconsin, USA). After doing a quick Google search, I very quickly learned that this beer, much like a hare, has managed to speed past beer enthusiasts. Either that or it is very new to the market.
Appearance - A very vivid orange/ amber. Lightly carbonated with little head retention. Not much lacing either. The color is what really stands out here.
Smell - Caramel, pineapple, mango, light floral notes and pine. Nice spices and perhaps a little bit sour/ yeasty on the nose (not by any means offensive), most likely inspired by the hops.
Taste - Very sweet and rich. At the same time, bitter and piney. Not overly hoppy given that this is ranked at 75 IBU. Heavily malted, which helps this ale come across more "robust" as the bottle describes. Brown sugar, mango, grapefruit, caramel and barley with a slight cough syrup aftertaste (not sure what to think about that, but it isn't worth complaining. We all liked our fair share of cough medicine growing up). Cascade hops and possibly the use of Amarillo hops as well, giving this some citrus and floral accents. At 8.5% abv, it is disguised fairly well.
Mouthfeel - Very smooth and surprisingly chewy. This stimulates all parts of the mouth fairly well. Quite full-bodied. A little too much alcohol on the palate, but not enough to be a turn off.
Overall - Pleasantly surprised. This ale has a lot to offer and I am curious to where else I might find more of Rhinelander's brews. I may be shocking some people by saying that this reminds me a little bit of Dogfish Head's 90 Minute. That being said, this is close, but NOT the same and that it is important to note that the 90 Minute is also a tad over-hyped -- but still delicious! I would highly recommend trying this Double IPA. Especially for the price and that we are supporting a very small, arguably unknown craft brewery at this point. I will be getting another bottle of this, no question!
2,193 characters
2.29
/5
rDev
-16.7%
look: 3.5 | smell: 2 | taste: 2.5 | feel: 2 | overall: 2
Tough to put a finger on Calgary's own Minhas 'mountain crest' brew crew (subsidiary Rhinelander via Wisconsin) and their craft brewing intentions. I first came across this beer 2 years ago at a food & wine fest in calgary. At that time this beer still had a rabbit theme, but was called 'Imperial Jack'. I recall liking it but I was alway well sauced and it was only a sipper sample. Never did see that specific beer at a liquor store. Maybe a tweak or two since then and here we are....
A - somewhat hazy golden orange, thumb of white head retained respectably and left good lacing
S - wow, for a 'big hoppy brew', all i'm getting is adjunct...?
T - mineral quality up front with a definite pine hop flavour, but the adjunct flavour is a big dominant part of this
M - starts medium, gets watery, no bitter or dry, the only thing I can say for this is that the 8.5% is well masked
O - booo, and I'm not saying boo-urns
920 characters
2.18
/5
rDev
-20.7%
look: 3.5 | smell: 1.75 | taste: 2.25 | feel: 2.5 | overall: 2
650ml bottle, another weird offering that I only stumbled upon while out of my neighbourhood, looking for new Irish Whiskey, I feckin' swear, mate!
This beer pours a clear, medium bronzed amber colour, with three fingers of puffy, densely foamy, and mildly creamy tan head, which leaves some layered battle station profile lace around the glass as it slowly (I think, I'm still steeling myself right now) abates.
It smells of gag-worthy, and obviously nasal-challenging alcohol phenols, further paint thinner astringencies, bready caramel malt, stupidly out-of-place banana, and more standard, if still duly underwhelming stale tropical fruit, strangely spicy esters, and some further corn pone sweetness. The taste is grainy, semi-sweet caramel malt, cheap sugary adjuncts, watery citrus and pine hop bitters, a weird earthy mustiness, and some weakly threatening boozy notes.
The bubbles are fairly frothy and engaging with their tickling of my upper and side palates, the body on the far low side of yer typically expected middleweight, and smooth like the healing of a formerly cancerous skin incision. It finishes sweet, sure, but not any sort of thing that you'd even consider ever giving to your already pepped-up, and thankfully oblivious to this part of our shitty world little goober...yeah, I've already checked out of this trite little horror story too.
Fuuuuuuuuuuuuuuuck. I used to care that Minhas/Rhinelander were essentially just stealing Sherbrooke Liquor Store's now long retired Bad Hare DIPA (ducking from the potential litigation, for 1, 2, 3 seconds), but now, it's just a greasy-ass tick, and nothing more. At least I can admit to my trolling - your god-damned turn, Minhas.
1,705 characters

1.84
/5
rDev
-33.1%
look: 3 | smell: 2 | taste: 1.75 | feel: 1.75 | overall: 1.5
Picked up today at the local liquor store. 650ml bottle, no visible freshness date.
A - Pours fairly hazy and orange. About a finger of head, dissipated somewhat quickly, some lacing but not much.
S - Very faint, not a lot to it. Slight aroma of bananas, some caramel and spices.
T - Well, it's not awful, but it's very very bland and horribly balanced. A bit of piney hops (but almost none), and they are completely overpowered by malt and caramel. Some citrus as well. For a bottle labelled as 75 IBU, it is not very bitter. Very prominent booziness. Kind of tastes like a really terrible barleywine, in a way.
M - Fairly watery. Boozy.
O - Not very good. It's not offensive at least, and drinkable, but very very disappointing as a DIPA. The flavours are horribly balanced. It is definitely cheap ($3.99/bottle), but even at that price, not really worth it at all.
872 characters
Bad Hare Double IPA from Rhinelander Brewing Company
2.75
out of
5
based on
15
ratings.