Bad Hare Oktoberfest
| Rhinelander Brewing Company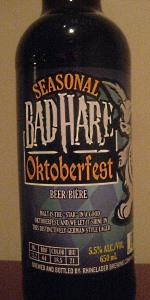 BEER INFO
Brewed by:
Rhinelander Brewing Company
Wisconsin
,
United States
rhinelanderbrewery.com
Style:
Märzen / Oktoberfest
Alcohol by volume (ABV):
5.50%
Availability:
Fall
Notes / Commercial Description:
No notes at this time.
Added by biegaman on 10-28-2012
Reviews: 4 | Ratings: 7

3.35
/5
rDev
+13.2%
look: 3.5 | smell: 3.5 | taste: 3.5 | feel: 3 | overall: 3
Rhinelander promised to make malt the star in this autumn seasonal and the deep, dazzling amber colour suggests they may have delivered. Its orange-amber-gold ombre looks splendid and retains full clarity (allowing some shadowy distortion, of course). Unfortunately there's little (often no) head to compliment the liquid's lovely coppery sheen.
There are two concerning features in this aroma: first, the lack of rich maltiness and it being supplanted by cereal grist; second, the presence of pure ethanol. While the hint of sulfur is natural, the rough alcoholic note is a giant red flag. As for the modesty of toasty melanoidins and rich nuttiness, it's no hazard but it is disappointing. It doesn't smell bad, but it lacks in depth and complexity.
A well executed Oktoberfest is like mother's milk to me, and the fact that my first sip didn't make me grin like an imbecile or instantly reach for more says something. It's also hard for me not to automatically root for a beer with a killer rabbit on its label. But while I do like this lager, it doesn't seem to have the benefit of the finest barley nor the magnificence of a proper decoction mash. It drinks a bit rough; far from elegant.
The beer is sufficiently flavourful to make getting through the full 650ml serving feasible, but it leaves much to be desired relative to the style's best brands. At the risk of repeating myself, the rich, complex malty profile is simply lacking. Also, what bready-sweet taste is there is distorted by fruity esters and traces of ethanol (by-products of fermentation, tisk tisk, this should be a 'clean' lager).
Although it makes a respectable fall-time lager, there's likely some German brewers out there that would want Rhinelander arrested on crimes against Märzen. My first impression of this brewery was not overly impressive. I'm not narcissistic enough to say they need to impress Me, but I'm easy to please when it comes to this style so the fact this offering hasn't does not bode well for your odds of loving it.
2,025 characters
3.11
/5
rDev
+5.1%
look: 4 | smell: 3 | taste: 3 | feel: 3.5 | overall: 3
The Rhinelander/Minas crew has yet to impress me with these offering, BUT at only about $3 for a bomber bottle its well worth it to keep on trucking
A - bubbly clear medium brown, thumb of head retained at a half finger, fairly consistent lacing
S - has some of the blood-like and sweet malty aromas, but it is overrun by a "cheap" type aroma of adjunct and funk, doesn't bode well for the flavour
T - exactly the same as the nose, I don't know if its the use of mineral & chemical heavy tap water, the process, cheap ingredients, or what, but it just has that off sort of taste common to cheap brews, there is some saving grace oktoberfest malty flavours, but its average at best
M - medium body that gets a little thin, mineral type feel and a bit of dryness
O - has a few rays of light in terms of hitting some of the oktoberfest qualities, but it just has that typically skunky cheap beer character that these guys just can't seem to escape
944 characters
2.69
/5
rDev
-9.1%
look: 2.75 | smell: 2.5 | taste: 2.75 | feel: 2.75 | overall: 2.75
Ack. This beer thinks it's a Marzen, but comes across with candy sweetness you might find in a Tripel. Overall, the color and body are consistent with the Oktoberfest style. It finishes surprisingly well, but the upfront impression is absolutely off-putting. Never again!
271 characters
2.65
/5
rDev
-10.5%
look: 3.5 | smell: 2.75 | taste: 2.5 | feel: 2.75 | overall: 2.5
650ml bottle, a bit late of a seasonal find at my favourite dodgy off-brand liquor store here in Edmonchuk. The kind of brew that I have no problem placing as my last beer in a long night's worth of reviewing, just so y'all know.
This beer pours a glassy, medium bronzed amber colour, with two skinny fingers of puffy, tightly foamy, and somewhat bubbly ecru head, which leaves the minimal amount of wan streaky lace 'around' the glass as it quickly abates.
It smells of bready, grainy, and kind of corny breakfast cereal-adjacent caramelized malt, neutered orchard fruit notes, the typical off-putting Minhas 'yeast' astringencies, at least delivered here in small enough doses, wet grocery store biscuits, and a headier booziness than one might proffer as necessary. The taste is plain bready caramel malt, a twinge of biscuity toffee, pithy earthy yeast, an agreeably obscured Minhas-borne, well, let's just go with 'house unpleasantness', weak drupe fruit, and more cheap alcohol esters than anyone, and I mean ANYONE, should expect in an 11-proof offering.
The bubbles are a bit playfully frothy a first, but don't take all that long to produce a shit-fit, and take their ball home with them, the body on the lee side of proper medium weight, and generally smooth, I suppose, those aforementioned nasties more or less taking a pass here. It finishes off-dry, sure, the lingering rainbow malt still attempting to put on its big-boy pants, and only partially succeeding.
Well, I gotta say, this doesn't outright suck, for multiple reasons. First - it's Minhas veritable, and I'm still supping it, full stop. Second, it's a month or two past this one's prime hunting grounds, and yet it still has some seasonal oomph, for what it's worth. Putting lipstick on pigs, pulling the wool over my eyes, and generally hoodwinking me - I'm now duly tired of the metaphors - this one does enough to just barely pass muster, which is maybe among the best things I've ever uttered about this outfit.
1,999 characters
Bad Hare Oktoberfest from Rhinelander Brewing Company
2.96
out of
5
based on
7
ratings.