't Hommelhof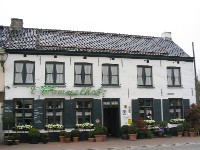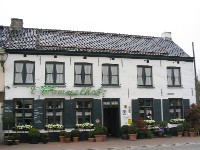 Bar, Eatery
Watouplein 17
Watou
, 8978
Belgium
+32 57 38 80 24 |
map
hommelhof.be
Notes:
Reviews by TheLongBeachBum:
TheLongBeachBum from California
4.45
/5
rDev
+0.2%
vibe: 4.5 | quality: 5 | service: 5 | selection: 3 | food: 5
Quite simply a Belgium legend. Probably known more for its Cuisine-a-la-Bier, as it rates as one of the best places in the World for Beer Cuisine. Master Chef Stefaan Couttenye is probably the biggest exponent of using our favorite fluid for cooking. Indeed, his well known colorful book is a bible on the Subject and on sale here. Located on the main square in Watou, I have only visited the "Hopyard" once after a visit to the very nearby Watou Brewery in 1998. You can come here to sample just the beer range if you want - if you do though, you will have missed a golden opportunity to eat in one of the Best Beer Restaurants in the World. I had the Cod in Hommelbier, and it was absolute perfection and incredibly tasty. The Menu has local fare and specialities, and is quite literally mouthwatering. The Hommelhof is actually half of the building, a recent extension called the Hetlandvanamem is new and the more formal half. To accompany our meal, there were several Watou beers on draft and a small selection of around 25 quality bottled beers counted on my visit - which is average and no great shakes....
....but here they eat beer, as well as drink it !!!!
Oct 09, 2002
More User Reviews:

HopBelT from Belgium
4.39
/5
rDev
-1.1%
vibe: 4 | quality: 4.5 | service: 4.5 | selection: 4.25 | food: 4.5
Jul 04, 2015
dirtylou from New York
4.44
/5
rDev 0%
vibe: 4.5 | quality: 4.5 | service: 4.75 | selection: 4 | food: 4.5
We biked here from the Brouwershuis St. Bernardus - a lodging experience like no other. Do whatever you can to plan your trip to Belgium such that you can include at least 1 night at that glorious B&B.
It's a few short km on a flat course to the restaurant, located on the largest square in Watou - a charming little town.
We sat outside in the shadow of a large church and surrounding graveyard. The flies were a bit much, but outdoors felt like the right choice. If you walk over there after dinner, be sure to find the outdoor trough where you can relieve yourself while watching others enjoy fine dining.
The beer list is short and to the point, with a defined focus on Watou area beers. There likely isn't a more appropriate destination to enjoy a Poperings Homelbier, and you might as well try the housebeer which is a cuvee blend featuring that beer as well. Don't expect a crazy vintage list or a bunch of lambic, that's not what this place is about. Expect to enjoy the regions top offerings, which include St Bernardus if the mood suits
The cuisine is widely regarded as revolutionary in the world of beer cuisine - we may not have chosen the best path to experience that style of cooking but the prix fixe 3 course meal was great nontheless. The highlight for me was actually the wonderfully refreshing fruit soup that closed out the meal.
The service was without question the fastest and most attentive we had in Belgium, possibly by a ratio of 5:1 or 10:1.
Really thrilled we were able to make this happen - great place
Aug 31, 2013

spoony from Colorado
4.24
/5
rDev
-4.5%
vibe: 4.75 | quality: 4 | service: 4.5 | selection: 3.75 | food: 5
A-'t Hommelhof is located right on the main square in Watou. Upon entering and noticing the "country-chic" decor, I immediately realized this place is closer to fine-dining and definitely a big step up in class (and price) from a typical pub. We arrived looking for light lunch, but decided to go big when we looked at the food menu and nibbled on the bread and olives served on a white table cloth. That being said, the restaurant has a comfortable feel and the service was neither stuffy nor stiff. The front room has a small bar with no stools and a few tables, including a big one where a family of 12 locals were enjoying Sunday lunch. There is a larger dining room in the back and a semi-exposed kitchen.
Q-The beer selection is not huge, but there is some good stuff here. As you might expect, it is Watou-centric, but with St. Bernardus located down the road, that is not a bad thing. If we are talking about quality of food, this category gets 4.75.
Ser-The great service we received would have been at home in a Michelin-starred restaurant, i.e., timing was good, servers were friendly and knowledgeable about both food and beer, and items (including beer) were delivered with skill.
Sel-In a country with 100s of great beer bars, this place may not have the broadest selection, but it isn't horrible, either. I think there were three beers on tap and maybe a dozen to fifteen bottle options.
F-The lunch we enjoyed at 't Hommelhof was some of the best food we had in Belgium. It is certainly on the higher end, but it was absolutely delicious. I had carpaccio and my wife had shrimp scampi, and both were absolutely fantastic with great, fresh herbs and wonderful execution.
V-The restaurant is a little expensive, but not entirely out of line for the quality of food that is delivered to the table.
Jun 09, 2013
DoubleJ from Wisconsin
4.13
/5
rDev
-7%
vibe: 4.25 | quality: 4.5 | service: 4.5 | selection: 3.25
I saw 't Hommelhof featured on Tournée Générale for its cuisine à la bière, but the irony was me being stupid not to have room for any food during my visit. Well, the good news is that I could still walk in, and despite feeling underdressed, I could sit down at a table and not get a talking to. A combination of families and older friends together for what looked like a great meal made the makeup at the tables. Interior is very nice, and lit from the sunlight outside.
5 beers pouring from tap - Watou's Witbier, Pils, Hommelbier, Kappittel Prior, and Kappittal Blond. The bottle selection is limited to 17, but does feature goodies like Palm, Rodenbach, St. Bernardus, Belle Vue, La Chouffe. Also, 't Hommelhof serves their beer a little different; they don't offer the array of Belgian beer glassware, but they do have sturdy wineglasses. If the beer looks pretty and tastes wonderful, I'll forgive. Mission accomplished, after tasting a very fresh Poperinge Hommelbier.
One aspect I liked was the head chef coming out to greet with customers. I think this shows the passion of the head chef, making sure his customers are happy with their food. I sure was happy, even though I was only drinking beer.
I gotta try the food shall I make a return to Watou. I felt like I had seen <insert tourist attraction here>, but didn't go inside. Now it was back to the bike and off to the border....
May 22, 2013

OWSLEY069 from Pennsylvania
4.43
/5
rDev
-0.2%
vibe: 4.5 | quality: 4.5 | service: 4.5 | selection: 4 | food: 5
Going into this place I did not know what to expect. At times I felt a bit under dressed but I guess it was ok. A very nice interior with a small bar. It seemed like they were quite busy but there was a table waiting for our group. The service was really good and very accommodating. As for the food, a beer cheese soup, which was not a cream base nor a broth, it was somewhere in between, but it was great. Then it came, a pig knuckle. OH MY GOD! It had to be two pounds of ham, all for me, there were potatoes, but I just had those to get some of the gravy on top of the ham. Great meal, and to have some great beers paired with it was unbelievable. They must have known I was coming, hops and pork, it was a little slice of heaven.
Sep 29, 2011
raindog812 from Nevada
4.65
/5
rDev
+4.7%
vibe: 4 | quality: 5 | service: 5 | selection: 4 | food: 5
Wow! go eat there before you hit Westvleteren or St. Bernardus. It's absolutely one of the finest meals you'll have (anywhere!). Located in the charming town of Watou. They specialize in traditional Belgium country fare, cooking and pairing with beer. A really cozy atmosphere, that gives you the feeling you've been invited to a family dinner. The terrine of Rabbit was spectaculor as was the beer bread soup. The best Tartar in Belgium hands down. And a very respectable beer (& wine) menu. Marco from St. Bernardus recommended the place, which is just another reason why I love him! Thanks
Sep 08, 2010

garbercury from Pennsylvania
4.78
/5
rDev
+7.7%
vibe: 4 | quality: 5 | service: 5 | selection: 4.5 | food: 5
't Hommelhof, what can you say, this is the place. My wife and I were on our way for a two day getaway to St Bernardus and just happened to stop by on our way through the town of Watou to make dinner reservations. Man, lucky we did. They went on to tell us that the restaurant would be closing after lunch and would not re-open until after we were to leave. WHEW! Guess we are having lunch here honey, good move.
A--Small and quaint. Classic old style place with tables situated around a little bar.
Q--Everything is top notch here. Whether you are talking about the beers or the food.
S--Attentive, excellent. The owner and chef himself Stefan, is considered a legend and groundbreaker in Beer cuisuine. He came to our table and described the dishes and was more than accomodating. He made me a steak made with a reduction of Kappitel Prior, jesus was it could. My wife had a mix of pork dish reduced in a St Bernardus Wit, wow.
F--Top notch, world class. See above.
V--Try getting something like this in the States. If you do find it, expect somebody to completely rip you off. Excellent value.
Jan 10, 2010
't Hommelhof in Watou, Belgium
Place rating:
4.44
out of
5
with
8
ratings