Pale Dog
| Hops and Grain Brewery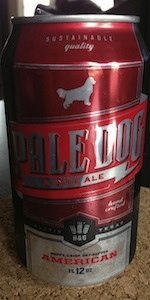 BEER INFO
Brewed by:
Hops and Grain Brewery
Texas
,
United States
hopsandgrain.com
Style:
American Pale Ale (APA)
Alcohol by volume (ABV):
6.00%
Availability:
Year-round
Notes / Commercial Description:
55 IBU
Added by omnigrits on 01-17-2012
Reviews: 34 | Ratings: 169

4.01
/5
rDev
+3.4%
look: 5 | smell: 4 | taste: 4 | feel: 3.5 | overall: 4
A - From can to glass, such a beautiful pour. Thick, golden flair from the body, which fogs up as the sediment from the can's foundation makes it's way into the glass, still projecting great color for an APA. Rocky caps with foamy, rough lace.
S - Not overly bright, but subtly floral, a bit toasty.
T - Medium push from the hops, with a tolerable bitterness, hiding the booze. The aftertaste is a bit tightly wound.
MF - A little rough. The carbonation and the booze battle on the tongue, causing me to take smaller sips to enjoy the flavor.
O -Currently, Hops & Grain cans only two beers (this, being one of them.) Both, in my opinion, are very worthy of canning, from such a young brewery. Definitely a recommendable beer to travelers of central Texas.
760 characters

3.73
/5
rDev
-3.9%
look: 4 | smell: 3.5 | taste: 4 | feel: 3.5 | overall: 3.5
Pours a dark amber color, with a fluffy off-white head. Very puffy, but didn't stick around long, dissipated to a froth. Aroma was lightly sweet, with some caramel and nuttiness, and some slight resinous hop notes. Had a good bitterness to it, finishing clean with a tinge of sweetness. It has a light to medium, creamy body to it. Nice refreshing pale.
353 characters

4
/5
rDev
+3.1%
look: 4 | smell: 4 | taste: 4 | feel: 4 | overall: 4
#BOTG 109!
Thanks to Will (Canadianghetto) for passing this can along to me from Austin. These guys are a new kid on the block and I've been interested in trying them out. Unfortunately, only available in Austin at this point. Poured from can to New Belgium tulip. Pours a nice darker orange/amber color, nice head and some retention. Pretty transparent. Smell- lemon/orange peel floral and graham cracker. Taste- really nice citrus tangy blast followed by a decent malt sweetness. lemon/lime/orange peel citrus hop profile. This is super drinkable, well done. I'd welcome it in cans available in Houston. And, come to think of it, we don't have many Texas made Pale Ales.
673 characters

3.92
/5
rDev
+1%
look: 4.25 | smell: 4 | taste: 3.75 | feel: 4 | overall: 4
This was brought over as a gift during a weekend get together. Excited to try another local brew!
Dug the look on this one in my pint glass. A crisp-clear copper pour with a sudsy head. Left a good amount of streaky lace throughout.
Gettting a sweet, flowery hop scent...a bit of citrus mixed in as well. Certainly a sugary malt aroma as well. Nice.
Taste follows, albeit just a bit mellow. I did like the resiny, juicy feel of this though. Coats the mouth well.
I think these guys are onto something good with the Pale Dog. Thumbs up for another good APA in cans! This drinks well and might be eaiser to handle than SNPA for folks wanting to dip into craft beer. I can't wait to try more Hops and Grains stuff.
716 characters
3.25
/5
rDev
-16.2%
look: 4 | smell: 4 | taste: 2.5 | feel: 3.5 | overall: 3.5
On tap at the Whip In.
The beer pours an orange color with a white head. The aroma has a ton of orange citrus notes, with a little bit of biscuit malt. The flavor is similar at first, but there are also some odd notes. I get some orange notes, but there is also a dirty character which makes the beer a bit difficult to drink. There is a decent amount of bitterness. Medium mouthfeel and medium carbonation.
409 characters
4.03
/5
rDev
+3.9%
look: 4.5 | smell: 4 | taste: 4 | feel: 4 | overall: 4
Received this as an extra in a trade. Poured into my Duvel tulip.
A - Poured an impressively clear light copper hue with a nice almost 3 finger head that slumped down to an almost one finger thick, creamy blanket.
S - Light piney hops and some sweet malts. Shockingly appealing.
T - Taste isnt bad. A bit on the malty side for my liking. The hops are slightly older perhaps, not quite as fresh as the nose. Still not too bad though.
M - Mouthfeel is solid too, nice carbonation, again a bit too sweet for me. Nice bitter finish.
O - Overall I'm relatively shocked at this beer. So far I think this is my favourite non Jester King beer from Texas.
651 characters
3.82
/5
rDev
-1.5%
look: 3.5 | smell: 4 | taste: 4 | feel: 3.5 | overall: 3.5
12oz can. No canning information available. Poured into a white wine glass.
A: Pours a mildly hazy, yellowy, amber color. Full finger of white fluffy head. It's nicely carbonated.
S: I get a good amount of fruity and piney hop aromas. Actually pretty surprised that it smells this nice. I get a little light malt bill behind it.
T: Pretty nice little sip here. I get some nice fruity hops on the tip of the tongue. Then its met in the middle of the mouth by just the right amount of malts to help balance the sip. A dry close here too.
M: It's light leading to medium bodied. Not quite an IPA.
598 characters

4.12
/5
rDev
+6.2%
look: 4 | smell: 4.5 | taste: 4 | feel: 4 | overall: 4
Their flagship pale ale is a solid contender, one that hits the right notes with pizzazz. Pours a clear golden color. Light, hoppy aroma on the grassy side. Same grassy flavor profile with a long dry finish. The kind of pale ale I enjoy. This dog's a keeper.
Updated March 2012
Apparently they revamped and revised their recipe. So it was worth revisiting this one.
On the latest/new version of the Pale Dog I noticed a much more pronounced honeyed sweetness, honeyed flavor and sweet finish. Grassy hop profile remains but there's more of a sweet malt balancing this out. I can picture this one being an excellent candidate for cask conditioning.
652 characters
4
/5
rDev
+3.1%
look: 4 | smell: 4 | taste: 4 | feel: 4 | overall: 4
A. Pale amber bordering on yellow, with an off white head.
S. Sweet malts at first, some grain in the nose. A good dose of citrus.
T. The grapefruit hops come in straight away and then give way to some sweet maltiness. Really well balanced with neither overpowering the other. A pleasant bitterness in the finish. There are some tropical fruit flavours that lend a touch of sweet perfume to the beer.
M. Medium bodied with a nice carbonation.
O. A solid APA that's got it right in all the right places without going OTT. Very drinkable.
549 characters
Pale Dog from Hops and Grain Brewery
3.88
out of
5
based on
169
ratings.