One Mile House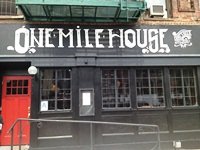 PLACE INFO
Type:
Bar, Eatery
10 Delancey St
New York
,
New York
, 10002-2824
United States
(646) 559-0702 |
map
onemilehousenyc.com
Notes:
No notes at this time.
Added by NeroFiddled on 12-03-2011
Reviews: 14 | Ratings: 48
3.95
/5
rDev
-9.6%
I was here once before, that night with B&B post Café Katja and that weird Asian fail cocktail place horrible. We were in the neighborhood, or the general area anyway, so this is the revisit with Handsome Ed on one of them days that he deviates off the run to points north Scranton. Something newish for me on Delancey, a weak armed stone's throw from Bowery Ballroom…
The bar is a U shaped job, split between 2 rooms; wood laminate topped, panel base, & a piping foot rail, with seating for roughly a dozen and a half both sides 'round on chairs. Barback is a fitted wood unit with a large center mirror. Wait, no, fuck, it is not a mirror; it looks clear through to the other side. I can tell 'cause I'm looking at a guy there who isn't me. There are cash registers back to back, so it seems like yes, but no. The inner side sides are mirrored, reflective of I don't know what. Shelved booze on mirrored panels to both sides of the break. Cooler space below, and shelved wine, beer, booze, & glassware. Pewter mugs dangling along the top of the unit and dead soldiers lining above; hello Gumballhead. Walls painted in a reddish tone over wood framing below, and brick wall inners otherwise. Pressed tin sheet panel ceiling and white honeycombed tiled floorings with sporadic black tiles interjected.
The rear room on our side holds nearly a dozen tables, some shared on benches. Brick, framed mirrors, flat screens, and hey, a backyard space. Cut through bar for survivors to flee to the other side. A solo oval table to the rear, a big old cast iron wood stove looking thing, and a few raised roundies, too. And a trio of raised roundy 2 seat hightops as you move forward towards the bar. Cool framed old neighborhood prints from the 1920's and the tap list on pieces displaying beers, origin, size, & ABV, opposite each other.
Copper topped wood box holds 20 taps on the bar, and another 20 taps on the other side, although some of them are duped. 30 taps in all. At my time of visit, there were 11 locals (Other Half Doug, Radiant Pig Junior, SingleCut Full Stack, Brooklyn Lager, Bronx Pale Ale, Rye Pale Ale & Black Pale Ale, Captain Lawrence Frost Monster & Brown Bird Brown Ale, Peekskill Simple Sour, Greenport Harbor Anti-Freeze), 7 regionals (Allagash White, Smuttynose IPA, Ommegang Hennepin, Victory Prima Pils, Troegs Mad Elf, DogFishHead Piercing Pils, Blue Mountain Long Winter's Nap), 8 of someone else's regionals (Founders Porter, Goose Island Bourbon County Barleywine, Bear Republic Racer 5, Lagunitas Brown Shugga' & Sucks, Bruery 6 Geese-A-Laying & Rugbrod, Firestone Wookey Jack), and 4 imports (Kyritzer Mord Und Totschlag, Dollnitzer Ritterguts Gose, Houblon Chouffe, Guinness). I drank the Radiant Pig Junior (not too shabby) and the Other Half Doug; a tasty Black IPA (love).
There are people on the other side holding a bottle share. I was not invited, WTF? Do you not know who I am? I see you have Hill Farmstead Anna but your event is sadly lacking me. Do better next time. Food they do here, but we opted out, what with Katz's being so close and all. The music here sucks. Don't listen. Service existed, that is all, and no, they don't do shortys. Good beer list though, and they do some kickin' events.
3,274 characters

4.12
/5
rDev
-5.7%
vibe: 3.75 | quality: 4.25 | service: 3.75 | selection: 4.5
I visited this place after a friend told me about Parabola and KBS on tap here. They had a barrel-aged event the night before my visit and unfortunately were out of both Parabola and KBS. But still, a lot of goodies: Stone Espresso RIS, Goose Bourbon Coffee, Smuttynose Utopias, Harviestoun 21, Stone Mixtape Vol 4 and many others.
One Mile House was chill and super quiet when I visited on a Wednesday at 4pm. Weird location, hard by Chinatown and a lot of traffic. You would never expect such a quality beer bar on this stretch of Manhattan. I mean, sure, it is technically in the Bowery-LES-Nolita area, but far from the cool kids.
The space inside is simple, with a bar and some high-top tables, then another room for dining. They're going for a speakeasy feel, but it doesn't look cool enough (Death&Co it ain't).
30 taps and 45 bottles, with goodies and rarities for everyone and prices on par with the better bars in town ($7-$9 per glass, with some exceptions like the Harviestoun 21 that costs $14 per eight-ounce serving). They do flights as well.
I found service to be fine and knowledgeable, but of course the joint was practically empty when I visited. Their food menu is short and full of meat and fat, good to soak up all that fancy beer. I didn't try any grub but would go for those pork wings... interesting.
1,333 characters
3.98
/5
rDev
-8.9%
vibe: 3.75 | quality: 4 | service: 3.75 | selection: 4.25 | food: 4
This place was pretty close to my hotel (I usually don't stay at hotels in NYC, but I was in town for a couple days, so there you go), and open late...very late actually, with the kitchen closing at midnight, and the bar closing at a whopping 4am! So I planned for a "late" dinner here after a show. Pretty basic neighborhood pub layout, with a double sided bar and a bunch of tables, including a good-sized dining area. Seemed like a bit of a "party crowd," but that's about right for this area, seemingly. The catch is: lots of good craft beer here!
Yes, a large taplist here, with lots of selections and very good diversity; something for everyone, just about. I had a Szech N Brett, and a Grimm Rainbow Dome, but also available were such items as Plead the 5th, Dieu du Ciel, and promises of Hill Farmstead on deck. And Westbrook Gose cans. Good stuff. Service was a little chaotic, but considering the busier crowd, not bad. I think my bartender was in training, but he seemed to be handling himself okay.
The food was pretty good as well. I was famished from literally not eating all day (long story), so the fried chicken club really hit the spot.
Sure, I'd recommend this spot. Certainly the best bar I've found in the ABC neighborhood, or whatever this area is considered, and possibly even the best bar I've been to downtown Manhattan, outside of the Blind Tiger, just going by beer selection alone.
1,412 characters

4.17
/5
rDev
-4.6%
vibe: 4.25 | quality: 4 | service: 4.5 | selection: 4
Located in lower Manhattan is this very good restaurant and craft beer bar. I had been hearing & reading some positive things about it for several months; and finally managed to visit it some weeks ago. The bar itself is long and seemed to wrap around to a 2nd side/room that I did not venture to, but the bartender would go back there from time to time as more of the taps are located on the other side. There are several tables in the back and waitstaff if you wish to eat lunch or dinner. We did not eat anything on our visit but from the looks of a couple patrons` plates, the food very well might be tasty here.
But, most importantly relative to this site, they had some great beer on draft. There were NY area breweries like Captain Lawrence, Barrier, Sixpoint and then things from all over the country like Local Option out of Chicago. I recall something like 18-20 taps with a well chosen range of styles. And the patrons and staff were both very friendly and talkative and made our afternoon visit all the more enjoyable. If you`re walking along Delancey or in the general area, this spot is recommended.
1,113 characters

4.25
/5
rDev
-2.7%
vibe: 4.25 | quality: 4.25 | service: 4.25 | selection: 4.25
Excellent taplist here. Far too many good beers to choose from every time I'm in here and I get overwhelmed. You'll find lots of NY breweries represented and lots of beers you've been wanting to try. Come in planning to spend some money and drink a few beers. Trust me.
Prices are reasonable, samples are allowed, and the servers are pretty friendly and attentive.
The feel here is kind of divey, which will allow one to come here and drink quietly in peace.
462 characters

4.4
/5
rDev
+0.7%
vibe: 4.25 | quality: 4.25 | service: 4.75 | selection: 4.25 | food: 4.5
This place is great. Located in the Bowery, had 30ish drafts on, great selection to choose from. Had hill farmstead IPAs, a bunch of sours, stouts, porters... Pretty much something for everyone. Megan was behind the bar and she was the nicest gal ever!
256 characters

5
/5
rDev
+14.4%
vibe: 5 | quality: 5 | service: 5 | selection: 5
What a great bar with an awesome selection of brews and phenomenal service! I didn't try any of the food but this place is worth stopping for sure. Nice bottles and cans.
170 characters

4.51
/5
rDev
+3.2%
vibe: 4 | quality: 4.5 | service: 4.75 | selection: 4.5
Last stop of the day for me after Rattle N Hum and La Birreria was One Mile House, and it was my favorite of the three. Unique setup in which the bar seems like it has a mirror behind it, but really you are looking through to the other side. Excellent selection of about 30 beers on tap. I accidentally spilled part of my first beer, Bockor Cuvée Des Jacobins Rouge, on the bar. The bartender offered to refill my glass for no charge, but I felt bad and declined. Top notch service and a gesture I greatly appreciated. Next up, an Allagash Speciale Blonde Ale followed by Boulevard Harvest Dance. All beers were poured properly and served in appropriate glassware. Though it was mostly empty while I was there early on a Friday afternoon, I thoroughly enjoyed my time. A few people dropped in here and there and the conversations were great. After some great brews, it was time for a sobering walk to Prosperity Dumpling, and I was on my way.
One of the best tap lists in the city, great service, and a cool vibe. This place is a gem!
1,036 characters

3.74
/5
rDev
-14.4%
vibe: 3.75 | quality: 3.5 | service: 3.5 | selection: 4.25
Cool looking place that has a nice flow, but I was there for a Goose Island Bourbon County Brand Stout event when it was so packed that it was hard to move and the service was impossible to judge. I'll go back soon to see what's it like on a regular night as I've heard good things about this place.
299 characters

4.68
/5
rDev
+7.1%
vibe: 4.75 | quality: 4.75 | service: 4.5 | selection: 4.75
Excellent craft beer bar. Lots of great choices. A little pricey, but that's to be expected with the combination of the location and the beer itself. It's literally right next door to The Bowery Ballroom, which is great, because now I have a great place to go and get craft beer before concerts there. They do tap takeovers every so often which is pretty cool, and they use rare, highly-rated beer bottles with flowers in them as set pieces for the tables. They had Bourbon County Proprietor's blend, Zombie Dust, Dark Lord... not as awesome as actually selling those beers, but still somewhat exciting for this beer nerd.
Also, props for using TeKu glasses - the ultimate beer glass.
685 characters

4.89
/5
rDev
+11.9%
vibe: 4.5 | quality: 5 | service: 5 | selection: 4.75 | food: 5
One of the least talked about places in the beer nerd community, I consider it something of a hidden gem.
The tap selection is consistently outstanding. In addition to almost always having several unique and excellent brews, they often have vintage and hard to find kegs. Two of the best tap lists I've ever seen have been at this bar!
Pricing is in line with NYC craft prices.
Food is top notch. The regular menu is extremely well done pub fare with unique items like bacon wrapped matzoh balls and pork wings. They often do special menus during events which highlight the brewery or style of the event.
Service has always been excellent, the owner takes very good care of me despite not being an extreme regular (I probably go twice a month on average). He is a gregarious fellow who is very passionate about getting great beer in the bar. The bartenders are all solid as well.
Atmosphere is classy Irish pub style. The old NYC newspapers lining the bathrooms are a fun touch, as are the photos of the Bowery area from early NYC history. The split bar makes it so that there's usually a space even if it gets crowded. And even after a Ballroom show lets out, it usually doesn't get so crowded that it's uncomfortable.
Overall, a really top notch beer bar with a great tap selection daily, and a world class tap selection for events. Also, probably the best food of any beer bar in the city. Highly recommended.
1,419 characters

4.1
/5
rDev
-6.2%
vibe: 4 | quality: 4 | service: 4.25 | selection: 4.25 | food: 3.75
great place overall, small and fairly quiet playing decent rock music. large and diverse selection of craft beers. good quality, well made food. the perfect place for before or after the show
193 characters
4.5
/5
rDev
+3%
vibe: 4.5 | quality: 4.5 | service: 4.25 | selection: 4.75
I've always had a great time in my visits. The tap list has always had (1) something I want to try, (2) something I've had, and want again, and (3) something for everyone. The summer pig roast was a blast, as was the sour event they had. The more I think about it, the more I realize it's one of my favorite beer bars around.
325 characters

4.55
/5
rDev
+4.1%
vibe: 4.5 | quality: 5 | service: 5 | selection: 4 | food: 3.5
I love this bar! I live in NJ, and will go out of my way to get to OMH. It's right next to the Bowery Ballroom, so if you are going to a show, wet your whistle both before and after literally one door down. The crew there are all veterans, and know their beer inside and out. They manage to get their hands on great stuff, and it's never so crowded that you can't breathe. I almost don't want to tell people because it's such a great secret, but they have been so good to us that I feel compelled to spread the word.
516 characters
One Mile House in New York, NY
4.37
out of
5
based on
48
ratings.