Float Trip Ale

Piney River Brewing Co.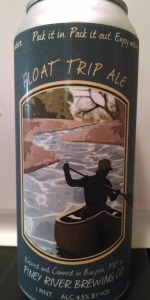 Rate It
Beer Geek Stats
| Print Shelf Talker
Style:

ABV:

4.5%

Score:

Avg:

3.81

| pDev:

10.76%

Reviews:

14

Ratings:

From:

Avail:

Year-round

Wants

Gots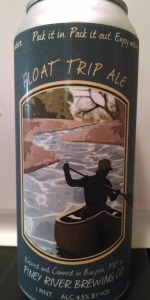 Notes: A float trip is the quintessential Ozark experience. A canoe, kayak, raft or tube and a pristine spring-fed Missouri stream creates a lasting memory of our wild and beautiful outdoors. Our hand-crafted blonde ale is the perfect accompaniment to your day on the river or to simply bring back float trip memories.

18 IBU
BeerAndGasMasks from Virginia
3.78
/5
rDev
-0.8%
look: 4.25 | smell: 3.75 | taste: 3.75 | feel: 3.75 | overall: 3.75
From the can, it pours a nice golden color with a nice thick head that slowly dissipates and leaves lacing. Light, fresh scent and light, fresh taste. Yum!
Dec 30, 2018
soju6 from Missouri
3.39
/5
rDev
-11%
look: 3 | smell: 3.25 | taste: 3.5 | feel: 3.25 | overall: 3.5
16oz Can. Pours a golden color with a fair head. Aroma of light fruit and malt sweetness. Taste of malt sweetness, grain and bit of citrus in the background. Mild bitterness and a clean finish. Light body, smooth with a laid back feel. Nice beer for a lazy summer day.
May 13, 2018
superwho24 from Arkansas
4.08
/5
rDev
+7.1%
look: 3 | smell: 4.25 | taste: 4.25 | feel: 4.25 | overall: 3.75
Smell: Corn
Taste: Oatmeal
Feel: Slightly creamy
Overall I really enjoyed the beer, but head fades quickly and very little zero lacing. Nice aroma and flavor. Enjoyed. Thanks.
Jan 13, 2018

jmay9753 from Missouri
2.68
/5
rDev
-29.7%
look: 3 | smell: 2.5 | taste: 2.5 | feel: 3 | overall: 3
1 month old according to date on can. Poured into frozen tulip glass. Golden bronze color 1/4" white head that dissipated quickly. Smell was pretty expected for a pale ale. Flavor was lacking i found and even with only 18 IBU rating i found the hop bitter to over power the flavor. Could be better if more balanced for sure.
Aug 30, 2017
Tone from Missouri
3.72
/5
rDev
-2.4%
look: 1.5 | smell: 3.75 | taste: 4 | feel: 3.75 | overall: 3.75
Pours a clear, gold color. 1/5 inch head of an off-white color. Poor retention and poor lacing. Smells of strong pale malt, cream, hint of wheat, slight yeast, and a hint of hop. Fits the style of an American Blonde Ale. Mouth feel is sharp and clean, with an average carbonation level. Tastes of pale malt, strong cream, wheat, slight hop, slight yeast, and a hint of sweet malt. Overall, weak appearance, good aroma, body, and blend, but more Cream ale than Blonde ale.
Sep 16, 2016
StonedTrippin from Colorado
3.71
/5
rDev
-2.6%
look: 3.5 | smell: 3.75 | taste: 3.75 | feel: 3.5 | overall: 3.75
solid beer right here, elements of wheat beer, cream ale, blonde ale, all sorts of light easy drinking styles. it must have some wheat in it, because i am informed by the can that it won a world beer cup gold medal for american style wheat, although its very clear in appearance for a wheat, and drinks more like a basic american blonde. im not getting a ton of texture of flavor from the wheat, although maybe thats its genius. this could easily be a lager too. i taste a little yeast, i feel it, and its dry and crispy and tasting very well like it may have spent some time cold conditioning in a bright tank. no hops at all in aroma or flavor, but a cool up and down grain base thats super simple, may feature some corn, and ends up drier than it starts. the beer is very well carbonated and clean in the finish at first, but as it warms, some lingering grain weirdness creeps in and the carbonation just disappears. very low alcohol too makes it summery to me, and the float trip itself sounds pretty good right now. get me there! minor notes of green grapes still firm and fresh, pizza dough (yeast), and slight oxidation setting in (in a good way) are all there in the finish. overall another basic craft slammer that doesnt need to be over analyzed, but its well done and just a little different from the masses. subtle on the wheat if thats what it is, but a good beer on the whole. my first from piney river. maybe not gold medal good, but its not bad at all.
Apr 18, 2016
Franziskaner from Missouri
3.51
/5
rDev
-7.9%
look: 3.25 | smell: 3.5 | taste: 3.5 | feel: 3.75 | overall: 3.5
Gold in color with a faint haziness. There's a fingernail of dull white around the rim and covering about half of the middle. Aroma is of light biscuit malt and a touch of sea salt. I taste light biscuit malt with a slightly earthy dandelion note in the back of the palate. The mouth very light and quaffable.
Feb 13, 2016

Suds from Missouri
3.71
/5
rDev
-2.6%
look: 3.25 | smell: 3.5 | taste: 4 | feel: 3.25 | overall: 3.75
From a 16 ounce can, this brew is golden, with a thin head, good clarity, and sea of tight bubbles. The aroma is slightly fruit you...peach and apricot?...with some background hops. Hoppy and semi dey in taste, with some carbonated spritz. Nice lingering bitterness in the pst taste. Straightforward and drinkable ale.
Nov 21, 2015
priwen from Arkansas
3.59
/5
rDev
-5.8%
look: 3.75 | smell: 3.5 | taste: 3.5 | feel: 3.75 | overall: 3.75
Appearance: Golden yellow and hazy with a nice frothy head that stays around a little while before dissipating.
Smell: Some wheat, a little nuttiness, and a slight sour note.
Taste: Malt and wheat, a hint of sweetness, and some nice bitterness on the finish.
Mouthfeel: Solid medium body. Finishes dry and refreshing.
Overall: An enjoyable beer for the warmer months.
16 oz can
Canned on: 06/12/14
Served in a Pint glass
Jul 20, 2014

Goosehunter75 from Missouri
3.46
/5
rDev
-9.2%
look: 3.75 | smell: 3.25 | taste: 3.5 | feel: 3.5 | overall: 3.5
A - Pours a light honey color that is very clear in appearance. It has a 2 1/2 finger bubbly white hear with excellent retention. Nice lacing as well.
S - very light aroma. Mainly malts. Biscuity smelling.
T - Pleasant flavor. Again, mainly malts. Grains, bread, you get the picture
M - Light in the mouth. Very smooth and easy to drink. No burn at all.
O - Great sessionable beer. The name is very fitting. It would be a great beer for a float trip. Very refreshing and would be great at the beach, near a pool, or floating down a river.
Jun 11, 2014
Skywave from Oklahoma
3.47
/5
rDev
-8.9%
look: 3 | smell: 3.5 | taste: 3.5 | feel: 3.5 | overall: 3.5
Pours to a nice golden color with no lasting head. Aroma is much like one of the better mass produced American lagers such as PBR and Michelob: grainy with a whiff of hops. Flavor is typical for blonde and cream ale. Muted malt flavor and low bitterness and hop character. Mouthfeel is light and quenching. Low alcohol makes it sessionable. Good call for a beer to sip all day along the river. To be honest, I would stock the cooler with PBR but reserve a few of these to enjoy at certain milestones.
May 09, 2014

rtrasr from Arkansas
4.37
/5
rDev
+14.7%
look: 4.25 | smell: 4 | taste: 4.5 | feel: 4.5 | overall: 4.5
Just bought this. This is very much a summer refresher, but hits the spot in winter as well. Pours a light gold. Some sweetness on the nose. It is a light mouthful. The taste is some sweetness with some hop crispness. This is an easy drink. Good Ale for BMC drinker to start with. Love the 4.5% abv. A true sessison ale. Something we need more of.
Dec 07, 2013
russpowell from Arkansas
3.66
/5
rDev
-3.9%
look: 2.75 | smell: 3.5 | taste: 3.75 | feel: 4 | overall: 3.75
Canned 6/24/13, glad to see these guys are now puttinf freshness info on their cans.
Pours bronze with a pinky of fast faliing cream colored head. Faint head retention & lacing
S: Pears & crackery notes, a touch of perfumy hops
T: Follows the nose, some dryness & a bit of fuji apple up front. Pear & apple fruittyness/sweetness mingle with crackeryness & slight soapy/floral hoppyness as this warms. Finishes with much orchard fruit, even a touch of canned apricot & slight dryness
MF: Light/medium bodied, subtle carbonation, nicely balanced
Drinks super easy, a well crafted summer session offering that is going down great in this 90+ degree heat. Another solid beer from these guys
Jul 21, 2013
zeff80 from Missouri
3.85
/5
rDev
+1%
look: 3.5 | smell: 3.5 | taste: 4 | feel: 4 | overall: 4
A - Poured a clear, orange-red color with a one-finger, off-white head of foam. It left thin trails of lace on the glass.
S - It smelled sweet and floral with a nutty presence.
T - The nuttiness really came through in the flavor. Sweet toffee flavors with caramel and a subtle bitterness.
M - It was crisp, sharp and smooth. A light to medium bodied ale.
O - This breaks the mold of traditional cream ales. I liked it.
Apr 10, 2013
Float Trip Ale from Piney River Brewing Co.
Beer rating:
86
out of
100
with
53
ratings