Kräftig Light
| William K Busch Brewing Company
BA SCORE
78
okay
12
Reviews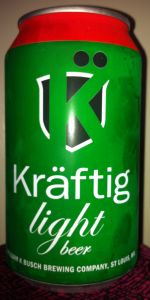 BEER INFO
Brewed by:
William K Busch Brewing Company
Missouri
,
United States
enjoykraftig.com
Style:
Light Lager
Alcohol by volume (ABV):
4.20%
Availability:
Year-round
Notes / Commercial Description:
Kräftig Light is clean and malty with no lingering aftertaste. A well-balanced brew in terms of hops and malt. Flavorful. Refreshing.
9 IBU
Added by Tone on 12-12-2011
Reviews: 12 | Ratings: 47

2.75
/5
rDev
-12.1%
look: 3.25 | smell: 2 | taste: 3 | feel: 2.75 | overall: 3
A - Pours a very light straw color with a nice 2 finger fluffy white head. Very nice carbonation as well
S - Not much on aroma. Smells like corn
T - Honestly a pretty decent light lager. It does have a little flavor. Seems slightly grassy.
M - Quite thin as expected.
O - A good alternative to Bud Light. It does have slightly more flavor. Nothing special though
367 characters

2.91
/5
rDev
-7%
look: 3.5 | smell: 2.5 | taste: 3 | feel: 3 | overall: 3
Pours out straw yellow with decent bubbles. Looks like any AB brew.
Smell is very light yeast and alcohol. Not a lot here.
Taste isn't that bad. You could def. drink this instead of Bud Lite.
Mouthfeel is very clean and that isn't really a good thing.
Overall not a bad beer, just not a good beer.
297 characters

2.96
/5
rDev
-5.4%
look: 3.75 | smell: 2.75 | taste: 3 | feel: 2.75 | overall: 3
Golden-straw in color with a soapy head. The aroma is grainy, with some grass. More aroma and flavor than a typical light beer, but it is still slim and faint. It is, however, clean and thirst quenching.
206 characters

3
/5
rDev
-4.2%
look: 3 | smell: 3 | taste: 3 | feel: 3 | overall: 3
This tastes like what I imagine Bud Light tasted like before corporate greed took over. Still not going to kick you in the face with flavor, but what is there is pleasant. This is a nice sessionable lager that would be very easy to throw a few back of.
Would Drink Again: Yes
Would Purchase Again: Yes
303 characters
3.03
/5
rDev
-3.2%
look: 3.5 | smell: 3 | taste: 3 | feel: 3 | overall: 3
Kraftig Light has a thick, slightly off-white head and a clear, somewhat bubbly, golden appearance. There is no lacing associated with this beer. The aroma is faint, but one can pick up sweetness, light barley malt, and metal. Taste is of very mildly-roasted malt, sweetness, some aluminum, and bread. Mouthfeel is light and watery, and Kraftig Light finishes crisp, fairly refreshing, drinkable, and mostly dry. Overall, this is at best and average light beer. There are no foul aspects, however.
RJT
503 characters
3.05
/5
rDev
-2.6%
look: 3 | smell: 3 | taste: 3 | feel: 3.5 | overall: 3
A - Poured out a pale, golden yellow color with a one-finger, bubbly head of foam. It left little to no lacing.
S - It smelled of grains with some floral notes.
T - It had a sweet grain flavor with a touch of caramel and a slight spicy bitterness.
M - It was crisp, sharp and smooth. A light bodied lager with a dry finish.
O - This is an okay light lager. Better than most that are out there.
397 characters
3.06
/5
rDev
-2.2%
look: 4 | smell: 3 | taste: 3 | feel: 3 | overall: 3
Excited to add my first brewery to the site! I poured this Light Lager from a bottle into a pint glass. It pours a clear straw color, produces a decent white head and has average retention. There is some lacing left behind on the glass. The aroma smells of pale malt,and a slight suggestion of earthy hops. The taste is light in body, mouthfeel is nice and features a base of pale malt, and a touch of hops. For a light lager, its pretty well balanced, slightly above average flavor- I would have to prefer this to Bud Light. Don't get to excited, at the end of the day its still a light lager. It's a contract brewed beer, not exactly craft, not exactly marco brewed either.
675 characters

3.27
/5
rDev
+4.5%
look: 3 | smell: 3.5 | taste: 3.5 | feel: 2.5 | overall: 3
12 ounce bottle poured into a pilsener glass. No "born on" or "best by" date.
Appearance: A nice medium yellow, slightly hazy. About a finger of white, fizzy foam that was gone in about a minute leaving no lacing. Nice carbonation bubbles.
Smell: Both malt and hops with more on the malt side and floral notes in the background.
Taste: There were more hops than malt here. Slight bitterness with citrus notes.
Mouth Feel: Like most light lagers it was pretty thin. Light carbonic tongue bite.
Overall: I've had a number of domestic lights and this is better than any of those. It tastes a bit more like a lager than the others. Still a light beer but a decent one.
669 characters

3.3
/5
rDev
+5.4%
look: 3 | smell: 3 | taste: 3.5 | feel: 3 | overall: 3.5
Transparent straw color. Very weak head that fades to nothing. Soda bubbles form on the side of the glass.
Ultra clean smell of rice and a hint of corn.
Mild wheat grain flavor mixed with rice and corn husk. No skunkiness. Hint of leafy hop is barely detectable.
Light feel and high carbonation. Just enough texture to say it has a body. Crisp finish.
Slightly above average for the style. Smooth and easy to drink. Lacking in flavor, as expected. Standard AB flavor profile.
479 characters
3.39
/5
rDev
+8.3%
look: 4 | smell: 3 | taste: 3.5 | feel: 3.25 | overall: 3.5
Karftig Light is decent for a light American Adjunct Lager. It pours a yellow clear with white head that is leaving a slight lace. The scent is non-descript. The taste is nicely balanced and easy to drink. Nice biscuit base. The Mouthfeel is lighter in body with good carbonation. Overall it's ok.
300 characters
3.55
/5
rDev
+13.4%
look: 3.5 | smell: 3.5 | taste: 3.5 | feel: 4 | overall: 3.5
Pours a clear, straw color. 6/4 inch head of a white color. Great retention and slight lacing. Smells of citrus hops, pale malt, slight sweet malt, a hint of wheat. Fits the style of a Light Lager. Mouth feel is smooth and clean, with an average carbonation level. Tastes of strong pale malt, hint of sweet malt, hint of wheat, and a hint of hops. Overall, as far as a Light Lager, this is a pretty good beer. Good appearance, feel, blend, and body.
449 characters
4
/5
rDev
+27.8%
look: 4 | smell: 4 | taste: 4 | feel: 4 | overall: 4
A - Pale, golden yellow. Poured from a can straight into the center of the glass. Fizzy head dissipated as quick as it formed.
S - Grain and corn with some yeasty notes.
T - Subtle sweet grain. Minimal hop flavor but there is some bitterness to balance. Malt flavor is better than average for the style.
M - Crisp, clean and moderately high carbonation that is perfect for the style.
O - Very good example of the style. Flavor approaching a more premium american lager, but in the ABV range and calorie range of a light lager. Very clean flavor. I don't see any major faults considering the style. I would suggest at least giving it a try.
Serving type: can
666 characters
Kräftig Light from William K Busch Brewing Company
3.13
out of
5
based on
47
ratings.