Amiral Benson Nelson Sauvin IPA
| Brasserie Du Mont Salève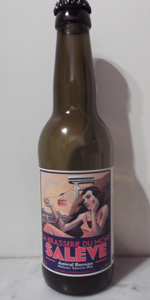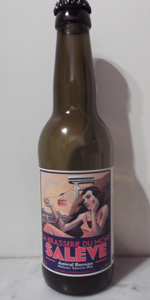 BEER INFO
Brewed by:
Brasserie Du Mont Salève
France
labrasseriedumontsaleve.com
Style:
Belgian IPA
Alcohol by volume (ABV):
6.00%
Availability:
Year-round
Notes / Commercial Description:
No notes at this time.
Added by magictacosinus on 12-09-2011
HISTOGRAM
Ratings: 9 | Reviews: 5
Reviews by dirtyskunk:

3.34
/5
rDev
-13.5%
look: 4 | smell: 2.5 | taste: 3.5 | feel: 4 | overall: 3.5
Deep cloudy amber brown in color. Superb head with good lacing and retention. Dark for an IPA, but I have no problem with that. I'll think of it as a hoppy red ale and enjoy it all the same.
Smell is somehow lacking, even when I transfer the beer to a snifter. Just barely a hint of vaguely citrus hops. Poor show from such a pungent aroma hop varietal.
Flavor is slightly better but not much. Definitely an amber tasting malt background with some toasted dark bread flavor and then a lackluster wave of hops. I can barely pick out the Nelson hops, especially compared to the Nelson dry hopped Cuvee d'Oscar I had the other day. There's a general hop bitterness in the direction of some tart fruit, but it's disappointingly reserved and doesn't showcase the potential.
Mouthfeel is actually quite good. Smooth and full and creamy with moderately high carbonation and a crisp dry finish.
I don't think the hops are faded, the best buy date isn't for 5 more months, although I don't know when this was bottled. Either way, this is a beer with wasted potential. If you called it an amber ale I would be happy, but if they're marketing it as an IPA and focusing on the Nelson Sauvin, I would recommend moving some of the hop schedule closer to flameout and focusing more on aroma and less on the bittering hop addition. Not a bad beer by any means, just not what I was hoping for.
1,380 characters
More User Reviews:


3.6
/5
rDev
-6.7%
look: 4.25 | smell: 4.25 | taste: 3.25 | feel: 3.25 | overall: 3.5
3.36
/5
rDev
-13%
look: 4 | smell: 3 | taste: 3.5 | feel: 4 | overall: 3
Yellow, cloudy.
Head white, fine bubble, short-lived.
The aroma of citrus, but slightly, without exaggeration.
Taste a little soap and scented like what truth they are cytrusu but weakly. Gentian average hop.
I'm a little disappointed.
235 characters


3.8
/5
rDev
-1.6%
look: 4.5 | smell: 4.5 | taste: 3.5 | feel: 3.5 | overall: 3.5
I had this beer on the Borefts beerfestival 2012. Never had a beer from this brewer and someone told me i should try this one. Yellow cloudy fluid and a nice bitter taste in the mouth. Not spectacular but very nice to drink. Next time i need to drink this again and see what happens then!
288 characters
4.39
/5
rDev
+13.7%
look: 3.5 | smell: 4.5 | taste: 4.5 | feel: 4 | overall: 4.5
By far my favorite french brewed IPA, this beer is brewed to be an American Style IPA featuring the infamous NZ hop variety: Nelson Sauvign.
Pours a deep amber color with a thick white head, also great retention.
The nose consists of a straight forward variety of aromas: floral, citrus, and tropical.
The Nelson Sauvin hop is one of my favorites and this is an excellent example of it's unique character.
The taste matches the nose with amazing complexity and a solid grapefruit bitterness round out the finish.
Surprisingly full bodied for it's "lower" abv, there's a good caramel malt back that accompanies the lingering bitterness.
Ovreall; killer IPA that helps me in need of a good hop fix while in France.
717 characters

4.26
/5
rDev
+10.4%
look: 4 | smell: 4.25 | taste: 4.25 | feel: 4.5 | overall: 4.25
Poured into a tulip glass out of a 33cl bottle. Freshness date is listed as "07/2013."
Holds a reddish, amber, unfiltered look. Thick in feel and surprises the Duvel glass with a geyser of carbonation due to the extreme bottle conditioning that the bottle holds. Some slight alcohol leggings around the edges. Presents itself very finely.
The aroma literally reminds me of all of the American hoppy beers I know and love. They use New Zealand Nelson Sauvin hops in this beer, which provide HUGE notes of pine and citrus right on the nose; this made me mistake this for Californian IPAs in a split second. However, rather than making this a full-on copy of such IPAs, there are several aspects to it that make it what it is. First, the yeast is undoubtedly French, tarty, and fruity. Secondly, there is a sugary feel to the smell that American IPAs simply do
not have - this is top European quality beer with a wonderfully refreshing touch of large hoppiness.
The taste, different from American IPAs, contains a bitter citrus taste at the BACK of the throat (as well as an alcohol burn) instead of at the front. At the front, however, there's nothing but delectable, juicy creaminess. It literally has the thickness and yeastiness of fresh bread. There's some caramel and honey notes, and a bit more tartiness than expected, but the fruitiness is really delicious and refreshing here. I absolutely LOVE the hops and what it's doing to serve the malts, and in many ways I would consider this to be in the same league of American imperial IPAs if it didn't have such a distinguishable French flavor.
One of the best French beers I've ever had. A strong competition for all those extreme American beer styles, except this contains a sugary feel and hidden alcohol that puts it in its own league. Simply outstanding, and without a doubt, a standout that is part of the up-and-coming new era of craft brewing in France.
1,917 characters

Amiral Benson Nelson Sauvin IPA from Brasserie Du Mont Salève
Beer rating:
3.86
out of
5
with
9
ratings