Mile Square, The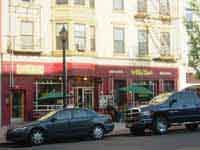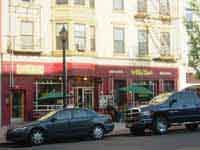 PLACE INFO
Type:
Bar, Eatery
221 Washington Street
Hoboken
,
New Jersey
, 07030
United States
(201) 420-0222
// CLOSED //
Notes:
No notes at this time.
Added by BeerAdvocate
PLACE STATS
Reviews:

13

Ratings:

pDev:

8.17%
HISTOGRAM
Ratings: 13 | Reviews: 13
Reviews by bonbini26:

4.5
/5
rDev
+11.4%
vibe: 3.5 | quality: 5 | service: 4.5 | selection: 4.5 | food: 4
Stopped in a Saturday for lunch
Great selection, when i stopped in they had just had a Captain Lawrence event so there were about 5 beers from them on tap only $4 each...very nice. There was also offerings from riverhorse (cherry amber, Hop Hazard), smuttynose (winter), stone (arrogant Bastard), troegs (dead wreckening), founders (dirty bastard), bellhaven wee heavy, sixpoint, chimay Delirium Tremens, Sam Adams, and more, that i cant remember right now, but you get the picture. most beers were around $6, with the belgians priced @ $9....didnt check out the bottle list, no need to really
Atmosphere, cant really comment on, it was pretty slow when we stopped in, but i assume its your typical Hoboken crowd.
Service, was fine bartender was able to let sample any one i asked for
Food, is priced reasonibily, and the menu is pretty much bar/grill. Had the wings and pulled pork sandwich, no complants both great
Overall, an excellent find in the Hoboken/Jersey City area, comparable to some places across the river
1,025 characters
More User Reviews:
3.9
/5
rDev
-3.5%
vibe: 3.5 | quality: 4 | service: 4 | selection: 4 | food: 3.5
i have been here two times and both times were day and night opposites... the first time was at about 3 in the afternoon in the middle of the summer and it wasnt very busy. a friend and i were waiting for a friend who goes to college in hoboken (stevens) to get back there and had about 30-45 minutes to kill. we didnt order food and we flirted with the girl that was serving us beer who was cute and fun to talk to. impressive selection but i stuck with two rounds of chimay blue at $9 a pop (i think). my friend ended up ordering 2 different summer varietals, both on tap and it was the smuttynose summer weizen and whatever dogfish was on tap at the moment. we were very impressed by the 20 something taps they had of all craft beer and the usual macros. the second time i went was with the same friend but it was about middle of december at about 9pm on a friday and it was retarded. it was swilling with drunken idiot college kids celebrating last week of finals. also i tried ordering a delirium tremens and they were out and same with corsendonk!! i ended up having a stone arrogant bastard and we left immediately after because it was so busy and not our crowd. so its hard for me to judge but all in all, a good selection, didnt eat the food and a good crowd some of the time.
1,285 characters
4.14
/5
rDev
+2.5%
vibe: 4 | quality: 4 | service: 4 | selection: 4.5
This was my favorite stop down here for sure. Just seemed to be different from everywhere else really more my speed. I walked in and it was your typical nice little bar, sports game on and I made my way over to the taps. Had a couple from Smutty, BCS, and a Stone Anniversary on tap that night wheich really suprised me. Nice and courteous staff seemed to really be having a good time. Crwod was very minimal and overall I just really got a good vibe out of this place. Seems like the perfect choice to end an evening.
518 characters
3.96
/5
rDev
-2%
vibe: 3.5 | quality: 4.5 | service: 3.5 | selection: 4
(From notes)
This is certainly a decent spot to grab a nice craft brew right off of one of Hoboken's main drags. There's really nothing special about the atmosphere of this place, but nothing terrible either. It has a sports bar type of feel, with a pool table quite a few TVs, and some booth seating in addition to a fairly long bar.
Service was prompt but a bit curt. There certainly wasn't a crowd when I stopped in, and I didn't test out the bartenders craft knowledge or anything.
A really quality tap lineup during my visit. Couple of highlights: Victory Braumeister Pils; DFH 90; Old Rasputin; Stone IPA and Levitation; plus a bunch of other crafts. Only a handful of the taps were devoted to macros. Spotted some decent bottles, but nothing that would be considered rare, to round things out.
Not a bad joint at all, and would definitely recommend if you are in the area.
886 characters
3.51
/5
rDev
-13.1%
vibe: 2.5 | quality: 3.5 | service: 3.5 | selection: 4
Read a couple reviews about this place and was very interested based on the beer selection. First off, let me say I really am not a fan of techno music, so when I walked in and heard extremely loud techno blaring from the speakers I was put off from the start. The crowd was a typical Hoboken bar crowd, 21-26 year olds mostly. The tap selection is good (Delirium Tremens, Dogfish Head 60, Chimay, Rogue Dead Guy, etc.) and so were the bottled beers (Bear Republic, Rogue, etc.). This just didn't seem like the type of place to be playing techno and I just couldn't get over that aspect. Had a few beers at the bar with some friends and quickly realized that no one was ordering good beer. 95% of the orders I saw (I was there for over an hour) were for mixed drinks and fizzy yellow sh** (Budweiser, etc). Not that this is the fault of the bar, I was just expecting a much different atmosphere. The beer selection will definitely bring me back there, I just hope the atmosphere is a little better. Cheers!
1,006 characters

4.33
/5
rDev
+7.2%
vibe: 4 | quality: 4.5 | service: 4 | selection: 4.5 | food: 4.5
Friday, June 27, 2008:
Went here Friday night with my girlfriend... Located on the main strip of Washington Street, when we arrived there, the place was jam-packed, inside and outside... Mostly young 20-somethings frequent the place... We waited a while for the waitress, but that was expected with the place being so busy... The food menu was great and well-priced... I had a buffalo chicken pizza, which was very good... Extensive draught and bottled beer list... They had Chimay Triple on tap, and others including Delirium Tremens, and selections from Bear Republic... Prices were reasonable, and I could see why this is considered to be such a popular destination...
Definitely recommended...
698 characters
4.5
/5
rDev
+11.4%
vibe: 4.5 | quality: 4.5 | service: 4 | selection: 5 | food: 4.5
Before moving down to Monmouth County, this bar was my personal favorite when I lived in the area. Good food, and even better beer. A selection of 30 beers on tap and a cold case with a plethora of beer. Never a dull moment at the Mile on Friday nites. I had my 1st choc stout here, and it didn't dissappoint. One good thing was the bartender was a buddy of mine, and boy the kick backs were great! Belgium style, German you name it, it seemed they always had it. Haven't been there in a while, but I've heard it is even better than ever. Looking to get back up there this summer and drink my ass away. One thing is, the bartenders knew their beer and could answer whatever question you might have.
698 characters

4.14
/5
rDev
+2.5%
vibe: 4 | quality: 4 | service: 4 | selection: 4.5
Went here last weekend with my friends. We were walking around Hoboken and stumbled across this place and were like "wow." The atmosphere is pretty chill and laid back. Even on Friday night, there were not too many people in there, but those that were all had beer. They even had $2 Bud Light drafts and $2 shots, and still everyone was drinking beer (other than Bud Light). I talked to the bartender as I was surprised that they had not only Dogfish Head on tap, but their 120 Minute IPA. He said they take pride in providing an extensive list of craft brews. They had 30 taps and a long list of bottles. About 90% of the taps were all craft brews: Dogfish Head 60 Minute, Pun'kin, Rogue Dead Guy, Young's Double Chocolate Stout, a pretty formidable collection of craft brews. The bottles in the fridge were too many to count, but they had at least 5 or 6 different Dogfish Head brews, other than those on tap. The service was good. Me and my friends sat at the bar and only had a few beers, but the bartenders were willing to answer my questions and were quick to ask if I wanted another or what I thought of the beers I was drinking. The prices were a bit pricey, but it was Hoboken on Friday night, so I was expecting that.
Overall, an awesome place and I will definitely be going back there.
1,297 characters
3.55
/5
rDev
-12.1%
vibe: 3 | quality: 4 | service: 3 | selection: 4 | food: 3
Hoboken was once a fairly drab place that offered only row-homes and banks. Now it's really up and coming. There are lots of renovations being done, commerce is moving in, and a younger, hipper crowd has taken over. But as far as restaurants and bars go, Washington Street is still "mostly" it. There are some beautiful gems hidden away, but if you don't know where to look you're just wasting your time. That said, Washington Street also attracts the worse kind of college and just-out-of-college crowd. The dried vomit along the street on Saturday and Sunday mornings is a pretty good indicator of that. The Mile Square then, is fair game. But when it's not full of horny lunk-heads it's OK. The look is pretty basic. The draft selection is varied (30?) but there's nothing crazy or really interesting. The 101 bottles or so follow in those footsteps... some nice imports but nothing that will turn your head. The food is average, and the service as expected. Stuck in Hoboken?... well give The Mile Square and The Brass Rail a try (and Helmer's if they ever re-open), and then try some of the funky corner bars for a bit of fun.
1,131 characters
4.05
/5
rDev
+0.2%
vibe: 4 | quality: 4 | service: 4 | selection: 4 | food: 4.5
It's day. I can tell because there is bright from that terribly annoying sun. I'm all hungered up and soon, I will put on my (Southampton) cap and hunt the wily brunch. I have seen it's eggs and know it's haunts. Tracked it to 'boken and lost it's scent. Had to circle a bit, scored a great parking spot off Washington, and pursued by foot...
Bar to the left, dining area to the right. The place was fairly empty this Sunday lateish morning, so we went for the bar. Actually, the place could've been packed three deep and we still would've went for the bar. Yep, you saw right through that one. A straight wood bar against the far wall seats 10, with a mirrored bar back unit and shelves of booze to each side of center. Blackboards above listing tap selections, hanging litre mugs and TV's in the corners. Drop bulb lamps & spots over the bar. 30 taps over 2 towers of 15 each on the bar, and glassware stacked in between. Bunches of flowers in glass bowls here and there on the bar. A big screen to the rear of the room, beer mirrors & signage.
Painted yellow walls with red pieces offset & olive trim around the window frames. A handful of tables adjacent to the bar, and a 1/2 dozen booths beyond the room separator. A small room sits elevated to the rear, panelled pane windows, a few small tables and darts, and the far dining room to the other side holds roughly 20 tables & booths.
Nothing like waiting on noon in Jersey on a Sunday to be able to get a beer. Is it time? Is it time? is it time, yet? Is it? Is it? I can work on brunch in the interim. Various unmarked hot & cold dishes, and over there in the light... Omelette Man. Sure, he's got the bin of peppers goin' on. What? Hell yeah, there's 3 kinds of cheese, a little bit un-yun! Oh yes, Omelette Man, you're a worthy adversary. Also got a look at the late night menu. Burger, burger, burger, burger, burger and fries, wings, rings and things.
So... 30 taps, some good micros (DogFishHead Chicory Stout, Smutty Winter, Rogue Dead Guy Ale & Hazelnut Brown Nectar, North Coast Pranqster & Old Rasputin, Flying Dog IPA, Otter Creek Copper, Wolavers Pale Ale, Troegs Hopback, Anchor Steam, Ommegang 3 Philosophers, Brooklyn Smoked Porter, Lager & house M2 Brown), some good to midland to fair imports (Nice Chouffe, Old Engine Oil, Corsendonk Brown, Paulaner Hefe, Leffe Blond, Stella, Hoegaarden, Lindemans Framboise, Kroenenborg 1664, Guinness, Harp, Bass, Boddingtons), and a handful of crappy macros. Bartender let me sample a bit of this, a bit of that.
Also, a cooler of 101 bottles, or so the list goes. Mostly micros (DogFishHead, Anchor, Victory, Saranac, Long Trail, Yards, Smuttynose, Magic Hat, Rogue, Sam Adams, Brooklyn, Weyerbacher, Sierra Nevada, Ommegang, Flying Dog), and then the usual Belgians & English, and some various beers of the world.
Endorsed for beers and a bite in Hoboken.
2,878 characters
3.56
/5
rDev
-11.9%
vibe: 4 | quality: 3.5 | service: 3 | selection: 4
A very cool bar in the heart of Hoboken. There is usually a good crowd in the place after work during the week, especially on Fridays. The atmosphere is both professional & relaxed. The interior is decorated with cozy, dark colors to add warmth and an aged look to the bar. The service is usually pretty good, but it's sometimes hard to get a hold of one of the bartenders when the place is buzzing. The selection is very good with a number of taps with several in regular rotation and a modest bottle selection. The prices seemed reasonable, although I've never had anything to eat here. Overall, one of the better beer bars in Hoboken.
637 characters
4.38
/5
rDev
+8.4%
vibe: 4 | quality: 4.5 | service: 4.5 | selection: 4 | food: 5
This place is starting to turn around. The ground work has been there for this to be a great beer bar. They have 30 draft lines although due to their location they almost have to have some swill. The do how ever have Lachouffe, Dog Fish, Brooklyn, Magic Hat, Lindeman's, and some other nice options on draft. Their bottle selection is hit or miss - some of the bottles get aged.
The good news - new guy in charge. He is putting up nice beer signs, turning it from yuppy restaurant to a better bar. He is also starting to play with the lines. Rumor mill has him bringing in Lunacy, Chimay, Brooklyn Brew Masters, and some other higher end drafts. He is also working on doing beer events more - they have been doing liquor and wine events for a while. I personally set up a meeting between him and Dave at Blind Tiger to get some ideas - this could be great :)
The food is the best thing here. You would be hard pressed not to find something on the menu you were in the mood for and I would guarentee you like it.
The staff is very friendly and Bert (GM) is scheduling training classes for them to teach them everything from styles to pouring of good beer.
Many props and looking forward to the future here.
EDIT = they have upped the selection - Chimay, Lachouffe, Havestons old engine oil, Brooklyn Brew masters, Long Trail, Rogue, Allagash. Also, they are woking on big bottles.
1,395 characters
3.94
/5
rDev
-2.5%
vibe: 3.5 | quality: 4 | service: 4 | selection: 4
Tried the Mile Square in an attempt to find a bar in Hoboken that served something better than Bass and Newcastle on tap. This place served admirably. About thirty brews on tap, with a good selection of german and belgium brews on tap. American brews were somewhat tamer, with a very full line up of Brooklyn brews (but alas no Black Chocolate Stout). Most interesting selection was the Rogue Dead Guy Ale. The Mile Square is a huge bar with lots of tables. I hit it on an off-night, so can't really say much about the crowd. Only bad thing about this place was the prices - very steep, up to $8 a pint for some of the "imports". Overall an enjoyable place to visit.
666 characters
Mile Square, The in Hoboken, NJ
Place rating:
4.04
out of
5
with
13
ratings