The Rose
| The Black Abbey Brewing Company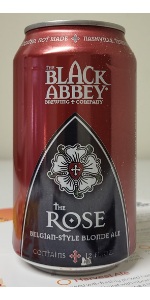 BEER INFO
Brewed by:
The Black Abbey Brewing Company
Tennessee
,
United States
blackabbeybrewing.com
Style:
Belgian Pale Ale
Alcohol by volume (ABV):
5.80%
Availability:
Year-round
Notes / Commercial Description:
Our best seller! A rich, golden color with the spicy aroma of clove and candy banana. The Belgian yeast shines bright on the palate, light and silky, with a clean, slightly drying bitter finish. Pairs well with afternoons on the lake; spring fare, white fish and fruit.
14 IBUs
Added by khargro2 on 12-28-2013
Reviews: 9 | Ratings: 63
3.92
/5
rDev
+0.3%
look: 4 | smell: 3.75 | taste: 4 | feel: 3.75 | overall: 4
I snagged this can from the Crafted Brewed bottle store in Nashville. It poured with a small head, and it looks delicious. I get mostly Belgian yeast in the nose, and the taste follows from that. It's pretty crisp and refreshing!
★
232 characters

3.88
/5
rDev
-0.8%
look: 3.75 | smell: 3.75 | taste: 4 | feel: 4 | overall: 3.75
Poured on draft at a local restaurant.
A: Straw yellow with slight one finger white head. Short retention and little to no lacing.
S: Belgian yeast mixed with fruit esters, banana, and clove.
T: Candied banana, soft floral hops, and cracker malts.
M: Medium to light body with a crisp, dry finish.
O: Very nice twist on an American Blond Ale giving it some Belgian flare.
★
386 characters
3.91
/5
rDev 0%
look: 3.75 | smell: 4 | taste: 4 | feel: 3.75 | overall: 3.75
Black Abbey Brewing Co. "The Rose"
on tap at the brewery
Belgian-style blonde ale, 5.7% ABV, 15 IBUs
Appearance: Fairly clear deep gold/bronze body beneath a short head of creamy off-white foam. Both the head retention and lacing could be better... perhaps a dirty glass?
Aroma: Floral, fruity, yeasty. Chalky background.
Flavor: As the aroma suggests. Malty but not sweet. Floral/grassy hops. Low-medium bitterness. Dry, chalky/fruity finish.
Mouthfeel: Medium-light in body; smooth with a median, fine-bubbled carbonation. I can't help but feel this is actually supposed to be slightly more carbonated.
Overall: I could easily see opening and pouring a bottle of Belgian beer and finding this. Nicely done.
★
713 characters
4.38
/5
rDev
+12%
look: 3.5 | smell: 4.25 | taste: 4.5 | feel: 4.5 | overall: 4.5
Pours a hazy orange Amber in tone. Head is only a skim of off white hue. The nose is very nice with tones of citrus, vanilla and rose wine. There is a crisp cream soda like feel as well. The initial that I notice about this beer that I wasn't expecting, is a nice crisp but sutle tartness. Dry white wine like tannins pair with a soft peach skin fruit feel. This brew has excellent balance. I wish I had a cellar full of this one as it was a very pleasant surprise.
★
472 characters

3.93
/5
rDev
+0.5%
look: 4 | smell: 3.5 | taste: 4 | feel: 4 | overall: 4.25
Had this on tap at Homegrown Taproom in Nashville. This has quickly become one of my favorite beers and the fact that it is made in Nashville is even better. Everything Black Abbey does is great. Pours a light golden color, light floral but malty smells. Nice puffy head with some thin lacing. Nice malty almost sweet taste with the fruity/banana finish. Very well balanced beer and very easy to drink. Finishes smooth and has just enough carbonation to be very refreshing still. I love this beer and have yet to try something from Black Abbey that I haven't. The brewery and people are awesome!
★
595 characters
4.13
/5
rDev
+5.6%
look: 4.25 | smell: 3.75 | taste: 4.25 | feel: 4.25 | overall: 4.25
This is one of my favorite beers. It's very unique in its taste and make which is what I think the people who made it wanted. A unique beer like Nashville. Its a great beer that my whole family will very willingly drink which is not always common. A nice golden color with a hint of red. Citrusy but not overpowering. Recommend to anyone who likes a good Belgian or is willing to try something cool.
★
399 characters
3.92
/5
rDev
+0.3%
look: 4 | smell: 3.75 | taste: 4 | feel: 3.75 | overall: 4
this beer is so good, way better than its ratings, and one of my favorite beers from tennessee. it was billed to me as a belgian blonde rose, which, aside from being a contradiction, also means its not really a witbier as listed here, or at least not like any i have ever had, although i can definitely see there being a healthy dose of wheat in this. i love the color, pinkish red light, still golden in color, but with beautiful accent colors and a tall and lasting belgian type head on it. the nose is sort of like a witbier i suppose, although i certainly dont get any coriander and if there is citrus in here its slight. i like what the grain does with the yeast here, relying on each other for flavor and nuance. the yeast is belgian in nature, but not loaded with fruity esters or heavy spice overtones, instead taking on a rather mild complexion, but distinct nevertheless. the grain is layered and ranges from rich and earthy to crackery at times. i could drink ten of these easily, and wish i had enough time to do so in one sitting while i was down there. just a lovely beer, and who says blonde ales cant be exciting? this one absolutely is. i was impressed with these guys, dying to check out the brewery next time.
★
1,228 characters

3.91
/5
rDev 0%
look: 3.75 | smell: 4 | taste: 4 | feel: 3.75 | overall: 3.75
On tap at flip burger in Nashville. Nice banana aroma. Pleasantly sweet with fruity yeast flavors dominating.
Solid, sessionable Witbier, no complaints here.
★
163 characters

3.75
/5
rDev
-4.1%
This was Black Abbey's rotation when we visited the Beer Sellar in Nashville. Draft pint.
Arrived slightly hazy, blonde color, short white head.
Some floral hops smell.
Refreshing taste. Had a hard time nailing anything specific down. On Black Abbey's website this is
described as a Belgian style blonde, but there wasn't the tradition Belgian yeast or spice.
I see it listed as a Witbier here. Obviously one of the hybrids that doesn't fit a specific style.
Wheat malt taste was evident.
Thin body, good carbonation, fresh and light.
★
540 characters
The Rose from The Black Abbey Brewing Company
3.91
out of
5
based on
63
ratings.