Wallflower Wheat Ale
| Round Guys Brewing Company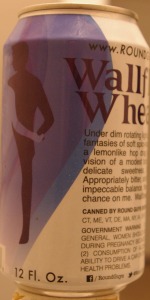 BEER INFO
Brewed by:
Round Guys Brewing Company
Pennsylvania
,
United States
roundguysbrewery.com
Style:
Hefeweizen
Alcohol by volume (ABV):
5.30%
Availability:
Year-round
Notes / Commercial Description:
No notes at this time.
Added by woodychandler on 04-15-2014
Ratings: 12 | Reviews: 4
Reviews by woodychandler:

2.72
/5
rDev
-5.6%
look: 3 | smell: 3.5 | taste: 2 | feel: 4 | overall: 2.5
No reviews? No ratings? Added by who? And that pic? Welcome to The CANQuest (TM), the unending madness where CANs are king!
From the CAN: "Under dim rotating lights, a wallflower stands. Vivid fantasies of soft spicy-banana aromas, pinching into a lemonlike hop drag but tempted with a lustful vision of a modest body wrapped up in the most delicate sweetness, the wallflower remains. Appropriately bitter, and never long lasting, with an impeccable balance, the wallflower pleads. Take a chance on me. Wallflower. Please drive me home."
Beer Penthouse Letters?!? The Crack! almost made me blush, but I turned things upside down and went with an inverted Glug. This netted me a finger of dense, eggshell-white head with modest retention. Color was a cloudy lemon-yellow (SRM = > 2, < 4). Nose smelled heavily of bananas. Spicy? Not o much. Mouthfeel was downright soft, caressing my poor, bruised tongue in earnest sympathy. Man, the taste was really light! It had so little flavor that I wondered what happened. I have had equally bland wheat beers, but it was my understanding that this was to have been a hefeweizen , in which case this really needs work. Even the finish was bland and nonexistent. C'mon, boys, you CAN do better!
1,241 characters
More User Reviews:

3.41
/5
rDev
+18.4%
look: 4.25 | smell: 3.75 | taste: 3 | feel: 4 | overall: 3.25
3.33
/5
rDev
+15.6%
look: 3.5 | smell: 3.5 | taste: 3.25 | feel: 3.25 | overall: 3.25
Thanks to the previous reviewer, the legendary woodychandler, for this beer. Poured from a 12 oz. can. Has a golden color with a 1/2 inch head. Smell is of banana, some wheat. Taste is mild, some banana, light wheat, kind of mild for the style. Feels light in the mouth and overall is a refreshing and decent beer, but nothing special.
335 characters


2.69
/5
rDev
-6.6%
look: 2.5 | smell: 2.25 | taste: 3.25 | feel: 2 | overall: 2.5
A - Pours a murky cider color, very little head present, dissipating quickly and no lacing.
S - Not a hefe. Expecting a malty sweet note of banana, I was unpleasantly shocked by a sour, citrusy? aroma. The aroma is what you may expect from a hard cider.
T - The only midly rejuvenating aspect of the beer. Very mild hints of banana which was a pleasant surprise given the aroma, however, overwhelmingly citrus - lemongrass flavor's.
M - Like drinking apple juice with an ever so slight tinge of carbonation and a lingering booziness that should not be given the style of low abv of the beer.
O - At first was excited to partake in a local brew yet my expectations were quickly on a downward spiral from the flat, lifeless pour. Not undrinkable, not great and definitely not a hefe.
785 characters

3.27
/5
rDev
+13.5%
look: 3.5 | smell: 3.25 | taste: 3 | feel: 3.75 | overall: 3.5
3.25
/5
rDev
+12.8%
look: 3.25 | smell: 3.25 | taste: 3.25 | feel: 3.25 | overall: 3.25

2.33
/5
rDev
-19.1%
look: 2.75 | smell: 2.25 | taste: 2.25 | feel: 2.75 | overall: 2.25
12 oz. can poured into Weizen glass.
A- Hazy yellow, white highlight. Almost looks like a Wit. Head is light and pours big, but falls very quickly. Quite effervescent.
S- Citrus, lemon. Almost a lacto/Berliner aroma. I wasn't expecting this smell.
T- Very light, slight banana. Almost a Belgian spice. Totally not a Weizen taste.
M- A little bubbly, light and wet. About the only attribute matching the Weizen style.
O- This isn't a Weizen.
445 characters

3.31
/5
rDev
+14.9%
look: 3.5 | smell: 3 | taste: 3.5 | feel: 3.25 | overall: 3.25
3.53
/5
rDev
+22.6%
look: 3.5 | smell: 3.5 | taste: 3.5 | feel: 3.75 | overall: 3.5
Wallflower Wheat Ale from Round Guys Brewing Company
2.88
out of
5
based on
12
ratings.