Blue Smoke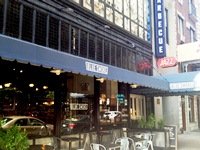 PLACE INFO
Type:
Bar, Eatery
116 East 27th Street
New York
,
New York
, 10016
United States
(212) 447-7733 |
map
bluesmoke.com
Notes:
No notes at this time.
Added by BeerAdvocate
Ratings: 11 | Reviews: 8
Reviews by xmorgan:
5
/5
rDev
+21.1%
vibe: 5 | quality: 5 | service: 5 | selection: 5 | food: 5
This Place Rocks. We took a team of sales people from all over the world to this BBQ place in NYC. I had some big BBQ people from Georgia, Texas, St. Louis and the Southwest, so I was worried they might be BBQ Snobs. They were, and they were impressed!
The Beer selection was really respectable, with some very interesting beers on TAP and a great bottle list.
The waitress we had was awesome and knew the beers.
The BBQ was great, I really dig the salt rubbed Beef Ribs and the St. Louis ribs as well.
Great sides and a great time!
Next time and ANY time I am in NYC, I will be here!
589 characters
More User Reviews:

4.16
/5
rDev
+0.7%
vibe: 4.25 | quality: 4.5 | service: 4 | selection: 3.75 | food: 4.5

4.08
/5
rDev
-1.2%
vibe: 4 | quality: 4.25 | service: 4.25 | selection: 3.75 | food: 4
Actually went to the JFK branch of this location on July 15th. Was a pretty cool hangout with the best beer in the airport. Service was attentive and helpful, the beers were delicious! Food was a bit pricey, but damn tasty. If you're in JFK, check this place out!
263 characters


4.43
/5
rDev
+7.3%
vibe: 4.5 | quality: 4.5 | service: 4.5 | selection: 4 | food: 5
Every visit to NYC involves a visit to Blue Smoke for me!
It's more about the food than the beer, great BBQ fayre and the best Mac Cheese I've ever had !
It's an added bonus that the beer selection is also decent for a restaurant, around 8 taps including their own house beer (brewed by the Brooklyn Brewery) and a fairly long bottled list for a restaurant (50+)
On my most recent visit I washed my ribs and pulled pork down with a couple of tasty pints of Ithaca Flower Power
Booking a table is a good idea in the evenings
527 characters
4.2
/5
rDev
+1.7%
vibe: 4 | quality: 4.5 | service: 4 | selection: 4 | food: 4.5
Blue Smoke is one of Danny Meyer's chain of restaurants that include the excellent Gramercy Tavern (transcendent beer selection), the Modern, and the Union Square Cafe among others.
Blue Smoke is primarily a BBQ ribs place, and the atmosphere does well to imitate that ambience. It is very light, open, and rugged, and there is a great private dining room for parties. There's an upstairs room with Jazz performances for the musically inclined. There's also outdoor seating. This place is packed, so you must reserve early.
The food was really terrific, and hardy. Great ribs all around and a huge selection. There is also an impressive selection of beers (both on tap, bottled, and vintage). They mix it up, so there will always be something new.
It's expensive (but what isn't in NYC?) and a great place to hit up for a casual lunch.
840 characters

4
/5
rDev
-3.1%
vibe: 4 | quality: 4 | service: 4 | selection: 4 | food: 4
Hit this place over the past weekend (06/07/08) based on the decent reviews here and the fact that it is somewhat in the direction I was heading from Murray Hill down to the lower east side and east village.
It has received 2 awards from Time Out magazine as voted by the readers as the best BBQ in NYC.
Atmosphere-wise --it is new and trendy looking-kind of a blue color to the whole place with some outdoor seating and apparently they are based out of North Carolina. Lots of hardwood and I believe the bar itself was marble. There is an upstairs section also which I believe has live Jazz in the evenings.
Well I got here at about 2:30pm and the place is absolutely packed. I managed to get a spot standing that wasnt completely in everyone's way and after about 35 minutes or so --we got a spot at the bar. I had some Captain Lawrence pale ale which I tried for the first time and it was excellent and also a couple Abita lights as it was rather hot this day--90+ degrees and humid. They beer selection was quite solid and I was glad to try Captain Lawrence for the first time. it was excellent and the Abita lights were decent and crisp on a hot day. There web site looks like it is updated fairly regularly--so for current offerings both in bottle and draft, Id suggest looking there. The beers are kinda steep at $7 a pint--but NYC is never really cheap.
The service was decent and I guess I stayed long enough and tipped well enough to get one beer comped which was cool. The food was quite good--I got these salt and pepper TX style beef ribs which were good but after a few of them, I realized I shouldda gone with the Memphis babyback ribs that my buddy had. I tried a few of these and they were excellent.
This is not the best BBQ I have ever had but it certainly was quite good. The beer selection was solid and Id say definitely a good spot to hit for some lunch or dinner with several great beers available to try.
1,936 characters
3.88
/5
rDev
-6.1%
vibe: 4 | quality: 4 | service: 4 | selection: 3.5 | food: 4
This place is a pretty decent BBQ restaurant I stop by every now and then.
It's a large space with a long bar. They've got 8 taps, but all their beers are better than most restaurants and bars. The Brooklyn Brewery-produced house ale is a great complement to slow smoked bbq. The bottle menu also is well thought out and better than most.
Service is generally good, but it's not a dedicated beer bar, so you're not going to find a bartender with a ton of beer knowledge.
I love BBQ and this place does a pretty good job. They make some pretty decent pork ribs and I think they have some of the best mac and cheese in the city.
Blue Smoke does a lot of things well, but does nothing great. Dinosaur BBQ is better than Blue Smoke in every way, especially regarding beer selection and food. If you don't feel like making the trip to Harlem for Dinosaur BQQ, check out Blue Smoke. You might not be blown away, but you won't be disappointed.
951 characters

3.88
/5
rDev
-6.1%
vibe: 4 | quality: 4 | service: 4 | selection: 3.5 | food: 4
Visited this place for the first time today for a sand wedge and brew at lunch time. It's a nice big, bright room with large windows front and aft. Beers are posted on the large black board over the bar. 30 in bottles and 8 on draft including a Brooklyn creation especially for Blue Smoke. Respectable selection of worthwhile brews, pleanty that looked like they would cut through the BBQ fare that is the drawing card here. BTender was knowledgeable and friendly, always a plus. I tried the pulled pork sandwedge and some tasty sweet potatoes. The Que was decent, would have to try more things to give a real opinion on the food. At lunch time it was medium busy, blues on the juke box, all in all a very pleasant and tasty stop
730 characters
4.18
/5
rDev
+1.2%
vibe: 4 | quality: 4 | service: 4.5 | selection: 4 | food: 4.5
Bar.
Buh.
Cue.
2.
Dig it. Some pretty impressive wood buring barbeque going on here. In my opinion, it's all about the ribs but they've got a full menu. It's a pretty big joint. They've got a bunch of tables in the front along the window and then booths runing adjacent to the bar heading towards the larger dining room in the rear. They've also got a smaller second floor dining area that somewhat overlooks the bar. Speaking of the bar....
They've got 8 taps, 3 of which are from Brooklyn being the Brown, Weisse and a made for them hybrid called the "Blue Smoke". They've also got Anchor Steam, Guinness, Young's Winter, Abita Amber and buuuhd. The bottle list has roughly 3 dozen beers on it, a decent collection of micros (Ramstein Blonde, Sierra Bigfoot, Rogue Dead Guy, Anchor Liberty, Wolavers, Stoudts, Brooklyn, Bud Hook) and imports (Chimay, Duvel, Sam Smith, Ommegang, Corsendonk, Young's, Carnegie Porter, Aecht Rauchbier and supposedly the JW Lee's Harvest Ale '97 although I didn't see it.
Good decor overall. There's a big pile of wood (Hickory, I believe) in the corner but they smoke barbecue with it and hell, they have to keep it somewhere. The jukebox selection is outstanding, good jazz and blues. Service at the bar was ridiculously attentative, no problems there. I got the ribs sampler which was a mix of the Kansas City, St. Louis and Texas style Salt & Pepper beef ribs. Wonderful stuff. It's good damn barbeque!!!
1,451 characters
Blue Smoke in New York, NY
4.13
out of
5
based on
11
ratings.