Dismiss Notice
Dismiss Notice
Divided Sky Rye IPA
| 4 Hands Brewing Co.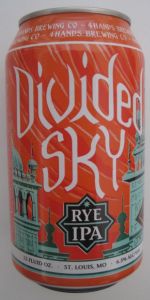 BEER INFO
Brewed by:
4 Hands Brewing Co.
Missouri
,
United States
|
website
Style:
American IPA
Alcohol by volume (ABV):
6.50%
Availability:
Year-round
Notes / Commercial Description:
This beer brings together tow of our favorite ingredients; hops and rye - serious hops up front provide a pungent, floral, and citrus character. We use centennial, Columbus, and Cascades in this hop lovers dream. The rye provides a slightly spicy flavor and a full mouth-feel. Divided Sky pours straw in color with notes of tangerine, grapefruit, and pine. Drink fresh!
Added by JoEBoBpr on 12-21-2011
Reviews: 61 | Ratings: 405
3.8
/5
rDev
-1.8%
look: 4 | smell: 4 | taste: 3.5 | feel: 4 | overall: 4
Poured into a tulip glass from a 22oz bottle.
Pours a nice clear and bright orange copper color with a thin white head that is quite dense.
Aroma is of herbal and grassy hops. Quite intense dank and citrus notes with some nice malty and bready backbone.
Flavor starts off with some intense bitterness. Citrus coating hop juice. Nice rye spice notes mixed in with the intense hop notes. There is some bready notes in there as well but th intense bitterness rules. Mouthfeel is crisp and clean with a dry bitter finish.
Overall, pretty delicious IPA. Nice and herbal with good citrus bitterness.
★
597 characters

3.28
/5
rDev
-15.2%
look: 3.5 | smell: 3 | taste: 3.5 | feel: 3 | overall: 3.25
Rye IPA is one of my favorite styles. I love the taste and the feel you get with these beers. This one is good but not my favorite. It is a good quality beer, but the Hop Rod Rye by Bear Republic is my standard for this style and Divided Sky does not live up to that level of sweet rye taste, creamy feel and hops of a good IPA.
★
328 characters

4.02
/5
rDev
+3.9%
look: 4.25 | smell: 4 | taste: 4 | feel: 4 | overall: 4
22 oz. bottle. No freshness info, and it says to "drink fresh". Hmmm. Phish is a pretty awful band, but I'll try not to let it sway my opinion of the beer. There are lots of poorly named beers out there.
A: Light color, opaque body. Nice head, with a strong pour. Good retention and. Lots of bubbles floating up to the top.
S: American hops, I detect the centennial in there. Citrus, rye malt. Nice aroma.
T: Bitter hop bite, but not too strong. Sour grapefruit notes. Rye flavor lingers around a while. Pretty good balance.
M: Well-carbonated, light bodied for the style. A little watery.
O: Solid offering from this STL brewery. Not special enough to set it apart from its many peers though.
★
698 characters
4
/5
rDev
+3.4%
look: 4 | smell: 4 | taste: 4 | feel: 4 | overall: 4
Up from Jacksonville FL and stopped in at the brewery.
A: half finger head on a clear golden with very slight amber hue body.
S: candied orange, syrup, floral and pungent hops
T: the rye comes through nicely in the finish. Up front resin, tart citrus and earthy hops dominate. The caramel malt base is a mild contributor.
M: medium body and moderate carbonation.
Overall: this is a decent beer. The rye is well applied and it's nicely hopped. This one isn't very complex but it's still memorable for the rye presence and how well it's applied.
★
548 characters

3.83
/5
rDev
-1%
look: 4 | smell: 3.5 | taste: 4 | feel: 3.5 | overall: 4
A: Mostly clear copper in color. Forms a moderate creamy white head that leaves a shit-ton of lacing on the way down.
S: Aroma is fairly muted, but I am able to pull some notes of caramel malts mixed with primarily citrus hops and some pine hops to a lesser extent.
T: Moderate, dry caramel malts. A bit of peppery rye. Grapefruit and citrus pith. Finish is a bit thin and watery, but does offer up some more toasty rye flavor.
M: On the thinner side of medium; a bit thin for the style. Moderate bitterness. Good carbonation.
O: Not a bad beer. Not a great beer, either, but didn't have any problems killing off a growler.
★
631 characters
3.88
/5
rDev
+0.3%
look: 4 | smell: 3.5 | taste: 4 | feel: 4 | overall: 4
Clear light copper body with an inch of white head and nice spotty lacing... poured into a tulip.
The smell is bready with some light citrus tones.
The hops are grapefruit and orange and it has a pretty strong biscuit malt holding it together with a faint rye finish.
Mouthfeel is clean and crisp with good body.
Overall, I was pretty impressed with my first beer from 4 hands.
★
384 characters
4.05
/5
rDev
+4.7%
look: 4 | smell: 4 | taste: 4 | feel: 4.5 | overall: 4
On Tap at TJ'S Everyday. My 1st 4 hands beer since they sprang up in Philly after a successful launch during beer week 2012.
4 Hands Divided Sky is a nice looking amber shaded beer with some faint red spots poking out towards the sides. Bright looking with an off tan foam up above that left minor clinks on the glass. The scent is nice and pungent, spicy hop notes, some faint pale malt notes while the rye builds as the glass warms, pleasant smelling beer here with a dab of caramel to even all things out. This is a nice Rye based IPA, not the most aggressive I have had but a nice mix of earthy hop flavor, spicy rye notes, caramel and some malt backing. Reminds me of an amber mixed in with some dank hops and rye malt. Feel is below medium bodied with light carb, not terribly bitey on the tounge. I had two pints of this so that speaks for itself, Divided Sky is drinkable as all get out.
★
896 characters
4
/5
rDev
+3.4%
look: 4 | smell: 4 | taste: 4 | feel: 4 | overall: 4
On tap at Bailey's Range in St. Louis. 7/2/12
A - Poured a clear, copper color with a small, tan head of bubbly foam. It left sticky rings of lace on the glass.
S - It smelled of citrus, grapefruit and roasted malt. Some caramel aromas, too.
T - It tasted of sweet citrus and tart grapefruit. Good toasty malt flavor with sweet caramel.
M - It was crisp, sharp and smooth. A medium bodied ale with a dry finish.
O - This is a good rye IPA. 4 Hands has made another good.
★
475 characters
4.08
/5
rDev
+5.4%
look: 4 | smell: 3.5 | taste: 4.5 | feel: 4 | overall: 4
Poured from the tap a hazy yellow gold with two fingers of white head. Nice lacing left behind.
Aroma of rye, malty grains, tobacco, and herbal notes.
The taste was big on the rye with a touch of grapefruit and caramel malts. Bitter note to the finish. Even though it was just 6.5% abv, it had a boozy bite.
Lighter bodied with a sharp carbonation.
This was definitely a rye IPA with extra emphasis on the rye. Recommended for sure.
★
436 characters
4
/5
rDev
+3.4%
look: 4 | smell: 4 | taste: 4 | feel: 4 | overall: 4
a very good ipa. pours on the darker side for an ipa with a nice tint of red in there and a 1 inch lasting white head. smells quite spicy from the rye malts, which are very forward in both the smell and the taste. a little aroma of burning toast as well before the hops come in. high alpha wast coast varieties seems to be whats going on here. the taste gives that away, lots of resiny hops imparting slight bitterness and some fruity flavors to the beer. its balanced well with the rye malt. this is a pretty big beer. feel is good, just enough carbonation and a squarely medium body. 5 of these might be too many, but 2 or 3 is just perfect.
★
643 characters

4.16
/5
rDev
+7.5%
look: 4.5 | smell: 4 | taste: 4.25 | feel: 4.25 | overall: 4
On-tap, served in a tulip
"Ahhh, divided sky, the wind blows high."
Pours a slightly hazy bright orange with a fluffy bone white cap. Recedes slowly, and leaves little chunks of lace clinging to the glass.
The nose has the overly dry, herbal aroma from the rye, with some juicy, citrus poking through. Clean biscuit malt holding down the back end.
Herbal, rye notes up front mix with pine resin for a dry, earthy intro while juicy tropical fruits emerge nicely mid-palate. Tangerines, mango, papaya, and white grapefruit lend a juicy, flavorful contrast to the dry notes from the rye. The finish is mildly bitter and builds with each sip, which is always the sign of a well-crafted IPA.
The feel is right on point. Medium body, even carbonation. I wouldn't have figured this to be 6.5%, it drinks super easy.
This is well made rye IPA. Super clean, well-crafted. Definitely ranks up near the top of my rye IPA list. Great balance of dry rye and juicy fruits with a sturdy, light malt bill.
★
995 characters
Divided Sky Rye IPA from 4 Hands Brewing Co.
87
out of
100
based on
61
ratings.