Resurrection IPA
| 4 Hands Brewing Co.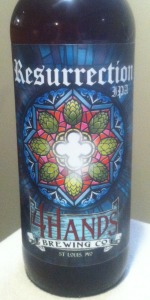 BEER INFO
Brewed by:
4 Hands Brewing Co.
Missouri
,
United States
4handsbrewery.com
Style:
American IPA
Alcohol by volume (ABV):
6.50%
Availability:
Rotating
Notes / Commercial Description:
No notes at this time.
Added by JoEBoBpr on 08-30-2013
This beer is retired; no longer brewed.
Reviews: 13 | Ratings: 135
5
/5
rDev
+26.9%
look: 5 | smell: 5 | taste: 5 | feel: 5 | overall: 5
I love this beer. Don't care what other reviewed it at. I would buy cases of this if I had the fridge space. Tropical, smooth, dry, semi session able.
150 characters

4.25
/5
rDev
+7.9%
look: 4 | smell: 4.5 | taste: 4.25 | feel: 3.75 | overall: 4.25
22ox bottle, Dated 07/08/14, poured into a tulip
A- pours a clear amber color with a small foamy and creamy off-white head that retains long after the pour, leaving some lace behind
S- sharp tropical fruity hop notes up front, picking up mango, papaya, pineapple & pear. Some leafy mint aromas kick in, quickly followed by fresh cut grass, with a hint of underlying sweet malt, pretty Impressive nose
T- leafy hops are most prominent up front with some minty flavor, tropical hops are highlighted by mango and papaya, clean malty finish with lingers of more fresh leafy hop
M- medium body with low carbonation leads to a foamy mouthfeel and a smooth and crisp finish, high drinkability
O- loved the tropical fruity hops with a nice leafy kick, a fine showcase of the mosaic hop
783 characters
4.23
/5
rDev
+7.4%
look: 4.25 | smell: 4.25 | taste: 4.25 | feel: 4 | overall: 4.25
The label this year says Resurrected and not Resurrection as before. Not sure if other changes were made.
Poured from the bottle a bright and clear copper color with one finger of off-white head. Light sheet of lacing left behind.
Deep aroma of pineapple and tropical fruits with a light note of malts..
The taste opens with a big juicy bite of pineapple and light tropical fruits. Light malt notes i the finish.
Medium bodied and slightly dry with a moderate carbonation.
This is a really nice IPA from 4 Hands. I'm gonna have it often while it's out.
557 characters

4.2
/5
rDev
+6.6%
look: 3.75 | smell: 4.25 | taste: 4.25 | feel: 4 | overall: 4.25
22 oz bomber pours a hazed orange color with a tight-bubbled off-white head. Nice retention and average retention.
Nose is a wonerfully bright citrus aroma. Tropical and lightly malted. Smells really nice.
Taste is freshly crushed grains, bright juicy hops and maybe a touch of biscuits. The yeast is notable with a nutty flavor. Mouthfeel is light and airy with a soft carbonation. Bitterness is not overly biting, but lingers long after. Dang good IPA, I've really been digging on these 4 hands beers my dad brought back from Missouri last week.
550 characters
4.06
/5
rDev
+3%
look: 3.75 | smell: 4 | taste: 4.25 | feel: 3.75 | overall: 4
Copper penny color with great clarity. A half inch of foam rests on top like a crown. The nose is a welcoming scent of grapefruit like hops. The mouthfeel is thick and sticky as with all good hoppy brews. The front of the palate is like biting into a grapefruit. The malt backbone quickly follows. Very fresh tasting hops and a lingering bitterness. A well made beer.
367 characters
3.92
/5
rDev
-0.5%
look: 4 | smell: 4.5 | taste: 3.75 | feel: 3.5 | overall: 3.75
Poured into a tulip glass from a 22 oz bottle.
Pours a gorgeous bright amber with orange hues. Some nice golden edges to the brew and a nice half inch medium dense head. The head is white to off white and is a bit sticky.
Aroma is pretty amazing. Im hesitant to rate it a 5.0 but GD it is close. Juicy hop deliciousness. Notes of mango and pineapple. Completely tropical and enticing and refreshing. I just want to smell it forever. The juice notes are just incredible and even addicting. There is also some nice bready balancing notes on the back end that give the brew a more American Pale Ale note.
Flavor starts off with tropical fruit notes and hoppy grassy notes. Notes of mild citrus grapefruit and some nice slight mango and pineapple. There is some mild resinous notes but its very clean and citrusy. The Mosaic hops really shine. There is a nice bready and earthy grain notes in the middle of the brew that play really well with the delicious and citrusy hop notes. Definitely a more hop heavy IPA with a bit of harshness but that good for me. The brew really opens up as it warms. Delicious. Mouthfeel is pretty good a bit over carbonated for me.
Overall, this brew is pretty delicious. The Mosaic notes really make this brew a treat. They are so juicy and powerful but also come with a nice citrus traditional West Coast IPA notes. Nice bready malt notes as well. Pretty juicy and earthy.
1,413 characters

3.9
/5
rDev
-1%
look: 3.75 | smell: 4.25 | taste: 3.75 | feel: 4 | overall: 3.75
Really well done IPA.Catty and lush on the nose(super concentrated).Flavors are all ripe peach,musky tropical fruit(mango,pineapple)and sweet citrus.Medium bodied w/moderate bitterness.Slightly dry and resinous.Yet another very solid beer from 4Hands.
254 characters
3.75
/5
rDev
-4.8%
Pours a hazy, golden color. 1/2 inch head of a white color. Good retention and good lacing. Smells of strong hops, strong floral, sweet malt, slight alcohol, and a hint of yeast. Fits the style of an American IPA. Mouth feel is sharp and crisp, with an average carbonation level. Tastes of strong citrus hops, floral hops, sweet malt, slight alcohol, and a hint of yeast. Overall, good appearance, aroma, and body. Not complex, but still a solid IPA.
458 characters

3.69
/5
rDev
-6.3%
look: 5 | smell: 3.5 | taste: 3.5 | feel: 4.5 | overall: 3.5
22oz bottle with no date, poured into tulip. Mostly clear orange-yellow with a HUGE fluffy, dense white head that came up from even a careful pour.
Smells disappointingly normal for a IPA with Mosaic hops, but still promising...mostly pine and citrus, nice bitterness. Not really a hint of the fruit bomb that Mosaic is known for...eh well. I did just drink a Hop Ranch, so maybe I'm jaded.
Taste follows nose; biscuity malt with citrus and pine. Pretty standard.
Mouthfeel is light and clean, wet clean finish.
Overall, I'm a bit disappointed. I was very excited to read that Mosaic hops were in this one but the taste didn't deliver. It didn't have a freshness date, so maybe it's old. Eh well.
698 characters

3.62
/5
rDev
-8.1%
look: 3.5 | smell: 4 | taste: 3.5 | feel: 3.5 | overall: 3.5
12oz bottle poured into a Unibroue tulip.
A - Pours a clear golden amber, white, crisp head.
S - Slight apricot and that unmistakable "freshwater" aroms of Centennial.
T - Slight dry citrusiness from the front. Somewhere between apricot and grapefruit. The dank, freshwater Centennial gradually overpowers the fruitiness, with a very slight dry bread flavor. The finish is fairly bitter and a bit earthy.
M - Medium-light body, fair amount of carbonation. A bit dry.
O - Solid IPA. Tastes to me like a lesser Two-Hearted, but no complaints about a tired and true Midwest IPA!
580 characters

3.62
/5
rDev
-8.1%
look: 3.75 | smell: 3.5 | taste: 3.75 | feel: 3.5 | overall: 3.5
Properly aged my friends (1-2mo old).
The beer pours a clear golden amber topped by a foamy inch of white head that fades into a layer of thin fluff. The nose is still the same sweet, grapefruit/tropical fruits, grass, green tea & alcohol I remember layered with more undertones of wet cardboard. Nothing too potent or magical, but like I said...it's properly aged. The taste is certainly as expected, distinct mosaic upfront that fades into light sugar and some citrus rind bitterness. I would not describe this as sweet or juicy AIPA, but it definitely has enough sweetness and body based on my expectations. It's mild-medium bodied, a bit watery, has adequate carb, reserved sucrose - little maltiness, a building citrus-rind bitterness, semi-dry finish, and masked alcohol. Overall not a bad IPA and one I remember having more pop when it was fresh. However, I'm never a fan of citrus-rind mouthfeels that don't have the aromatics or sweetness to back it up.
963 characters
3.56
/5
rDev
-9.6%
look: 4.5 | smell: 3.5 | taste: 3.5 | feel: 3.5 | overall: 3.5
A- Pours a deep gold in color with a small, 1 finger head. Body is clear and bright. Retention is ok, but the lacing is very good.
S- Mild hops bitterness is overpowering by a hops spiciness and herbal quality. Just hint of light malt flavor is underneath the herbal qualities of this beer's scent.
T- Starts with a spiciness similar to the scent and moves toward a slightly more bitter flavor profile. Hops bitterness picks up in the middle of the drink, but is still mild. Spiciness returns at the end with a little bit of light malt flavors. Hops and herbal qualities linger a little after the drink.
M- The body of this beer is just about as balanced between thick and thin as you can get. Medium to higher levels of carbonation combine with a subdued hop profile to make for a moderately drinkable experience.
Overall, this is a nice, balanced, spicy IPA that may be suffering from some age. I need to this one out fresh to make sure it really an issue of the hops dropping off.
987 characters
3.28
/5
rDev
-16.8%
look: 4 | smell: 4 | taste: 3 | feel: 2.75 | overall: 3
22oz. bottle poured into a tulip. No freshness date.
A: Pours brilliant clear, slight orange tinted gold. Fluffy head, receding to sticky lace. Handsome beer.
S: As advertised, tropical fruit dominant. Primrose pick up pineapple, mango. Sweeter side or IPA aroma spectrum. Very nice.
T: Much sharper on the first sip than anticipated. Slight sting of bitterness, fleeting tropical hop flavors with little malt backbone. Finish is surprisingly astringent. Some grain husk and the very finish. No freshness date, but it just doesn't have the pop that the aroma so greatly anticipated. Hoping it's just been mishandled at some point as I usually like what they're doing over there.
M: super dry, really needs more body.
O: Pretty disappointed honestly. Hate to do it, but just not what it could be.
801 characters
Resurrection IPA from 4 Hands Brewing Co.
3.94
out of
5
based on
135
ratings.