Timmermans Doux Lambic (draft Faro)
| Brouwerij Timmermans-John Martin N.V.
BA SCORE
84
good
11
Reviews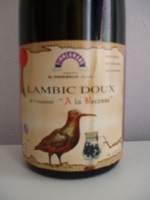 BEER INFO
Brewed by:
Brouwerij Timmermans-John Martin N.V.
Belgium
brtimmermans.be
Style:
Faro
Alcohol by volume (ABV):
5.50%
Availability:
Year-round
Notes / Commercial Description:
No notes at this time.
Added by TheLongBeachBum on 01-09-2004
Reviews: 11 | Ratings: 22

2.35
/5
rDev
-35.8%
look: 2 | smell: 2 | taste: 2.5 | feel: 2.5 | overall: 2.5
Served on-tap at A La Becasse cafe in Brussels. The server assured my Belgian host that it was a cask beer, but my internet research shows this is likely a mistaken translation (maybe the words for "barrel" versus "cask" or something). It was poured first into a blue and white jug, then served to the table with two generic cups for drinking. Far from the strangest serving types I've seen in Belgium. My expectations were high for this beer.
A: 1/4 finger head, thin and without cream. Clear cider gold. Appealing.
Sm: Light apple scent. Cidery. Reminiscent of sour apple sweets like the jolly rancher apple flavour.
T: Cidery built body. Very simple but refreshing. Sour apple candy flavour comes through alongside other vaguely cidery notes. I'm rather disappointed. It's just so lacking in complexity that it could never be a great beer. That said, it's refreshing and understated.
Mf: Too wet - almost watery, giving it an unexpected softness.
Dr: Easy to down, but nothing special. Refreshing but very disappointing considering how difficult it is to find. This is a beer that may suffer from rarity-induced hype, though it's certainly pleasant. It's just more of a cider than a beer.
1,201 characters

2.64
/5
rDev
-27.9%
look: 4.5 | smell: 3 | taste: 2.5 | feel: 2.5 | overall: 2
Sampled at La Becasse; July 2010
Pours from the crock with a clear, light amber, golden hue. It is topped by a large bubbled, but flat head. This smells very much like apple cider with a deep smell even yielding notes of caramel, sweet tea, a faint vinegar like note as well as a sweet nuttiness.
The beer is quite sweet tasting, but still thin bodied and simplistically very cider like. There is a touch of caramelized apple character here. A faint tartness seems more apple like than from lactic acid, despite the fact that it must actually be from lactic acid. There is perhaps a touch of acetic acid here that accentuates and brings out an apple cider vinegar like flavor in the finish. After having the 3 Fonteinen Faro a couple blocks away it is amazing how absolutely pathetic this beer is. It tastes like apple cider juice with no complexity and lots of cloying sweetness.
881 characters

3
/5
rDev
-18%
look: 3 | smell: 3 | taste: 3 | feel: 3 | overall: 3
Bottle shared thanks to kermis. Hazy orange with a thin off-white head. Smells like an apple cider with some lambic funk and baking soda. Very sweet, with subtle white vinegar notes.
182 characters

3.2
/5
rDev
-12.6%
look: 3 | smell: 3 | taste: 3 | feel: 3 | overall: 4
Trying this for the first time at "a la Becasse" in Brussels. Served in a pottery pitcher. Pours a clear apple juice gold. A few bubbles for head the die quickly leaving you with a glass of light apple-pear smelling beverage. Smooth and clean tasting, a hint of tart. Like sipping non-carbonated hard cider. Very different - actually completely different when compared to the more famous and more consumed Belgium blondes and brunes. Delicious and a very pleasant experience overall.
483 characters
3.5
/5
rDev
-4.4%
look: 3.5 | smell: 3.5 | taste: 3.5 | feel: 3.5 | overall: 3.5
@ La Becasse
Looks like apple juice with just a touch of present carbonation to form a slim ring around the glass.
Even has a apple juice thing going on with the smell and taste. Sweet like straight sugar sweetness. Although sweet, the lambic provides a nice dryness. There are hints of beer coming through a little grassy and musty.
A nice thirst quencher and the ambiance work nicely for an enjoyable beer stop while in Brussels.
434 characters
3.85
/5
rDev
+5.2%
look: 4 | smell: 4 | taste: 4 | feel: 3.5 | overall: 3.5
Timmermans Doux Lambic (or Lambic Doux, I have seen it called both) is the Faro that is produced by Timmermans for sale on draft only. It is 5.5% ABV and completely different from the Faro that is produced exclusively for bottling, that is only 4.0% and is a much sweeter (dare I say commercial) Faro. As such, Timmermans Doux Lambic is very rare, and sadly now only found in a handful of Brussels and Lambic Cafes. Finding it is half the excitement.
Presentation: Served in a small Tumbler like glass at La Bécasse, one of the handful of charming alleyway Cafés hidden in the center of Brussels, here it is still decanted from the traditional stoneware Jugs, just as in Breughels days.
Appearance: The actual beer is jugged to your Table in a light-brown Earthenware Jug. This is how it used to be served traditionally. A small empty lambic Glass accompanies the offering. Carefully poured the Faro is an orange-brown color that has absolutely no carbonation or head whatsoever.
Nose: Fruity, with some light musty hints, but not as much as many traditional lambics have, for here it is restrained by the addition of additional brown sugars.
Taste: Flat and uninspiring, it looks strange but once tasted the hidden charms are revealed. A fruity aspect is the main player here, set against a backdrop of a mild lambic blended with some sweet brown sugars. Swirled in the mouth it has a habit of revealing more of the fruity aspect it has. Beautiful; the Doux Lambic is one of the better Faros on the market for me.
Mouthfeel: A flat feel, zero carbonation, and the grainy sweet brown sugars, lend the beer a heavy feel at times, yet the fruity aspects give the Doux Lambic a strange and totally unexplainable uplifting and refreshing quality in the mouth.
Drinkability: Well, you either love this beer, or you hate it. I am not a fan of sweet beers, and by its very nature, Faro is sweet. However, Doux Lambic is not excessively sweet, and perfectly blends the charming aspects of the base lambic with the sweeter aspects of brown sugars into a marriage that has an attractive fruity feel. Still, as much as I like this Faro, I can usually only manage a couple of glasses at any one time.
Overall: A sweetened version of the usual lambic beer that once acquired wide spread popularity in the Brussels area, but is now extremely hard to find in its traditional format. Like lambic, Faro is an acquired taste, but the Timmermans draft version is such a classic example of the style, that it is worth the visit to Brussels alone to try it, for I am sure it will one day disappear for good.
2,609 characters
4.13
/5
rDev
+12.8%
look: 4.5 | smell: 4 | taste: 4 | feel: 4 | overall: 4.5
I stumbled upon this beer while in Brussels with my cousins. One of my cousins used to live in Brussels so when we wanted to go for a beer, she brought us to La Becasse. Little did I know that I was going to enjoy a hard to find and exceptionally tasty beer.
Appearance: It arrived at our table in a traditional blue stone jug sized to serve two. Small scotch-like glasses are provided to consume the beer. When poured from the jug to the small glasses the beer has a clear, light copper color and thin whispy head on top. I really like the presentation of this beer in a communal jug to then be poured into individual glasses.
Smell: Nice sweet fruity aroma. It's not very potent and won't knock you out of your chair, but it is consistent and full. Notes of apple, pear, hay, and candy sugar. It's not crazy sweet smelling but it is appetizing.
Taste: The full flavor takes a moment to develop on my palate. It is surely tasty with a strong fruit flavor. As in the nose there is a lot of sweet apple flavor and a crispy malty backbone. There is some light caramel flavor and brown sugar and even a light floral quality. This beer has a beautifully refreshing flavor after a long walk on a hot Brussels day (as rare as they may be).
Mouthfeel: Soft and smooth and very lightly carbonated. It leaves a dry feeling in the mouth after a few sips but it still quenches my thirst very well.
Drinkability: Magnificently drinkable. By the end of our time at La Becasse I had about 8 or 10 servings of this beer in the little glasses. It is remarkably refreshing and not overly sweet, especially for a faro style beer. Very enjoyable and I look forward to going back and drinking more on my next trip to Brussels.
1,722 characters

4.19
/5
rDev
+14.5%
look: 3.5 | smell: 4.5 | taste: 4 | feel: 4 | overall: 4.5
Thanks to Mike for hauling this bottle back from Belgium.
Light golden color with a big white head.
I get a lot of fresh pear in the aroma, a some apple and sugar sweetness, but in the end the pear takes over.
Again, sweet pear is a major player in the flavor. It does have a mellow tartness that I didn't expect after the sugary nose. Well balanced. A little vinegar, and some are saying tomato in the finish, which I can see.
Very fun to drink. It walks the thin line of balancing sweet and tart.
502 characters
4.2
/5
rDev
+14.8%
look: 4 | smell: 4 | taste: 4 | feel: 4 | overall: 5
Like everyone else here, I drank this tasty treat at La Bécasse in Brussels. Served from the barrel into an earthenware jug and then poured by me into a tumbler. I'm presented with a ruddy brown beer, which only momentarily has a head of frothy bubbles. The aroma gives off strong fruit notes, with ripe orchard pears mixing in with apples and brown sugar. I've only had one faro before, and I've come to the hasty conclusion that their beauty is in their simplicity. This is definitely the case here, as delightful pear, apple, berry and candied lemon leads the way, sweetened by a dose of brown sugar, and with a shadow of regular lambic in the background. While the mouthfeel is heavier than I expected (no doubt due to the sugars) its also surprisingly quenching.
Certainly a unique brew, and well worth hunting down. I recommend that all beer lovers who visit Belgium try this the old fashioned way, and enjoy a little piece of brewing history.
951 characters
4.57
/5
rDev
+24.9%
look: 4 | smell: 4.5 | taste: 5 | feel: 4.5 | overall: 4
I bought this bottle in La Bécasse after a night out in Brussel.
When I poured it in a Geuze Boon glass, a large head developed. The colour is copper orange. When the glass is full the head vanishes. There is a little bit of carbonation in the glass.
A mushroom like smell, tardy, fruity. Not just one kind of fruit, but it smells like a fruit stand. Some wine tones in the back. Natural sugars and slight bitterness.
The taste is quite sour, so sour that it overpowers the sweet, bitter and wine elements. The sourness is fruitlike, lemon. Taste of bread too.
The aftertaste is a continuation of the sourness but it fades away gently. And the feeling you just ate some slices of bread comes up. A little candy sugar in the end.
Full bodied and the feeling you are drinking a meal. Very good beer.
Ut Vivat, Crescat, Floreat!
835 characters

4.63
/5
rDev
+26.5%
look: 4.5 | smell: 4 | taste: 5 | feel: 4 | overall: 5
On-tap at La Becasse in Brussels - October 2008
Served in a ceramic pitcher. Pours like cider into the glass. Copper colored with nary a head to be found. The body is still. Smells lightly sour with just a hint of brett in the nose.
Lovely, sour apple and cidery flavors. An earthy funk and the sourness takes over. In the finish, a candy sugar sweetness takes over but the sourness comes back to balance things out. Some lemony flavors. Smooth.
A really wonderful lambic and a unique experience in Brussels. Get to La Becasse if only to try one pitcher of this throwback.
576 characters
Timmermans Doux Lambic (draft Faro) from Brouwerij Timmermans-John Martin N.V.
3.66
out of
5
based on
22
ratings.