Goedenacht
| Draai Laag Brewing Company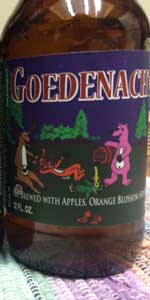 BEER INFO
Brewed by:
Draai Laag Brewing Company
Pennsylvania
,
United States
draailaag.com
Style:
Belgian Strong Pale Ale
Alcohol by volume (ABV):
9.50%
Availability:
Year-round
Notes / Commercial Description:
Ale Brewed With Apples, Orange Blossom Honey, Coriander.
Added by DrDemento456 on 07-07-2012
Reviews: 11 | Ratings: 48
4.2
/5
rDev
+8%
look: 4.25 | smell: 4.75 | taste: 4 | feel: 4 | overall: 4
Pours a clean golden hue, aggressive head but strong retention. Aroma features the honey, Brett loam (not too strong) & a nice hint of the orange mixed with some straw / wheat smell (I imagine from the coriander). Good mix of flavor though the individual notes don't pop the way they do on the nose. A little muddled. There is more of the coriander presence upfront, and the orange & honey come in towards the end. I was hoping for a little more Brett flavor but gets lost in the shuffle except for just a tad mear the end. Ends with a big sweet note from the honey, maybe a bit too much so & the one big off note. Good mouthfeel. Overall a very drinkable beer such high ABV, definitely a great beer from a smaller brewery.
★
725 characters
3.51
/5
rDev
-9.8%
look: 3.25 | smell: 3.5 | taste: 3.5 | feel: 3.75 | overall: 3.5
Thanks to Tieman for sharing this one at the LA Beer Talk bottle share.
Pours a murky honey yellow with a foamy off-white head that settles to wisps of film on top of the beer. Tiny dots of lace form around the glass on the drink down. Smell is slightly sour with grain, fruit, spice, and honey aromas. Taste is much the same with slightly sour earth, honey, spice, fruit, and yeast flavors on the finish. There is a mild amount of acidity on the palate with each sip. This beer has a lower level of carbonation with a slightly crisp mouthfeel. Overall, this is a pretty good beer with an interesting mix of aromas and flavors with a slight sourness.
Serving type: bottle.
★
675 characters
4.5
/5
rDev
+15.7%
look: 4.5 | smell: 4.5 | taste: 4.5 | feel: 4.5 | overall: 4.5
Draai Laag "Goedenacht"
12 oz. brown glass bottle, no apparent freshness dating
$7.20 @ The Beer Shoppe, Ardmore, PA
Carefully poured so as not to disturb the lees, Goedenacht delivers a fingerprint-clear deep golden body beneath a massive head of bright white foam that seems to want to rise right up out of the glass, forced out by the wide plume of very fine bubbles rising from the base of the glass.
Apples appear in the aroma, along with pear, sugar, coriander and yeast (mineralish, gently peppery). It's just slightly tart with an edge of earthiness and wet leather.
In the mouth it's medium-light in body and crisply effervescent with a delicate tingle on the tongue.
The flavor offers plenty of pear and apple wrapped in the embrace of a light tartness and sweetness. Coriander and a touch of yeasty pepper give it a 'stake in the ground' to keep it from 'floating off'; and the gentle funkiness (wet straw, leather, and earth) gives it an all-over sparkle. The yeast pour widens it a bit, cutting down on some of the tartness and funk, and allowing the straightforwardly grainy malt to come through a bit more clearly. It finishes dry with a spritz of acidity and some lingering fruitiness. Not once does the alcohol appear in even the most minuscule way.
I was blown away by the truly "Belgian" character of Draai Laag's Geestelijke, and this one is no exception; served in a blind tasting there's no way that I would possibly believe that it didn't come directly from Belgium. It's bright, refreshingly fruity, and gently funky. Absolutely stunning! I'll have to call my friend Greg at Holiday Beverages in Indiana, PA and ask him to acquire a case or two of this for me!
★
1,691 characters
4
/5
rDev
+2.8%
These guys keep making great Belgian style ales but this bottle to go from the six pack shop I went to costed 9 bucks for a 12 ounce Millvale brewed Belgian style pale ale with apples orange blossom honey and coriander. Cloudy golden white effervescent head, fine speckled lacing around the sides of the glass. Aroma tart apples, hints of coriander very subtle, honey floral notes linger but the sugar content was fermented out to a whopping 9.5% abv. Flavor is delicious complex strong blonde Belgian style ale, cider dryness in the backend, floral honey notes, spices are minimal just barely enough to complement I even get a hint of sea salt this is really awesome well brewed Belgian style ale...I've been impressed by every bottled offering I've had from Draai Laag but they need to find a way to keep their prices competitive. 115 a case, is what we pay for Belgian ales, these Belgian style ales are more rustic and more flavorful so go forth and actually try their beers before knocking Draai Laag they are making some great stuff!!! The mouthfeel of their beers really set them apart from most Belgian style brews in America, this is bottle fermented ale on lees with lively bubbly carbonation medium bodied dry mouthfeel from the coriander spice. Overall, I'm really really excited about visiting the Millvale brewery to check this place out at the source and finally hit up Grist House as well!
★
1,412 characters

3.53
/5
rDev
-9.3%
look: 4 | smell: 3.5 | taste: 3.5 | feel: 3.5 | overall: 3.5
Pours a hazy deep orange-ish color with a white head. In the aroma, a dry orange and clove presence, almost cider like. In the taste, quite cider like, starts sweet to a dry orange citrus and clove. A spice bite and a medium to lighter bodied mouthfeel, with a dry clove and orange presence in the aftertaste. Very cider like, good, but just above average.
★
356 characters

4.13
/5
rDev
+6.2%
look: 3.75 | smell: 3.75 | taste: 4.25 | feel: 4.5 | overall: 4.25
Draai Laag : Goudenacht
LOOK: Pours a mostly clear gold color at first, then swirled some yeast in and clouded it up a bit. Well retaining froth leaves some lacing.
SMELL: Apple pie, tart apricot, grains, touch of spice.
TASTE: Interesting flavors of tart apple cider, candied orange peel, honey and peppery Belgian yeast. The raw coriander lasts into the finish with a dirty, spicy dryness. This is damn tasty.
FEEL: Medium bodied, spritzy high level of carbonation and the beer finishes with dry spicing.
OVERALL: An impressive brew here from Pittsburgh's own Draai Laag. Brewed with apples, orange blossom honey and coriander, I was impressed how this wasn't overly cidery and it had some depth and balance. It must also be mentioned that this was fun to drink, 9.5% abv and no sign of it in the taste. I'd get this again for sure, pairing with mild cheeses, fig jelly and crackers.
★
892 characters

3.82
/5
rDev
-1.8%
look: 4.25 | smell: 4 | taste: 3.75 | feel: 3.5 | overall: 3.75
Ale brewed with apples, orange blossom, honey, & coriander. Poured into a Rodenbach Grand Cru tulip.
Three fingers off the pour. Bright white. The beer below is a true amber with some scummy murk. Thanks to the glassware, somewhat, the retention is superb. This collar means business.
First, I notice the combo of honey and orange blossom. Faint pomme fruit, like ripe apple, mixed with yeasty esters and barley and wheat. Belgique in its paleness.
Heavy honey and coriander. Syrupy sweetness with elements of both apple flesh and sugary Asti. Grape and orange blossom and peppery spice. Big time dose of that coriander. As it warms, it starts to mellow and a cidery harvest apple pulls through late in the middle of the palate and finishes with a lightly-tannic bitterness.
Very thick to style. Sticky and bristly. Carbonation is trying hard to keep up to even just a medium pace.
A big sweet BSPA. Would suit well on a cool autumn evening.
★
946 characters
3.95
/5
rDev
+1.5%
look: 4 | smell: 4 | taste: 4 | feel: 3.5 | overall: 4
"Good night" in Dutch.
Super bready flavor profile with strong yeasty tones. Seems quite balanced and interesting. The strong bready Belgian ales don't do it for me usually, but I like this one. It's consistent and a thorough flavor profile with no off putting after taste or any crap like that. This is a nice beer. It's my second at the brewery, and I am surprised how well the Belgian ales are coming off. And there's no offense meant by that statement; I think we can all acknowledge how difficult it can be to brew a proper Belgian ale.
★
542 characters
4
/5
rDev
+2.8%
look: 4 | smell: 4 | taste: 4 | feel: 4 | overall: 4
On tap at House of 1000 Beers in New Kensington, PA.
Poured into a vase: Light, hazy honey-gold body with a thin collar & just dusting of head.
Smells of pineapple, baked apple, with a sweetness like honey. There's a baking spice vibe to it, kind of rounding out the apple & making it more "sauce"-like: some cinnamon, nutmeg, clove character.
Taste definitely has some apple sauce note, with cinnamon, nutmeg, & some heat - the 9.5% is showing, to be sure, with a boozy bite in the finish. Rich honey comes in.
Mouthfeel is full, sticky, & a little hot.
Good overall, teetering on a little too much, borderling unwieldy. Aside from the whole braggot-cyser thing going on (which is definitely cool), I was looking for some of the brett character which, aside from the little bit of pineapple at first, I don't really get. It's an interesting undertaking to attempt a style hybrid that's so sweet & adding a funky/dry yeast strain to it, but it's really underplayed. Still very enjoyable, just looking for that added wild card, I guess.
★
1,040 characters

3.75
/5
rDev
-3.6%
look: 4 | smell: 4 | taste: 3.5 | feel: 3.5 | overall: 4
Aroma: Bitter grape, little brett and funky wildness. Sour apples, mildly tart. Some yeasty phenols, black pepper and coriander. Moderate bitterness but also a lot of sweet malt character.
Appearance: Huge crispy just off-white head. Very noisy as the foam dissipates. I watch some sediment dissapear into the glass during the pour. Pale, light brown, very hazy. I've never seen a beer of this color. After it warms up the alcohol is largely present.
Taste: Sweet and funky. Very mild bitterness. Sour grape and mild sour apple. Mild tart character. Lots of residual sugar. Artificial sweetness, reminds me of wax-bottle candy. Mild piney hop flavor.
Mouthfeel: Huge carbonation, although not harsh or stinging. Very light body mostly due to the high carbonation. Finishes mildly dry.
Overall: Unique brew. Wouldn't mind getting another bottle and letting it age. The extra funk would probably help. Relatively fresh, this brew is extremely sweet.
★
951 characters
3.55
/5
rDev
-8.7%
look: 4 | smell: 4 | taste: 3.5 | feel: 3.5 | overall: 3
Surprised this hasn't been submitted yet. Picked it up at the House of 1,000 beer for $3.50
A - Pours a slightly hazy yellow with a 1/2 inch of sticky head. Slight sediment at the base of the bottle.
S - Most of Belgium qualities, almost triple like with coriander and fruity yeast. Not getting much honey but the apple cider is interesting.
T - Well it's not as balanced as the other offerings not hiding much of this almost 10% brew. Alcohol esters and tart cider flood the palate at first making it hard to sip but as it warms (half into the bottle) it gets more bearable with mild sweet honey malts and a touch of coriander spice.
M - Quite heavy in body this Belgium Ale is a hard hitter.
Overall it was still very well crafted and far from unbearable but I kind of hate to have to "adjust" to a beer so I will not be purchasing this again.
Edit: This might be considered a "Belgium Strong Pale" ale so for this I am sorry.
★
934 characters
Goedenacht from Draai Laag Brewing Company
3.89
out of
5
based on
48
ratings.