Philosophizer
| Adelbert's Brewery
BA SCORE
83
good
15
Reviews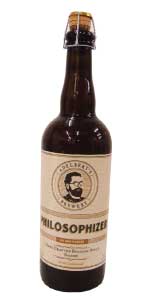 BEER INFO
Brewed by:
Adelbert's Brewery
Texas
,
United States
adelbertsbeer.com
Style:
Saison / Farmhouse Ale
Alcohol by volume (ABV):
7.80%
Availability:
Summer
Notes / Commercial Description:
No notes at this time.
Added by Mora2000 on 06-20-2012
Reviews: 15 | Ratings: 126
4.67
/5
rDev
+30.4%
look: 5 | smell: 4.75 | taste: 4.5 | feel: 4.75 | overall: 4.75
A Belgian brewery in Austin, TX. Doing right. This thing is a piece of saison work. Wonderful mouth feel with that banana, straw, coriander magic. Highly recommended.
170 characters

4.12
/5
rDev
+15.1%
look: 3.75 | smell: 4.25 | taste: 4 | feel: 4.25 | overall: 4.25
Look: Poured in a pint glass it has a pleasant appearance on the amber side of pale. Nice carbonation and a thin but persistant head.
Smell: Bready like a malt forward belgian, little bit of almost orangy citrus. Nice. Feels like they let the yeast do the work instead of adding the typical american lemon peel, pepper, etc. or maybe they did add that stuff, but not overblown.
Taste: Like it smells but a little more yeast forward on the palate. A pleasant tartness.
Feel: The effervescence holds on to the end of the pint. Makes for a mouth feel that clings to the back of the tongue, probably contributing to the perception of tartness in the beer.
Overall: Really a nicer than normal saison (hmm?) disquised as a baby triple. Great drinking beer that I would order again or be happy to steal the recipe if I could get my hands on it.
853 characters

4.33
/5
rDev
+20.9%
look: 4.25 | smell: 4.25 | taste: 4.5 | feel: 4 | overall: 4.25
This is a very tasty beer! On tap into a snifter. Pleasantly sweet with a great fruity taste . Apples and pears with a bit of orange. It has been a while since I had this beer, but I will come back to it in the future.
218 characters

3.69
/5
rDev
+3.1%
look: 4.25 | smell: 3.25 | taste: 3.75 | feel: 4 | overall: 3.75
Large shared bottle.
Very effervescent with a relatively large, semi-durable white head.
Very low funk for style. Nicely fruity. Lively, crisp and dry.
O: great choice as a session saison.
193 characters
2
/5
rDev
-44.1%
look: 5 | smell: 3 | taste: 1 | feel: 1.75 | overall: 2
Not a Saison. Overly sweet. Not dry enough to be Saison. Yet, a wonderful belgian pale/specialty ale. Just not to style. Enjoyed this quite a bit. Seek this out if you enjoy fine belgian farmhouse pales.
203 characters
3.96
/5
rDev
+10.6%
look: 4 | smell: 4.25 | taste: 3.75 | feel: 4 | overall: 4
A pleasant blend of peppery and citrus on the aroma, it almost smells like a zinfandel wine. Nice big just off white head with a beer with color of an apricot skin. The head last for quite a while. Lots of carbonation gives this beer a very light mouth-feel. The taste comes off as sweet at first becoming more citrus and a little bit of peppery notes on the finish.
As I drink on that white zin like aroma kinda of becomes the flavor, and the beer starts to finish with a little more bitterness that is almost tart like a sour. I say almost because this beer is not sour. The beer also develops a thicker mouth feel as the initial carbonation starts to dissipate.
664 characters
3.84
/5
rDev
+7.3%
look: 3.5 | smell: 3.75 | taste: 4 | feel: 3.75 | overall: 3.75
Type: 750ml (25.3 oz.) bottle
Glass: Fuller's London pint glass
From: Armada Wine & Beer Merchant in Santa Barbara, Calif.
Price: $11.99
Purchased: July 4, 2014
Consumed: July 5, 2014
Misc.: Batch No. 009; Bottled on Feb. 3, 2014
Poured an orange, hazy color with 5-to-6 fingers of rocky white head. Average amount of foamy lacing along the sides of the glass. Excellent amount of foamy retention on the top all the way down.
Smelled green grapes, peppery spices, banana, caramel, citrus notes, kiwi, honey, wheat, green apple and grassy notes.
Taste was more flavorful than the nose. Got green apple, caramel apple, green grapes, kiwi, honey wheat, citrus notes, peppery spices, banana and slight woody notes.
Medium body. Creamy texture. Average carbonation. Slightly fruity, abrupt finish.
Pretty decent for the style, but not worth the $11.99 price tag.
864 characters
3.45
/5
rDev
-3.6%
look: 3 | smell: 3.5 | taste: 3.5 | feel: 3.25 | overall: 3.5
Cloudy orange pour with a two finger head. Nice yeasty flavor and aroma. Can taste some yeast and biscuit in the body mixed with a bit of spice. Finishes slightly spicy.
169 characters
3.68
/5
rDev
+2.8%
look: 3.5 | smell: 3.5 | taste: 3.75 | feel: 3.75 | overall: 3.75
Golden orange in color with a cloudy body, this beer has a nose of cloves, grain, spice, and a touch of honey. Foam level is slight and it doesn't last very long. There is no lacing left on the glass as you drink.
This beer offers a cornucopia of flavors such as citrus, apple, pear, yeast, and lemongrass. There is some alcohol in the finish, but not as much as I expected, given the percentage of abv. The beer is only moderately spiced, a little peppery, and generally refreshing with a dry finish. The Belgian yeast imparts a certain candy- like character but the other ingredients help to dry out the flavor, leading to a good taste and balance overall.
This beer is sold in a wine- size bottle and is capped with a cork. It took me some effort to pull the cork off, but I like that, once popped, the beer doesn't explode out of the bottle. I made the mistake of storing the bottle on its side, due to its height, and that caused the small amount of sediment to end up resting on the side of the bottle. But it was nothing that a little agitation couldn't resolve.
Overall, I found this a good tasting farmhouse ale/saison that is definitely worth a sample. It isn't easy to find, but Adebert's just recently expanded into California and continues to add more states to its distribution. Grab a bottle if you can find it- it's worth the effort.
1,365 characters

2.6
/5
rDev
-27.4%
look: 2.75 | smell: 3.25 | taste: 2.25 | feel: 2.5 | overall: 2.5
1 pint 9.4 fl oz brown glass bottle with fun label art and hood-and-wire cap (aka cage) over a branded cork acquired at me local HEB grocery and served into an Independence Brewing pilsner glass in me gaff in low altitude Austin, Texas. Reviewed live. Expectations are above average given the brewery, but the style is tough to pull off. Reviewed as a saison because it identifies as such on the label.
Batch No. 4. Bottled: 03/28/13. 7.80% ABV confirmed.
Served cold, straight from me fridge. Per the label: "Serve at 45-55 [degrees F]. Side-poured with standard vigor as no carbonation issues are anticipated.
The cage wire comes apart as I twist; shoddy manufacturing...
Cork yields a satisfying pop upon removal. No beer surges out. Carbonation seems good.
A: No bubble show forms as I pour.
Pours a six finger wide head of dull white colour. A bit thin, actually. No real creaminess. Kind of fluffy and a bit soapy. No lacing clings to the sides of the glass as the head recedes. Head retention is pretty good for the ABV - about 4 minutes.
Body colour is a clear yellow-copper of average vibrance. Translucent. Some minute yeast particles are visible.
I have to admit I'm surprised this self-branded saison isn't hazy; it appears filtered (in spite of the yeast particle presence). Otherwise, it's largely to style. I'm looking forward to trying it.
Sm: Has a bready doughy yeast character to it. Some crackery and bready malts. Pilsner malt. Biscuit malts. Lemongrass with a timid edge of citric esters. Clean barley. Straw. Somewhat grainy. Lacks the brettanomyces-induced funkiness you'd expect of a saison. I'm not getting any of the white pepper or milky notes common to the best beers in the style. No alcohol is detectable. Hopwise, I do get some vague citrusy and floral notes - but little else, and the hop presence is minimal (to style). Lacks any significant spicing. Has a kiss of Belgian style candied fruit; that's a nice touch, that - and present largely on the finish, lending it a certain sweetness on the backend that doesn't ever seem cloying.
A pleasant aroma of mild strength. I'm looking forward to trying it, though it isn't as lively as most good beers in the style.
As it warms, I pick up some well-integrated apple notes and more straw.
T: I get the candied fruit from the third act, definitely. And the apple too. Lightly doughy and bready on the open - a highlight of the flavour profile, and it's too bad there's not more where that came from. The foundation is comprised of clean barley, straw, pilsner malts, and Belgian biscuit malts. The sweetness is detracting from the balance the more I drink it, and it's quite distracting. It also ruins any chance for any subtle spicy notes or grainy biscuity yeast notes to come through - but that's okay, because there aren't any anyway. As a result, this really misses the mark when it comes to the subtlety and complexity you'd expect from a (good) saison. Too sweet for the style, especially in the latter half. Almost a bit syrupy, even - definitely off the mark.
Incredibly shallow depth of flavour for a saison. Flavour duration is below average. Flavour intensity is above average, but intensity is not the point of a saison; masterful subtlety and refined balance are key.
Imbalanced on account of the sweet candi character. Has a subpar build for a saison. Where's the farmhouse yeast?
Mf: Smooth and wet. Just a biteen syrupy. Overcarbonated. Presence is too heavy on the palate. Unrefreshing. Not apt for the style, and it doesn't complement the flavour profile well. Full-bodied without justification.
Not oily, harsh, gushed, boozy, or hot.
Dr: Downable but mediocre. I definitely wouldn't get this again - especially at its unreasonable price point. This brewery is quickly dropping in my mental rankings of Austin area breweries. As unsubtle and un-nuanced a saison as I've had in the last year. Not recommended. I'll be able to finish the bottle, but boy does it miss the mark for the style.
Low C-
4,028 characters

3.97
/5
rDev
+10.9%
look: 3.75 | smell: 3 | taste: 4.5 | feel: 4.25 | overall: 4
Pours out a nice dark golden color, the body is slightly hazy and the head, thick and frothy, is white and is at least three fingers thick. It also creates a thick lacing around the ale. The aroma is light, but you can pick up some floral notes mixed in with plenty of citrus fruits, apples and berries. Is a semi-dry ale with some mild phenol flavors and a hint of lemon zest, it's a little spicy as heads towards the back of your mouth and is mildly tart over all. The mouthfeel is light-to-medium and goes down well, the aftertaste is sweet and only a hint of alcohol is present. Overall, this is a really good saison.
623 characters
3.64
/5
rDev
+1.7%
look: 3.5 | smell: 3.25 | taste: 4 | feel: 3 | overall: 3.75
While I'm not the biggest fan of Adelbert's, this is their hit single to me.
Pours a sunny orange, much clearer from the tap compared to the hazy bottle pour. Fairly active carbonation leads to a good head buildup, but very little retention - just a ring and some sheeting.
The smell is spiced farmhouse funk with a good bit of brown sugar and grainy alcohol. Hints of a complex beer, but not a great aroma by itself.
The taste does away with any boozy worries from the nose. Esters are present, but minimal. This is a dry beer, heavy on the candied fruit qualities of Belgian yeast. Light, tart, unripe fruit flavors combine with very light hints of lemongrass, pepper, and cardamom.
The mouthfeel has a heavy quality that's a stark contrast to the high carbonation - a mead-like feel with refreshing fizz. Remains faintly syrupy on the tongue.
While not an outstanding saison, it is an outstanding example of Adelbert's style. Where their other beers fall short, this one fills in the gap. Enough tradition and complexity to please a purist, enough refreshing changes to make it worth a try.
1,100 characters

3.17
/5
rDev
-11.5%
look: 3 | smell: 3.5 | taste: 3 | feel: 3.5 | overall: 3
Cork popped out easily. pours a hazy golden yellow. Smell booze, saison yeast, pepper, band aid. I do not pick up on the booze as much in the taste. Pick up on straw or grass, pepper, nice saison yeast taste. Clean and dry finish.
I ejoyed their Tripel and Biere de Garde more than this one, but it is still a good beer. A little overpriced though as I can get other saisons for the same price that are better.
412 characters
3.6
/5
rDev
+0.6%
look: 4 | smell: 4 | taste: 3.5 | feel: 3 | overall: 3.5
More Farmhouse than Saison, IMHO. Served in a tulip glass. Nice light orange color. My pour was cloudy, but might be from the new keg. Citrus nose with light hop and yeast aromas. Good off-white head.
Good first taste, with lots of citrus and floral notes. The taste and smell did not reflect the ABV, in a good way. It drank lighter than it looked, but still retained nice depth of flavors. Finish was smooth, with some yeast notes. Aftertaste was pleasant. Very refreshing ale. I had a second one.
Found on tap at the Bottle Shop in Dallas.
544 characters
3.23
/5
rDev
-9.8%
look: 4 | smell: 3.5 | taste: 3 | feel: 3.5 | overall: 3
The beer pours a hazy golden-orange color with a white head. The aroma has a good bit of sweet citrus notes, with some Belgian yeast, some wheat and a little bit of floral quality. The flavor is similar, with the orange citrus notes and Belgian yeast coming through the strongest. There is a little bit of spice mixed in, as well as some wheat. Everything starts off fine, but the finish is a little bit muddy, which detracts from the overall flavor. Thin mouthfeel and medium carbonation.
489 characters
Philosophizer from Adelbert's Brewery
3.58
out of
5
based on
126
ratings.