Brekle's Brown
| Anchor Brewing Company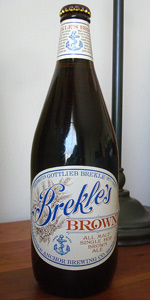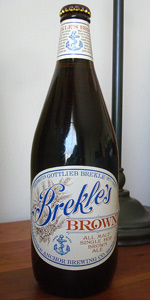 BEER INFO
Brewed by:
Anchor Brewing Company
California
,
United States
anchorbrewing.com
Style:
American Brown Ale
Alcohol by volume (ABV):
6.00%
Availability:
Year-round
Notes / Commercial Description:
Single hopped with Citra.
Added by largadeer on 03-07-2011
HISTOGRAM
Ratings: 864 | Reviews: 314

4
/5
rDev
+8.7%
look: 4 | smell: 4 | taste: 4 | feel: 4 | overall: 4
Enjoyed in a pilsner-style glass at Tops.
Glorious sunset brown, with hints of amber blending into darker mahogany. The sticky one-finger head of frothy tan remains for a long while, eventually slipping away to become a big, retentive ring of bubbles.
Fruity nose. Concord grape, apple, maybe hints of oak and vanilla? I also get lots of caramel, floral and earthy hops, and a handful of peanuts.
The flavor's a glorious mix of caramel and fruit. Grape, dark wheat bread, caramel, a soft nuttiness, apple and earthy hops combine to create a rustic flavor. This brew belongs around a hearth. More fruit sweetness emerges as it warms (perhaps just a tad too much) reminding me of prickly pear. It's got amazing complexity and many layers of flavor.
Smooth, velvety medium body with softly prickly carbonation and some booze in the nose.
Though it got a little fruity for me at the end, Brekles is a damn fine brown and a great addition to Anchor's legacy of solid brews that stick to style standards. It'll be great for the cooler fall weather.
1,059 characters
3.32
/5
rDev
-9.8%
look: 3 | smell: 3.5 | taste: 3.5 | feel: 3 | overall: 3
Brown pour, a little thin but great clarity for a brown. Then again, Newcastle, uh, nevermind.
Nice sweet aroma, not much of a toasty malt thing going, but I like the sweetness.
Mild taste, smooth, sweet but not overly, enough substance to it to ride it out. No hops. Could make an Oktoberfest fan happy I bet. A little toffee in the mouthfeel, seemed par for course. Might pick up a 6 of it if I ever see it bottled, simply because its a nice agreeable beer to have around when people come over to the house empty handed.
524 characters

3.85
/5
rDev
+4.6%
look: 4 | smell: 4 | taste: 4 | feel: 3.5 | overall: 3.5
Single malt single hop beer from Anchor. Sure, I like anchor. Big bottle served in a Russian River -tion glass.
Beer is brown and clear with a soft off white head with some lacing and moderate and steady carbonation.
Aroma is mildly hoppy, nutty, slightly roasty.
Beer is medium in body and surprisingly bitter. It is sweet with a nutty midpalate flavor and an overall pleasant feeling. It is not super easy to drink. There is a lot of beer in here and it gets a little rough throughout. I didn't dislike it but I don't think I"ll have it again.
549 characters
3.53
/5
rDev
-4.1%
look: 4 | smell: 3.5 | taste: 3.5 | feel: 3.5 | overall: 3.5
Pours a deep mahogany with a tight off-white head that leaves little chunks of lacing.
Smells of brown sugar and a bit of raisins.
Tastes of solid roasted notes with some moderate sweetness. Malts give a caramel and toasted bread. Notes of some dark fruits come through as well. Fairly sweet overall.
Mouthfeel is medium with a slightly smooth amount of carbonation.
Overall, a decent brown that shouldn't offend, but doesn't offer anything new.
449 characters
3.31
/5
rDev
-10.1%
look: 4 | smell: 3 | taste: 3.5 | feel: 2.5 | overall: 3.5
(22oz bottle from Total Wine Desert Ridge). Pours a clear dark brown--red color with a creamy tan head. Carbonation is almost like seltzer water. Aroma is very interesting: I'm getting some light caramel and cocoa, but also something like a peach jolly rancher. I like the smell, but its a bit weird. Taste is sweet malt, but not cloying at all. That peach is in the aftertaste. Thin bodied with slick texture. I'm not sure what to make of this beer. I don't know too much about the Citra hop so I just looked up some info and the resources I saw mentioned a fruity aroma like melon, papaya or mango. Well, this is an interesting beer and one that might grow on me more or turn me off completely. Definitely worth a revisit.
730 characters
3.44
/5
rDev
-6.5%
look: 4.5 | smell: 3 | taste: 3.5 | feel: 3.5 | overall: 3.5
Scored at The trusty Rake Borough.
Gorgeous dark burgendy like ribena syrup. Redy brown highlights, good head retention but minimal lace.
Blackcurrant and alcohol an the nose. Sugary and boozy.
A medium thin body with decent carb that is malty sweet up front, boozy sweet through the middle with some tanin dark malt notes, suble grass/pepper hops towards the finish and it lingers fairly sweet.
Not bad.
409 characters

2.95
/5
rDev
-19.8%
look: 3 | smell: 3 | taste: 3 | feel: 2.5 | overall: 3
473rd review on BA
Draft
App- a very light brown with just a tad of lace to it. A small 1/4 head as well.
Smell- The traditional roasty malty notes were gone. The citra was all I got. Didnt smell bad but just less traditional.
Taste- Not bad but a bit watery and too hop forward for my brown ale tastes.
Mouth- Almost light bodied and a bit higher in carbonation. Left a small watery hops note.
Drink- Too far away from what i was hoping. Probably wont come back to this one.
480 characters
4
/5
rDev
+8.7%
look: 4 | smell: 4 | taste: 4 | feel: 4 | overall: 4
Got to taste this during the brewery tour lately.
Appearance: Dark with ruby traces, tan head.
Smell: Generous citrusy American hops.
Taste: Huh, this brown ale is definitely on the sweet side of things, lots of crystal here. Prominent prune flavor. Not bad.
Mouthfeel: Medium bodied.
Overall: I don't drink many brown ales, but this was definitely a plesant surprise. Will never be mistaken for Newcastle.
411 characters
3.75
/5
rDev
+1.9%
look: 4 | smell: 4 | taste: 3.5 | feel: 3.5 | overall: 4
On-tap at Hopleaf. Served in a pint glass.
Clear, dark ruby red with a cream head. Head lingers and creates some nice lacing.
Aroma is heavy on bitter-sweet citrusy hops--grapefruit, oranges, tangerines. Light malt presence.
Taste is an interesting contrast to the aroma. Roasty caramel brown malts are the focus with some citrus hop bitterness sneaking in at the finish. As it warms some chocolaty roasted bitterness comes out at the finish also. Flavor is kind of thin.
Light/Medium body with medium carbonation.
Interesting combination of citra dry hopping with a brown ale, but nothing spectacular. Solid, worth a try.
4/18/2011
638 characters
3.71
/5
rDev
+0.8%
look: 4 | smell: 3 | taste: 4 | feel: 3.5 | overall: 4
On tap at Zeitgeist during SF Beer Week. Served in an Anchor Brewing glass printed with the Brekle's Brown label to celebrate the new release (shoulda grabbed one as a souvenier).
Pours dark brown with an off-white head. Lots o' carmel malt flavor (as advertised) and enough hops to balance. I tried Anchor Bock recently, and was put off by the overwhelming sweetness.
Brekle's Brown Ale is a fine addition to their brew portfolio that includes the legendary Anchor Steam beer, a sublime Porter, and my personal favorite: Liberty Ale.
538 characters

2.39
/5
rDev
-35.1%
look: 4 | smell: 2.5 | taste: 2 | feel: 3.5 | overall: 2
On-tap at Beachwood BBQ
A: The pour is brown in color with a fair amount of amber to it and a finger of off-white head.
S: Smells okay at first, if not a bit on the sweet side. I get some weird fruit notes to it, perhaps red apples. But there is a fair amount of butter coming off of this beer that is just too hard to ignore. It does have the usual toffee and toasted, nuttiness of a brown ale, but a lot of flaws as well.
T: Jesus this is bad. How strong is this beer because it tastes pretty boozy. Buttered toast with some notes of dark fruits and a definite green apple punch to it. Toffee and and a nice nuttiness are not enough to save this one.
M: Medium in body with a moderate level of carbonation.
O: Seems so strange. I love Anchor's beers but this was just awful. I'd be willing to give a bottle a shot, but Beachwood is a top bar, so I don't think it's any fault of theirs. Gave my glass to a couple other people to make sure I wasn't imagining things and consensus was that this beer tasted terrible.
1,020 characters
3.85
/5
rDev
+4.6%
look: 3.5 | smell: 3.5 | taste: 4 | feel: 4 | overall: 4
On-tap at Beachwood BBQ,
A: Pours a dark amber to brown with a medium white head, leaving solid lace.
S: Sweet caramel, toast, light hopping.
T: Strong amount of caramel, maybe some Munich malt. Really tastes like an Oktoberfest/brown ale hybrid more than a straight brown. Good flavour and balance.
M: Medium-bodied, crisp carbonation, easy drinking, refreshing.
O: A real nice new effort from Anchor. Solid drinking beer, not much more to say.
450 characters
3.57
/5
rDev
-3%
look: 3 | smell: 3.5 | taste: 3.5 | feel: 3.5 | overall: 4
On tap at the First Street Alehouse in Livermore, CA. Had the try it because I am concerned that the new owners of Anchor are going to screw it up.
This beer is not screwed up. I should start by saying that I'm not a big fan of browns, but I'm not against them.
This is a dark brown beer. It's not too far off from being a porter. I'm halfway down and there is a very light lace left in the glass.
The aroma is very mild, but it smells fresh and clean.
Taste is also mild. It is less toasty tasting than most browns. It is very dry and has a mild hop twang. It finishes with small amount of bitter and some vegetal flavors. I'm not against the vegetal flavor, but I can't identify them as a normal beer flavor.
Solid mouthfeel. Just a little thickness. His draft is not very carbonated, which I like.
This is a lightweight brown. Flavors are pleasant. I could probably drink a few. I'm glad I rode my bike.
918 characters

3.5
/5
rDev
-4.9%
look: 3.5 | smell: 3.5 | taste: 3.5 | feel: 3.5 | overall: 3.5
Draft at Zeitgeist. Clear amber-brown body topped by a fleeting white cap. Lot of fruitiness on the nose, dates and stonefruit, bit of raisin and brown sugar, mild toasted malt. Very estery for a brown ale. The palate is more toasty, but still heavy on raisin and date flavors. Body is a bit thin. Finishes with toasted malt, a mild bite of herbal hops and licorice. Leaves a lingering earthy, slightly vegetal note. Pretty good and easy to drink, but nothing terribly special.
477 characters
Brekle's Brown from Anchor Brewing Company
Beer rating:
3.68
out of
5
with
864
ratings