Dismiss Notice
Dismiss Notice
Anchor California Lager
| Anchor Brewing Company
BA SCORE
84
good
213
Reviews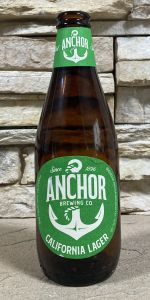 BEER INFO
Brewed by:
Anchor Brewing Company
California
,
United States
|
website
Style:
American Pale Lager
Alcohol by volume (ABV):
4.90%
Availability:
Year-round
Notes / Commercial Description:
In 1876, thanks to an ice pond in the mountains and a belief that anything is possible in the Golden State, a little brewery named Boca created California's first genuine lager. Anchor California Lager® is our re-creation of this historic beer. Made in San Francisco with two-row California barley, Cluster hops (the premier hop in 19th-century California), and our own lager yeast, this all-malt brew is kräusened and lagered in our cellars. Its golden color, distinctive aroma, creamy head, balanced depth of flavor, and smooth finish make Anchor California Lager® a delicious celebration of California's unique brewing heritage.
Added by esdeebrew on 02-15-2013
Reviews: 213 | Ratings: 1,095

4.36
/5
rDev
+16.6%
look: 4.75 | smell: 4.25 | taste: 4.25 | feel: 4.5 | overall: 4.5
12oz bottle into SA perfect pint.
A: Pours clear deep golden with a fluffy and soft three finger head that stuck around forever before fading into rocky film that left chunky lace down the glass.
S: Spicy, earthy and leafy hops mixed with lager yeast and light malt. Clean and crackery overall.
T: Spice, herbal, earthy and leafy up front, yeasty, with a unexpected sweet finish and an almost fruity aftertase. Clean bitterness, doughy malt, fruit nectar like sweetness and caramel also come through. Very flavorful.
M: Crisp, clean and refreshing lager. Medium-light body, soft and fluffy carb.
O: A solidly bitter and very flavorful light lager. I could see myself buying this to always have a refreshing beer on hand.
★
726 characters
3.88
/5
rDev
+3.7%
look: 3.75 | smell: 3.75 | taste: 3.75 | feel: 4.5 | overall: 4
12 oz. bottle,
A: Pours a light orange to dark golden colour. Good head retention, billowy at times, some solid lace.
S: Barley malt direct, bready, some nice noble hopping.
T: Cereal and cracked bread, with a considerable hopping for the style. Notes of grass and earth with a slight citrus.
M: Very crisp and easy drinking, light-bodied, would be great for the summertime.
O: This is an excellent drinking pale lager, well worth a try if you're in Cali.
★
460 characters
3.4
/5
rDev
-9.1%
look: 3.5 | smell: 3.5 | taste: 3.25 | feel: 3.5 | overall: 3.5
Pours a crisp straw yellow with a slight orange, nice one finger head that leave nice lacing.
Smells of malty molasses with a touch of pine.
Tastes of white bread with biscuit and toffee notes mixed with a touch of piny hops.
Mouthfeel is crisp yet round enough to feel like a substantial lager as apposed to a light beer.
Overall it's a great lager that reminds me of a German Octoberfest beer. I would like to try this on draft as a comparison.
★
450 characters
4.5
/5
rDev
+20.3%
look: 4 | smell: 4.5 | taste: 4.5 | feel: 4.75 | overall: 4.5
Pours a pure golden hue with fizzy white head and fairly decent retention.
Smells a little chalky, with a nice grassy hop tang on top, you can tell you're in for a treat as soon as you open the bottle.
Tastes as though you put a small handful of milled two-row into your mouth, with a slight hop bite and crisp carbonation. Flawless as far as lagers go. Unmistakable ingredients, excellent for this style.
Mouthfeel goes right in hand with the taste... refreshing and crisp.
This is pretty much what I'll be comparing future American lagers to, for the foreseeable future.
★
577 characters

3.86
/5
rDev
+3.2%
look: 4 | smell: 3.5 | taste: 4 | feel: 4.25 | overall: 3.75
If I was purely rating to style, my score would be even higher. This beer is very clean, light and refreshing with no real off-flavors. On top of that, it doesn't cheat by loading the beer up with hops and comes in at a low price point. It's a good looking lager, too. Nice bright yellow-gold color with a creamy white head that sticks around for quite a long time. Perfectly transparent. The aroma is so clean that I'm not quite sure how to rate it. There's a little bit of sweetly yeasty, doughy malt flavor and a touch of floral/herbal hops, maybe a tad bit citric. The taste starts sweet with squeaky clean, fresh, bright malt. Quickly, an herbal hop bitterness combines with a tart yeast flavor to dry the beer out. The finish is lightly malt sweet with more hop flavor/bitterness and tart yeastiness. It reminds me of a toned down German pilsener with that refreshing hard water crispness. The finish particularly has a lingering mineral character. The beer drinks very easily and sits on the palate as light as can be. I'm not exactly about to run out to the store to buy more, but if I needed a macro lager substitute, I would go with this beer.
★
1,153 characters
3.48
/5
rDev
-7%
look: 3.75 | smell: 3.25 | taste: 3.5 | feel: 3.75 | overall: 3.5
A: amber gold-copper fusion, lacy head.
S: oaty, bready, wet hay, chalk, cucumber.
T: full-bodied for lager, good hop presence drying out malt. Interesting.
M: refreshing but full...would pair with richer or spicy food as can stand up to but not interfere.
O: good beer. Would I order another?! Still thinking about that...
★
324 characters

3.59
/5
rDev
-4%
look: 4 | smell: 3.75 | taste: 3.5 | feel: 3.5 | overall: 3.5
New Anchor beer? Hell yes.
A: Pours a jaundiced yellow with two fingers fairly sticky bleached white head. Retention is excellent for the style, with good lacing as well. Carbonation is moderate, with small individual bubbles rushing to for the head.
S: Lot of clean, milled grain in this nose. Toasty, with a slight herbal characteristic. Some cereal notes, but missing the adjunct scents, which makes sense.
T: Again, clean, with milled grain dominating the palate. Hop presence is earthy and partially herbal. Dry finish, with lingering herbal traces.
M: Light to medium bodied. Subdued carbonation adds an element of creaminess to the mouthfeel.
O: Simple and straightforward, I can see why this would be a popular beer for the working class in the 19th century. While this isn't something I would actively seek out, it's good to get some perspective on much how beer has changed in the last 100 or so years.
★
922 characters
4.51
/5
rDev
+20.6%
look: 5 | smell: 4.5 | taste: 4.5 | feel: 4.25 | overall: 4.5
In terms of an APL how can this not be close to perfect for the style? Beautiful old gold sunset with the slightest crimson hue. Beautiful clarity with a billowy cap of eggshell foam, sticky cobwebs all over as i drink this one down. Nose brings cereal, cornflakes, some graham as well as a light floral/herbaceous character to go along with a light, pleasant bitterness. Would i rate it as high compared to my fav stouts and ipas? No way but i am rating it to style and it deserves the high marks - expertly crafted and extremely drinkable.
★
541 characters
4.09
/5
rDev
+9.4%
look: 4.25 | smell: 4 | taste: 4 | feel: 4.25 | overall: 4.25
The marks I give this beer is for comparison to other lagers only.
Poured into a standard pint glass. Pours nice light gold color with a small head that quickly dissipates. Nice bubbles keeps a small amount of foam on top. Some light lacing.
Nice aroma, mellow grass and grains with a small amount of citrusy hop smell.
Nice bitter start with a slight toasted bread taste. Good, dry mouthfeel. Leaves a nice bitter flavor on the back of the sides of the tongue. Particularly suited for warmer weather when you really need a nice cool beer.
Impressions? Very good sessionable lager. I give it high marks compared to other lagers.
I am not particularly a lager drinker, but this one would rate as one of my favorites. It would probably be my go to lager were it not for the price. That, however, may just be because it is not available in the supermarkets in my area and I purchased it at a small specialty store.
★
917 characters

4.13
/5
rDev
+10.4%
look: 4 | smell: 3.5 | taste: 4.5 | feel: 4 | overall: 4.25
Poured from a 12oz bottle to a pint glass
A:a nice golden yellow color with about a 1 finger head that fades away and leaves a nice thin lace that slowly trickls down the glass its so beautyfull lol
S:toasted grains,fresh grass and some citrus fruits a lot of smells going on for a lager
T:wow!!!! I love anchor brewing all there brews are great and this one is so good at first taste you get that american lager taste like grains,cereal,toasted corn but on the finnish you get that trade mark anchor bitterness wich is so so so good
M:crisp,smooth and dry
Overall: what a damn good beer I love it.its cool because I am from california and this is like takeing it back old school this is my new sesion beer can put theese away all day good job anchor and r.I.p boca brewing your lager lives on
Live life drink beer!!!:-)
★
826 characters

3.58
/5
rDev
-4.3%
look: 3.25 | smell: 3.25 | taste: 3.75 | feel: 3.5 | overall: 3.75
Light golden colored lager with a small white colored head.
Smells malty with a biscuit malt aroma. Herbal and spicy hop aroma. Slight citrus aroma.
Starts out dry with a good bite of bitterness. Hard water mineral bite. Little bit of toasted grain flavor but mostly this is pretty dry with a solid hop bite to it.
Mouthfeel is good.
Overall a nice clean lager from Anchor Stream, something lighter that is well suited to drink with lunch.
★
443 characters

3.75
/5
rDev
+0.3%
look: 3.5 | smell: 3.5 | taste: 4 | feel: 3 | overall: 4
Looks average, crystal clear. Probably just pale malt used in it. It looks very summery and refreshing.
Smells sweet, slightly fruity and touch of a house yeast character. Basically: smells like an Anchor beer.
Hmmm, whoa. Its very nostalgic in the taste. It has that bready, cereal quality, but with a nice bitterness and a very slight "skunky" taste, but it somehow works. It lingers with a nice bitterness and a touch of citrus.
I think Anchor has got something nice here. It's like a fancy coors ha. This will replace a lot of summertime beers for me.
★
561 characters
3.5
/5
rDev
-6.4%
look: 3.5 | smell: 3.5 | taste: 3.5 | feel: 3.5 | overall: 3.5
Tasted from draft at Anchor Brewing's tasting room. More hoppy than a typical lager, which is appropriate for California beer if atypical for the style. Pleasant piney taste with crisp, mouthwatering finish. Thin lacing. Pleasant effervescence. Crispness makes it right at home in the ranks of German lagers- interesting, since the crispness seems to come from hops instead of water minerality. I'll be having lots of this while I visit the Bay Area!
★
450 characters
Anchor California Lager from Anchor Brewing Company
84
out of
100
based on
213
ratings.