Lucybelle

Sante Adairius Rustic Ales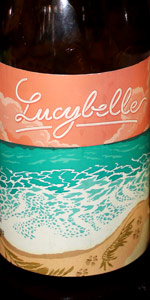 Write a Review
Beer Geek Stats:
| Print Shelf Talker
Style:

ABV:

5.3%

Score:

Avg:

4.08

| pDev:

6.62%

Reviews:

13

Ratings:

From:

Avail:

Rotating/Seasonal

Wants

Gots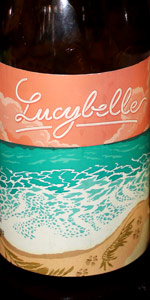 Notes: A brilliant and calming sunset; the eternal ebb and flow of waves crashing on the beach; a dog's smile-all of these the simple complexities of a life lived well. We constructed Lucybelle, a straightforward saison with Brettanomyces, to complement life's little pleasures. Crisp, dry, and doggone refreshing, we hope Lucybelle reminds you to slow down, relax, and take in the mystery and beauty of being. Sante!
StonedTrippin from Colorado
4.49
/5
rDev
+10%
look: 4.25 | smell: 4.5 | taste: 4.5 | feel: 4.5 | overall: 4.5
a divine and as my buddy says, transcendent little beer right here, my first one from these guys in quite some time! on tap at the trappist in oakland, what a treat to encounter! its a brett saison, and its exactly the way i like them, subtle, dry, layered, and rustic. this is soft on the wheat malt but still creamy feeling and full, its got very little acidity to it but a light clean citrus profile in the brett, and a wonderfully mature funk, a brett drie type, but im not sure what their culture is exactly, its belgiany and old school, timeless really, with notes of green melon, preserved lemon, wet hay, and gentle white pepper. overall this beer is incredible, the yeast and the grain together, nuanced and intricate, with the fruit notes coming in the finish, mild white wine and dried apricot too, just awesome. the perfect amount of funk meets with jovial effervescence in the finish, and all of a sudden its gone. world class saison here, one of my favorite beers from sante adairius to date! i could drink this endlessly and be perfectly content.
Nov 06, 2017

Ciocanelu from Romania
4.1
/5
rDev
+0.5%
look: 4.25 | smell: 4.25 | taste: 4 | feel: 4.25 | overall: 4
On tap at Beavertown Extravaganza. Aroma has yeast funk, grass, hay and a light aspirin note. Taste is tart with yeast funk, fermented stone fruits and wood bitterness.
Sep 20, 2017

cultclassic89 from Texas
4.25
/5
rDev
+4.2%
look: 4.25 | smell: 4.25 | taste: 4.25 | feel: 4.25 | overall: 4.25
Just as good as any other SARA saison I've had. At this point, most of them start to taste the same, but they all taste incredible. Effervescent, lemon, hint of funk, and that special yeast.
Mar 26, 2016

kevanb from Illinois
4
/5
rDev
-2%
look: 4 | smell: 4 | taste: 4 | feel: 4 | overall: 4
750ml bottle poured into a Hair of the Dog tasting glass. Enjoyed on 12.12.2015, reviewed from Tasting Journal.
The beer pours a bright gold color, hazy with a thin white head, little retention and spots of lace. The aroma is nice, mild brett, mustiness, cereal grains, lemon and wildflower add some brightness, but that's about it, simple, inviting and balanced. The flavors are in line with the nose, simple, lemon citrus, earthy wildflower, musty funk, mineral water that is distinctive of Sante Adairius, soft brett, a touch of tartness at the finish. The mouthfeel is nice, light and gentle carbonation, medium body with a touch of crispness and a dry finish.
Verdict: A nice saison from Sante Adairius, it's not trying to be anything more than it is. Refreshing, balanced, and well put together, what one sacrifices in explosive flavor, complexity, is certainly made up for in balance and leisure here.
Dec 21, 2015

DaveHack from Pennsylvania
4.25
/5
rDev
+4.2%
look: 4.25 | smell: 4.25 | taste: 4.25 | feel: 4.25 | overall: 4.25
Very light gold in color. Minimal carbonation. Smells of faint hay/grass. It is a delicate saison, no overpowering spices or strong flavors. It is on the drier side.
Overall, it is very good and definitely worth trying.
Sep 20, 2015

mdfb79 from New York
4.11
/5
rDev
+0.7%
look: 4 | smell: 4.25 | taste: 4 | feel: 4 | overall: 4.25
Did not get much brett and nothing too crazy going on, but it is a really well done, normal saison. Lemon, citrus, pepper, spices, grains, wheat, and bready malts. Worth checking out for sure.
Mar 12, 2015

MarcWP from Arizona
4.5
/5
rDev
+10.3%
Poured into SARA tulip. Served cold but let warm through the course of a few hours.
Appearance is a surprisingly filtered like light straw/palest of yellows. Wispy white head that builds aggressively on initial pour but settles to small bubbly floaters and a decent ring around the edge of glass. 4.25
Aroma sports a strong mustiness from the brett. Very farmyard like and catty at times. A bright citrus punches out from the funk offering up kefir lime, mandarin, and lemony jack fruit. Some soft spices and white wine bring it all together in a distinct and appealing nose. 4.5
The taste comes in swinging with that citrus on the nose, leafy herbs, barnhouse musk, light cracker bite, and a soft but present minerality. Easy drinking, mid summer saison for sure. It's funky but very well balanced out by a mob of other flavors. 4.5
Mouthfeel is delightful. Fluffy light body only because because a nice rush of carbonation mid to late palate comes in to support, otherwise it would feel thin . Very dry and the acidity is toned down but present. The tartness only lasts a bit and disappears on the finish making this a tease as you reach for more to keep that feeling going. 4.5
A nice "lighter" saison by Sante Adairius. Love the funk that comes out of this which at times becomes a tiny bit cheesy much like you get in some Oude Gueuze. As it warms I'm getting that more. But overall very sessionable, wonderful mix of flavors, great mouthfeel, and a fine example of a saison.
Sep 17, 2014

Huhzubendah from District of Columbia
4.08
/5
rDev 0%
look: 4.5 | smell: 4 | taste: 4 | feel: 4 | overall: 4.25
Bottle shared by mendvicdog. Thanks Pat!
The beer is straw yellow and mildly hazy with a white head. Aromas include lemon, hay, grass, floral notes. Easy drinking and tangy with notes of citrus and Meyer lemons. Mild tartness. Light in body, but not thin. Tasty.
Aug 09, 2014
spicelab from Australia
4.11
/5
rDev
+0.7%
look: 4.5 | smell: 4 | taste: 4 | feel: 4.25 | overall: 4.25
Big thanks to nicks6217 for sharing. Reviewed from notes.
Clear and bright piss-pear colour with a moderate but persisitent.
Nose shows lifted funk, sharp and perky with clean floral and honey sweetness.
Wild herbs, pear, spiced honey, grapefruit and lemon zest amidst a backdrop of musty funk.
Very busy acidity and lively carbonation on the front end, before a dry and surprisingly earthy finish.
Assertive but well contained Saison. Good balance between dry funk and focused acidity.
Apr 24, 2014
UCLABrewN84 from California
3.9
/5
rDev
-4.4%
look: 3.25 | smell: 3.75 | taste: 4 | feel: 4 | overall: 4
Thanks to Rado for sharing this one at AndrewK's tasting.
Pours a hazy yellow with a foamy bone head that settles to wisps of film on top of the beer. Small dots of lace slowly drip into the remaining beer on the drink down. Smell is of malt, grain, yeast, Brett, and slight fruit aromas. Taste is much the same with slightly sour grain, fruit, and Brett flavors on the finish. There is a mild amount of Brett bitterness on the palate with each sip. This beer has a good level of carbonation with a crisp and slightly dry mouthfeel. Overall, this is a good beer that is tasty, light, and refreshing.
Feb 18, 2014
HuskyinPDX from Washington
4.08
/5
rDev 0%
look: 4.25 | smell: 3.75 | taste: 4.25 | feel: 4.25 | overall: 4
Bottle opened on 12.11.13
A - Pours a hazy very light orange-dark yellow with a large fluffy, off-white head with great retention.
S - Funky, tart, wheat, lemon, sourdough.
T - Tart, white bread, gumball, lemony.
D - Light body with good carbonation.
O - Sweeter and nice on the tongue versus the nose. Crisp and light.
Dec 30, 2013
Alieniloquium from Florida
3.65
/5
rDev
-10.5%
look: 4 | smell: 4 | taste: 3.5 | feel: 3.5 | overall: 3.5
750 mL bottle poured into a snifter.
Appearance - Hazy yellow body. Nice white head. Thick collar.
Smell - Peppery and lemony. Pilsner malt. A little brett.
Taste - Lots of pepper again. A bit of lemony tang. Pilsner malt again. Bretty and dry in the finish.
Mouthfeel - Light and highly carbonated. Minimal tang.
Overall - Lacks complexity, partially due to the malt bill. Still pretty tasty.
Dec 17, 2013

illidurit from California
3.95
/5
rDev
-3.2%
look: 4 | smell: 4 | taste: 4 | feel: 4 | overall: 3.75
On tap at the brewery. Pours cloudy light gold with a filmy white head. Spicy brett phenol aroma, without delving into plasticky, fresh grains and light banana fruitiness. Flavor is similar with big bretty funknotes fluttering about. A whisper of peach creeps in among the banana esters. Pretty nice brett showcase, and I'm terribly interested in how this evolves. Very dry finish.
Oct 23, 2013
Lucybelle from Sante Adairius Rustic Ales
Beer rating:
91
out of
100
with
194
ratings