Barrel-Aged Fumare

Sante Adairius Rustic Ales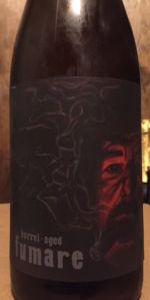 Rate It
Beer Geek Stats
| Print Shelf Talker
Style:

ABV:

6.2%

Score:

90

Avg:

4.09

| pDev:

13.45%

Reviews:

12

Ratings:

From:

Avail:

Retired (no longer brewed)

Wants

Gots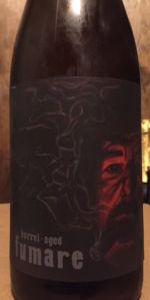 Notes:
StonedTrippin from Colorado
4.24
/5
rDev
+3.7%
look: 4 | smell: 4.25 | taste: 4.25 | feel: 4.25 | overall: 4.25
this stuff is really awesome, a wild saison type with smoked malt and aged in barrels. its got a ton of character, was super interesting even among other smoked beers. its copper in color, mildly hazy, with a tall airy rising soda looking head on it in my wine glass. the aroma is funky brett, robust campfire smoke, wet though, like a freshly extinguished one in the rain, charcoal and iodine and minerals and earthiness, but also some bright refreshing acidity, mellow woodiness, and wild maturity. the flavor is definitely smoke driven, with a little sweetness to it, notes of single malt whiskey with a peat element here, but also an awesome bretty funk that is musty and also wet, complex, and autumnal, subtle red apple and raisin to it. really light body, moderate acidity, smoke through the finish, intensely flavored and lightly medicinal, carbonated like champagne, just off dry. amazing beer overall, one of the more interesting ones i have had from these guys which is really saying something, and a beer i hope to find again. the barrel character is very subtle, but i like what it contributes. excellent overall!
Apr 04, 2018
DefenCorps from Oregon
4.32
/5
rDev
+5.6%
look: 4 | smell: 4.5 | taste: 4.25 | feel: 4.5 | overall: 4.25
Thanks Brian.
A spectacular amalgamation of delicate smoke and gentle funk, this beer perfectly marries a delicate but firm smoke character with a soft wine barrel funk character. Even the funk seems a little delicate for a SARA beer, and the tartness is reserved. Delicate vinous notes along with wet earth. Medium-light in body and softly carbonated, this beer is exquisite. Almost Upright-like.
Mar 05, 2018

Frosty11161 from California
4.29
/5
rDev
+4.9%
look: 4.25 | smell: 4 | taste: 4.5 | feel: 4.25 | overall: 4.25
batch was mid '16
After hearing mixed reviews about it fresh, I held onto mine for an extended period of time. Additional tartness, pleasant smokiness finishing with the trademark SARA funk. If it tasted this way in the beginning I could see why the harsh reviews but thankfully I had patience with it.
May 30, 2017
ygtbsm94 from Utah
3.87
/5
rDev
-5.4%
look: 4 | smell: 3.75 | taste: 4 | feel: 3.75 | overall: 3.75
Nose light ash, tartness, citrus, faint pepper, oak, faint peat. Taste faint smoke, vanilla, light spice, woody, lemon, faint meat with the finish, oaky.
Jan 30, 2017
BWCampbell from Ohio
2.07
/5
rDev
-49.4%
look: 4 | smell: 2 | taste: 1.5 | feel: 3.5 | overall: 2
To be honest, I have no clue how this beer gets reviewed so well. I guess homers will be homers. Beer pours a copper color, with a good amount of lacing. The aroma my group settled on was "spoiled, oversmoked bacon". I stand by it. There was also an odd mineral scent. Taste is downright unbarable. Usually I like the smoked style quite a bit, but this is one was just undrinkable. Sour, liquid smoke, faint oakiness, and then a metallic-smoky-porky-sour finish. The flavors are competing.
I have loved every other SARA I have tried, but trust me - don't seek this one out.
Oct 30, 2015

imonhiatus from New Jersey
4.02
/5
rDev
-1.7%
look: 4.25 | smell: 4 | taste: 4 | feel: 4 | overall: 4
barrel aged smoked Saigon indeed. brew was as interesting as its category. smoke is subtle and overwhelmed by the tart Saigon but it is still oresent. subtle peatiness. nice brew, not what I have come to expect from SARA though.
Oct 11, 2015

MarcWP from Arizona
4.68
/5
rDev
+14.4%
look: 4.75 | smell: 4.75 | taste: 4.75 | feel: 4.5 | overall: 4.5
Barrel-Aged Fumare into HF stem.
Really pretty beer, with it's low carbonation profile typical of barrel-aged brews. Vibrant light gold in color.
Aroma is juicy SARA saison goodness with an earthy/lightly smokey contrast which works very well. Reminds me of brawny red wine subtle smoke notes. Not in your face, just very natural.
The taste is brilliant, everything you'd hope for in a "smoked" saison. The barrel aging has taken the edge off I'm sure. I'm getting more peat on the palate than smoke per say. Juicy citrus and grape notes make up the bulk of the flavor characteristics.
Light, silky mouthfeel.
A superb variation to the standard barrel aged saison. This actually kind of reminds me of vintage Été. The funk is a lovely addition. I wish I had a briney, salty goat cheese to pair with this.
Apr 10, 2015

Igotmypistola from California
4.73
/5
rDev
+15.6%
look: 4.75 | smell: 4.75 | taste: 4.75 | feel: 4.5 | overall: 4.75
Don't rate this beer unless you like smoked beers. Because guess what, ITS SMOKED. Layers upon layers of mouth quenching tartness with bright acidity. Perfect amount of (smoked) funk. Just crisp flavors all around. This beer is art.
Mar 09, 2015
jakewatt135 from Oregon
4.1
/5
rDev
+0.2%
look: 4 | smell: 4 | taste: 4.25 | feel: 4 | overall: 4
Actually enjoyed this much more than I thought I would. Having said that, I still am not a huge fan of smoked beers. This is a great example of not being overly smokey though. Most people seem to use way too much smoked malt and ruin the beer, not here.
Mar 02, 2015

Warlocks-Passage from California
4.32
/5
rDev
+5.6%
look: 4.75 | smell: 4.5 | taste: 4 | feel: 4.5 | overall: 4.5
Not sure there is a better smoked saison...one you need to devote time to, so the smoke isn't so over powering on each sip. Classic SARA funk on the back end...simply amazing.
Feb 22, 2015

DCLAguy11 from California
4.25
/5
rDev
+3.9%
look: 4.25 | smell: 4.25 | taste: 4.25 | feel: 4.25 | overall: 4.25
I had to adjust my review after having this over the weekend about 3 months after it was released. Much much better. The smokiness that was overpowering the first time has mellowed out quite a bit and is actually now very pleasant and allows the saison to shine more.
Feb 09, 2015
mctizzz from California
4.57
/5
rDev
+11.7%
look: 4 | smell: 4.5 | taste: 4.75 | feel: 4.5 | overall: 4.5
On tap it was a tasty, Sante style saison with a touch of smoke, out of the bottle it tasted like someone stirred it with a flaming stick, worth a try.
Nov 02, 2014
Barrel-Aged Fumare from Sante Adairius Rustic Ales
Beer rating:
90
out of
100
with
68
ratings