Dominus Vobiscum Ambrée
| Microbrasserie Charlevoix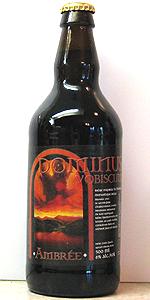 BEER INFO
Brewed by:
Microbrasserie Charlevoix
Quebec
,
Canada
microbrasserie.com
Style:
Belgian Pale Ale
Alcohol by volume (ABV):
6.00%
Availability:
Year-round
Notes / Commercial Description:
No notes at this time.
Added by Rastacouere on 02-12-2004
This beer is retired; no longer brewed.
Ratings: 12 | Reviews: 12
Reviews by kenito799:
4.3
/5
rDev
+15.6%
look: 4 | smell: 4 | taste: 4.5 | feel: 4 | overall: 4.5
500ml bottle poured into a Duvel glass. Brought back from Quebec City in June 2007, stored 3+ months in fridge.
Dark amber with off-white head that recedes, leaving nice wispy lacing and a thin coating of bubbles atop the brew.
Aromas are a delcious autumnal amalgam of cinnamon-coriander spiciness with fruity Belgian yeasty-fruitiness (more subtle than many Belgians), with brown sugar sweetness in the mix. Really nice.
On the palate the interplay of sweet, spicy and bitter is harmonious and extremely well done. The sugar-malt is very restrained, and cinnamon-spice and hoppy bitterness hold hands and skip in step through the midpalate and finish. The spice mix recalls many a pumpkin ale, perfect beer for fall. Crisp mouthfeel, very drinakble. Low ABV makes this a super session beer, if only I had a lot more of it. They did a great job with this brew.
865 characters
More User Reviews:
3.48
/5
rDev
-6.5%
look: 4 | smell: 3.5 | taste: 3 | feel: 4 | overall: 4
Decent Belgium style brew, not their best, with orange colour. Fruity yeast, some roast in mid-sip, medium mouthfeel, spices including corriander. Had it again in September 2005, 9 months later. Smooth, fruity, creamy, good head but metallic mid-sip, sweet aftertaste. Average beer really.
289 characters
4
/5
rDev
+7.5%
look: 4 | smell: 4 | taste: 4 | feel: 4 | overall: 4
Bottle: Poured a yellowish amber color beer with a super huge bubbly head that transformed itself into a real thick foamy head with excellent retention. Aroma of Belgian yeast is striking at first but marries well with the spice mix that includes coriander. Taste is very enjoyable with some nice malt mix with some coriander and Belgian yeast. Very good example of the style and another great beer from this small regional brewery.
432 characters

4
/5
rDev
+7.5%
look: 4 | smell: 4 | taste: 4 | feel: 4 | overall: 4
A nice amber beer with great carbonisation, actually way too much, it was like a tornado in my glass. A great creamy beige head that escorted me throughout this beer.
Smell of spices, ginger, and hops, with a shy alcoholic nose.
Taste very spicy, some coriandre and ginger, with a sweet touch of maltness, and shy citronous hoppish flavour.
Not bad
357 characters
3.5
/5
rDev
-5.9%
look: 3.5 | smell: 3.5 | taste: 3.5 | feel: 2.5 | overall: 4
Amber, good-looking, medium head with better than average retention and lacing in a tulip glass. Spicy nose, pepper; fruity also, mainly orange. Light taste of spiced caramelic malt. Under average carbonation. Medium to low bodied. Very easy to drink and kind of sweet all around
279 characters
3.38
/5
rDev
-9.1%
look: 3.5 | smell: 3 | taste: 3.5 | feel: 3.5 | overall: 3.5
500ml bottle acquire in multiple trades.
Poured and cloudy amber color with a huge sized off white head. Aromas of yeast, spices (lots of peppers with other spices in there as well), and fruity (apples and pears). Tastes of spices, fruits, caramel, and light yeast. Spicey, caramel apple.
Notes from: 3/9/07
310 characters

4.03
/5
rDev
+8.3%
look: 4.5 | smell: 4 | taste: 4 | feel: 4 | overall: 4
A: Amber-bronze, pours a mountain of fluffy, off-white head; great retention & lacing. Yeast sediment at the bottom of the bottle will produce considerable haze.
S: Belgian yeast aroma (cloves, earthy, hints of leather); floral hops, slight caramel sweetness.
T: Authentic Belgian yeast flavours (earthy cloves); floral hops with a slight citrus; alcohol is a little assertive; Bitterness is balanced.
M: Well-attenuated, medium body, moderately high carbonation, dry finish.
D:
490 characters
3.57
/5
rDev
-4%
look: 3.5 | smell: 4 | taste: 3.5 | feel: 3 | overall: 3.5
500 ml brown bottle.
A- Cloudy dark amber. OK off-white head that decreases without completely dissappearing. Some bubbles rising the beer.
S- Good yeast odours. Fruit and some spice. Improves in strength and complexity as the beer warms with caramel and spice coming through.
T- Fairly bitter up front. The bitterness lingers through to the finish. Caramel flavour in the middle along with some spice. Some interesting flavours but I didn't quite like the overall balance.
MF- The yeast catches in the throat. Decent body in terms of "thickness" but lacks smoothness.
D- An interesting Belgian type beer. Flavourful but unbalanced. Not really worth the high price.
680 characters

3.58
/5
rDev
-3.8%
look: 4 | smell: 3.5 | taste: 3.5 | feel: 4 | overall: 3.5
Kinda neat looking label. Pours a clouded soft amber, decent nead. Carbonation a little weak but not enough to complain. Nose is distinctly filled with coriander. Very one-dimensional, this beer seems to rely solely on the coriander for its aroma and taste. However mouthfeel is nice. Unfortunately this beer doesn't front much, coriander aside, and offers little experience. A taste that becomes rather numbing quickly. That said though, it was a smooth beer and rather quaffable. All in all I enjoyed it.
506 characters

3.87
/5
rDev
+4%
look: 4.5 | smell: 2.5 | taste: 4.5 | feel: 4 | overall: 4
I got this through CanBIF5 from notdan. Thanks so much!
This pours a medium amber color with a modest head that sticks around and clings to the glass for dear life. It looks absolutely gorgeous.
Smells like champagne and toffee, with some lemon and funky yeast. It's actually a tad on the cidery side of things.
Tastes like a caramel bready cider, with mostly fruity esters and spice with some pepper and spice in the finish. Hops are something in the soapy noble category, which normally isn't my thing, but it really works here, I mean, it REALLY works. It's actually the rare beer that seems to come to life and the flavor improves the more I drink it. It hides its alcohol content well. Yeah, it's a complex beer with everything in fine balance. I really like this. I like it a lot.
Mouthfeel is crisp, medium with a very high, lingering carbonation.
Drinkability. Sure. Why not. Man did this beer every grow on me as I drank it. I'm not in love with the aroma but the taste is a treat.
995 characters
3.6
/5
rDev
-3.2%
look: 4 | smell: 4 | taste: 3 | feel: 4 | overall: 4
bouteille brune de 500ml.
belle couleur ambrée comme son nom l'indique, la mousse est compacte, blanche et très durable. nez épicé très agréable, bouche épicée, bien équilibré, longue, piquante. très bonne. je suis agéablement surpris encore un fois par cette brasserie.
284 characters
3.32
/5
rDev
-10.8%
look: 3.5 | smell: 4 | taste: 3 | feel: 2.5 | overall: 3.5
Hazy orange in colour with fairly strong carbonation. Aromas consist of dried fruit (think trail mix), caramel apple, and spicy Belgian yeast. Flavors are an interesting mix of sweet citrus fruits, light caramel malts, and woody (but not pine) hops which are mildly tannic. A little too light in the body for me, and the flavors lack a bit of staying power, but it's still a well made beer.
391 characters
Dominus Vobiscum Ambrée from Microbrasserie Charlevoix
3.72
out of
5
based on
12
ratings.