River Road Tavern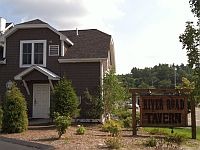 PLACE INFO
Type:
Bar, Eatery
193 River Rd
Bedford
,
New Hampshire
, 03110-6944
United States
(603) 206-5837 |
map
riverroadtavern.com
Notes:
No notes at this time.
Added by FrankLloydMike on 01-12-2012
Reviews: 3 | Ratings: 8
3.93
/5
rDev
-3.4%
vibe: 4.5 | quality: 4 | service: 4 | selection: 3.5 | food: 4
Smallish, newly renovated, and open concept with exposed beams and birch tree patterned wall paper. A gas fireplace with some cozy seating in front, high top tables and a longish, live-edge slab bar add to the rustic, New England roadhouse vibe. Plenty of natural light and friendly waitstaff.
The menu is extremely limited, with smallish portions and on the pricey side. The mussels ($12)were chock full of jalepenos, onions, carrots and a tasty broth and came with a cup of crisp, thin fries. More of an appetizer portion than an entree though. The "Kobe" beef burger ($9) (which is a misnomer, there is no authentic Kobe beef in the US, it is no longer imported) was very good with a salty, char-broiled crust and quite juicy. A bit odd that for $9.00 it does not come with fries?
The "super bad" wings were ok, but for $9 I was really hoping for something "super good".
All the food comes served in aluminum cake pans or pint-sized cups.
The beer menu of 12 draught and a goodly amount of bottles hints at this place being serious about craft beer but falls short. DFH 90min for $8.00. Ouch! PBR for $3.00 seems like a good deal though if thats what you like. No beer specials or happy hours otherwise.
Service was quick and friendly, a nice surprise for a newer place.
Overall, a great space with limited, pricey food, and a beer selection which seems to have good intentions. I'm afraid though for three appetizer-sized servings and three beers, $60.00 will keep me from being a regular.
1,499 characters

4
/5
rDev
-1.7%
vibe: 4.5 | quality: 4.5 | service: 4 | selection: 3 | food: 4.5
I stopped in here for the first time today with my wife and daughter for a late lunch on a Sunday. The place was fairly empty today. The dining area is one big open room with maybe 30 tables, mostly high top 4 seaters and a couch and a couple of chairs by the fireplace. There's a long bar against the right side wall as you walk in followed by the food prep area. The beer, about 10 taps all craft except the Guinness and PBR. There's a bottle list maybe 50 deep with some decent brews on it. It almost seems like they are desperately trying to straddle the gateway craft beer line. I had a little yella pils and a 90 minute while I was there an was tempted to order an old raspy in a bottle. The menu is very small, 6 or 7 choices, Kobe beef burger, short ribs, rigatoni, 1/4 chicken, mussels, etc While the menu might be limited the food was fantastic. My companions enjoyed their burgers and I loved the rigatoni bolognese. The service was good, it should have been for how slow it was, and the bill seemed reasonable for the quality. I will be back.
1,054 characters
4.33
/5
rDev
+6.4%
vibe: 4.5 | quality: 4.5 | service: 4 | selection: 4.5 | food: 4
Update:
I returned here with my dad last Friday night for dinner and a couple beers, to find some of the earlier kinks worked out.
It seems that the servers--both our waiter and bartender--were much more knowledgeable about both the food and beer options, which was very helpful. It was still crowded, but not insanely packed like the first time, so we didn't have to wait long for a table. This is about perfect for what I like in a bar--enough of a crowd that the place feels full, but not so much that you can't get a seat. I was also very impressed with my meal--the half chicken, which was very moist--but not as much as my dad was with his. He had the short rib and polenta, along with the kale soup, and raved about both.
It was great to see them improve on the few weaknesses I saw on my first visit shortly after they opened. This has quickly become one of my favorite places to visit when I'm home.
Original review from 01/23/2012:
A: 4.5 | Q: 4.5 | S: 3.0 | S: 4.5 | F: 3.5 | $$
This place used be a little house near the country store that I would bike to to buy bait, donuts and rent videos as a kid. The clerk always referred to me, my brother, my father and my grandfather as Mr. B. Now, that country store is a Dunkin Donuts, the intersection has been widened and a streetlight added in place of the old Texaco station that used to be there, and the wooded hillside behind them has been replaced with a cluster of big-box stores looming high above.
I guess it was only a matter of time before the little, old house was replaced--I had figured it would surely be bulldozed for a CVS or something, rather than renovated as a tavern. But I'm glad to say there's finally a positive change in the neighborhood, as the River Road Tavern fills many voids in the area, not least of which as a base camp before ascending Mount Target for the latest designer socks.
The space is small and cozy, but was quite crowded when my friend, my father and I arrived for beers and food on a cold Friday night. The room is very nice--an open ceiling with heavy beams, tall windows framing the night lights, and a fireplace with chairs and a couch right at the front door. There are coat hooks immediately upon entering--something I judge favorably in New England bars--and a long bar running the length of the space to the right of the door, with the rest of the room filled with high-top tables. The lighting level was low without being dark--perfect in my book--and the decor is some sort of hip-backwoods-ski-lodge. There are some things I'd change, but overall I like it a lot.
The beer selections was excellent for the Manchester area--about 15 taps, all craft except for a trio of Bud, Guiness and Newcastle. And there were several locals--White Birch, Woodstock Maple Porter, Redhook IPA (the budget tap at $4), Smuttynose, BBC. We were told that they rotate beers quite frequently, which is great to hear and relatively unusual in greater Manchester. The bottle/can list was even more extensive and very well-selected. I'd like to see a few local bombers--Moat Mountain, Throwback, etc--added, but overall, very good.
Unfortunately, neither our waiter and bartender were very knowledgeable about their offerings. When we asked which White Birch they had on, neither knew, so we were given a sample in lieu of information. We eventually noticed the small, handwritten current taplist on our table identifying it as the BPA. Both servers were friendly and attentive, but making sure that employees are knowledgeable about the beer list and beer in general is crucial, and will easily elevate this place from a neighborhood bar with a good beer list to a true beer bar.
Similarly, the food menu was a bit odd. The burger I had ($9 with cheddar) was excellent--one of the best in the area--but came only with a pickle. I'd rather pay $10 or even $11 and get a side of fries or salad with it. The macaroni and cheese my dad got was okay, but nothing special. The menu is short yet manages to be a bit scatterbrained. Focusing on burgers and a few other items might be a good move, and I could see a burger-and-beer bar doing quite well here. My dad found the hip serving style--my burger came in a large, tin pan--off-putting, but I didn't mind. A few tweaks with the menu could mean major improvements.
Overall, I really like this place. The space--especially in the cold of winter--is among my favorite bars in New England--it's pure country/neighborhood tavern, and manages to be hip and modern while retaining a rustic, laid-back feeling. The beer list is excellent for the area, and I'd put it in the same top level as the Strange Brew and Firefly for Manchester area beer bars. A few minor tweaks, some education on the part of the staff, and maybe a clearer focus could make this place one of the best beer bars in New Hampshire. As it is, I had a great time on my first visit, and will plan on stopping in as much as I can when I'm home.
4,953 characters
River Road Tavern in Bedford, NH
4.07
out of
5
based on
8
ratings.