Key Lime Lambic

Free Will Brewing Co.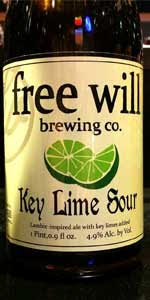 Write a Review
Beer Geek Stats:
| Print Shelf Talker
Style:

ABV:

4.9%

Score:

Avg:

3.52

| pDev:

15.34%

Reviews:

8

Ratings:

From:

Avail:

Rotating

Wants

Gots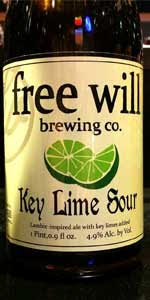 Notes: Part of a rotating series of Lambics, using natural fruit and NO back-sweetening.
3.86
/5
rDev
+9.7%
look: 3.5 | smell: 3.75 | taste: 4 | feel: 4 | overall: 3.75
On the docket: 475mL bottle of Free Will's Key Lime Lambic
Poured into: Innis & Gunn stemmed craft glass
S: A nearly lemonade-golden yellow, slightly hazy body spills into the glass, with only the faintest stark-white head. Tight clinging to the outside rim, consisting of small and medium bubbles. More bubbles lazily rise to the surface from the bottom of the glass.
A: Green with envy? This one boasts boatloads of limeade, tartness, and a hint of funk. Fairly one-dimensional, but very fragrant and refreshing aroma.
T: If you've ever eaten key-lime pie, with that mandatory meringue topping, imagine that with a spritz of carbonation and the tartness of a sour lime candy, and you have yourself Freewill's lambic. The malt and hops are overshadowed by the puckering citrus. Crisp. Let this one warm just a tad in order to experience the subtle malty sweetness, which shows up oddly enough, on the finish. Want a little less twang? Pull air through your mouth as you would with wine, the aeration softens it up.
F: Light to medium-light. Tingly, biting carbonation does a major scrub-job on your tongue. Awesome for a hot day. Try this over a gin/vodka gimlet. Long finish that morphs slowly from citrus to just a hint of grainy sweetness that emerges on the lips.
O: Certainly tart and sour, but flavor-packed and refreshing. Noted on the website, all natural flavoring and no back-sweetening (post brewing). Perhaps a beginner or intermediate sour beer, and a definite must-try for Key lime pie lovers and sour fruit candy eaters. Warheads anyone?
Suggested food pairing: Summer salad with blood or mandarin oranges and arugula, jerk chicken, Thai, Vietnamese or Indian food, and sure, Key lime pie with a homemade graham cracker crust.
Beer it forward:
1,797 characters

3.51
/5
rDev
-0.3%
look: 3.5 | smell: 3.75 | taste: 3.5 | feel: 3 | overall: 3.5
Meager half a finger head that disappears rapidly, bone white when it's there, close to no lacing. Crystal clear yellow gold color, bright and shiny with broadly dispersed and tiny bubbles. The nose has a keen edge to it and the vast majority of the experience is of super sour limes to the point where you wonder if you are sniffing straight up lime juice, there is a volatile aspect to it, perhaps at times you might get a light yeastiness or vanilla, beeswax, smells like it could easily referment. In the mouth it's light-bodied, crisp and direct, the carbonation has a tight prickle to it and helps to accentuate the arch sourness, which really needs no assistance. Yeast, lees, raw pie dough and vanilla and maybe cinnamon. At times you get cola bean which gives it a soft drink demeanor. Sweaty funkiness attempts to assert itself but must yield to the broad scope of the lime citrus. Definitely a one trick pony and while it seems like an admirable experiment it fatigues your palate quickly.
1,004 characters

3.62
/5
rDev
+2.8%
look: 4 | smell: 3.75 | taste: 3.5 | feel: 3.75 | overall: 3.5
7/12...pours pale white gold, lightest in bottom. Lemonade/lime nose. Hearty lime taste, heavy rind bitter. Can almost taste the pulp. Quite sour. Beats the hell out of a Bud Light Lime for sure!
195 characters
3.18
/5
rDev
-9.7%
look: 3 | smell: 3 | taste: 3.25 | feel: 3.25 | overall: 3.25
Cloudy light amber pour, practically still with no head. Smelled like straight up lime Jello. Tasted like liquid lime Jello with seltzer and a shot of neutral alcohol. Wasn't really terrible, they just shouldn't be calling this a lambic. One glass of this was more than enough, and it was my wife's, so I didn't even have to finish it.
335 characters

1.52
/5
rDev
-56.8%
look: 3 | smell: 1 | taste: 1.5 | feel: 3 | overall: 1
Ever wanted to drink lime flavored Lysol? Look no further! Free Will has figured it out! Shave your head, put a Mister Clean ear ring hoop in you ear, and fill up your glass. You'll be speaking Spanish before you know it, and your teeth will be spic and span, no brushing needed.
Perhaps the Free Will business plan doesn't allow/account for waste, but damned if this shouldn't have been put aside as an experiment gone bad for the sake of long term profits. With crap like this, I won't be throwing money their way again.
530 characters
3.13
/5
rDev
-11.1%
look: 2.75 | smell: 3.5 | taste: 3 | feel: 2.75 | overall: 3.25
Hazy yellow straw, with very little white head that's extremely quick to dissipate. Big sour funk aroma with definite lime in there. Tastes sour and dry with lots of really tart lime juice. Light bodied.
I was expecting something kitschy and fun with a sweeter key lime pie flavor. This tastes like a quality lambic somebody squeezed a bunch of limes into. Not something I'm likely to get again, although I'm open to others from free will.
445 characters
3.6
/5
rDev
+2.3%
look: 3.25 | smell: 3.75 | taste: 3.75 | feel: 3 | overall: 3.5
500 ml bottle poured into a Goose Island stemmed glass. 4.9% ABV. 2014 printed on the label.
Appearance: Pale yellow in color. Pours with virtually no head, save for a few large white bubbles that dissipate quickly to nothing. Body is hazy with little visible carbonation.
Smell: Limes, mild barnyard funk and a bit of oak. There's a bit of a spicy character as well, but I can't tell if this is actually from the yeast, or a mix of the limes plus other characteristics in the beer.
Taste: Acidic sourness on the lighter side of medium. Limes are most prominent with both lime juice and mild lime rind bitterness. Secondary notes of grain, with mild funk and a hint of lacto.
Mouthfeel: Light and somewhat watery medium/low carbonation. Dry finish.
Overall: Similar to the other entries in this series, this is enjoyable, but nothing to write home about. It gets some bonus points for using a somewhat unconventional fruit and making it work, but it really doesn't bear any resemblance to an actual lambic. If sours are your thing, it's worth a try, but no reason to seek it out.
1,084 characters
3.42
/5
rDev
-2.8%
look: 3.5 | smell: 3.25 | taste: 3.5 | feel: 3.25 | overall: 3.5
Pours a very pale yellow color with little to no head. Aroma of limeade and a bit of straw. The flavor has plenty of lime and a complimentary tartness. Small amount of funk to go aside cereal or pilsner grains . The beer succeeds at its mission to bring a key lime sour to your taste buds. Not bad and reminiscent of some of the more mainstream Belgian lambics.
366 characters
Key Lime Lambic from Free Will Brewing Co.
Beer rating:
86
out of
100
with
66
ratings