10w Porter
| Free Will Brewing Co.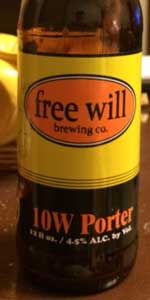 BEER INFO
Brewed by:
Free Will Brewing Co.
Pennsylvania
,
United States
freewillbrewing.com
Style:
English Porter
Alcohol by volume (ABV):
4.50%
Availability:
Fall
Notes / Commercial Description:
This full bodied British porter is an aggressive take on the classic style. The nose is dominated by notes of dark chocolate and coffee, while the flavor profile is full of complex toasty, malty and burnt sugar flavors balanced by an approachable roasty note. Pair this beer with fatty cuts of steak, chili, and stilton cheese.
Added by tempest on 03-13-2013
Reviews: 10 | Ratings: 48
4.62
/5
rDev
+20%
look: 4.5 | smell: 5 | taste: 4.5 | feel: 4.5 | overall: 4.5
Nice black color with a spectacular coffee smell to it! Knowing that it is only 4.5% I wasn't expecting too much but such flavor is immediately welcoming. A nice bite to it keeps the feel very noticeable. I could drink this sessionable porter all day.
255 characters

3.73
/5
rDev
-3.1%
look: 4 | smell: 3.5 | taste: 3.75 | feel: 4 | overall: 3.75
12 oz bottle into a pint glass.
Pours dark and rich looking; opaque; decent head with ample sticky lacing.
Flavor: rich, bold, dark-roasted grains with an overall slightly bitter balance. Hints of dark chocolate and coffee. Some char in finish and aftertaste.
Medium yet watery body with low carbonation.
312 characters
4.27
/5
rDev
+10.9%
look: 4.5 | smell: 4.25 | taste: 4.25 | feel: 4.25 | overall: 4.25
Appearance: Dark red appears black. Little to no head but very inviting. Laces the glass like a glove.
Smell: The aroma is intoxicating, hints of caramel or dark chocolate. Sweet but not overpowering.
Taste: Well balanced, not sweet as it smells but not very bitter either.
Feel: Very warm feel to this beer something I would enjoy on cold winter night. Would pair well with corn beef and cabbage. Such a nice balance in flavor. Not too heavy nor too light.
Overall: Excellent beer reminds me of Guinness but a kicked up version. Can't find many flaws personally
563 characters
3.77
/5
rDev
-2.1%
look: 4 | smell: 3.75 | taste: 3.75 | feel: 3.75 | overall: 3.75
Had this out of a bottle last night at the Cloverleaf Tavern, having never had this beer before. I like Porters since they tend to be more easygoing than Stouts and that was the case here. The flavor profile wasn't too deep do this beer but it was true to form and went down easily and sometimes, it's nice to have a beer that's nicely crafted without being overly complex!
This had a dark pour to it without a thick head or any lacing to be seen. The mouthfeel was thinner than I would have anticipated and there wasn't a lot of carbonation either. There wasn't a strong roasted feel to this and a bit of it emerged in the back but this reminded me more of a Coffee Porter more than anything else. Not smoked, not strong, this went down easily as the mouthfeel was somewhat weak and not that creamy or full.
Because the amount of booze in this was low, I could have had another in a sitting and not even noticed the alcohol. A hint of dark chocolate and cocoa saved this from being too dull but as it was, there wasn't much to discern after the initial taste settled in. A good example of the style, this Porter would probably not offend anyone and would be a great introduction to the style, while also serving as a session beer. Quite relaxing!
1,249 characters
4.37
/5
rDev
+13.5%
look: 5 | smell: 3.5 | taste: 4.5 | feel: 4.75 | overall: 4.75
Not sure what differentiates an English Porter from an American Porter, but my guess is that an English style achieves the taste characteristics with the malts whereas an American style achieves the flavor by adding ingredients like chocolate and coffee. From what I was told at the brewery this porter was brewed without cocoa or coffee beans and therefore is an English-style porter.
In any case, I truly enjoyed this rich, thick, roasty porter and plan to make several trips back to the brewery in Perkasie to get growler refills. Pours jet black with a tan head and has all of the desirable features of a classic session porter: roasted malt, smokiness, coffee and chocolate notes with a smooth easy drinkability. It is richer than Stegmaier porter my previous local favorite which is a very similar in style, but has a thicker mouthfeel due to the meticulous care taken by this craft brewery. It is certainly not as complex as Founder's, Deschutes or Bell's which I consider the best of the bottled American examples. Since I did not see bottles of this porter at the brewery it would not be fair to compare it directly with these iconic porters but for those lucky enough to live close enough to the brewery this would be my first choice since it is unpasteurized and very fresh.
1,287 characters
4.5
/5
rDev
+16.9%
look: 4.5 | smell: 4.5 | taste: 4.5 | feel: 4.5 | overall: 4.5
I've had this on draft at the brewery as well as from growlers filled at the tasting room. I don't think calling this an english porter is the best description. I don't know if that's part of their official literature or not, but it is not in the family of Taddy Porter or London Pride as 10w has a more overtly roasty character overall. If I had to give it a style label, I suppose "Session Robust Porter" would fit best in my opinion. Naming aside, here's my impression of the beer...
It is pretty much black with a dark tan head. The aroma is of dark roasted grain. Primarily a medium high chocolate up front with a low, supporting, roasted barley type coffee in support. Perhaps a bit of earthy hops lingering in there, but certainly not in the forefront.
The flavor follows suit with chocolate roast at center stage at a medium high level. The coffee roast comes in again to back it up and add some complexity. Maybe a low earthy hop flavor in there as well, but definitely subtle. The hop bitterness is moderate and balances well with the roast and medium sweetness. Finish is lingering roast, again with just enough sweetness to keep things in a happy balance. The mouthfeel is medium. Definitely not full and chewy, but far from watery.
Overall this is a wonderfully balanced and complex, roasty porter that is quite satisfying to drink, and at under 5% alcohol you can enjoy a few of them without falling down. This is among my favorite beers to come from this brewery.
1,484 characters

3.89
/5
rDev
+1%
look: 4 | smell: 3.75 | taste: 4 | feel: 4 | overall: 3.75
On tap. Dark roasty malts, strong coffee notes. Some smooth cherry, pomegranate and chocolate malts. A nice sessionable porter, well balanced and structured, fairly typical profile, very tasty and worth a try as a tasty session porter. Good roasty profile.
256 characters
3.8
/5
rDev
-1.3%
look: 4 | smell: 4 | taste: 3.75 | feel: 3.5 | overall: 3.75
served on draft, in a standard shaker pint glass.
it's opaque black, with brown in the edges, and tan head. looks good, decent head retention. smell is nice, roasty coffee dominates. taste doesn't quite have as much coffee flavor, but good balance of dry and acidic roasted malt flavors. tasty. on the thicker side.
nice to try another from this local brewery, and it's a good one.
385 characters

3.26
/5
rDev
-15.3%
look: 3 | smell: 3.25 | taste: 3.25 | feel: 3.5 | overall: 3.25
This poured out as a black color with a thin tan head on top. There was a subtle sticky lacing on top in the beginning which faded as the retention died off. The smell of the beer is malty with some roasted aromas coming off of it. Earthy on the nose as well. The taste is a little robust with some roasted smokey notes, not much bitterness. The mouthfeel is thin and watery, decent carbonation. Overall this beer is decent.
424 characters
4.15
/5
rDev
+7.8%
look: 4 | smell: 4 | taste: 4.25 | feel: 4 | overall: 4.25
Had a pint at the Trapp Door in Emmaus, PA. I've had some disappointing spoilage problems with other beers from Free Will, so I was pleasantly surprised to just find an awesome English porter. It was smooth and balanced with a tasty mix of roast, cocoa, and coffee beans. The mild English candied yeast character carefully folded in. I didn't hesitate to order a second pint. It was very drinkable, with enough body to satisfy in the winter months (though I'd probably love this in any weather). Order yourself a glass if you can find it.
538 characters
10w Porter from Free Will Brewing Co.
3.85
out of
5
based on
48
ratings.