Lexington Beerworks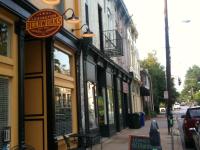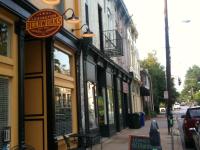 PLACE INFO
Type:
Bar, Homebrew, Beer-to-go
213 N Limestone
Lexington
,
Kentucky
, 40507-1014
United States
(859) 359-6747 |
map
lexingtonbeerworks.com
Notes:
***Opened to the public on January 13, 2010***
Lexington Beerworks is Downtown's best stop for craft beers and homebrew ingredients!
PLACE STATS
Reviews:

6

Ratings:

pDev:

8.76%
Reviews: 6 | Ratings: 28

4.14
/5
rDev
+0.7%
vibe: 4 | quality: 4 | service: 4.5 | selection: 4
Lexington Beerworks is a beer bar in downtown Lexington. It's right off a main road so it's pretty easy to find, even if parking is a bit tricky; if you're stopping by for a beer, chances are the businesses behind their building are closed and there's plenty of parking available there, just drive around to the back of the block.
They make a strong attempt to educate their beertenders on the finer points of their offerings which is refreshing for us patrons. They have 10 taps or so with a pretty good selection. They also serve bottles, cold and warm, and you can take bottles home if you want. FYI, a cold beer served at the bar is more expensive than a warm version of the same beer you take home. This is common at any beer bar with a retail license, we pay for service after all. The place isn't huge, but there's usually enough room to find a table or a seat at their brasstop bar. There's also a covered patio out back.
Lexington Beerworks doesn't serve food, but there's almost always a food truck out back offering Mexican, Greek, Italian, or whatever specialty is available that day. They also have a lot of homebrewing equipment for the aspiring homebrewer and they offer weekly homebrewing classes as well. The selection is great and the prices are reasonable, Lexington Beerworks is a great place to stop to get a great beer.
1,343 characters

4.66
/5
rDev
+13.4%
vibe: 4.5 | quality: 5 | service: 4.25 | selection: 4.75
Beerworks is a must stop for any beer aficionado in Central KY. They usually have a great selection of tap beers as well as a tremendous selection of bottles. On the weekends they almost always have a food truck. They also have a great selection of home brew supplies and most, and I stress most of the staff is very knowledgeable about their selections. i would strongly recommend Beerworks to any beer lover that lives in Lexington or planning a visit.
454 characters
4.53
/5
rDev
+10.2%
vibe: 4.5 | quality: 5 | service: 5 | selection: 3.5
This place has a great selection of beer. A constantly revolving keg selection, always something exciting. I normally go for homebrew supplies, and grab a beer while I am there. It is small so they don't have an extensive range of supplies. Good amount of hops, and most of the grains you will need. Prices are just a bit higher than the big stores around Lexington, but still reasonable and a good place to spend your money, if you are going to spend it. The guys there are really helpful whether it comes to choosing a beer or helping with brewing. They also have all kinds of events for homebrewers and beer lovers.
618 characters

4.3
/5
rDev
+4.6%
vibe: 4 | quality: 4.5 | service: 4 | selection: 4.5
Great addition to the starving Lexington craft beer scene. Location is prime for downtown folks. The only inconvenience in architecture us an awkward aisle and relatively small restroom. Bar and shelving is beautiful.
Service is great, albeit a bit overeager if business isn't hoppin. Would like to look at the taplist before being offered recommendations based on what style I like...as if I could narrow that down. Social media and email feeds are fairly desperate, as well. Play a little hard to get!
Selection is great, both bottled and draft. On part with the best in Lexington, which surprised me.
Pricing, I can't figure out. How do you charge 5 bucks for a holy moses, but only 5 bucks for a new holland dragons milk? The 4 oz difference doesn't compute, but I'm frugal....ie cheap.
Also a great place to buy homebrew supplies. If they don't stock it, just ask and it shall appear! Awesome!
Definitely a great place to go for a beer or five. Still ironing out some kinks, but love the spirit! They're not businessmen, which is good, but get them talking about beer, and you're set!
1,094 characters
4.41
/5
rDev
+7.3%
vibe: 4 | quality: 4 | service: 5 | selection: 4.5
My first visit to the newly opened downtown Lexington craft beer bar was an enjoyable one. As soon as you walk in the door you can sense the warm, boisterous atmosphere. The crowd was pleasant and vibrant and there was sufficient traffic flow throughout the bar even though the space is narrow. The large wooden bar, rotating taps, high ceilings and comfortable bar stools made for a nice experience. The homebrew supply section at the back of the venue was small but adequate. They have a refridgerator for hops and yeast and a dozen or so shelves of grain and brewing equipment. My hopes are that they will be adding to this area in the future.
What made the visit so outstanding was the incredibly personal service. Greg, one of the owners, was helping to serve behind the bar. This guy is a class act! He not only knew his beer, but was willing and excited to share his story about how the business got started. His energy rubs off on his bartenders and everyone sitting within an earshot.
They have both a nice draught selection as well as bottled beer to choose from. I had pints of the Rocky Mountain IPA by Fort Collins Brewery and the Avalanche Ale by Breckinridge Brewery. I also had a sampler of Goose Island Pere Jacques. I noticed they did not have a huge selection of Great Lakes on draught or in bottles. Being a Cleveland native, I would love to see them have more to choose from.
Overall an A+ experience. We will definitely be coming back to this cozy downtown beer bar. Thanks Greg and Lexington Beerworks for a great night out!
1,552 characters
4.36
/5
rDev
+6.1%
vibe: 4.5 | quality: 4.5 | service: 4.5 | selection: 4
Lexington Beerworks is Lexington's newest craft beer bar, the best in the downtown proper area, and Lexington's best bet for homebrew ingredients. Billed as a homebrew shop with a craft beer bar, they are stocked with 12 rotating taps and a selection of about 200 bottles.
In shotgun style, the establishment occupies a narrow slow in the city block near Atomic Cafe and Columbia Steakhouse. Though parking is largely relegated to on-street status, there's usually ample spaces available (be sure to feed the meter before 5:00).
The design of the store and bar is of chiq urban, European letherman and cooper decor, and modern lighting with display. As the bar anchors the right side of the space, a small table to the right, then bathroom complexes and 6-8 spacious tables to the rear near the homebrew supplies. The bar seems to sit about a dozen as the space may comfortably handle a crowd of about 50 or so. Three tv's with Sportscenter and a pleasantly audible sound system plays a tame array of tunes.
Some of the better beers available to the Bluegrass are offered here. Along with the Orval and Southern Tier Oat that I enjoyed at my first visit, they also have taps that include Goose Island 312, Fleur, Southern Tier Phin & Matt's, Bell's Amber, Kentucky Light, Bluegrass Brewing Altbier, Boulder Hazed & Infused, New Holland Mad Hatter, and a few others. Bottles of Founders, Flying Dog, Chimay, Stone, Great Lakes, Bell's Dogfish Head, Avery and others are all represented and are available to enjoy at the bar or to go. As far as I could tell, they don't have growler fills to go or at least not yet. A nice selection of glasswared insures the perfect glass for the chosen beer.
The homebrew selection is fully stocked with the standard malt, hops, yeast, and kit varieties that are staples in better homebrew shops. At this point, the homebrew selection in the rear of the store is taking a back seat to the bar components. Hopefully, as time goes on and as requests come in from the homebrew community, then they will expand and offer more litterature, exotic ingredients, hard-to-get hops and yeast, a wider range of equipment and supplies.
Although no prepared food is available, there's a small array of potato chips and prezels availabe to pair with the beers.
Prices seem reasonable, or at least on par with the prices of similar items at more reasonable bars and restaurants around town. Though the homebrew ingredients may be slightly higher than the big box store, the personal attention and quality of environment makes the slight increase well worth it. Besides, being able to have a beer in hand while shoping for homebrew ingredients is a very cool thing!
The staff is young end exuberant. The bar staff may be light on experience, but are big in passion and seem to really care about the customer. Their focus and enthusiasm will have them caught up with the in's and out's of craft beer bars before they know it. They have hired a few guys who haven been known to be very good homebrewers and can guide the ownership in terms of purchases and stocked inventory, as well as helping homebrewers to get their recipes and techniques right.
The staff should soon have up and running a rating system to track what you are drinking and to make recommendations on future purchasing. This seems very innovative and unlike the personalized attention that's given at any other beer bar.
Because the establishment is new, the place is very clean, warm, well-lit and very inviting. Anyone in the downtown Lexington area who is thirsty for a frosty malted beverage should not hesitate to give these guys a visit. This is the only place in the downtown area that gives this type of attention and focus to the craft and enjoyment of bettter beers. To find a similar place, then a short trip to the Chevy Chase neighborhood, UK's Campus, or Southland Drive is in order.
Please look for a more detailed review of this establishment as the better get their feet under them and streamline their opperations.
4,026 characters
Lexington Beerworks in Lexington, KY
Place rating:
4.11
out of
5
with
28
ratings